As you all know it's Christmas week, so I thought today would be the perfect day to share with you this Christmas centerpiece DIY tutorial that Sheffield florist, Lauretta Morley from Boutique Paeony sent me. If you are hosting Christmas this year then you may be looking for ideas for table decorations, and what better than a fresh flower centerpiece display but with a bit of a Boho twist!
I'll hand the blog over to Lauretta, do let me know if you decide to make one fo these, I'd love to know how you get on.
'Christmas is a creative time of year and having flowers in the house at this time is a must, especially scented ones. If you want to do something a little different this year from just plonking some  blooms in a vase and hoping for the best – why not create your  own design?
Below is a step by step guide which shows you how to make this beautiful, but simple, arrangement that will be guaranteed to impress your friends. (And yourself!)'
You will need:
Glass bowl or similar, e.g. fruit bowl
Red aluminum wire
8 stems of hypericum berries, or holly berries
Some strands of bear grass
7 red roses or red gerberas
7 glass or plastic test tubes
Red food colouring
Beads and ribbons of your choice to pick up the style and colour of your home.
Large scented candle
Step One.
Make a circular wreath of the aluminum wire big enough to fit around the top of the bowl. Mould the wreath around the edge of the bowl before carefully pushing the test tubes through. For extra decoration wind the bear grass, glass beads and ribbons into the wire wreath. If you're feeling particularly adventurous, you can also thread individual berries onto wire for extra effect.
Step Two
Mix the red food dye in a jug of water and pour carefully into the test tubes, don't fill them right to the top or they will overflow. Cut the roses and hypericum berries to size and place them into the tubes.
Once you have added all the flowers, simply light the candle, stand back and admire your handy work! You don't have to use a scented candle; an alternative idea is to fill the bowl with cinnamon sticks, cones and orange slices. Or, if you have any coloured water left, add it to the bowl and float tee-lights upon it – just remember not to leave candles burning unattended!
(All materials available from florists and craft shops.)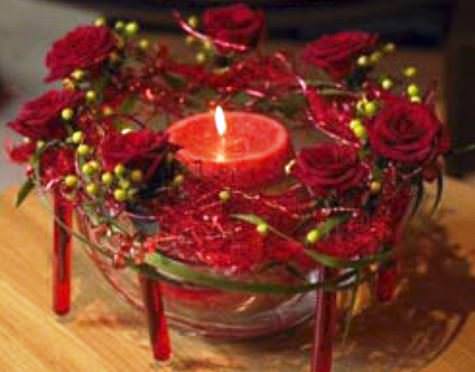 Tips on arranging flowers at Christmas:
When you get your flowers and foliages home, re-cut the ends of the stems before putting them into water.

Always make sure vases are clean and use flower food.

Take off any leaves that are below the water line.

Flowers with soft stems, such as gerberas only require a few inches of water in the vase.

Do not hammer the ends of woody stems – this is an old wives tale. Simply cut them at an angle with scissors or secateurs.
For more information on Boutique Paeony go to:
www.boutiquepaeony.co.uk
FACEBOOK
TWITTER