Todays real wedding comes all the way from Minnesota and it was sent in by the very lovely Holly D It's a lovely wedding that took place on what looks liek a very cold day. I'm loving the snow against the urban backdrop, mixed with some amazing shoes!! and of course a very happy couple!
Holly told me a bit about the wedding in her own words, and the couple were kind enogh to answer some questions for me aswell.
'Jessica and Justin got married in February at a beautiful church in Moorhead, Minnesota, St. Joseph's Catholic Church. Their reception was held at the Avalon Event Center in Fargo, North Dakota. It was an unseasonably warm day on their wedding in this northern climate, still a little cold, but we got very lucky so we could have fun with a lot of outdoor photos that the bride and groom requested both around the church and in the down town streets of Fargo. I loved her style with all the fun shoes for bridesmaids, the bride herself, AND the groom and groomsmen with their black Converse! Her birdcage veil was beautiful and she had a special pin in her hair that was her grandmother's. This was a very emotional and beautiful day for this couple who is so deeply in love.'
Full Names
Justin Aron Kinzler and Jessica Anne Marts
How did you meet/ how long together?
Justin and I met when a couple of mutual friends invited us both out for a night of pool at Billiards on Broadway in downtown Fargo. He made sure to touch my hand every time we exchanged pool cues. This summer will mark eight years together.
Date of wedding
February 12, 2011
Location
St. Joseph's Catholic Church, Moorhead, MN Avalon Events Center, Fargo, ND
What made you decide to get married where you did?
I have attended services at St Joe's for 15 years and I fell in love with the Avalon Events Center after attending a friend's reception there in 2007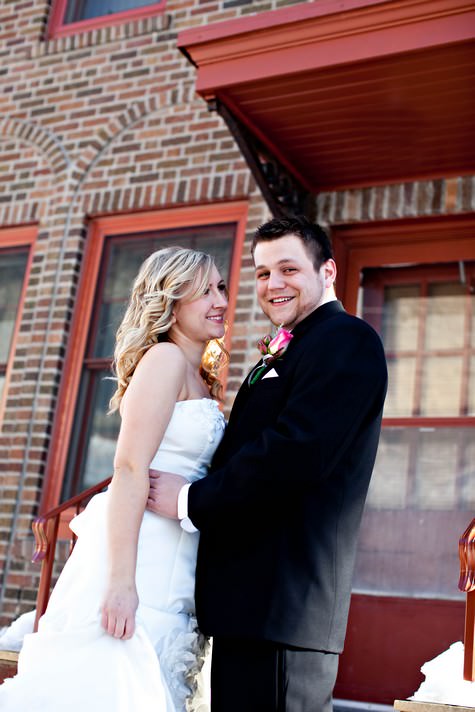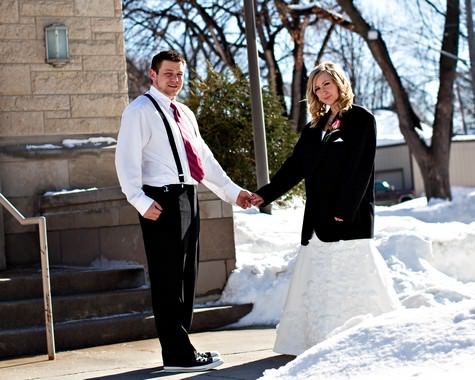 Who was your dress by
Galina for David's Bridal
And the suit?
Calvin Klein
How would you sum up your day?
Perfect. We were fortunate to have beautiful weather for February that allowed for outdoor pictures. We were amazed at how smoothly the day went. If there were any crises, we sure didn't know about them!
Did you have a theme/colour scheme?
Pewter with Blush Pink and Hot Pink
Did you have any personal touches? Or things that you did yourself?
What stood out to most guests was our footwear! The men in the wedding party wore Chuck Taylor Converse high tops and the Bridesmaids adorned hot pink sling backs to accent their neutral pewter dresses. I wore Unforgettable Moments for Payless pumps dyed "sapphire" as my "something blue." I also had two sashes to accent my dress: a white one for the ceremony and pewter for the reception. Instead of traditional favors, we opted for a candy buffet, complete with sour gummy worms and hot pink rink pops. The February date was convenient as the proximity to Valentine's Day made it easy to find a variety of pink candies. Another special touch was the scrapbook as a guest book. We had the guests fill out comment cards answering fun questions about us that we have since been adding to a scrapbook. Finally, Justin and I both love rock/alternative music. Our first dance was to "Guardian Angel" by Red Jumpsuit Apparatus. The father/daughter dance was done to "Sweet Child O'Mine" by Guns N' Roses and the mother/son dance was done to "Forever Young" by Rod Stewart. All the choices were specifically "us."
How many guests?
200
What were your special moments/highlights?
The most special moment of the day was seeing each other for the first time. Justin waited for me outside on the back steps of the church. He was instructed to keep his back turned until I tapped his shoulder. I was so overwhelmed when I saw him standing there that I got a little weak in the knees! It was wonderful to be surrounded by family and friends all day, but we cherished the moments we got to spend with each other.
Is there anything you would do differently?
I was very satisfied with how the day turned out. Lots of great memories!
What advice would you give any other couples?
Taking in the whole day at once can be pretty overwhelming. Just try to enjoy the day in segments, trying to soak up as much as you can. Also, be sure to steal little moments with your new spouse…you've taken a big step!
What was your biggest surprise of the day?
Everyone tells you how fast your wedding goes, but I still had no idea! What a whirlwind.
Holly D Photography
hollydphotography.com
hollydphotographyanddesigns.blogspot.com
[email protected]
FACEBOOK
Minnesota