When Katrina from Studio Laguna sent me this wedding I was totally delighted! I love Katrina's work and featured another beautiful wedding from her HERE , so I knew before even looking at the photos that I wanted to blog it. I wasn't disappointed either, it's a gorgeous winter wedding set in the heart of Minnesota, with the most beautiful Bride (she's a fellow red head, so I may be biased!)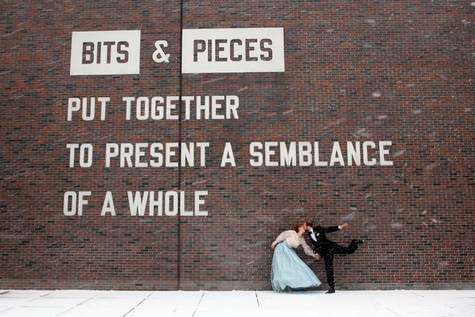 The couple are Ellen & Colin Thomsen who were married on 19th November 2011 at the Immanuel Lutheran Church, Saint Paul, MN with the reception in Silverwood Park, Saint Anthony Village, MN. They had 140 guests. It's a gorgeous wedding, and it certainly gives off the relaxed and 'totally them' theme that they were aiming for. Having not met either of them before I totally get their personalities from this wedding. I love the quirky little touches and the lovely natural details. Full marks also to both of them and their wedding party for braving the cold snowy weather, it looks like they had loads of fun and it totally left them with some fantastic pictures!
Katrina from Studio Laguna tells me a bit more about the wedding, and what her highlights were
'Ellen the bride had been hoping and wishing and praying for snow and Minnesota got hit with quite a few inches of snow that night.
We took the modern indoor pictures at the Walker Art Center in Minneapolis.  I wanted to still embrace the Norwegian look of the wedding, but in a modern clean way.
The canoe you'll see in a few shots was hand-made and owned by one of the couples' friends.
Not only was the espresso station at the wedding giving out the most delicious coffee I've ever had, the entire room smelled like rich coffee all night.
The couple danced to some pretty rockin' 80's music…Lionel Richie and Whitney Houston among others'
Ellen and Colin describe their day as 'After months of planning everything came together beautifully and we were married surrounded by our dearest friends and family. And also a howling snowstorm.'
How they met
Colin and I met while working together at a coffee shop. He taught me how to roast coffee. We've been together for a little over 2 years. We wrote the story of how we met and our first date here: http://www.weddingwire.com/colinandellen
The proposal
We went out for Nepalese food. During dinner it began to rain at which point Colin suggested a post dinner walk by the Mississippi River. I LOVE the rain and was completely excited for a walk. We walked for a bit down by the Mississippi River, came to a natural pause at a spot overlooking downtown Minneapolis and then Colin tried to get down on one knee, but I wasn't going to let him kneel in a puddle. He proposed and that was that! We headed to my parents' house to celebrate.
The planning
It took just about 6 months to plan the wedding. This worked out well; we didn't have time to think twice about our decisions which ended up being better for us—kept it simple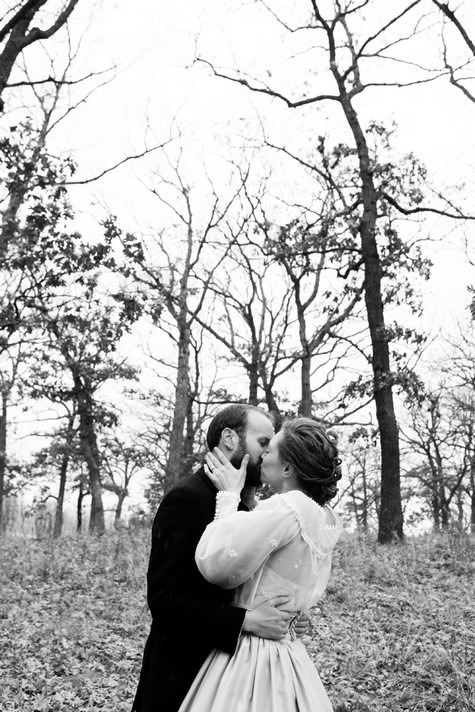 The Venue
We chose to marry at the same church I (Ellen) grew up attending and the same church my parents were married in. When it came to choosing the reception venue, I wanted to keep the decision-making process simple and relatively stress-free. Silverwood Park was the first and only location we looked at and it was perfect for us. The banquet hall overlooked old Oak trees and Silver Lake. There was a stone fireplace outside, available for our use, and the wood lined walls of the banquet were clean and elegant. I was also very happy to be supporting an organization whose goals include environmental and arts education.
The Dress
My mother made my dress. She pieced different new and old patterns together to mimic an Oscar de La Renta from the Spring 2011 bridal collection (the original Oscar) It turned out beautifully! My accessories were a bit of everything: gold ball studs from Ralph Lauren, a moonstone cocktail ring I found at a rock collectors shop, and an organic beaded necklace made by my hair stylist and friend. Simple ivory satin pumps were decorated using the same lace that was used on the blouse.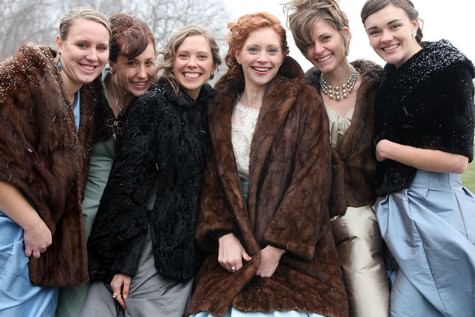 The Suit and Bridesmaids
Colin went for a classic black suit with black bowtie and suspenders; think James Bond. The bridesmaids made their own dresses from silk, which were different shades of natural greens, blues, and sand. The groomsmen had homemade bowties, which coordinated with the bridesmaids' colours.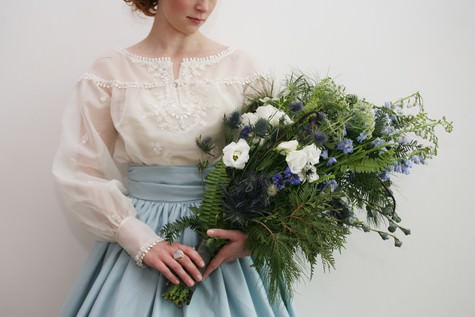 Theme
Our theme or the "feel" of the day was US: Ellen and Colin. I simply wanted it to feel like our wedding was comfortable, and was wholly us. I like to pay attention to what makes me feel good, what colors and textures and that's what dictated the colours and décor.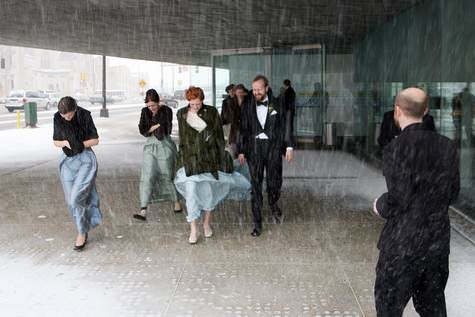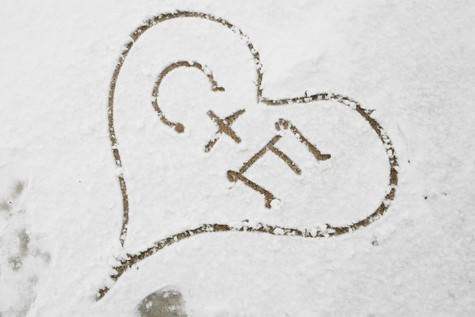 Food
Our plated dinner options included Salmon with roasted rosemary garlic potatoes and green beens, Pork Loin with seasonal veggies and the same potatoes or a vegetarian penne pasta primavera. We served several different types of home brew beer made by two friends of ours as well.
Entertainment
Lance Conrad from Humans Win! Recording Studios DJ'd. He is excellent.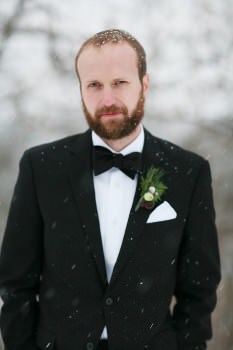 Flowers
I originally had wanted only greens—conifers (white & red pines, cedar) and ferns of all sorts, but that morphed into blues and purples and greens. My pageant style bouquet was HUGE and messy, full of thistles, cornflowers, Scabiosa, Delphinium, fiddleheads, red pine, spruce, cedar, queen Ann's lace. All flowers that had colour and texture pleasing to me.
Decoration
Simple and elegant, mismatched, blues, greens, ivory, woodsy, but not too cute.
Personal touches
It didn't occur to me that this wedding was essentially all DIY until a bridesmaid pointed it out to me. It simply made sense, was affordable, and was something I looked forward too—
-All of the little crafty projects and getting to sort all of the mismatched table décor into the individual tables.
-We bought nearly all of the décor for the reception at thrift and consignment shops.
-The escort cards were all hand written by a bridesmaid and myself.
-My sister and maid of honor extraordinaire made 20 Kransekaje, Norwegian wedding cake that was served to all of the tables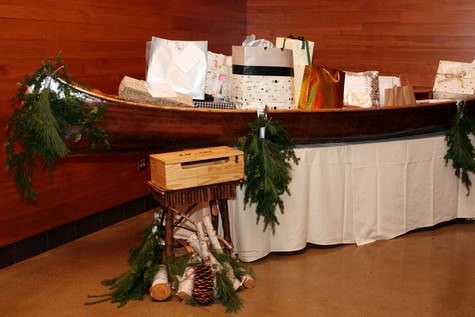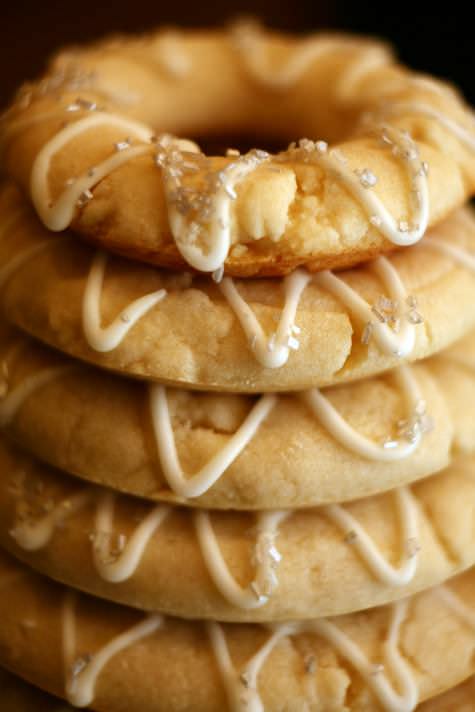 Special moments
-The SNOW! While taking photos the wedding party had a mini impromptu snowball fight. Later on in the evening the groomsmen took us on a canoe ride in the snow down a hill.
-We got to have Dogwood coffee come serve incredibly tasty specialty coffee and espresso drinks.
-We took great care in selecting the music for our ceremony—walking down the aisle to my Uncle play Bach's Fantasie in G Major (a piece that's 9 minutes long) was incredible, as well as having our good friend play Chopin's Nocturne in b Flat Minor.
Anything you would do differently?
I would get ALL of the DIY projects (sans flowers) done way before the wedding. Even though most of the projects were done, I had a few more things to finish up in the couple days before the wedding and they ended up being not necessarily stressful, but extremely tiring. I would budget more time to rest, watch a movie and drink tea with girlfriends.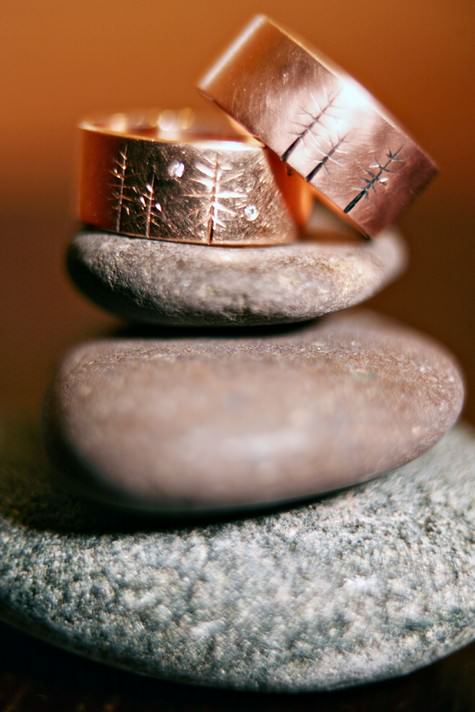 Planning Advice
Learn to lovingly say no to your mother. Keep it simple; simple is classy.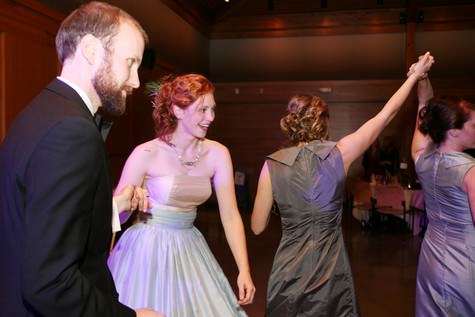 Biggest surprise
How calm I remained throughout the entire day. All that mattered that day was that I got to marry Colin and nothing took away from the joy I felt.
Folks I'm pumped about:
www.studiolaguna.com  – Katrina and John are so great!
www.jaidesalon.com   – Hair, Makeup and my necklace
www.heimies.com – men's suits
www.dogwoodcoffee.com – espresso/coffee bar for reception!
Others:
www.threeriversparks.org/parks/silverwood-park/silverwood-great-hall.aspx  Silverwood Park Reception site
www.mintahoe.com  – catering
Lance Conrad of www.humanswin.com  (DJ)
www.weddingpaperdivas.com – invitations
For more information about Studio Laguna go to:
www.stidiolaguna.com
www.studiolaguna.com/blog
FACEBOOK
TWITTER