Happy Monday everyone and how are you all this lovely Monday? How was your weekend? It was my birthday this weekend, however poor little Dexter was poorly, as was I so I didn't get to celebrate as much as I would have liked to! I ended up canceling the plans I had made and have postponed them for a couple of weeks time, hopefully then everyone will be fit and well and we can do it all properly. Dexter seems to have perked up a lot now and is getting back to his normal smily self. It's such a worry when they are ill!
Today I am taking you off for some Florida sunshine in the form of this gorgeous wedding from blog regular Stacy Paul Photography. It's a lovely wedding with the most wonderful outdoor ceremony, so many handmade touches and a vintage inspired theme. Such a pretty wedding and a lovely couple, I hope you enjoy it as much as I do.
'Our wedding day was the most magical day of laughter, tears, overwhelming happiness, gratitude and love. We felt like we were floating around dazed in a dream all day and for the days to follow.'
Kaitie and John were married on December 27, 2014 at Safety Harbor Resort and Spa in Safety Harbor, Florida. 'Getting married at the Safety Harbour Resort and Spa was actually suggested by my mother. We didn't like the idea of a "hotel wedding" at first because we thought it would be dull and boring, but Safety Harbour proved us wrong. It's one of the oldest hotels in the area and is classy with a distinct artsy, old-world charm. It's definitely not your typical hotel and the she spa is a wonderful feature. We really liked that we had the option to have our ceremony outdoors, on the pool deck overlooking the Tampa Bay, while having the reception indoors in a beautiful ballroom. The ballroom had this amazing mural painted on the ceiling with a huge chandelier and vintage portraits hanging on all of the walls, which we really dug. Logistically, it was one of the only venues that could accommodate 250 people (the amount of guests we originally expected) at a reasonable price. The greatest thing about getting married at Safety Harbour Resort and Spa was that we truly got to spend time with our guests the entire weekend and nobody had to leave Safety Harbour. We had a day-after breakfast of coffee, bagels, pastries and fruit at Philippe park which is a beautiful park about 2 miles from the hotel. The whole experience was easy and fun. We had 180 guests and we got engaged on November 11, 2013 and started planning in January, 2014… so we planned for about 11-12 months.
How they met
John and I met through our mutual friends who set us up on a blind date. It was painfully awkward at first because John is so shy and I am just weird and awkward! But we really hit it off and by the end of the night I told him that he better ask me for my number and in response, he kissed me; and all the while our friends were lurking in the stairwell of their apartment watching us and high fiving. It was awesome.
The Proposal
This is a good story. It goes all the way back to our first actual date, when John and I were hanging out down by the bay in this area of Tampa known as Davis Islands. I was trying to impress him by gracefully wading through the water and I of course being the extremely un-graceful gal that I am, slipped and fell! I was completely drenched in smelly bay water and got a huge cut on my foot which then bled profusely for the rest of our date. John always tells people he knew he was in love with me by my lack of freaking out at that incident like some women might and the fact that I just brushed it off like it was nothing and continued to enjoy our time together. So… on the day he proposed, he suggested we take a walk and he took me down to that same spot where I fell, where he fell in love. He was being all romantic and was quite nervous and just as I started to suspect something was up, he pointed toward the bay and I saw that he had written in chalk "WILL YOU MARRY ME" on one of the huge rocks! He got on one knee, started crying and the rest is history. Oh, and then later he threw a surprise party bar-b-q in our backyard with all of our closest friends.
How did you allocate your budget
Most of our budget was spent on the food and beverage for the reception. After that, flowers were the biggest expense.
How did you choose your photographer
Stacy Paul was recommended to us by one some of our best friends, who also had chosen Stacy to photograph their wedding. We checked out her website and all of her photos were to die for and we also really enjoyed her personality and style. After meeting with her for a coffee date we knew we definitely wanted her to photograph her wedding! Choosing Stacy was definitely one of our better decisions and we are forever grateful to her and to our friends for recommending her!
The Dress
My dress was a Maggie Sottero which I purchased from CC's boutique in St. Petersburg, Florida. My accessories (earrings, back draping necklace, bracelet and hair pins) and shoes were from BHLDN. I am obsessed with BHLDN. My pretty vintage white floral clutch was from the Seminole Heights antique shop.
The Suit and Bridesmaids
John's tux and the groomsmen/usher's suits were from Joseph A. Bank. The bridesmaids all chose their own dresses based on a variety of blush-toned colour choices I provided them. One of the coolest things about the wedding was getting to see all of their beautiful, personal styles lined up together! It was glorious. Three bridesmaids purchased their dresses from BHLDN, two from David's Bridal, one from Neiman Marcus and one from Dillard's.
Theme or Colour Scheme
I had a tough time with the colour scheme because I just love all colours. I originally was going for teal, cranberry, ivory and blush but it ended up being mainly blush and ivory with sprinkles of other random colours.
Flowers
Oh goodness. Picking the flowers was one of my favourite parts of the planning experience. I obsessed for days looking at different arrangements on various wedding blogs and Pintrest before meeting with my amazing florist who helped realistically make my visions come to life. I was thrilled with the way they turned out! I wanted the bouquets to have sort of wildflower feel with lots of greens. The bridal bouquet was all white, with scabiosa, feverfew, daisies, Queen Anne's lace and calla lilies. I wanted to incorporate calla lilies because my mother carried them on her wedding day. The bridesmaids' bouquets were raspberry, blush and ivory toned with daisies, roses, feverfew, scabiosa pods and some unusual greens. John's boutonniere was a white calla lily and the groomsmen had scabiosa pods with a raspberry ranuncula. Our arch was covered with curly willow branches and vines with strands of white orchids hanging from the centre. The centrepiece arrangements were a collection of small vintage milk glasses, bud vases, jars and vintage teacups that I collected with the help of my mother-in-law from various thrift shops and antique shops; with blush, raspberry, ivory and white flowers similar to the bridesmaid bouquets.
Decoration
I guess you could say that the overall theme to our wedding décor was "vintage". We purchased a lot of floral-themed décor from BHLDN which had a wonderful vintage feel and scattered a few antique knick knacks from our home throughout the reception ballroom.
Food
We had a day wedding served brunch. Cocktail hour was Bloody Mary's and mimosas with tropical fruit and berries, pastries and a cheese and veggie display. Brunch included French toast, bacon, mini quiches, chicken piccata, crab cakes with dill sauce and mint crushed cucumber, roasted potatoes, seasonal vegetables and a salad. We also had a cheesecake station with assorted toppings and a DIY coffee bar cinnamon sticks, grated orange peel, chocolate syrup, whipped cream and crystal candy stirrers.
Wedding Cake
The cake was a huge four-tiered cake, each with a different flavour – the bottom red velvet, then white chocolate raspberry, then Boston crème, then carrot cake.
Entertainment
For the ceremony, we had a solo violinist who played classical music and for the reception we had a super-enthusiastic DJ who got up at one point and started dancing with guests. He was wonderful!
Buy or DIY your Stationery
We bought our stationary. The save-the-dates were from GoGoSnap on Etsy and the invitations from Wedding Paper Divas.
Personal or Handmade Touches
I collected all of our teacups, jars and vases for the flower arrangements. I made a few DIY mercury glass vases. I made "wedding wands" for our ceremony exit out of bells, ribbon and wooden sticks. I hand painted and/or stained all of the signage, such as the "here comes the bride" sign, the welcome sign at the ceremony, the photo booth sign, etc. (For the text on some of the signs I used this great website, www.wordsanywhere.com that sells custom sticky letters – you can choose the font, colour, size and script). I made our "Mr." and "Mrs." chair signs for the reception out of vintage license plates that I found on eBay. The "Mr." sign was an Illinois license plate, which is where John is from and the "Mrs." Was a Pennsylvania license plate, where I am from. The table numbers were held up by chess pieces that I glued onto birch wood slabs. I painted a mural on a giant 6×8 piece of wood to use as our photo booth backdrop. I made one our favours, with the help of my mother, father and sister, traditional Jordan almonds wrapped in tulle and tied with ribbons and a little tag. Our other favours were these incredible soy candles which my friend Krista of Hippie's Homemade Candles made for us. One of my bridesmaids painted a giant mandala on wood and we used it as our guestbook. I put together a table of photos of our parents and grandparents and random trinkets and made little signs of our last names. I made a "cards" sign for the card/gift table by gluing letters onto coffee cups and planting a cactus in each cup. My favourite and probably the most difficult DIY project was the escort cards – I painted old shutters and nailed 180 nails into them, and hung each guest's escort card with a skeleton key tied together with a ribbon. Then I made a sign that hung from the top of the shutters that said "the key to your seat". Definitely a "Pinterest success"!
Special Moments
The most special moments of the day were my mother putting me in my dress and shoes, seeing my bridesmaids' faces when they saw me in the dress for the first time, the moments I got to spend with my sister and bridesmaids before the wedding where we would just look at each other and start sobbing, a tearful moment I had with my mother-in-law when the bouquets were delivered and we both just stared at them and started crying, opening my gift from John (a vintage locket, a Portishead record and some sexy lingerie), watching a video taken by my friend of John opening his gift from me (a vintage WWII sword and a boudoir book wrapped in an American flag), my heart pounding while waiting for my cue to come join the wedding party to walk down the aisle, walking down the aisle with my daddy seeing the smiling faces of all the people I love, hearing John's sweet and tearful vows, our officiant who was a dear family friend totally nailing every moment of the ceremony as if he were born to officiate weddings, being officially pronounced husband and wife, hanging out with Stacy Paul taking photos in a tree at Philippe Park, shimmying our way into the reception to my favourite Outkast jam, our first dance, the father daughter dance, watching my husband dance with his mother, hearing our best man and maid of honour speeches, re-uniting with old friends I hadn't seen in ages, smashing cake in John's face, going to an ice cream shop after the wedding was over and eating ice cream in full wedding attire, oh I could go on all day! John's favourite special moment was when he realized that the ceremony had ended, we were officially married and we got to have our first kiss! Every moment was so special to us and we will cherish them forever.
Advice to other couples
Don't sweat the small stuff, make sure to take good care of yourselves the weeks before the wedding when stress levels are high, work together as a team, and do what is right for you as a couple! It's your wedding and it's all about you!
Biggest surprise
The biggest surprise of the day was my parents' sweet and thoughtful speeches they gave during the reception. My dad gave a "welcome" speech and my mom gave the blessing. I was a little nervous because I had no idea what they were going to say! They both incorporated funny stories about John and I as a couple and both were so heartfelt and wonderful.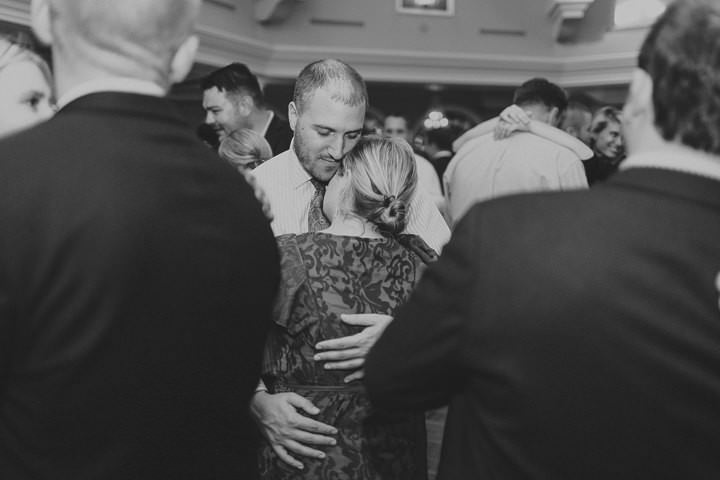 Supplier Shout Outs
For more information on Stacy Paul Photography's work please go to:
www.stacypaulphotography.com
www.stacypaulphotography.com/blog
FACEBOOK
Hi! I'm Stacy, a Tampa, Fl based wedding photographer. Along with taking pretty pictures, I love singing, twirling around in dresses, handwritten letters and key lime pie (yum.). I like to think that my style of photography is vintage inspired with a little quirk and a lot of whimsy. Mostly, I just love photographing love.