Today I am delighted to welcome one of our most loyal photographers to the blog, Stacy Paul Photography. Stacy has been submitting weddings to me for years now. I don't think there is one wedding that she has sent me that I haven't agreed to feature. She gets to work with the best brides and grooms and always creates the most amazing memories for them. Today it's the turn of Abby and Aaron, who had the most magical of days. Abby wears one of my favourite Anna Campbell gowns, and they were married in the most gorgeous of outdoor ceremonies. The heavens opened during the ceremony. They braved the wet weather along with their guests and the results are these amazing photos and the most wonderful wedding.
A perfect, relaxed wedding day. It was completely magical.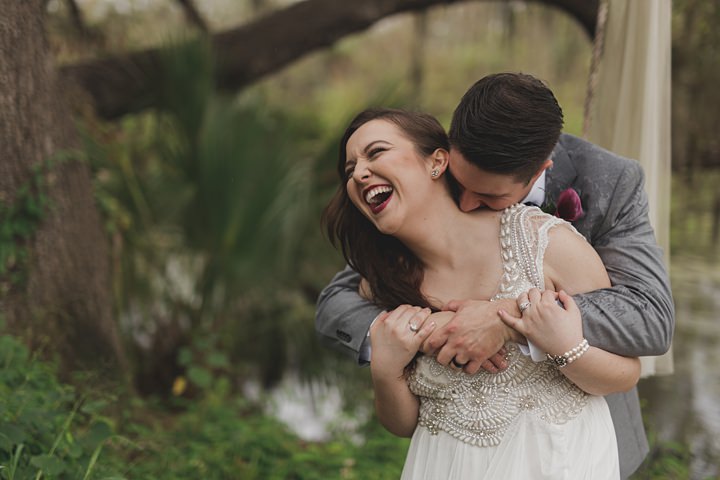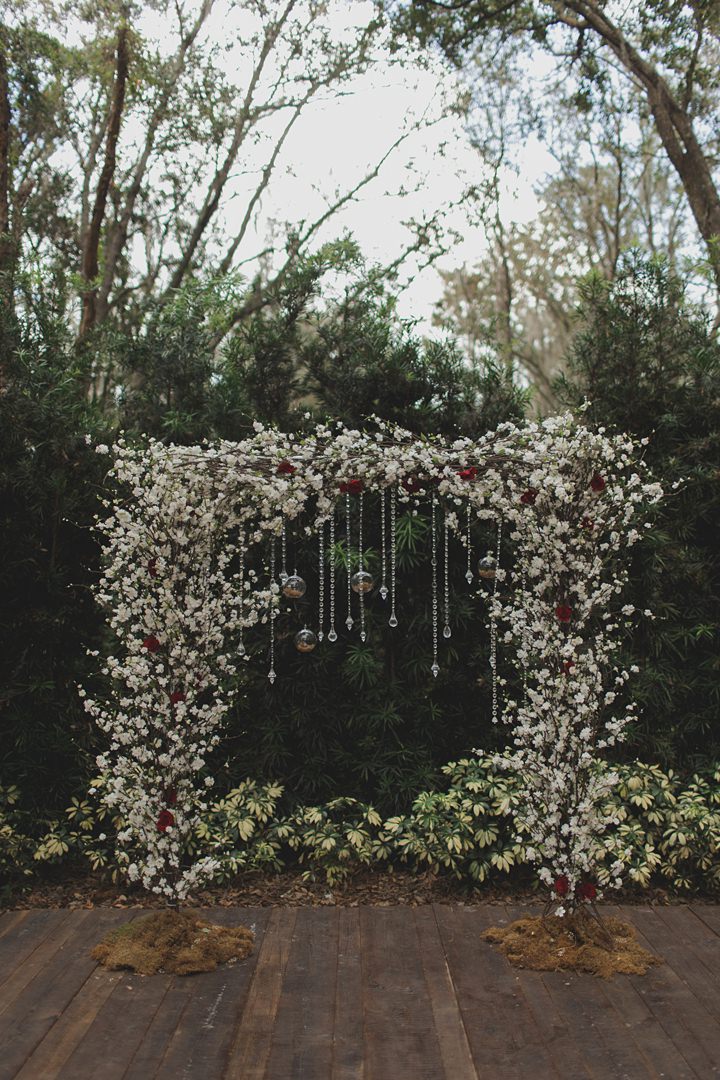 Abby and Aaron were married on 30th September, 2017 at Prairie Glenn Barn at Gable Oaks Ranch. Plant City, Florida. 'I found this venue on Pinterest and the pictures were like a fairy tale. I didn't think it could be that beautiful in real life. I went and toured it (it was the first venue I saw) and it turned out it was just as beautiful as in the pictures. I knew I had to get married there, under the oak trees. We had 100 guests and booked the date 1 year and 1 month in advance. The real work didn't start ramping up until about 6 months in advance.'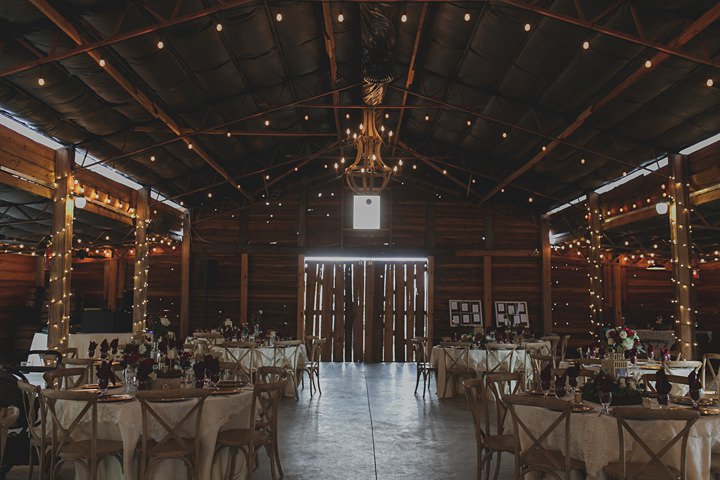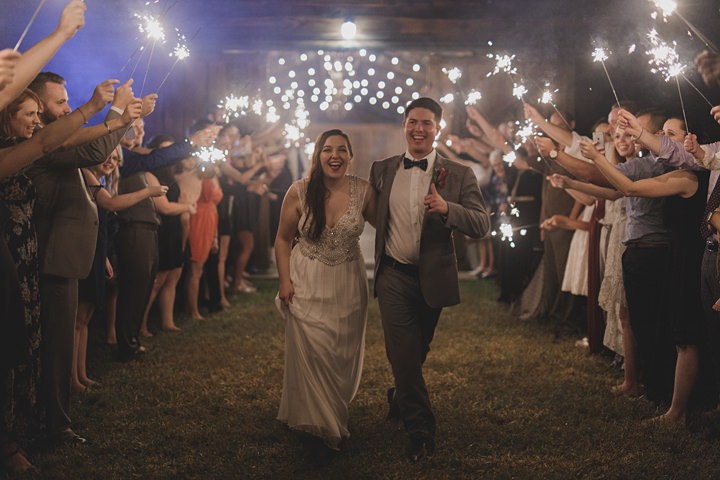 How they met
We've been together 4 years now. We met through a mutual friend (and Best Man, Forrest) who helped Aaron collude to get us together. It took a year of us knowing each other before I said 'yes' to a date with him!
The Proposal
Aaron insisted he needed a weekend away and that he wanted to spend the night in Orlando. We went out to dinner, saw Blue Man Group, then I kept us out even later because I was having such a great time and had no idea what he had planned. Back at our hotel room, he asked if I could get something out of his bag for him. When I opened his bag the ring was sitting in the open box. I was completely shocked. It was a really sweet and private moment. I couldn't sleep at all that night!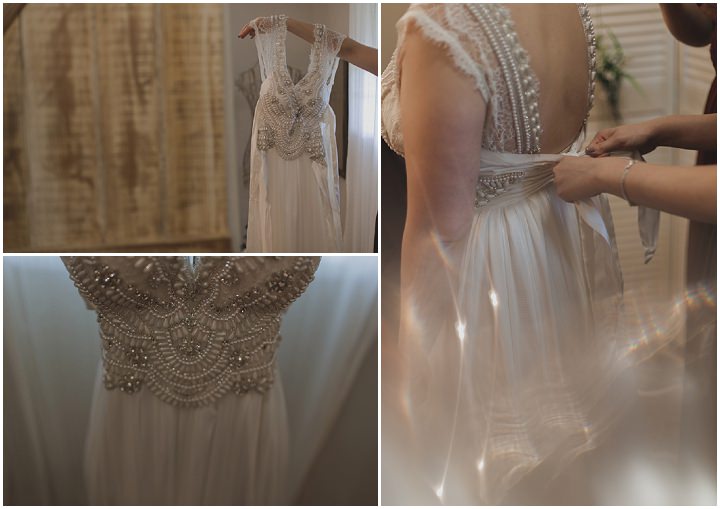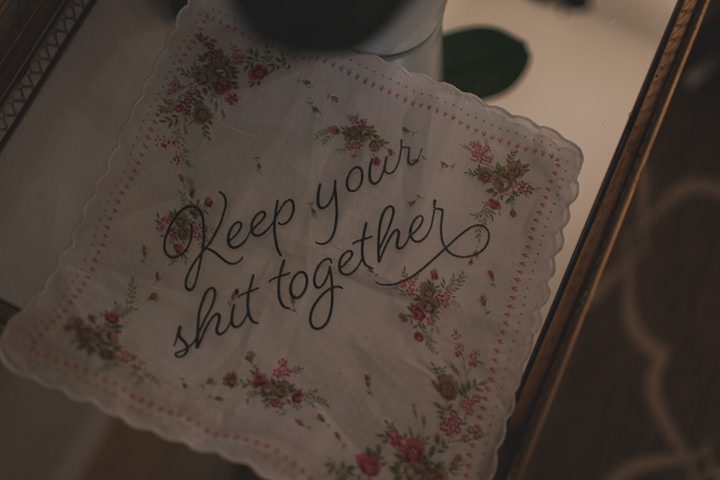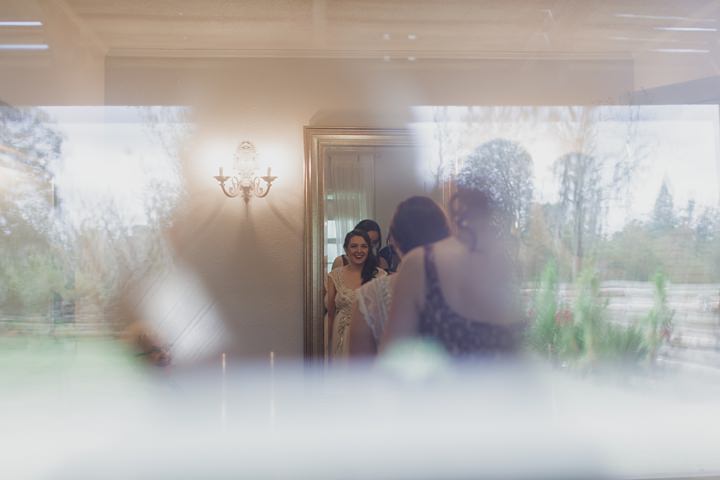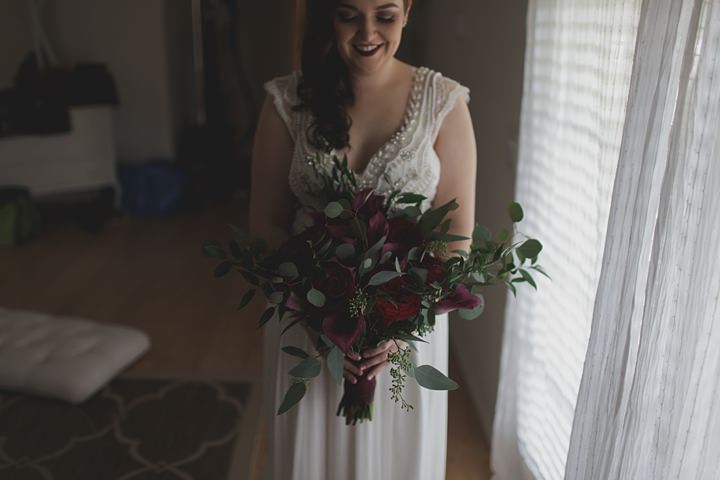 How did you allocate your budget?
Our venue, Florida Rustic Barn Weddings, was all-inclusive, so most things were purchased together in one sum to the venue. The most expensive item was the dress. I had been the Maid of Honor for my Matron Honor a few years ago, so I already knew I should plan on setting a good chunk aside for that.
Where did you splurge and how did you save?
We splurged a little on the food. Food is very important to Aaron. Because we had an all-inclusive package, it only included certain things. We paid extra to get our hors d'oeuvres.
I would say we saved the most with the photobooth. Instead of paying for a fancy photobooth to be brought in (and those are still great!) we just used a polaroid camera. It made for some great memories and we definitely have some funny and cute pictures from it.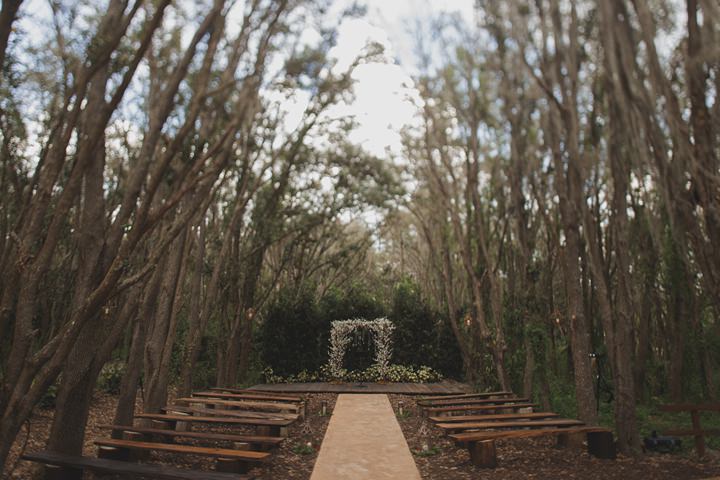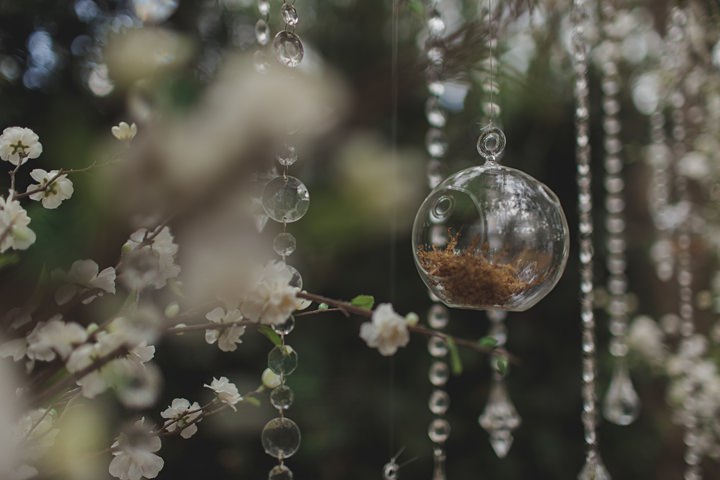 Why did you choose your photographer?
Stacy Paul Photography was the photographer for my Matron of Honor Lea's wedding which I was the Maid of Honor for. I saw what she did with Lea's wedding and how beautiful the pictures were and knew I wanted her for my wedding. She has a very unique, vintage style that I haven't found anywhere else in the Tampa area.
The Dress
My dress was by Anna Campbell, purchased from Malindy Elene in Tampa Bay. My shoes (boots) were Steve Madden. All jewelry for me and my bridal party was by Chloe + Isabel.
The Suit and Bridesmaids
The suits were from Men's Warehouse and bridesmaid's dresses were from David's Bridal.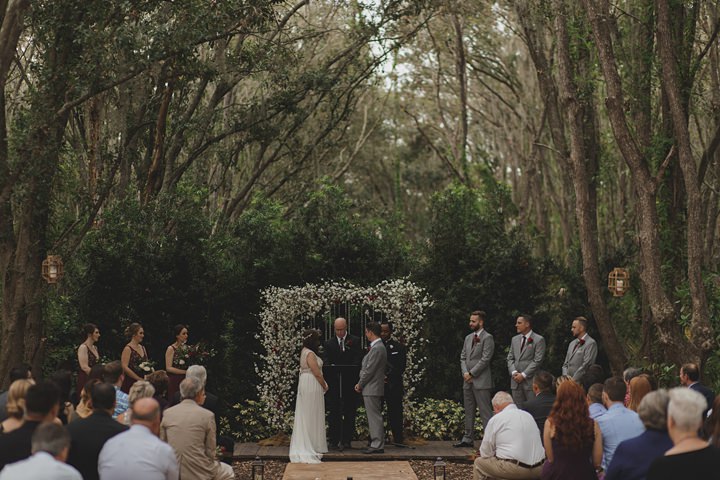 Theme or colour scheme
I knew I wanted a wine/burgundy color scheme. My MOH describes the theme as vintage glam.
Flowers
We had black magic roses, burgundy calla lillies, cream hydrangeas. Then we had eucalyptus and other greenery by Hannah's Floral & Events.
Decoration
We had a gorgeous alter made of silk flowers. Our tables had three different kinds of arrangements on the tables.
I wanted to bring out my love of skulls and music, but not in a way that would be cheesy or hokey. So I found ways to sneak in details. We had skulls on our cake topper and a skull on the guest book table. My MOH found some old instruments at an antique store, so we had a old, rusted trumpet on our sweetheart table and a phonograph speaker filled with flowers by the guest book. Aaron also had tiny skulls on his bow tie.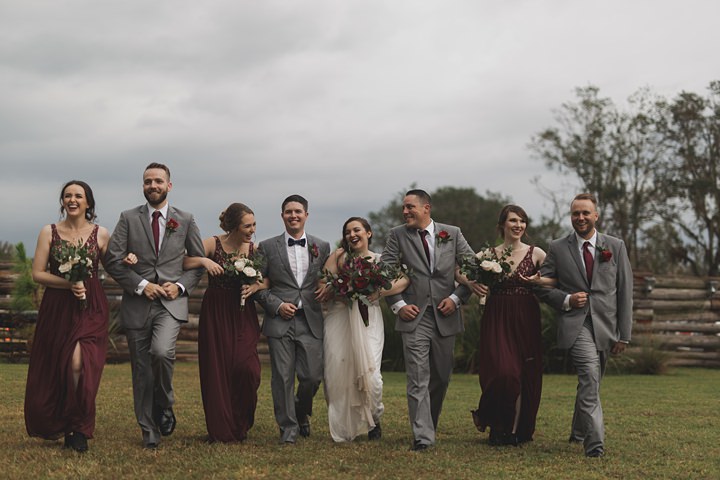 Food
We had a simple buffet with roast beef, rice, mashed potatoes, salad. The hors d'oeuvres were Aaron's favourite. Bacon wrapped plantains, bruschetta, fried macaroni and cheese balls, and one other I honestly can't remember because I probably didn't eat it! All by Catering by the Family.
Wedding Cake
The wedding cake was AMAZING! It was made by Petite Madelyn's. We had two different flavors: Vanilla with caramel icing and chocolate with cream cheese icing. We also had a small gluten free cake made for a few of my family members who can't have gluten.
Something really special was the "groom's cake." It was really a pie. Aaron had wanted his great-grandmother's chocolate pie. It is a famous recipe in his family. The only person who could have made it was his mom, and I didn't want to have her stressing about making it the week of the wedding. So we gave the recipe to the baker/owner at Petite Madelyn's and she made the pie for us. It turned out perfect and was a nice surprise for Aaron.
Entertainment
We had a DJ for music. We also played the 'shoe game.' I love watching other couples play the game so I knew I wanted to have it at my wedding too.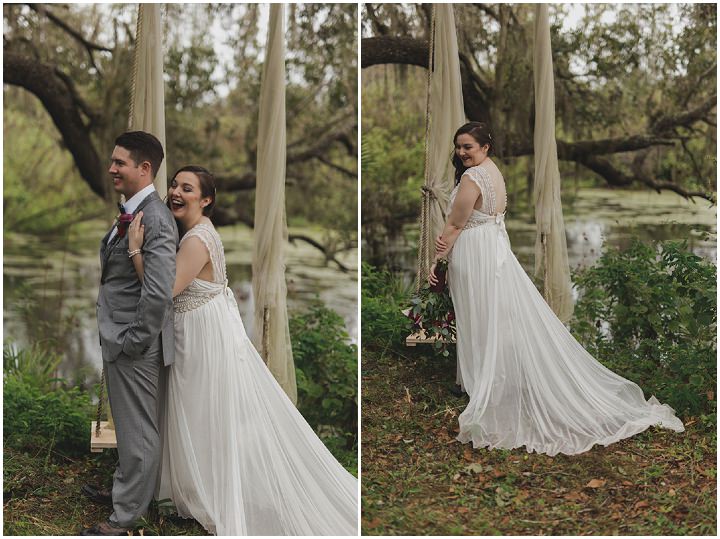 Who supplied the stationery?
All stationary was from Wedding Paper Divas
Personal Touches
We had the skulls and musical instruments I mentioned before. I was worried people would think it was "weird" that I had skulls at my wedding, but I'm so happy I did it. I think we pulled it off in a classy way and really put my personal stamp on the wedding.
Special Moments
It rained during our ceremony. I honestly didn't even care. It just made it more magical really. Also, my wedding planner said she was surprised everyone sat through the whole ceremony. So I was really grateful that everyone stuck it out in the rain to share the special moment for us.
Another special moment was Aaron's stepdad did a reading before the ceremony. He did a reading at Aaron's stepbrother's wedding, and actually performed the ceremony for his other brother's wedding. So it was a special moment for him to be included in the ceremony.
Advice for other couples
I would say that it really is the time to be unselfish and do things how you want them done. I was worried about how people would perceive certain things, but I'm so glad I did those things because it truly made me happy and was what I wanted.
I highly recommend having a wedding planner. I nearly lost my sanity a few times during the planning phase, so I can't even imagine what would have happened if I didn't have a planner.
Biggest Surprise
The biggest surprise was our nerves. I'm a crier, so I thought I would bawl all day. I cried down the aisle, but once I saw Aaron I was totally calm. Aaron was a lot more nervous than either of us thought he would be. I could see it when I finally saw him at the ceremony.
SUPPLIER SHOUT OUTS
FOR MORE INFORMATION ON STACY'S WORK GO TO:
www.stacypaulphotography.com / [email protected] / +1 (813) 841 8160 / FACEBOOK / I: @stacypaulphotography / PINTEREST