Today's wedding is super sweet and stars the most beautiful dog called Helen, who really does steal the show. Nora and Mason were married on 26th May 2019 at Idaville in Indiana US. They are both lovers of the outdoors so it was important that their venue reflected this. The day was full of rustic outdoor charm wild flowers, amazing vegan food, gorgeous decoration and of course their dog Helen, who was part of the day from beginning to end. From the gorgeous first look to the beautiful outdoor ceremony, this wedding is just stunning, natural and captured beautifully by Sarah Elizabeth Photos.
A Boho Wedding Day Amongst the Pines
Sarah the Photographer tells us more about the day
Mason & Nora's love story began over 8 years ago in high school, they both ran on the McCutcheon cross country and track teams and noticed each other then, but got setup together at a high school dance, after that they were pretty inseparable and have continued "running" by each others side ever since!
They share a strong bond over being active, being outdoors and just living an adventurous, genuine life together. They are the ultimate adventure couple, it seems they are always off travelling somewhere amazing!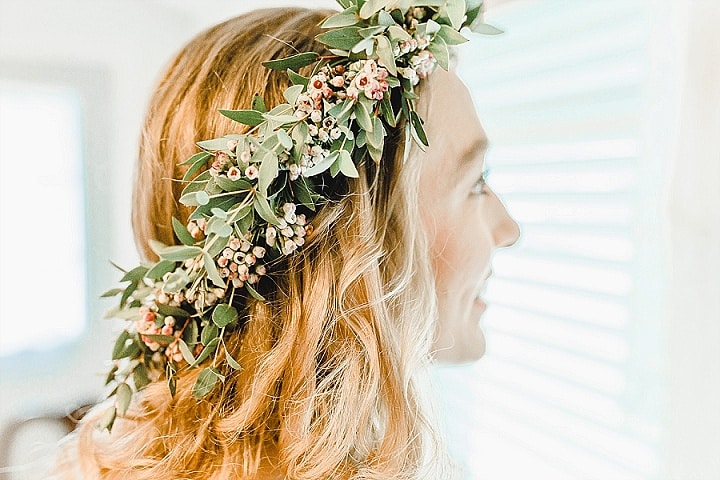 I can't even begin to describe how beautiful and incredibly perfect their day was. Every little detail was just so them and their style; outdoorsy, boho, natural and unique. Mason & Nora supported many small, local businesses by using them as vendors for lots of different parts of their day, including me! Just to name a few, they passed out all natural handmade soap bars as favours from Next To Godliness Soap which can be found at the Lafayette farmers market. They served vegan pizza and veggies from Jami's wood & coal fired pizza out of Attica, IN. As well as vegan cake from a small vegan bakery, Sea Salt & Cinnamon out of Muncie, IN, they also custom designed Nora's ring which was made by Ralph Privoznik Jewelry Art out of Lafayette, IN. Another one of my favourite parts was the florals, soo soo gorgeous, shout out to Rubia Flower Market in Lafayette for doing an outstanding job with all the bouquets, boutonnieres, Nora's flower crown and so much more!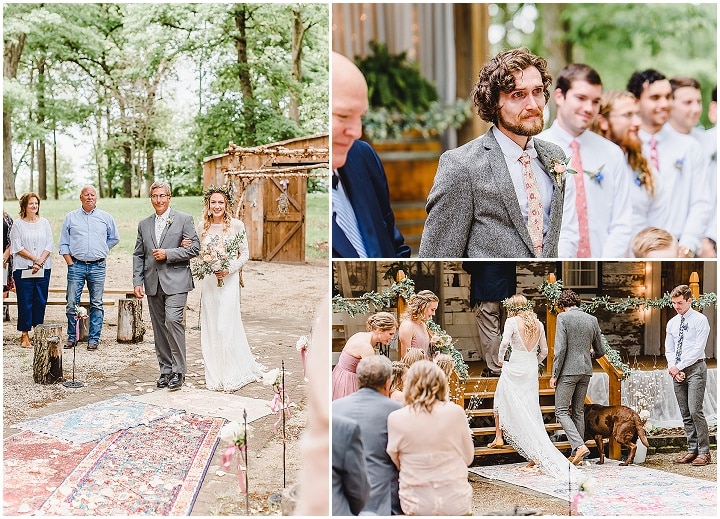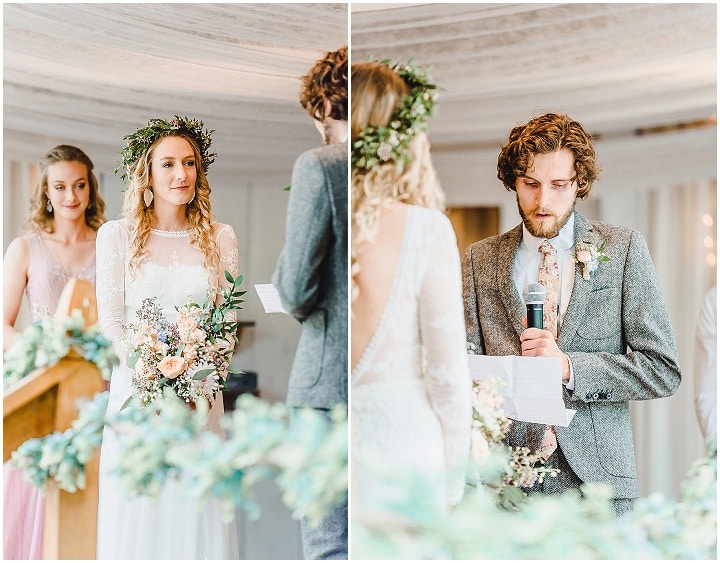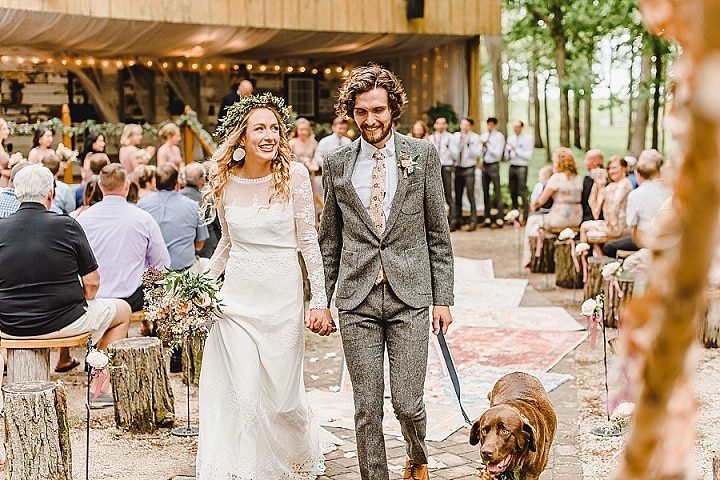 Mason & Nora's dog, Helen, was also a huge part of this day, if not the main event! She did not leave their side the entire day, even during the ceremony, laying right next to them as they read their beautiful hand written vows to each other. Such a good dog Helen was the whole day, we loved having her with us every second!
They also incorporated a first look which included reading letters they had written to each other as husband and wife, oh my goodness, these letters were so pure and full of so many sweet words. What I loved the most about their first look is that Mason was blown away by how beautiful his bride was when he first saw her before the ceremony, but then, as Nora gracefully walked down the aisle to him at the ceremony, Mason still got emotional again, if not more emotional seeing his bride walking towards him, because that was the real moment of "we're getting married now!"
I could go on and on about this day, but I'll let the photos tell the rest of the story. Mason & Nora are now in Italy enjoying their honeymoon for the next two weeks and then as if that isn't adventurous enough, their next adventure is moving to Utah shortly after they return from that!
Supplier Shout Outs
For more information on Sarah Elizabeth Photos go to