I just love todays wedding, a beautiful collection of wonderful details with the most gorgeous couple. Chantal and Robert chose to hold their wedding reception in Roberts parents back garden, they hired tipis so they could have a totally personal wedding that they could really put their stamp on. They mixed in rustic details and decorations with a Chinese theme and the results are beautiful. I just love the personal feel this wedding has, the attention to detail from the caters, the beautiful decorations and the fantastic Tips'. Chantal and Robert both look amazing. Altogether a wonderful day, captured perfectly by Jonny Draper Photography.
'Hard work planning a home wedding but it was an absolutely incredible day, beyond our expectations, one that we will treasure forever.'
Chantal and Robert were married on 24th August 2014 at St. Cuthbert's Church Lytham and the reception was at Rob's Parents House.  'The church is Rob's church. we chose Rob's parents house as it would be a wedding that no one else could have. We looked at hotels and wedding venues but we wanted to have something different and personal to us.  We had 130 day guests and 30 odd extra for the evening do.  From date of proposal to the wedding date was exactly a year on the day! I was proposed to on August bank holiday sunday- married august bank holiday.'
How they met
We met at school, so we have known each other for 28 years! We were even born on the same day in the same hospital! Now that's ground work on his behalf!! When we got married we had been together for 4 and a bit years.
The Proposal
Rob and his family always used to walk up Gummers How in the lake district. On Rob's 12th birthday party, he was up the mountain with some of his friends and his dad suggested, this would be a great place to propose one day…….Rob proposed to me on top of a Gummers How mountain in the Lakes overlooking where we had our first date. He then replicated our first date, where we caught the steam boat down the lake, had lunch at Lakeside Hotel and then stayed overnight followed by a day at their spa.
How did you allocate your budget
We made a spreadsheet of everything we thought we needed, made a budget column next to it and tried to stick to it or obviously go less!
How did you choose your photographer
Word of mouth, as soon as we got engaged a few people suggested our photographer. We looked at some of the work Jonny had done, looked on his Facebook page, we were sold. Rob is in to his photography, and Jonny's style of photographs were exactly what we wanted. We didn't even look at any other photographers or make any other calls. He was the one who we wanted!
The Dress
Dress by Ronald Joyce, Shoes and clutch bag by Jimmy Choo. Veil by Elizabeth Dickens.
The Suit and Bridesmaids
Suits were from Whitfield and Ward in Wilmslow and Bridesmaid dresses were from Two Birds
Theme or Colour Scheme
Silver/Platinum and pink
Flowers
We had pale pink David Austin roses, Silver brunia and foliage and other cream roses
Decoration
We made a lot of our own decorations from Pom Poms, Honeycomb balls,vases made from jars, bunting put together by one of our best man's wife, Lisa. The table plan from a pallet and jam jars. Personal napkins were made by a good family friend-Nigel Jackson at Fylde Coasters. As Chantal is Chinese, we tried to incorporate some Chinese theme in to it. so our wedding favours were engraved chopsticks in a personalised silver box- ordered from Hong Kong and shipped to us. we also had some Chinese lanterns hung up
Food
Pre dinner- Chinese themed canapes- so beef satay skewers, chicken lemongrass and lime won tons, Hoi Sin Duck on flat chinese spoon, Tempura prawns with sweet chilli sauce. A fantastic 3 course meal, all catered by Rowleys Catering
Wedding Cake
From Wong Wong Bakery in China Town- Manchester
Entertainment
A talented young lad called Tom Hammond during the greet and Canapes. Then the Simon Faulkner band in the evening
Buy or DIY your Stationery
Bit of both really. Ordered the kraft card Pocketfolds from Pocketfolds, so we had to assemble/ glue them and also put east of india ribbon them. But then I really like Letter pressed invites, so I order the inserts and main invitation from Strawberry Sorbet. This obviously bumped our costs up but it was worth it. I thought they looked amazing
Personal or Handmade Touches
We used Rob's dad's ferrari as our wedding car, Rob's great grandmothers leather suitcase for a place for people to put wedding cards and gifts. already said most of it!!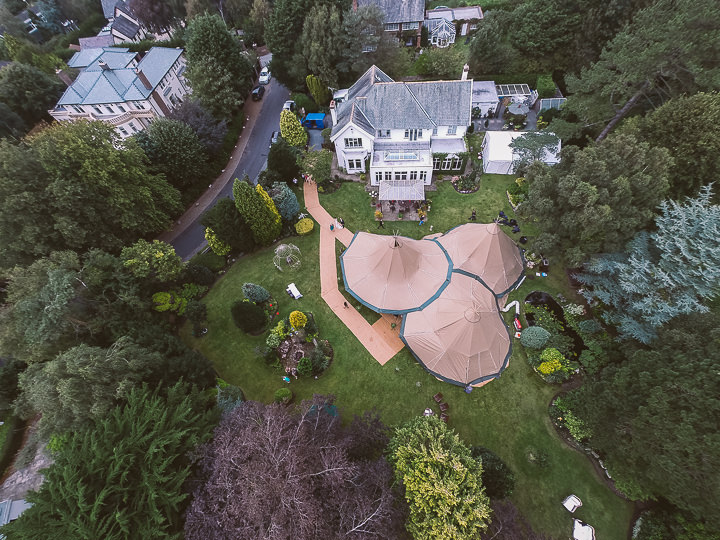 Special Moments
At one point in the ceremony, the Vicar gets you to turn round and face all the congregation, seeing all your family and friends there for you is amazing and overwhelming especially as we had a lot of guests come from abroad or had travelled from down south to be with us. The 3 tipis and the wedding bus looked spectacular- Seeing all the hard work pay off and seeing everyone enjoy the day.
Advice to other couples
Start saving and planning early!
Biggest surprise
The weather after it had rained for the week before and also Jonny Draper bringing his drone for aerial pictures! ps. the weather was sunny
Supplier Shout Outs
For more information on Jonny's work please go to:
www.jonnydraper.co.uk
www.jonnydraper.co.uk/blog
[email protected]
www.facebook.com/JonnyDraperPhotography
twitter.com/JonnyDraperfoto