Yesterday I told you I had a week of cracking weddings lined up for you and I wasn't lying! Today I have an awesome Tipi wedding set in the brides parents garden. A gorgeous DIY affair topped off with 1000 Origami Paper Cranes. I do love a Tipi wedding, and I especially love them when a couple really puts their own stamp on their day which is certainly what Jess and Nick. With a beautiful outdoor ceremony, ice cream van and lots of handmade projects all brought together by their friends and family this wedding is just lovely. Big thanks to Kelly at Lola Rose Photography for the images.
'Within beautiful relaxed surroundings, with all the people we love having a good time.'
Jess and Nick were married on 5th July  2014 at Jess' parents house in Buckinghamshire. They held the legal ceremony some days before and had Jess' uncle carry out a ceremony in mum and dads garden. 'Jess' parents house is in front of the family's farm so there was a lot of space and a lovely setting where Jess grew up. We wanted somewhere that people could feel relaxed and it was a very child friendly wedding and so we knew the kids could play in the garden freely and the parents were able to have a good time too. We had 150 guests in total and it took 8 months to plan.'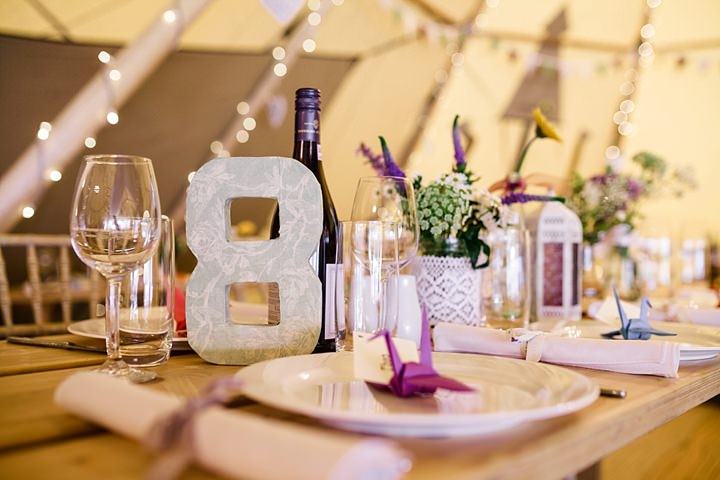 How they met
We met 3 years ago in a pub through some mutual friends
The Proposal
Nick wanted to involve Niamh (our daughter) so he chose to do it at 7 am on a Saturday morning in our bedroom when we were together, one of our favourite times of the week. Jess wishes she could have looked a little less sleepy!!
How did you allocate your budget
We spend a large proportion on the tipis as we loved them so much, then a good amount on food and booze so that everyone was fed and watered. Luckily we made a lot of things ourselves and had friends and family help us out too.
How did you choose your photographer
Jess found Kelly by looking through wedding blogs and seeing the styles of wedding she did knew she would capture our day perfectly. Jess met her over skype and knew straight away she was perfect as she was so friendly and easy to get along with. When we had a final photos back we knew that the decision was right, they were the most stunning photos ever.
The Dress
Veronica – by Lusan Mondongus, bought at Ellie Sanderson in Beaconsfield. Also got the belt from them and shoes were from Dune.
The Suit and Bridesmaids
Grooms suit was from Reiss – 3 piece Lungano. Big bridesmaids dresses were from Coast and the little ones from Debenhams.
Flowers
Jess' Auntie Mousie did the flowers, we went to a market on the Thursday and bought lots of flowers, and also picked some daisies and hogweed. Mousie got up at 5 am to arrange all our flowers in small vases and then last minute we decided to have bouquets last minute!
Decoration
Jess made a lot of the decorations herself, including folding 1000 origami cranes (doesn't actually take as long as you think!). She made the name places, invitations, signs and table numbers. Jess and her mum also spent hours sewing 200 metres of bunting from bed sheets bought in Ikea. We wanted it to reflect our personalities and feel like everything was very personal to us. Nothing really matched but in the end it looked great!
The bridesmaids, bride and mum had craft days where bows were tied around jam jars, vases and all sorts were made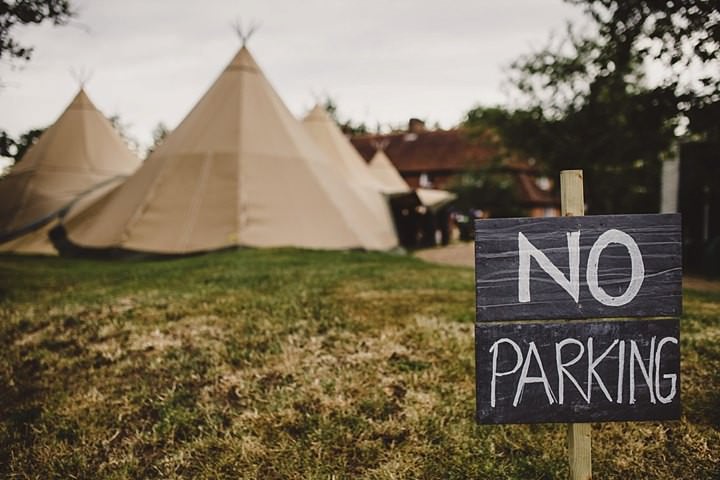 Food
We had a hog roast and salads, followed by an ice cream van. With ice cream served by Jess!! then in the evening we had noodle boxes. All catered for by Kingfisher caterers.
Wedding Cake
Jess' 86 year old nan spent many hours making flowers from sugar paste, baking the cakes, trying to transport it many miles from Worthing to Bucks, and the result was absolutely stunning.
Entertainment
We had a band called Victoriana, we saw them online and booked them which was always a risk. But they were incredible, they had so much energy and were such brilliant singers and musicians that the dance floor was never empty.
Buy or DIY your Stationery
Jess made the invitations and place names. But the vows, readings and table plans were made by the one the bridesmaids husbands Pete, who also made our thank you cards for after. He is a great talent.
Personal or Handmade Touches
We are very family orientated people and the day before the wedding everybody came together to help, hang, stick, lay tables put chairs out. Jess folded the 1000 cranes but the task of hanging them was done by the 2 mums, bridesmaid Claire, and cousin Cally, it took them nearly all day.
Special Moments
The ceremony was so personal, and beautiful and we were all very tearful and carried out by Jess' Uncle matthew who was amazing. Then Nick's friend, who is a big guy and plays rugby. He was doing the song "wanna grow old with you" from the wedding singer as a reading, he actually sung the song. It was truly brilliant and hilarious all at the same time
Advice to other couples
Don't get hung up about the little things, it doesn't matter if things don't match or go to plan, what matters is what you guys as a couple really want because this is a day that you will remember for the rest of your married life also get it videoed so you can watch it back and see the little things you missed!
Biggest surprise
How quickly it went and feels like a dream! Also how people go a bit wild when there is a free bar!!!
Supplier Shout Outs
For more information on Lola's work please go to:
www.lolarosephotography.com
www.lolarosephotographyblog.com
FACEBOOK