I have a gorgeous wedding for you today,  with the most stunning bride, wearing the most amazing Jenny Packham Dress! It was sent into me by regular to the Blog Jonny Draper. It's the wedding of Katie and Mark who were married on 4th May 2012 at Manchester Town Hall with the reception for 150 at the Lowry Hotel with another 80 for the night do.
It's such an amazing wedding, the location of the Lowry make a wonderful backdrop, it is bright, light and modern and Katie's Jenny Packham gown goes so well with it. I am just loving the bridesmaids outfits with a nod to mad men, as well as the little hints of Motown within the table plan and the table numbers. If you think you see a couple of famous faces in the wedding party you won't be mistaken as the bride is the sister of Max Beesley! You will also spot Angela Griffin.
They describe their day a 'We wanted the day to be fun from start to finish and it was. We literally didn't stop laughing!'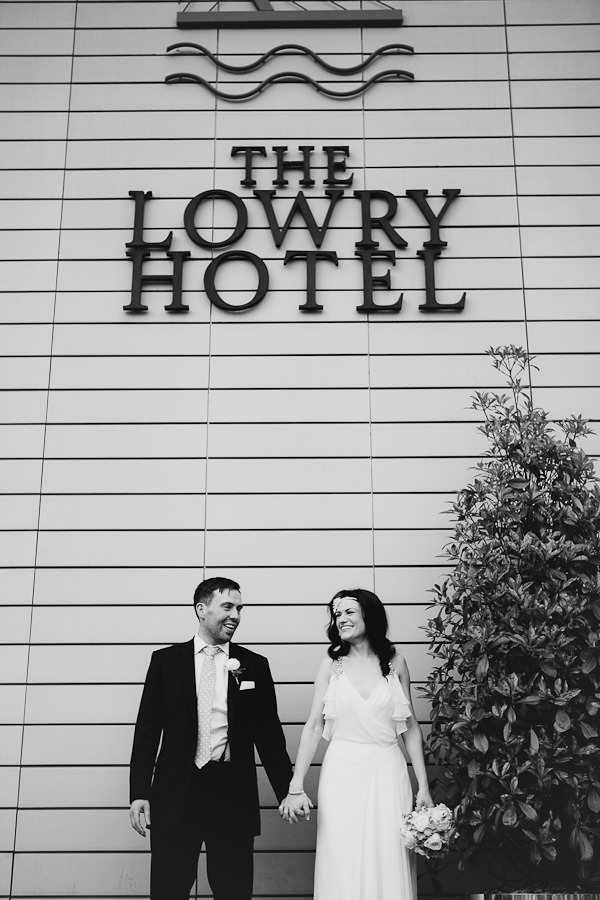 How they met
We met in out local pub and I stalked Mark until he finally agreed to go out with me. We have been together 9 and a half years.
The proposal
I had spent the day drinking cocktails with my mates when Mark called to tell me he had booked us a room in The Lowry as a surprise. I turned up drunk as was Mark as he had downed a bottle of wine in about 5 minutes with nerves. I was stood in the Bathroom doing my make up and mark said 'Do you fancy celebrating?' and popped his head around the door holding a ring. Mark likes to tell everyone he proposed in the toilet.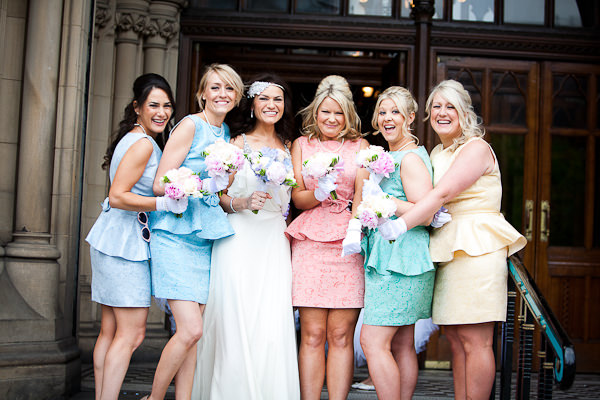 The Wedding Planning
We got engaged in Feb 2011 but are quite lazy so didn't start planning until September. About 7 months in total.
The Venue
We wanted a city wedding plus the Lowry Hotel is where we got Engaged
The photographer
Jonny is a friend I met through work years ago. I have always followed his photography on facebook so he was the first person I thought of. Even Mark who hates having his photo taken was put at ease during the photos so I know Jonny was the perfect choice. The photos are so beautiful.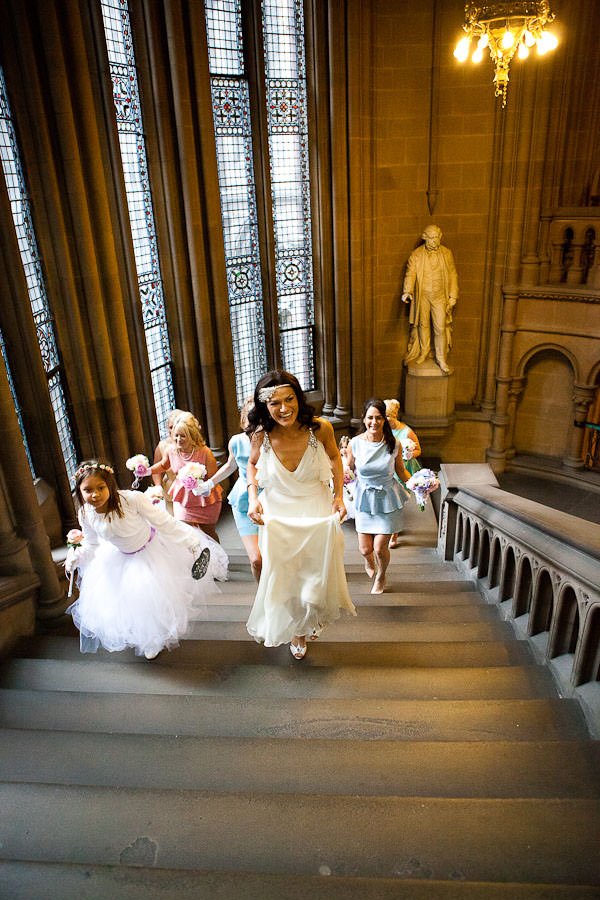 The dress
My dress was Laurel by Jenny Packham. I'm clumsy and wanted something I could move about and dance in easily. My headband was also Jenny Packham and my shoes were by Rachel Simpson.
The suit and bridesmaids
The suits were by J M Lewin and the Bridesmaid dresses were by a designer called Tobi Hannah. I wanted the girls to wear 'Mad Men' style dresses with matching accessories such as white gloves and sunglasses. They each picked their own colour dress and looked amazing!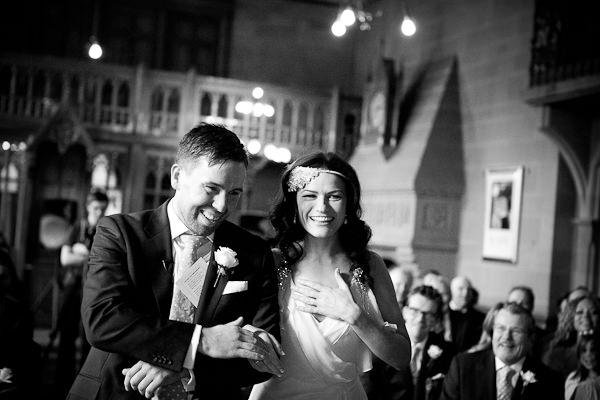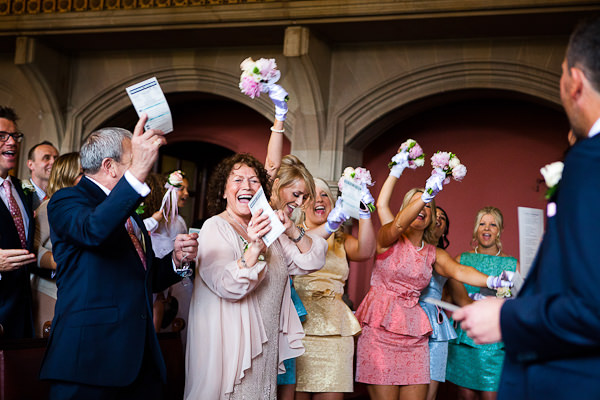 Theme
Originally I wanted a pastel colour scheme but in the end we went with every colour under the sun.
Food
We had Butternut squash and Leek Tart, Pork with bacon and cabbage and Crème brulee for Dessert.
Entertainment
We had a brilliant singer called Alexander Stewart singing during the meal.
In the evening my cousin's band 'Smoove and Turrell' did a special set for me. His voice is the amazing so they really got everyone dancing. We also had a photo booth which was a massive hit although everyone looks hammered on the pictures. Very funny though.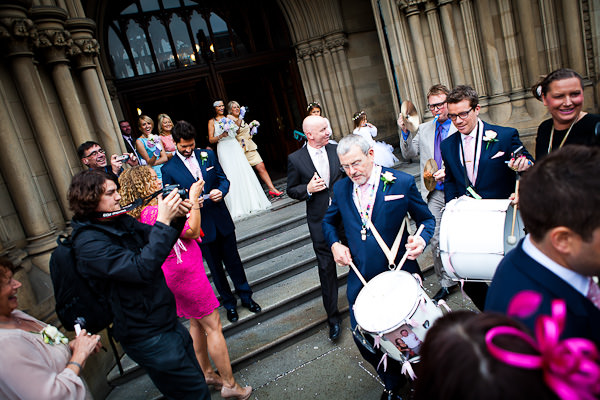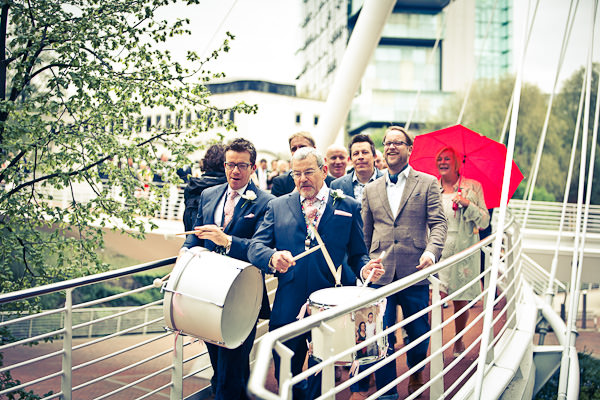 Flowers
My bouquet was made of Peonies, Roses and hydrangea amongst other flowers. It was exactly what I wanted. The florist knew how I wanted the tables to look with small vases of flowers rather than a centrepiece. She did a fantastic job.
Decoration
Mark loves Northern Soul and I love Motown so we used that as our theme. Our invite was in the style of a Northern Soul poster and the decorations were to match. We had records on all of the tables which made the table names and the table numbers, place settings and Favours (a drinks voucher) were all in the same style. Luckily for me my friend Amy is a graphic designer and did it all for me. It must have taken her hours, sorry Amy!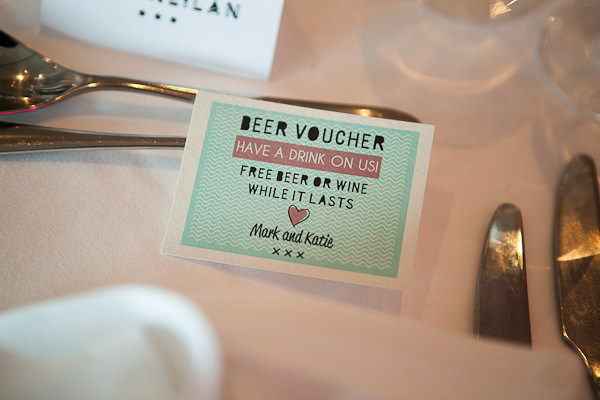 Personal touches
I collected loads of vintage vases and bottles for the flowers and made my own cake Cake Pops with one of my bridesmaids Angela. That took us 12 hours so in retrospect I wouldn't recommend it.
Advice
Don't stress the little things. Have fun and if things go wrong laugh it off…… and get a Vodka Luge!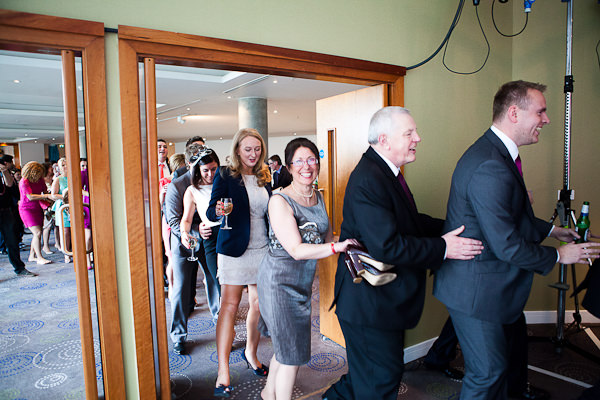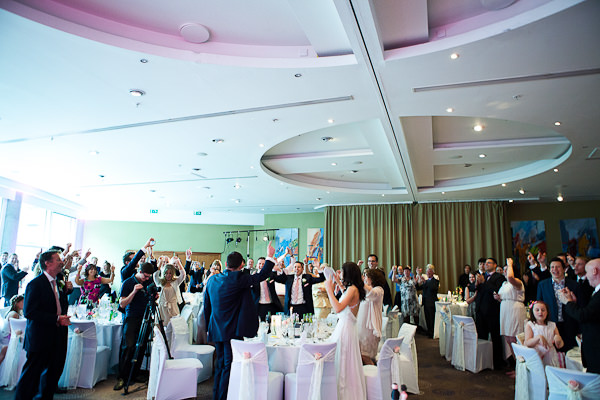 Special moments
Too many to list! My bridesmaids dancing up the aisle to 'Higher and Higher', My 8 year old Niece Tallulah doing the cutest reading ever in the ceremony, The conga line to get everyone to their tables for the meal & the speeches (especially Mark's). The moment the vodka luge was revealed was another highlight as all the guests gathered around, waiting for their turn. Everyone ended up covered in vodka and absolutely smashed. The memories get a bit blurred after that.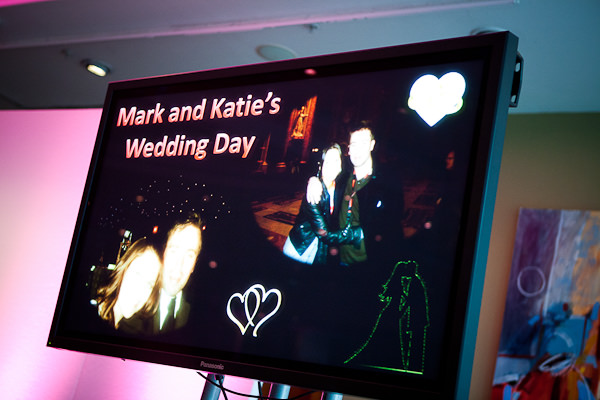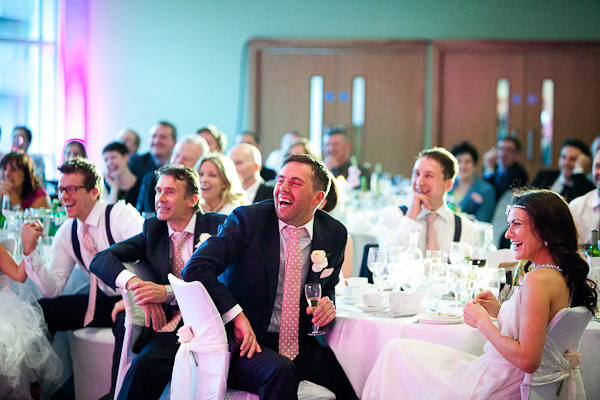 Biggest surprise
My dad had arranged a parade to get everyone from the ceremony to the Reception. He and my brother were banging drums with our faces on and all of the guests were blowing on Kazoos. It was totally surreal but hilarious seeing everyone marching through town for us with passers-by wondering what the hell was going on. Definitely the most talked about part of the day.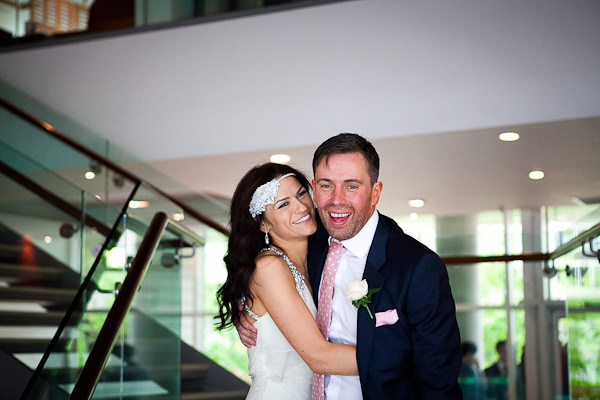 Supplier Shout Outs

More information on Jonny Draper's Photography go to:
www.jonnydraper.co.uk
www.jonnydraper.co.uk/blog
[email protected]
www.facebook.com/JonnyDraperPhotography
twitter.com/JonnyDraperfoto

♥  You can see more Real Weddings featured on the Blog HERE  ♥

[jprel]