The wedding world has definately changed in the last few years. More and more brides and grooms are going online to search for anything wedding related.  At the click of a button you can have access to so much information. Social media and such platforms are being used more and more.
Today's post is about Appy Couple – a new fantastic wedding website and app that can be used on any device – your tablet, phone or PC. It's one destination where you can have all your wedding information. Don't you think it sounds just fantastic!
Appy Coupe is a wedding website and interactive app that lets you manage and share important details of your wedding— everything from RSVPs to travel details for guests, from registry information to virtual champagne toasts and so much—with ease and style.
Not tech-savvy? Then you're in the right place because with its intuitive drag-and-drop interface and amazing technology, Appy Couple practically builds itself. With Appy, you don't need to know how to code and you don't need to be a designer. You simply add your content and share it with your guests.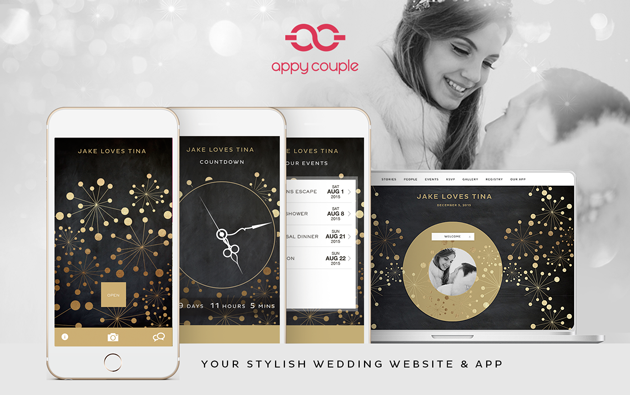 We asked Sharmeen Mitha, the CEO of Appy Couple, some questions about the business and the product….
What made you start your business
The inspiration behind Appy is simple. Sharmeen was at her sister's wedding, which was impeccable from head to toe, with an invitation that weighed a few pounds. There were quite a few events that spanned a few days with hundreds of guests traveling from all over the world. As a guest there was A LOT to navigate…and for the couple, it was a whole lot of cumbersome organization and coordination.
That's when it hit Sharmeen. There had to be a better way to organize and share one's wedding and she was determined to create the next generation of sharing 'personal' events that served as personalized social hubs on mobile. Afterall, no one is ever without their phones anymore.
The options in the market were either beautiful emails or generic, poorly designed websites. There was nothing out there that combined beautiful design, innovative technology and ease of use. That became Sharmeen's vision and Appy was born.
When did you start and where are you based 
In 2013, we are based in New York in the US
What sort of geographical area do you cover
While we are based in the US, our wesite and app can work anywhere. We are also localized in French, Swedish and German (all the translations were done by our customers!)
What do you enjoy most about your job
Everyday is different. It's chaotic and it's crazy but it's just so much fun.
And every time a customer emails us to say they love APPY – well, that never, ever gets old. We know we are a big part of a customer's life at a very important time. We take that seriously and are always appreciative that they trust us with that.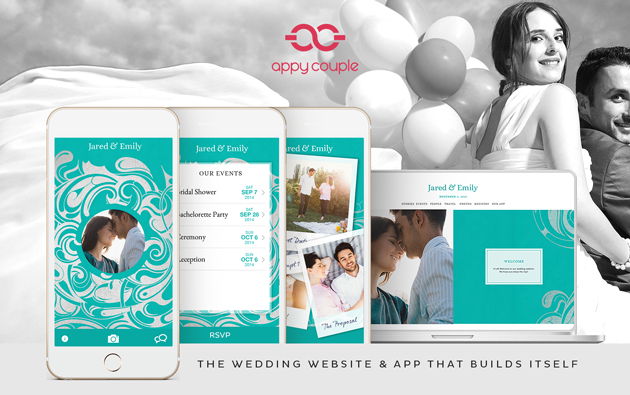 What makes you different to your competitors
It's a truly all-in-one integrated wedding website AND wedding app. Say goodbye to managing a patchwork of difficult to use accounts for various tasks (photo sharing, website creation, email invitations…you get the idea). Appy brings everything together for you so you can easily and elegantly create your wedding website and wedding app once and publish anywhere—on any device.
The app part of Appy is something guests and couples love, especially the week of the wedding as they're on the go and need help navigating around town and checking details like locations, start times, registry information etc.
Guest list, RSVP tools and more that will delight you. Appy takes the headache out of the 'have-to-do' tasks and makes them insanely easy.
Here's one thing we know all brides find to be a major pain – managing their guest list and RSVPs. And this is something Appy Couple makes insanely easy to manage. Here's how: You can not only upload and manage your entire guest list and RSVPs all from within your app or website, but you can also send personalized emails that match your design. And the most amazing part — Appy sends you push notifications when a guest RSVPs, so you can keep your guest list updated in real time (and guests love not having to snail-mail their RSVPs).
Appy has everything else that you can think of – travel information, registries, dining options and more – along with those you won't think of – child care, weather, directions, local services among others.Then of course, there are all the fun features that our couples LOVE (and where guests can also join in) that make Appy Couple magical.

Photos: Not only can you add your photos, video and story but so can your friends. That's something no one else lets you do. Your friends can not only add pictures of you directly from their phone but also edit them and add filters so they look good.


Thoughtful digital keepsakes: Virtual champagne toasts, a digital guestbook, an iTunes Playlist to which your guests can contribute – these are native app features that allow your guests to share in your wedding journey from Day One

What sort of couple do you think you attract
Our couples are creative and discerning. They appreciate and value ease of use as well as style. And very importantly, they want to be different and unique.
They also want to make sure their guests are able to participate in the wedding – not just on the day-of but also before and after. That's something Appy makes possible.

Pricing Structure
We have a boutique collection which is a one-time fee of $35.
Our luxury collection is a one-time fee of $69
With both, you can always change the design at any time and as many times as you'd like for free.
Your account includes an unlimited number of invited guests, unlimited photo uploads, unlimited stories, and unlimited events. Your website and app will update immediately and automatically. And for guests, it's completely free to access your site or app.

Special offer for Boho readers!

Appy Couple is kindly offering our readers an exclusive discount! Use code APPYBOHO to get 15% off your order. (Limited quantities are available. Please refer to Appy Couple's Terms and Conditions of Use.) To get started, go to www.appycouple.com and start by choosing a design.

Already started your wedding website someplace else? No problem. Appy Couple will move it for you. E-mail the team at [email protected], and they'll take care of the details. The 15% discount also applies here.

For more Informaton on Appy Couple go to

www.appycouple.com
[email protected]
FACEBOOK
TWITTER
INSTAGRAM
PINTEREST