Hello everyone and how are you all today? Have you got snow where you are? We have quite a bit in Sheffield it came down last night. Personally I'm hoping it will go as quickly as it came, it's all very pretty to look at but is so inconvenient, epecially when you have children that you need to get places. Anyway onwards and upwards I have a smashing wedding for you today, courtesy of Pete and Laura from Lawson Photography. It's a stunning venue, where the couple Stephanie and Simon took on a slight vintage theme to create a super pretty dusky pink day. The decorations are just gorgeous, the lace chair decoration, the flowers, that cake and all of the gorgeous fairy lights and of course those light up letters, I just love it!
'Our wedding was full of family, fun laughter, cake and lots of bunting. It really was truly magical just to be surrounded with so many amazing people who have done so much for us.'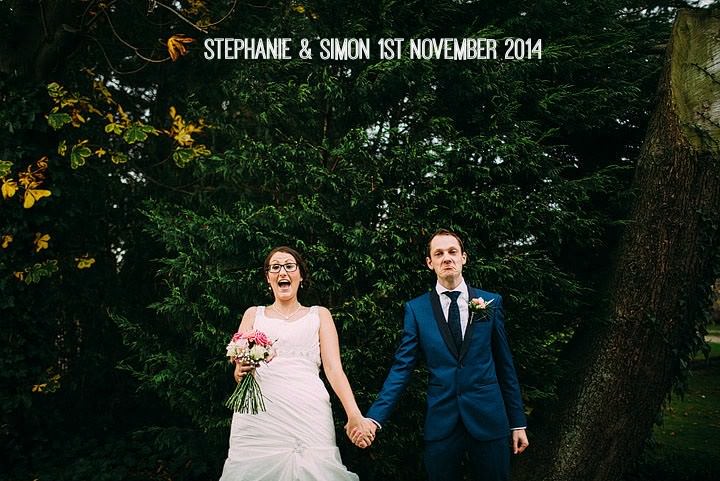 Stephanie and Simon were married on 1st November 2014 at The Great Hall at Mains, Little Singleton. 'We saw this gorgeous venue many years and fell in love with it straight away. We both loved how the building had been lovingly restored and plus it has an amazing wall around on side of the garden! We had 56 guests during the day which was a lovely number as we only wanted a small wedding and it was filled with very close friends and family. Everybody knew someone at our wedding so it was lovely to see all our guests having a lovely time and chatting away to each other all day and night. It took us 16 month to plan the wedding. Simon planned most of the wedding along with my mum he was very organised and spent a lot of time getting lots of little details right. We went through stages of doing lots of planning then not much then lots of planning and before we new it the wedding day was upon us.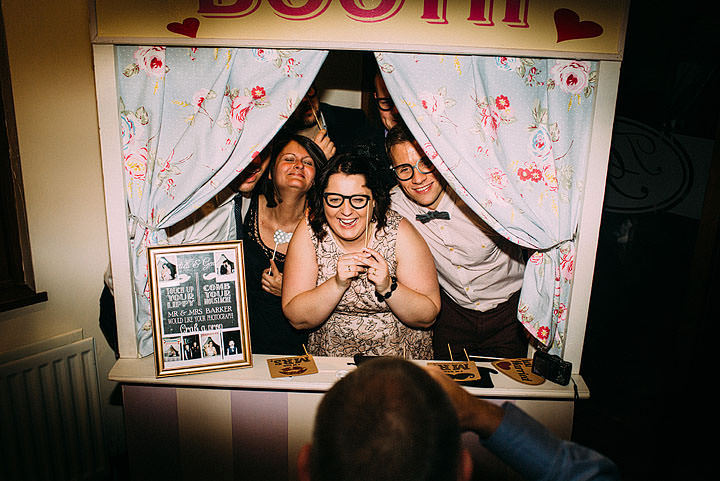 How they met
Simon and I met through a job we both worked at, Simon worked in the kitchen and I was a waitress, I walked into the kitchen one day and placed some plated down on the side only to be told by Simon "they do not belong there" in a very angry voice! My first thought was "he is very moody" but ten years later I have never looked back!
The Proposal
The proposal was fantastic, Simon and went to York for the day, initially I didn't want to go and Simon made me, it was a gorgeous sunny day and Simon said to me "lets go and see the mini castle" so off we went to the castle and Simon said to me "take my picture by the castle" so I held the view finder up to my eye to see a message had been written on the lens "Marry me" it said! At first I didn't see it and Si said "take another one" so when I saw it I very nearly dropped his most prized possession and burst into tears saying yes!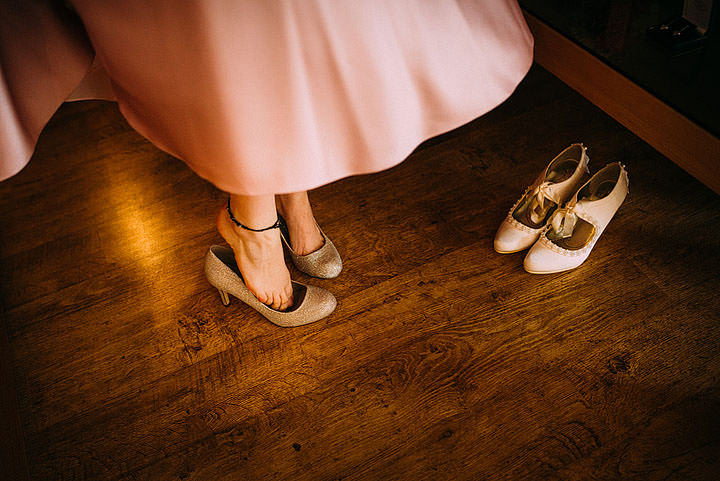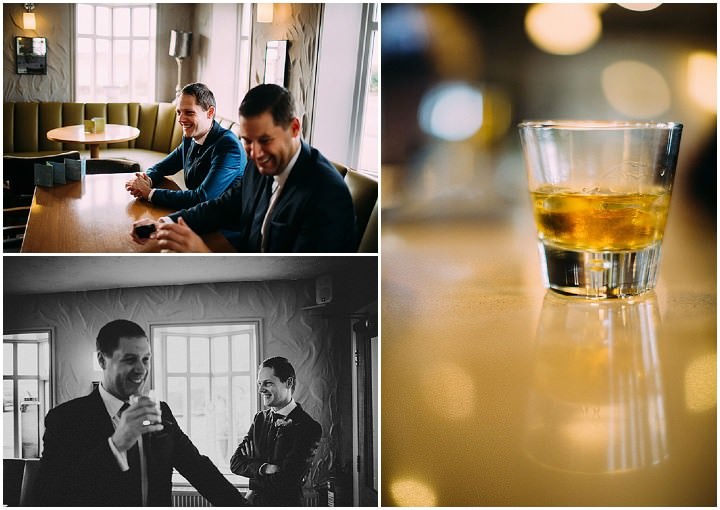 How did you allocate your budget
My parents gave us a figure of what they thought it may cost and we tried to work around that, we knew which photographers we wanted and which venue we wanted so we worked off that really ☺
How did you choose your photographer
Oh my goodness were do we start there is no way to describe how much we love The Lawsons!!!!! One day Si came home and said to me before we even got engaged "I've found our wedding photographers" (Si is a photography fanatic) when he showed me the pictures we both knew they would have to shoot our wedding and know body else would be good enough. We planned he date of our wedding around them if they didn't have the date we had in mind we were never going to do it (luckily they did ☺) We chose The Lawsons because they capture the most special moments of a wedding and totally understand the importance of little moments between people and can capture them. They brought our whole wedding story to life. When we first met them we knew we had lots in common and they made us and our family feel so relaxed they were perfect.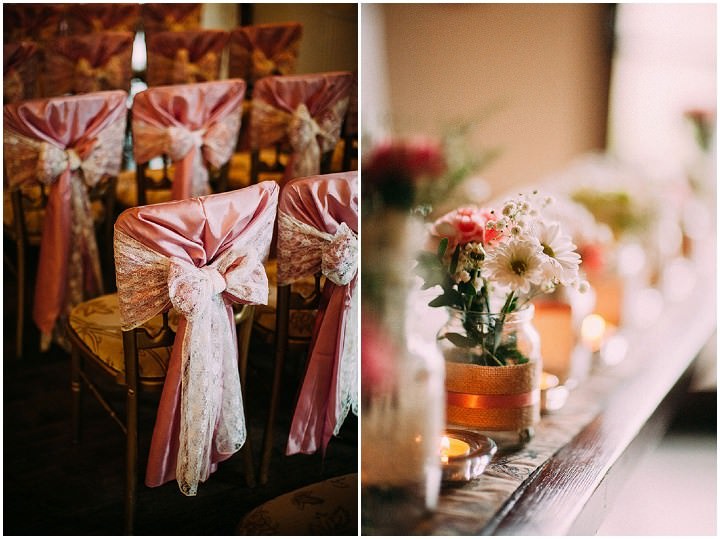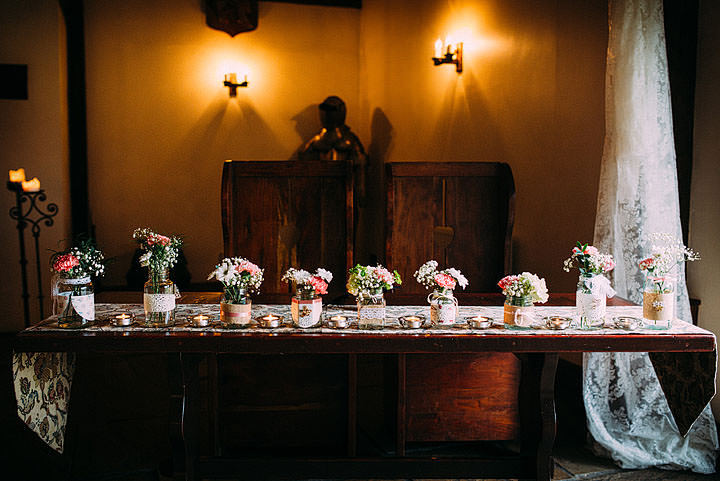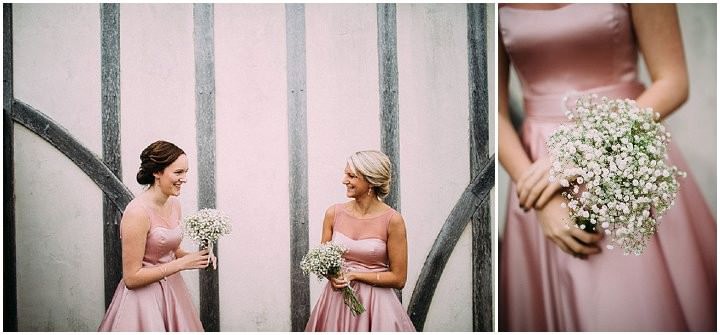 The Dress
My wedding dress was from the Wedding dress outlet shop in Bolton, I went to have a look with my friends as the relaxed atmosphere attracted me. You could browse the dresses and try them on without having to stand in a shop via appointment and feel slightly under pressure and they were bargains! My necklace was a vintage design that I got from Debenhams it was 70% off when I got to the till! My earrings are very special as my Mum bought them me for a present, simple silver love hearts that I will treasure forever. I bought plain satin heels for the wedding and my amazingly crafty queen of a sister jazzed them up for me making them beautiful.
The Suit and Bridesmaids
Simon's suit was from Next, as soon as he saw it he said "I love that one" and that was it! He jazzed his suit up and little with some braces which everybody loved to ping! The bridesmaid dresses were a little harder to find at first. I saw them in a different colour and plucked up the courage to ask the lady were she got them from, when I phoned Dan Kerr in Preston they told me they only have them left in the sale section as they were last season colours. When we arrived at the shop they had the dresses in the perfect colours and the perfect sizes! The dresses were by Lou Lou Bridal they really fit the vintage theme we were going for and the girls loved to swish and sway in them!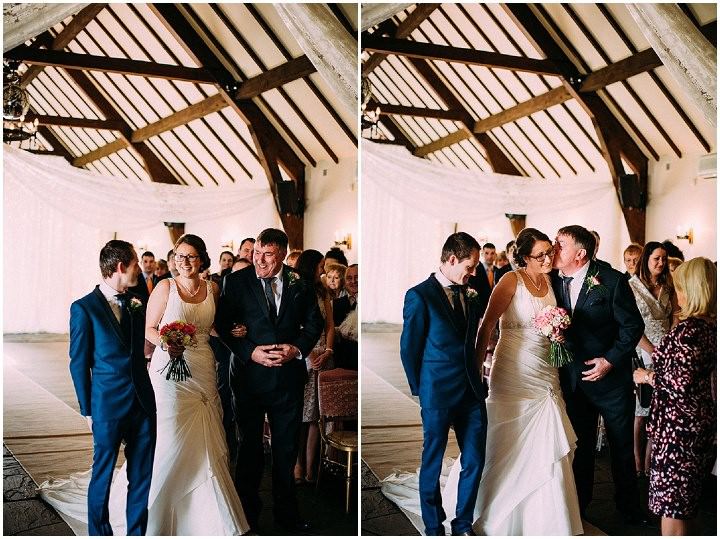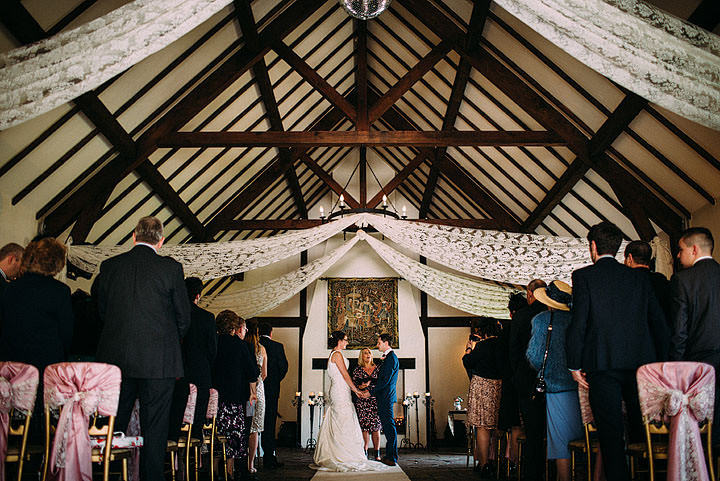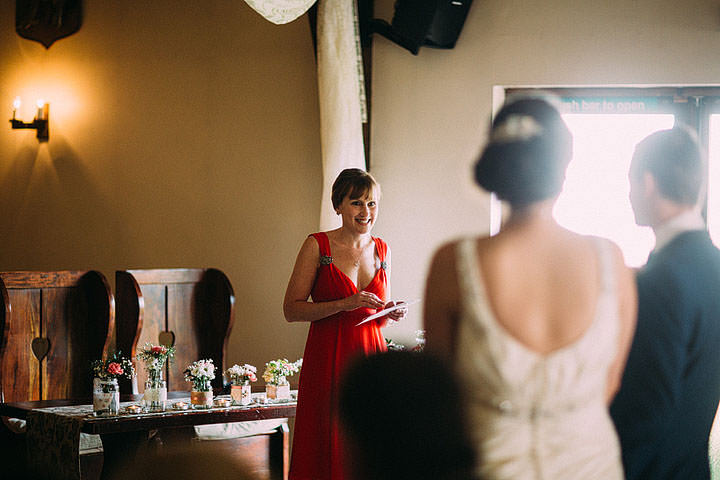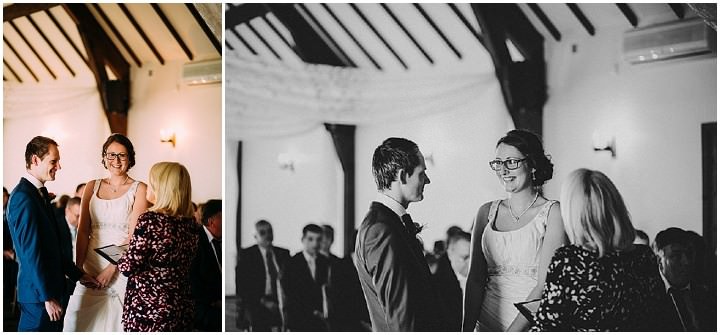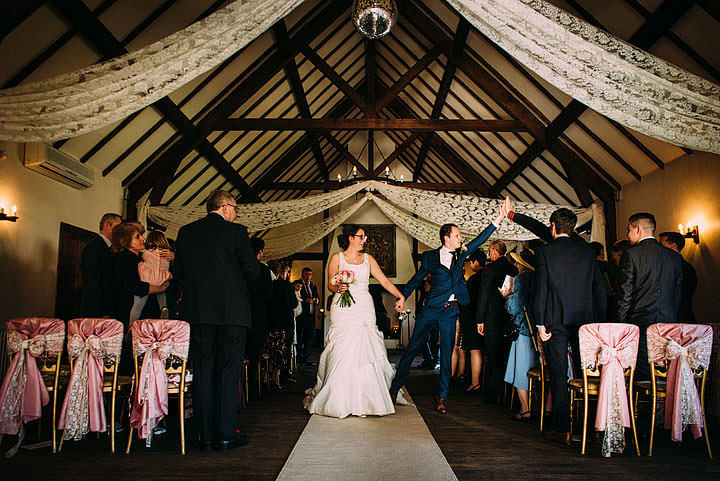 Theme or Colour Scheme
We based the wedding on dusky pink and managed to stick to this really well. We loved the vintage style that ran throughout the wedding and with the help of some suppliers they really helped this come alive.
Flowers
I absolutely loved the flowers, The Little Flower Shop in Burscough did an amazing job. The flowers were pink carnations with tonnes of gypsophilia, roses, hydrangeas and daises.
Decoration
We kept the decoration of the room fairly simple, we had lots of bunting with a gorgeous fairy light reveal curtain and lace draped from the chandeliers.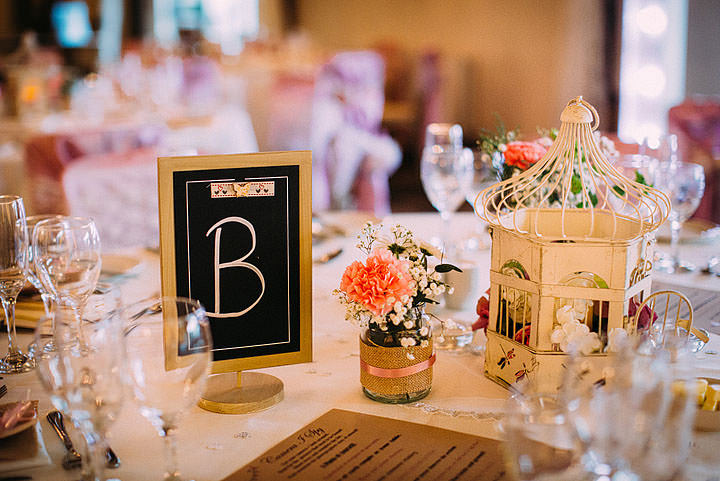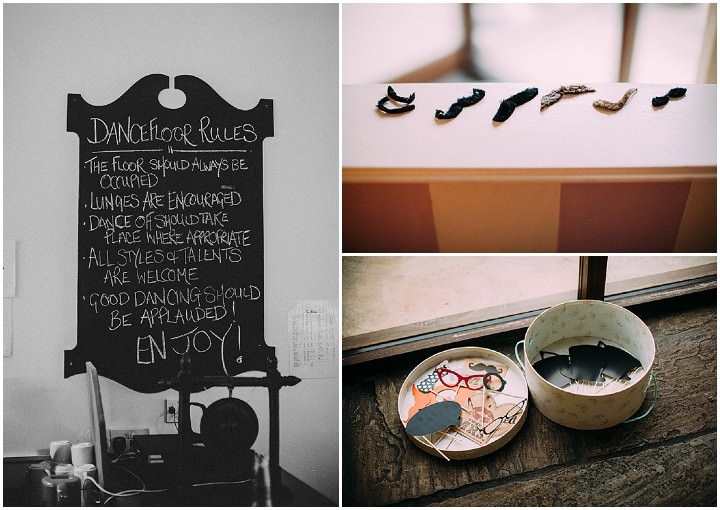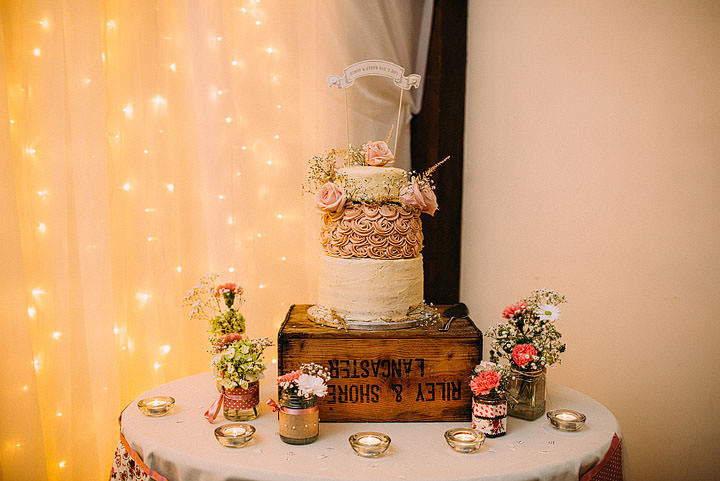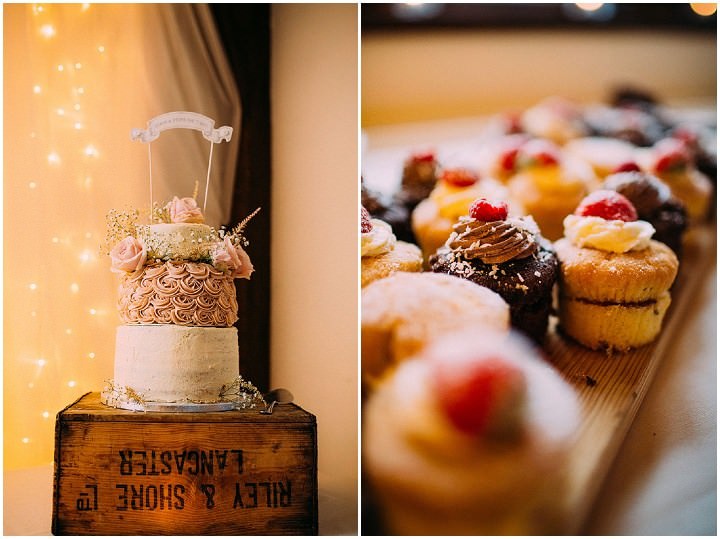 Food
We wanted to give our guests a choice so we had winter vegetable soup or pate terrine with brioche. For the main course we had panko crumbed chicken Kiev or steak and ale suet pudding and for pudding we had sticky toffee pudding with ice cream or chocolate brownie.
Wedding Cake
Being food lovers especially cake! We wanted a frosted cake and we could think of no better person than Dotties Pantry, Keely understood what we wanted straight away and got it spot on. We had victoria sponge, carrot cake and ginger with a dessert table of rocky road, brownie, mini chocolate cupcakes and lavender and coconut cupcakes.
Entertainment
We had the amazing Paul Connor to sing 80s classic rock followed by a dj who played 70's,80's and 90's classics!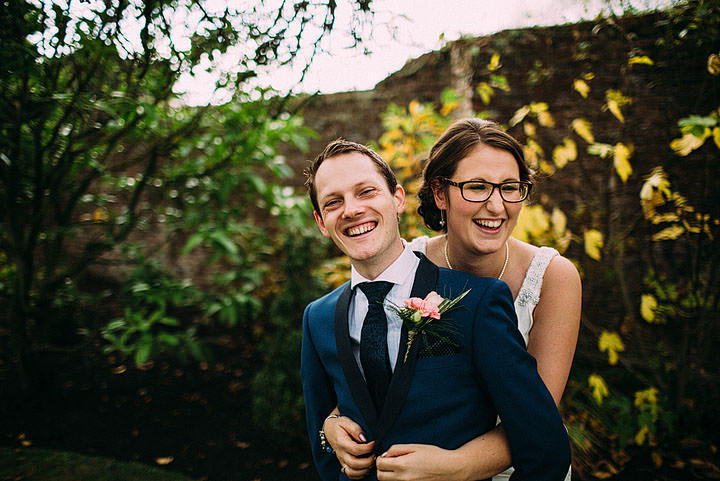 Buy or DIY your Stationery
I handmade all the favour pouches with my Nanny Howards sewing machine which was very special for me as she is no longer with us so it was a lovely way for her to still be part of the wedding. I also made the biscuits for favours and all the jars for the flowers which my sister helped me do. I made hangers for Simon, myself and the bridesmaids and Simon made all the invitations and save the dates
Personal or Handmade Touches
Simon is a keen photographer so we did Polaroid style pictures for our save the dates which we loved. We also used my Nanny Vee's cake slice, which was also very special to us as unfortunately she is no longer with us and this really meant a lot to us. I also made meters and meters and meters of bunting with the help of Simon mum and we also used our parents and grandparent wedding photos to display, which was a lovely for us to be able to do.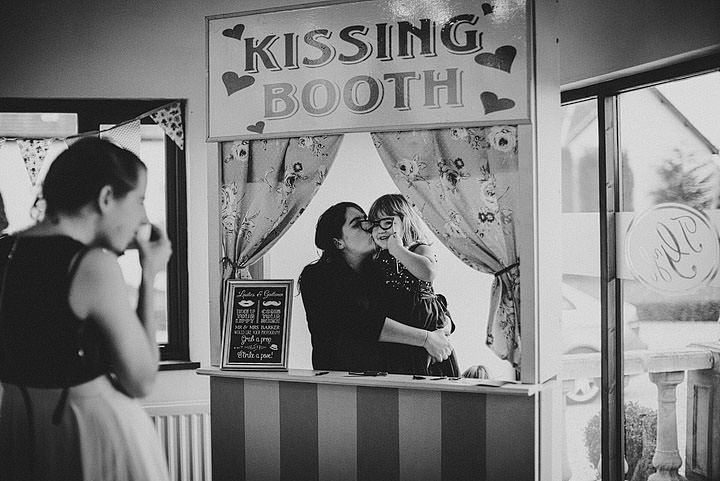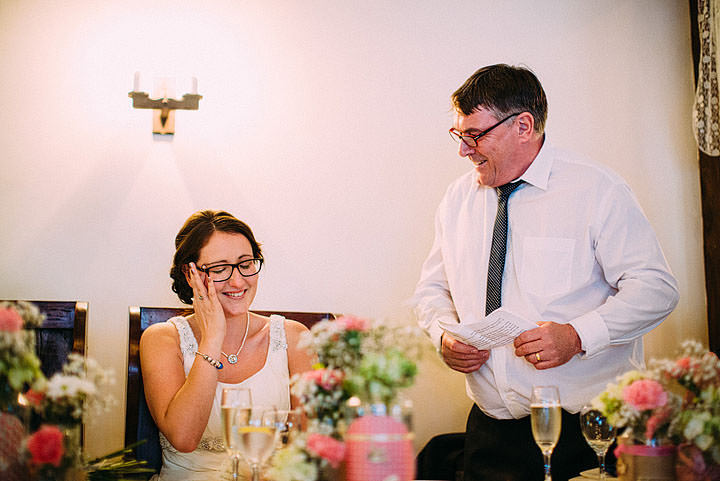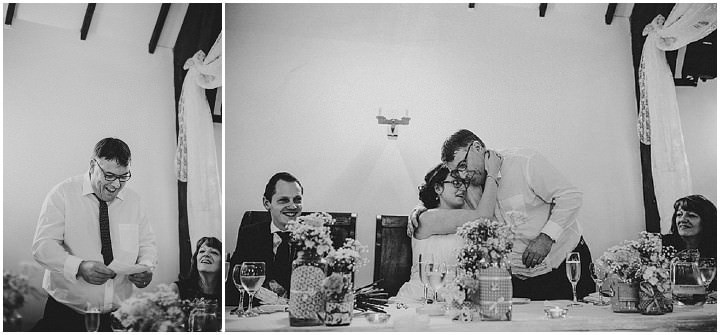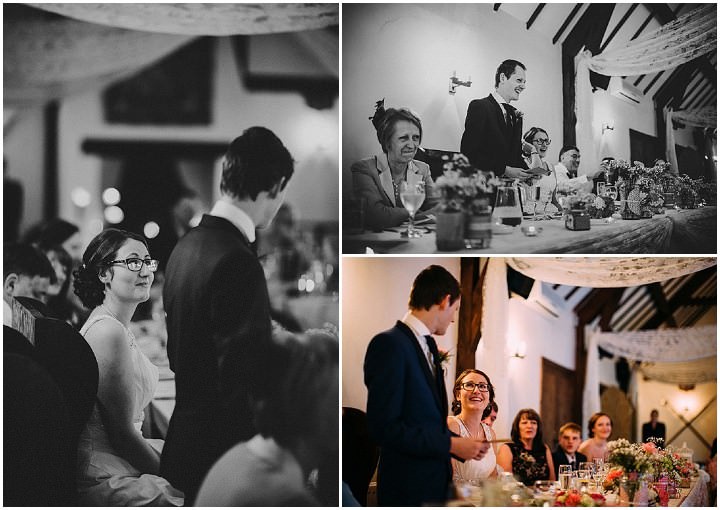 Special Moments
Simon's highlight may be that on his wedding day Newcastle beat Liverpool in the football! But also that his gran was able to be there after a rather serious accident which she worked very hard to be fit for. For myself just holding onto to my dad walking down the aisle was a dream come true it was very special for me, also looking over at one point in the day during the meal at my mum and seeing the look of joy and happiness was something I will never forget.
Advice to other couples
Enjoy every moment if it becomes stressful grab a coffee and a cake and come back to it another time
Biggest surprise
My (Steph) biggest surprise was Simon's and my Dads heartfelt speeches that really was lovely.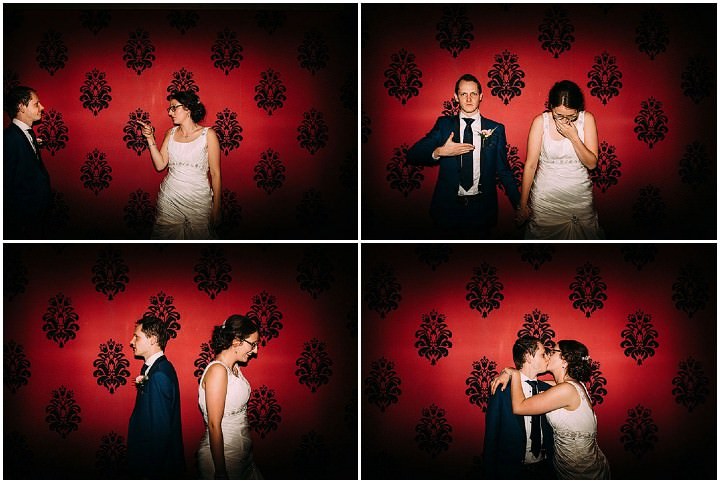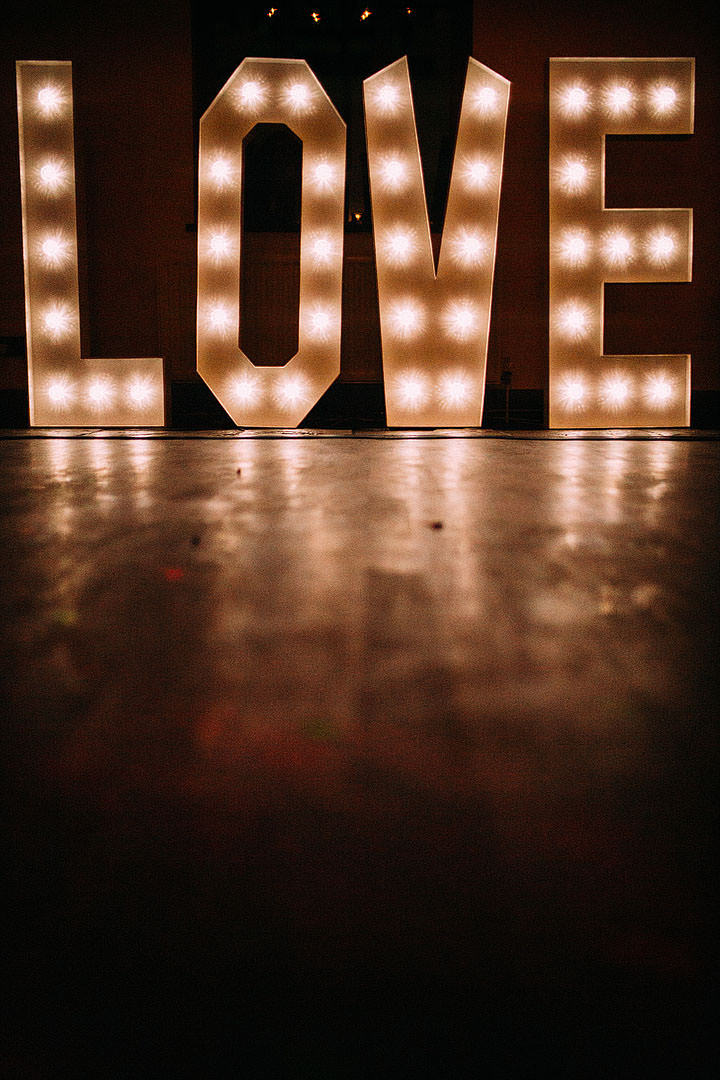 Supplier Shout Outs
For more information on  Pete & Laura's work go to
www.lawsonphotography.co.uk
www.lawsonphotography.co.uk/blog/
[email protected]
[email protected]
FACEBOOK 
@LawsonHQ
07855 312857