I have a cracking wedding for you today. A wonderful village fete wedding with full on village fete games and theme. I just love relaxed, country weddings and this one shot by Ben Pollard is just fantastic! The bride and groom decided that they were going to create their wedding without spending a fortune while keeping in a huge element of fun and this they did in bucket loads! A fantastic collection of games, plenty for the guests to do, a wonderful outdoor ceremony, great food and lots of sunsine……what else would you want in a wedding?
'A homemade, village fete, festival weekend that fits us perfectly; which proved that you don't need to spend a lot to have a good time.'
Mike and Rosie were married on officially in December 2013 at Dewsbury Registry Office and held a reception at the West Yorkshire Social Club which was a surprise for all of their friends and family. They thought they were going to an engagement party. The reception was on the 27th July 2014 at Sycamore Farm Barns. 'We checked out about 4 places, all of which were nice. Martin and Nessie and Sycamore Farm were by far the most easy going owners we came across; they said we could do what we want with the large field whereas some other places had restrictions on what we could do, how we did it and who we could use as suppliers. Just over a hundred people and one very happy dog. The wedding took 6-8 months to plan.'
How they met
We both used to work in the outdoor industry (Rosie still does) and were instructing at a centre in Norfolk. Mike started working there first, Rosie watched Mike deliver a session as a part of her training and was clearly smitten from the start. Mike invited Rosie on a date which Rosie didn't realise was a date and invited someone else to come along with us. We have been together for nearly 8 years now!
The Proposal
We were unpacking the big shop and we sort of talked ourselves into it; there were no fireworks I'm afraid. We decided we'd have a surprise wedding in December and save money by moving into military housing (Mike is in the Navy) and follow it up with a big do in the summer. As it turned out both weddings wildly surpassed our expectations.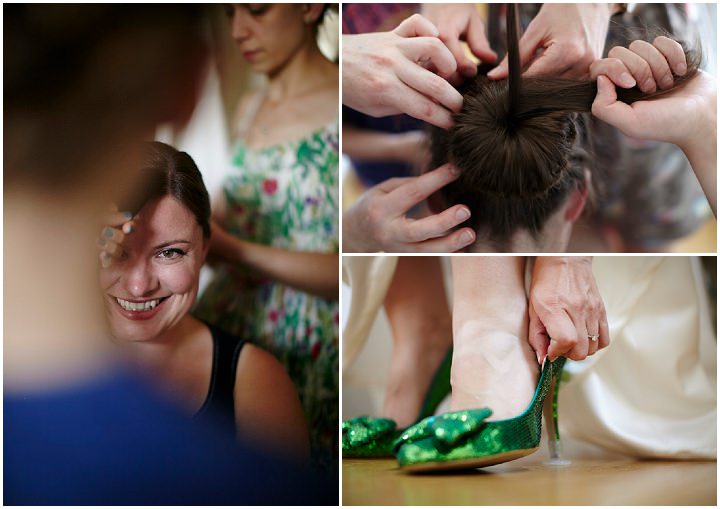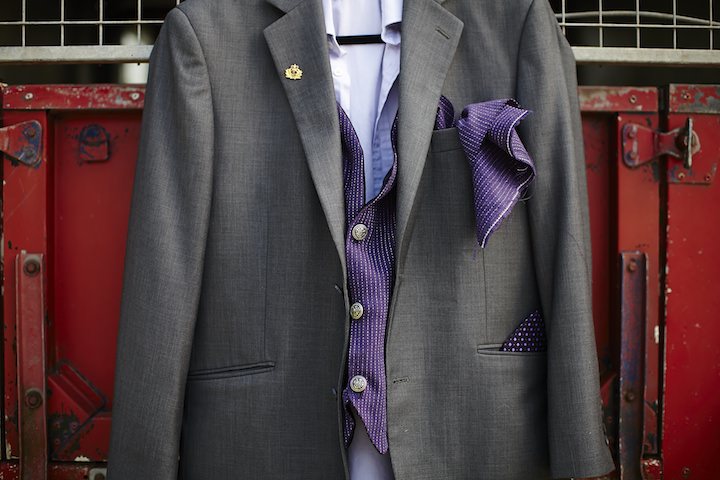 How did you allocate your budget
We set the big tickets items aside at the start (the venue, marquee, catering equipment) and then sort of piecemealed the rest of the smaller items as required. Rosie kept an incredibly detailed spreadsheet showing exactly what we spent and on what. It's quite crucial to have a system of sorts for approving expenditures, we had a very bureaucratic "2 Signature Rule" for expenses to make sure that we didn't surprise each other too much.
How did you choose your photographer
Google was a big help, we narrowed it down to local photographers who looked like they had done a similar sort of wedding before emailing them and getting a quote on price and availability Our only stipulation was that the photographer would not/should not dictate what we were doing on the day and should be as much a part of the wedding as any other guest. Ben Pollard fitted the bill perfectly.
The Dress
Dress by Rosie Winch, button bouquets by Rosie Winch and Emma Withill, necklaces by HS Samuel, earrings by Rosie's cupboard shoes by ebay.
The Suit and Bridesmaids
Mike made his waistcoat himself and bought his suit a few years ago from Moss Bros when he realised he hadn't owned a suit since he was 18 (he was adamant there would be no uniform at the summer wedding). The bridesmaids dresses were made by Rosie's mum, Rachel Withill.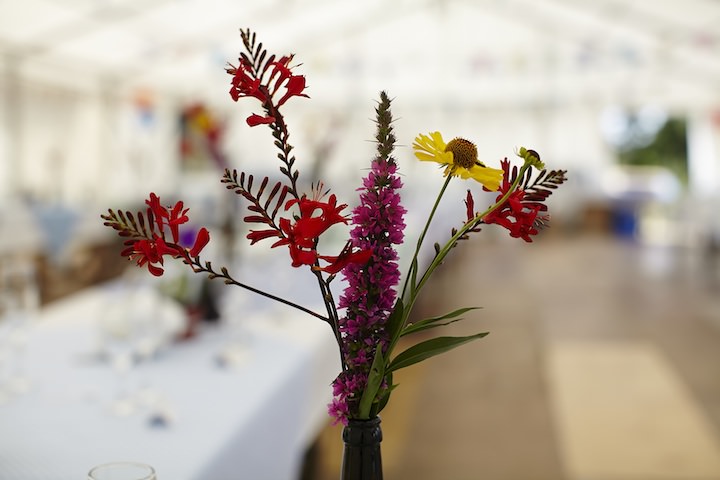 Theme or Colour Scheme
We didn't really have a colour scheme, although most things were purple, blue and green. The theme was "village fete"
Flowers
The button holes were made out of felt by Mike's Mum and Dad (Rosie's design with some inspiration from pinterest). All the other flowers were wildflowers supplied (free of charge) by Sycamore Farm Barns owner Nessie!
Decoration
We had a maypole, village green sign, splat the rat, welly throwing competition, a hook a duck, flags, MILES of bunting, banners, tin can shy and an iPad photo booth. All of it was homemade by Mike and Rosie and our friends!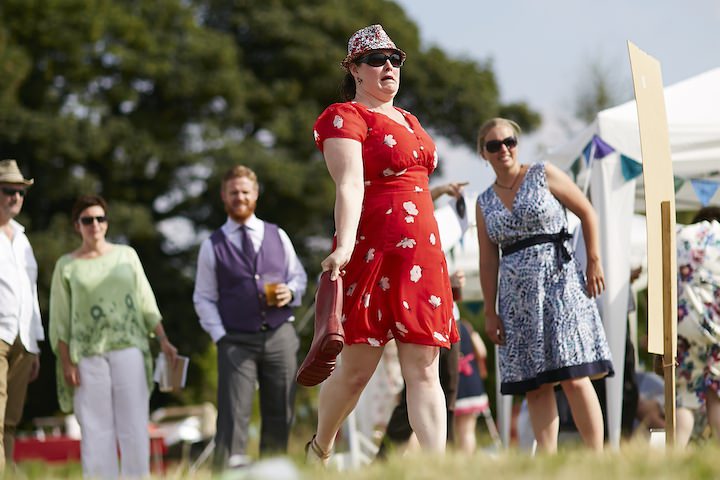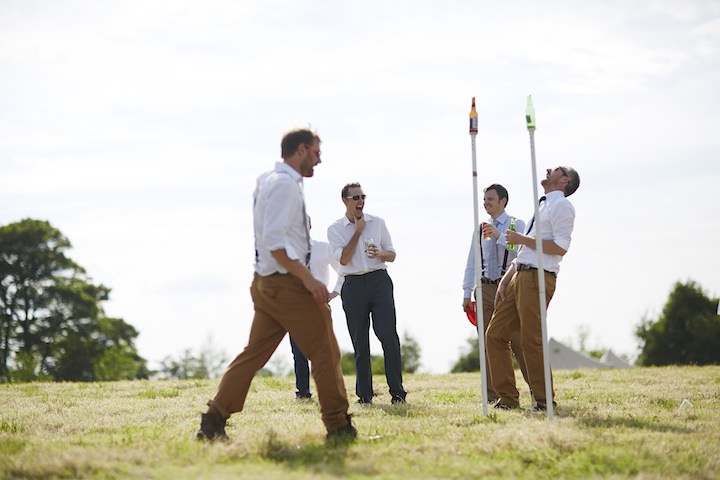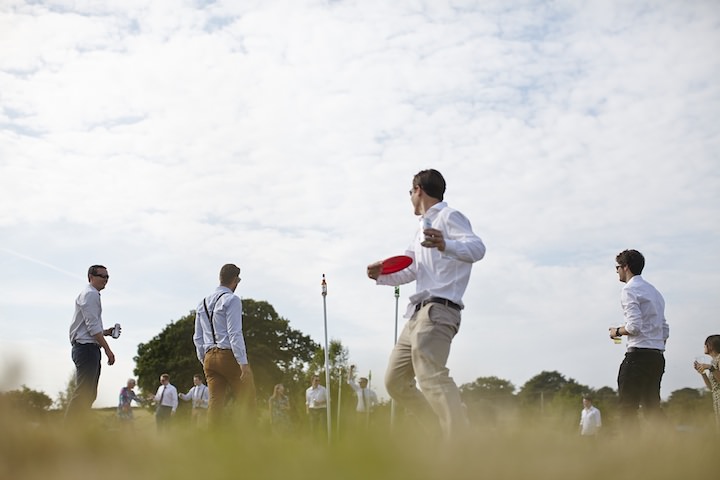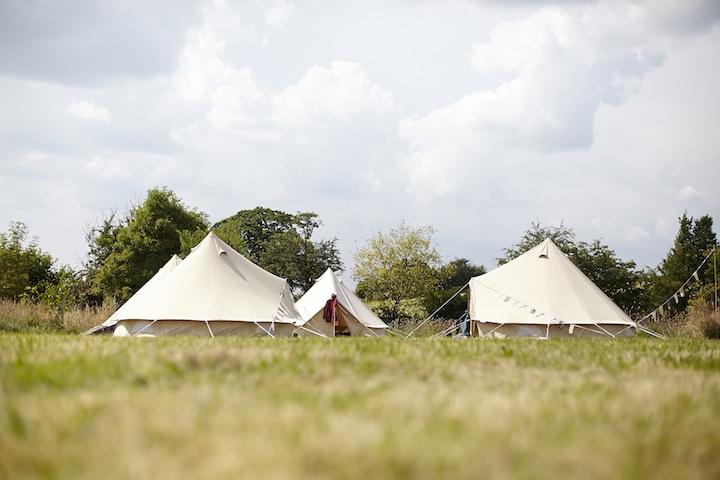 Food
Hog Roast, Greedy Pig Catering came, set up and provided everything we needed before serving it out! There were also various other things that people brought to contribute, which was brilliant thing (not just because it saves a lot of money) as people are generally happy to do it and it makes them feel more a part of the day.
Wedding Cake
Homemade by Mike the day before; Victoria Sponge filled with jam and cream covered in marzipan, topped with a homemade clay decoration (a little sailor and a bride) and chocolate cupcakes.
Entertainment
Throughout the day we had the village fete games then in the evening we had a ceilidh band called the "Outlandish Knights" who were excellent both for the music and showing a raft of non-ceilidh dancers how to muddle their way through it without getting too annoyed at us all. After the dancing there was a campfire.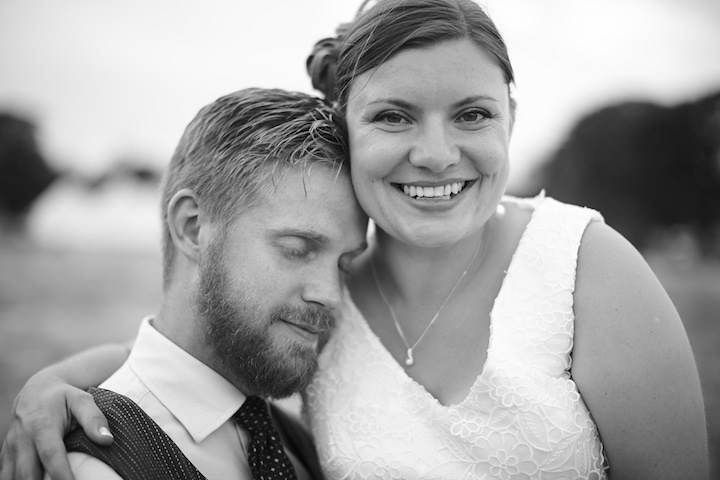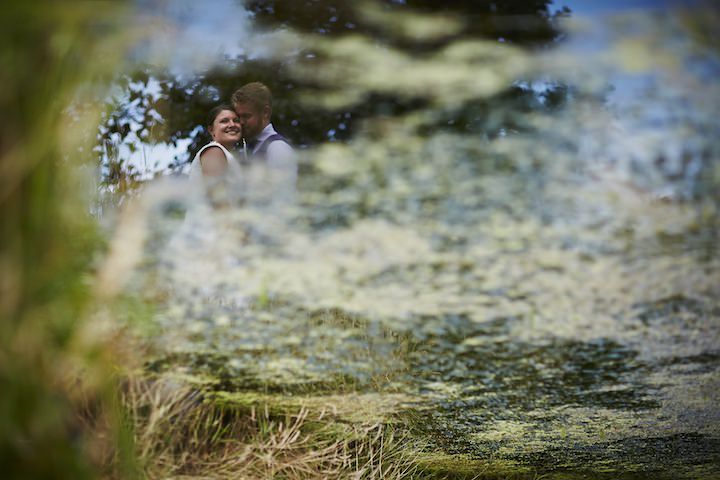 Buy or DIY your Stationery
We bought it as much as we bought the individual parts but put everything together ourselves: save the dates, programmes for the day, invitations and thank you cards.
It took two of us the grand total of 4 evenings on the sofa to make everything. We'd have spent the evening there anyway so it wasn't that bad!
Personal or Handmade Touches
We put everything together ourselves with a lot of help from friend and family. Before we started it was an empty field. We hired in the big marquee, mobile loos, skip, hog roast and beer fridge, we put together or made, pretty much everything ourselves with the help of the guests who arrived early.
It wasn't too stressful, we're pretty laid back but also fairly organised. Our motto from the beginning was that if something became too stressful or we didn't have time for it then it wouldn't be included in the wedding.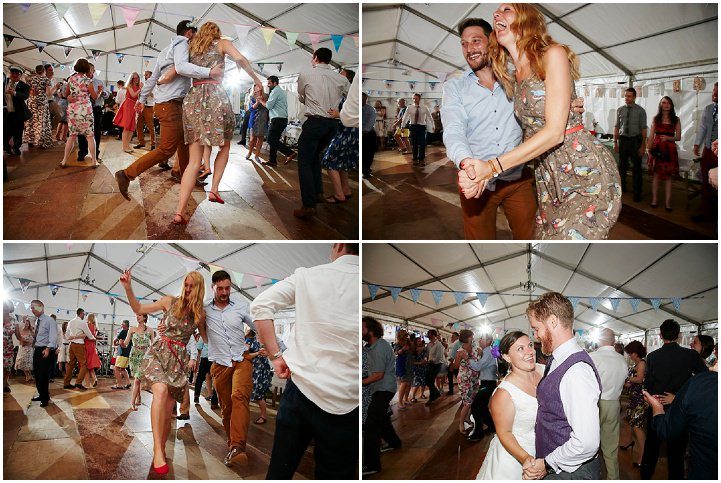 Special Moments
Rosie's sister and her friends singing a medley of songs during the ceremony (Video) , we knew she was going to sing, but didn't know what or how amazing it will be. Rosie's friends and family singing a mahoosive medley of songs from Canada and Yorkshire during the speeches/reception (Video), the fact that the wedding happened on the Saturday but friends and family were arriving from Thursday so we pretty much had a 3-4 day festival, Gary (our dog) being well behaved for the most part.
And finally, just seeing it all go off without a hitch really knowing that we did it all ourselves.
Advice to other couples
Spreadsheets are ace! Plan early and book the big things early (venue) especially if it's during the wedding season, but be prepared with a backup plan for your big ticket items. Equally if something falls over, it's probably not the end of the world. Pinterest is amazing, but don't stress out about making sure you do every idea you have.
It's the one day of your life where people are there more or less just for you and all of those little things that you think stand out like a sore thumb (the wrong coloured flowers, the funny arrows a little girl painted on your homemade sign, the dog licking the grass where the hog roast was, the guy dressed up like star child from KISS in your cake cutting photo) are things that your guests won't notice because they're happy for you. Also those things are actually pretty awesome anyway and they're what makes it your wedding and not a carbon copy of someone else's wedding.
Biggest surprise
Rosie's father delivered a 40 minute speech followed by the aforementioned medley of songs. I think we knew he had something planned but hadn't expected it to be pulled off with such flare, not a dry eye in the house.

Supplier Shout Outs
We were really keen to use local suppliers to help the local economy and also to reduce the carbon footprint of the wedding.
Sycamore Farm Barns – www.sycamorefarm.co.uk
As mentioned above, this is probably the best venue for this sort of wedding in the general area of Derbyshire. They only allow a limited number of weddings each year so book early.
Taylor Made events – www.taylormade-events.co.uk/marquee-hire.htm
UKLoos – www.ukloos.com
They delivered and picked up and were a really reasonable price.
Tipi and bell tent – www.thetipihirecompany.co.uk
Tents for some of our friends to sleep in for the weekend, we asked people who staying in them to pay for it so it looked great and didn't cost us anything.
Peak Waste – www.peakwaste.co.uk
Skip, none of it goes to landfill, it gets sorted after they take it away and then the rest gets shipped to the Netherlands to be burnt for electricity.
Fridge/Glasses – www.bluecresthire.co.uk
Fridge and glasses, delivered, collected, relatively inexpensive and worked around us.
Catering – www.greedypigcatering.co.uk
Lovely hog roast, came and set up on the day, then served it and took everything away afterwards, leaving us with the leftovers.
Sam's Ices – www.sams-ices.co.uk
It was boiling hot so it was great to have an ice cream van arrive after the ceremony. We paid for everyone to have an ice cream or a lolly.
Sound – www.jns-hire.co.uk
Provided the sound for the day (speeches and low background music only) were very helpful on the day, set it up and tested it before leaving and were happy to collect it after we left.
Photographer – www.benjaminthephotographer.co.uk
Our photos, brilliant guy, great product.
The Outlandish Knights – www.facebook.com/TheOutlandishKnights
As mentioned in the entertainment paragraph. We were let down by a couple of other bands, but these guys were really great, a twist on a normal ceildth.
Lesley Blessington-Scott Celebrant – www.yorkshirecelebrants.co.uk/?p=182
As we were already legally married we could do what ever we wanted for the ceremony, Lesley was great and made it really personal to us.
For more information on Ben's's work please go to:
www.benjaminthephotographer.co.uk
[email protected]
FACEBOOK
@PollardBenjamin