Good Afternoon to you all.  We are back today with our regular Monday DIY post and here at Boho HQ we are looking forward to showing you lots of amazing DIY Tutorials in the up coming weeks.  Today we are sharing with you this amazing Dreamcatcher DIY tutorial from Andrea at  Kiss The Frog. I'm sure you will agree this Dreamcacher would make an amazing decoration feature for your Boho wedding or just to hang around your home!
If you are interested in featuring any of your own DIY features on the blog then please do email me [email protected]
'Make these pretty dreamcatchers using beads, ribbons and feathers, in your favourite colours, to hang over your bed to ensure good dreams.'
Beads – 100 pearl beads, 40 coloured beads
STEP 1) Take the string and use a little glue to secure it to the embroidery hoop
STEP 2) Wrap the string around the hoop to completely cover it.
STEP 3) Attach some string to the top of the hoop. This is so you can hang the dreamcatcher.  On this occasion I have simply tied knots at intervals, but you could consider a little macramé or maybe use three pieces of string to create a plat.
STEP 4) Next cut a circle of net curtain to fit inside the hoop and using the embroidery thread attach by sewing as shown in the photo.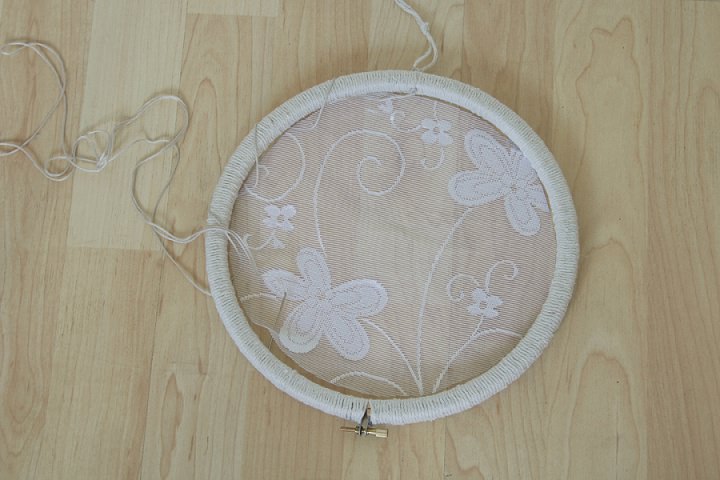 STEP5) Cut lengths of embroidery thread at approximately 50 cm each and string your coloured beads and pearls. If the embroidery thread is too thick for the pearls you can used doubled up sewing thread.  Cut your ribbons ready for hanging too and attach your feathers, using glue, to some of the lengths of beads.
STEP 6) Attached your beads and ribbons to the embroidery hoop.
For more information on Andrea's work go to
www.kissthefrogx.com
[email protected]
FACEBOOK
PINTEREST
@KisstheFrogx
07581 197329

[jprel]