Well Hello you lovely lot….Exactly one week today and we will all be celebrating Christmas Day. I am so excited. We have had a real push in our house to get the Christmas jobs done over the past 2 days, so presents are all bought and delivered, cards written and we have made a start on the wrapping! I am feeling a bit less stressed now and feel like we have some sort of plan in place! What about you? Rre you ready?
I have the most gorgeous wedding for you today from blog regular Stacy Paul Photography. This homespun wedding comes all the way from Florida and is absolutely FULL of the most amazing homemade details and DIY projects. Meredith and Brian gave themselves lots of time in the planning to make sure they got all their crafting done and what a fabulous result this wedding is. I just love the venue which is full of personality and charm, all of their vintage props and decorations, the glitter table number, Meredith's home-made wedding dress, the list just goes on! A full on craft loving wedding that I'm sure you are going to love!
'I thought people who said their wedding day was the best day of their life were a little overly sappy until I experienced it myself. It was a pure and authentic, a truly beautiful and magical whirlwind of love and I want to relive it over and over again.'
Meredith and Brian were married on 11th October 2014 at The Hitching Post Barn in Brooksville, FL. 'There were a few components involved in our choice of venue. We had a lot of different ideas we wanted to incorporate into our wedding, and Suzie at The Hitching Post allowed us to be creative in all the ways we desired without putting restrictions on us. We liked that we could use the property for both the ceremony and the reception with the room to hold all of our guests and she even offered a great back up plan if the weather didn't cooperate. We love the beauty of the outdoors and this venue was able to capture that in such a natural and beautiful way. I think we had around 160 people that ended up attending the wedding and around 6-10 children as well. Our engagement period was just around 18 months as we wanted a fall wedding and I utilized all the time that I had! We were very budget conscious, so it was nice to have the time to shop around for the items we needed at prices that we were comfortable with. A lot of the constructing of DIY items occurred the month or two before hand, but it was nice to have the time to take my time and shop around for the things I wanted over that time period.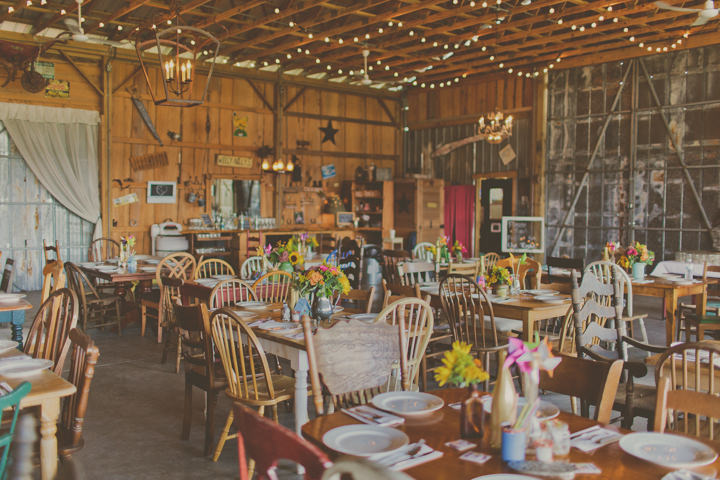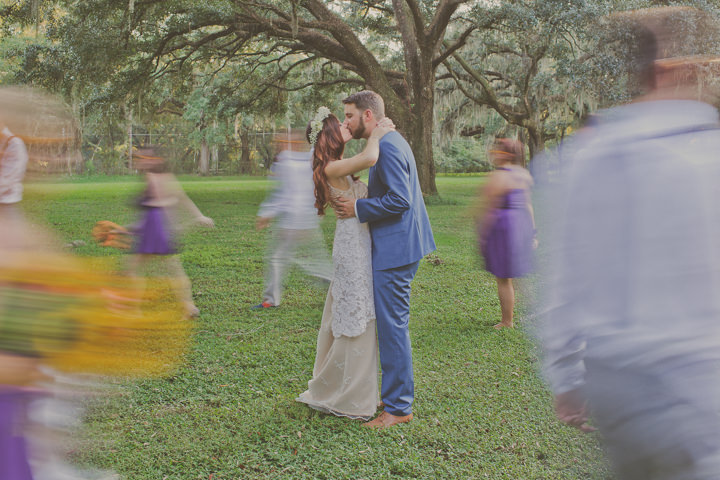 How they met
We actually ended up meeting through mutual friends just over 3 years ago-September 3, 2011. Brian moved back to his hometown in Chicago in 2009 and began to notice me in his friend's photos. I began hearing of him when a number of our friends stated it was a shame he moved away as we would be perfect together. Through the marvels of social media, we caught each other's attention and when he decided to move back to Tampa in 2011, I gave him a month to settle in before I asked one of our friends to introduce me to him ASAP. We met briefly for coffee with our friend at a starbucks and then he asked me to join him at a social event afterwards. I met back up with him and we talked for hours together and he asked me for my phone number (using a great line) again through social media AFTER we left. We began exclusively dating a few weeks later and by March 17, 2013 we were engaged.
The Proposal
During the time of our engagement, my schedule was extremely packed and we only had Sunday's off together each week. Brian asked me earlier that week where my favourite place to spend time together for the day would be and I chose Fort Desoto dog beach. Brian and I have 3 rescue pit bulls that are very important to us and somewhat like children in our home. As the dogs were playing and we were sitting, our female Dalila played for a little behind us and darted down to the water. It is common for her to dig up random treasures in our backyard and it has always been a wonder the things that she finds! So while I was texting my brother, I didn't pay much mind to Brian trying to show me what Dalila had found in the sand. When I finally looked at what he had, it was a heart shaped dog tag. So I looked at it and read "Will you"…now…I see where this could be going, but I wasn't going to be the girl that got excited and the dog REALLY did dig it up. So when he told me to flip it over and I read "Marry me?" I still wasn't quite convinced it was real until he pulled out a ring and got on his knee. After asking if it was real life a few times and then making sure he spoke to my father first, I got to the yes part.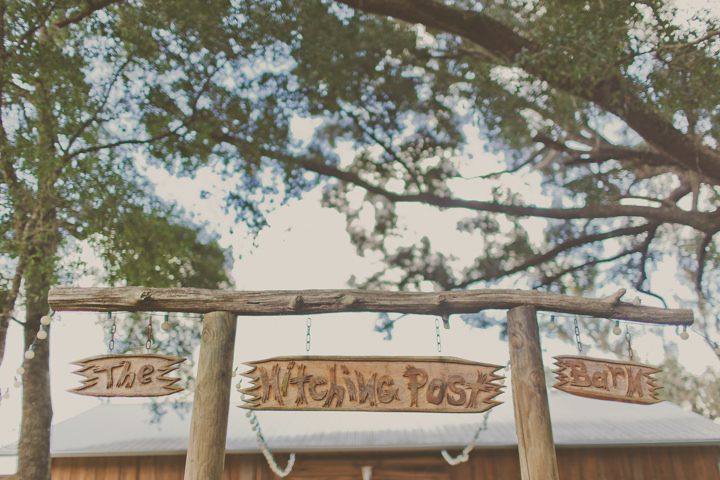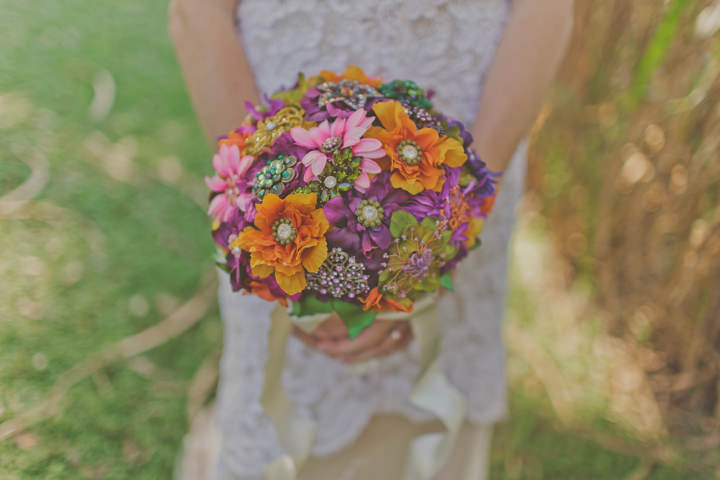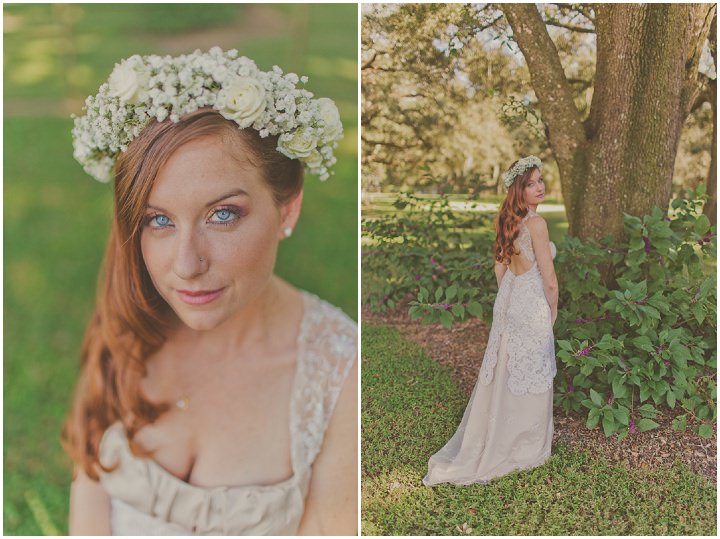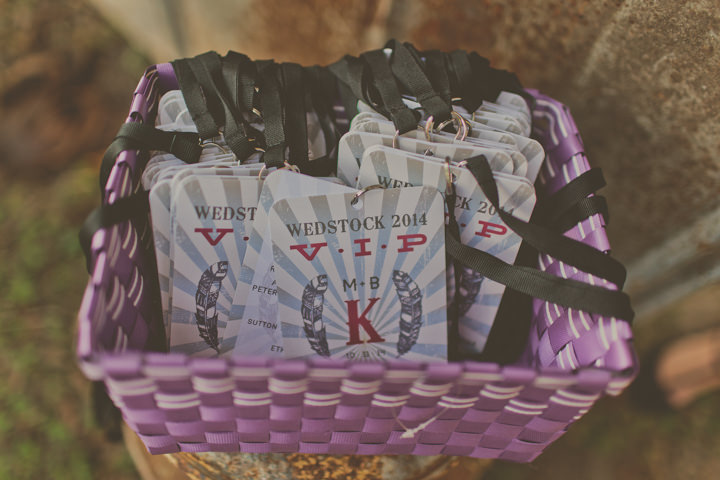 How did you allocate your budget
The top priorities in planning for us were photography, venue and food. It was really important to us to have all the people we love be able to be with us, have great photos to look back on, and to have different and delicious food that would be within budget. The rest of the costs we made work around what we had left in our budget.
How did you choose your photographer
We love artistic expression and Meredith particularly favours photography and the idea that the photos would be the one tangible thing we would have to look back on. Brian began searching local photography blogs and stumbled across Stacy Paul Photography, we both loved the work she posted and decided to do a trial run with her with an engagement session. When we met with her and she told us her job was to tell our story and she didn't want to put limitations on the time needed to tell it correctly, we were pretty sure we could have booked her then. She was fun and quirky and got excited over the same ideas we did and continued to think of ways to be creative throughout our process. Once we saw the finished product of our engagement session, we booked her immediately for the wedding and we were just as satisfied with our results and wouldn't have done it any other way.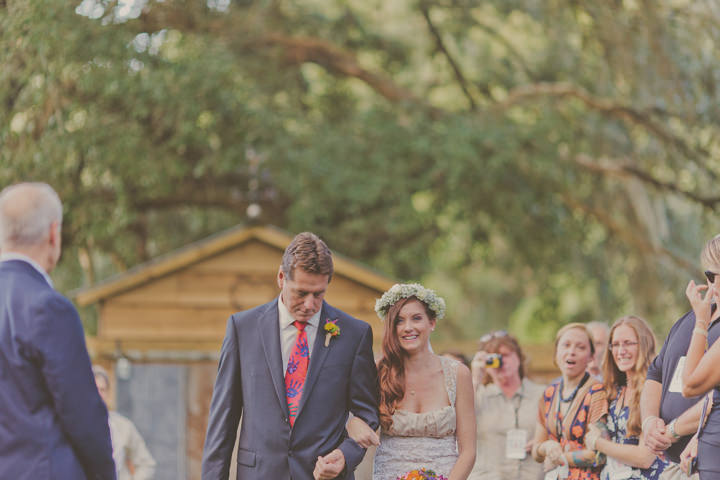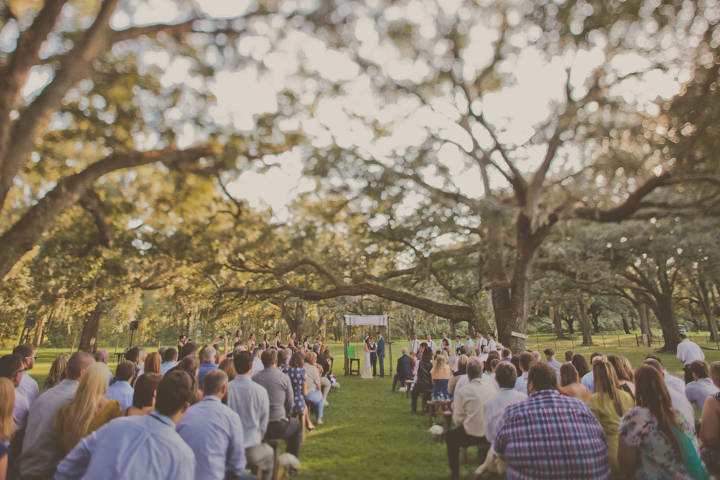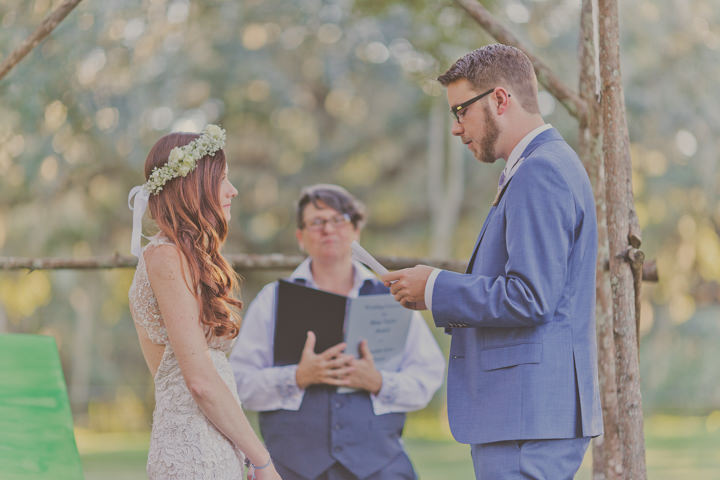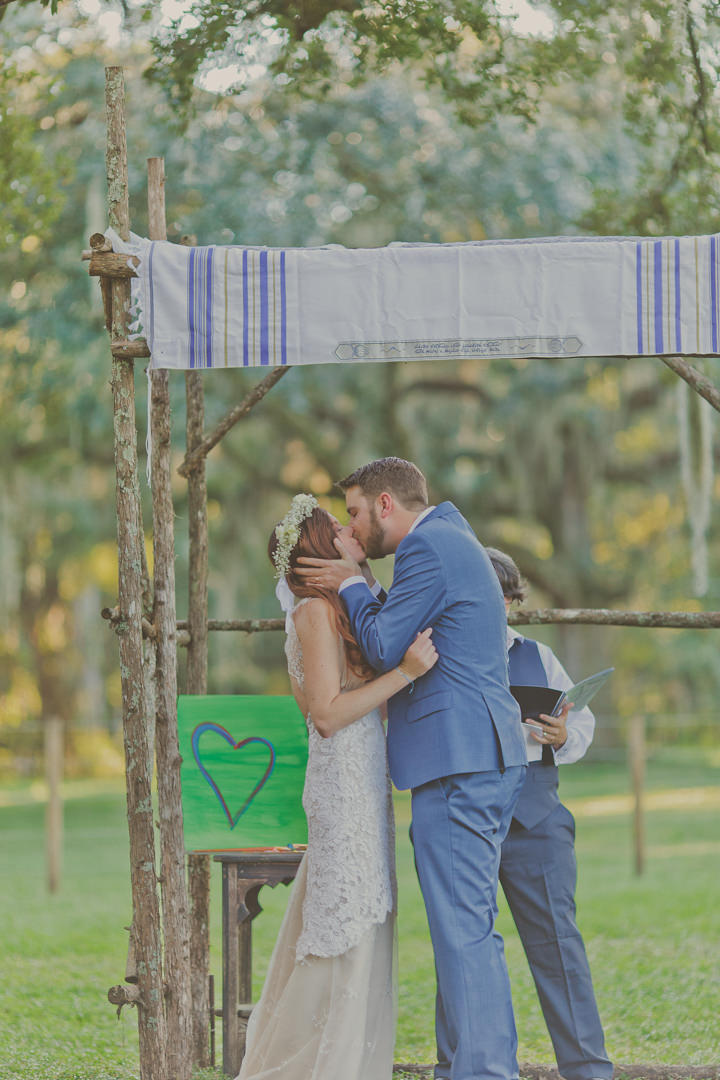 The Dress
My dress was made by my mother, Carol Lynch. I had a very particular idea of what I wanted from my dress and figured the easiest way would be to create my own, and my mother has always been a talented seamstress-she made her own wedding dress too. I found vintage patterns online and ordered them to piece together the different parts of that I wanted for my own, found vintage lace at an antique store and then found complimenting fabric for the remainder. For my accessories: my gold and pearl necklace was borrowed from my mother, the pearl earrings were borrowed from a bridesmaid, I had my something "blue" with one bracelet that said "love" on it (a gift from my sister in-law and another brother's girlfriend), as well as my "new" pearl bracelet from Kay jewellers. For the ceremony, I actually decided to not wear any shoes-just barefoot sandals custom made for me off of etsy shop Forever Soles; I love being barefoot J For the reception portion, I had custom made vans I was able to sport; a gift from Brian the day of the wedding. He had a friend and local tattoo artist, Eddie Rivera at Stigma Ink in Tampa, put our monogram we designed from the wedding on the toes of it and "Mrs. Knitch" across the heels.
The Suit and Bridesmaids
The suit Brian wore was made by Hugo Boss. The groomsmen were just responsible for finding grey slacks, white button down shirts and a specific color tie to match the flowers of the bridesmaid they were walking with. As gifts, they were provided with purple suspenders from Tie Bar to match the bridesmaid dresses and navy classic toms. The bridesmaids all wore infinity dresses that we ordered from a shop on etsy, WomenLand.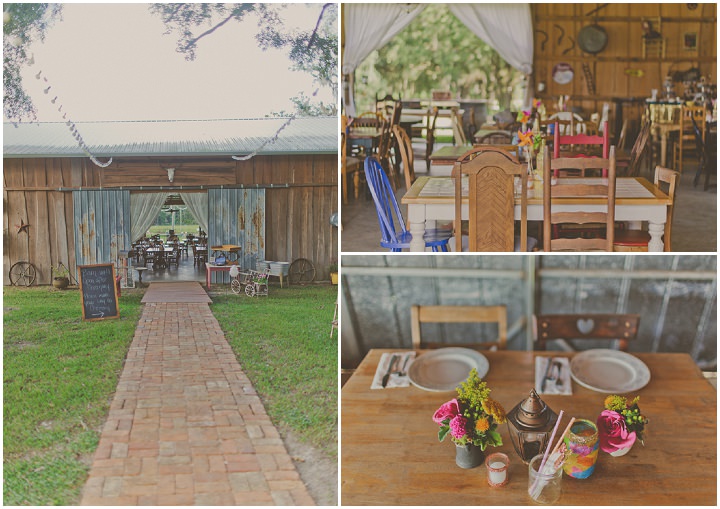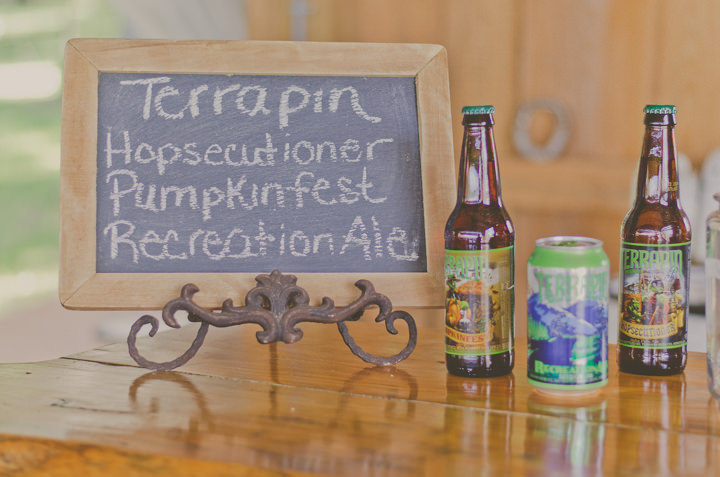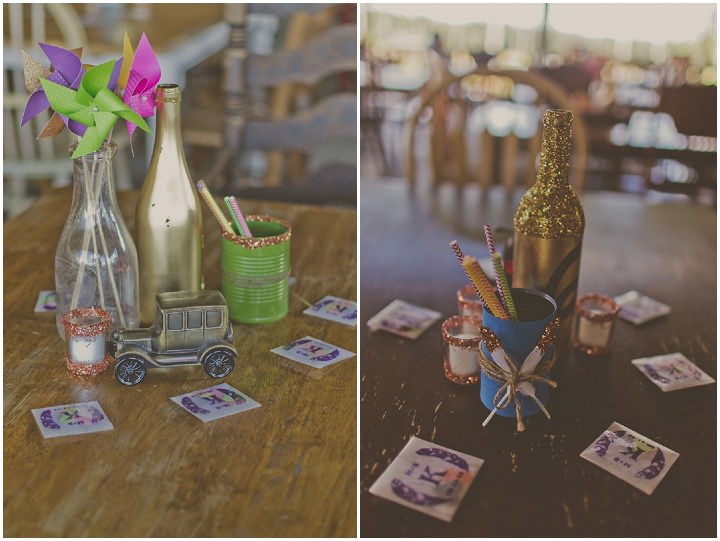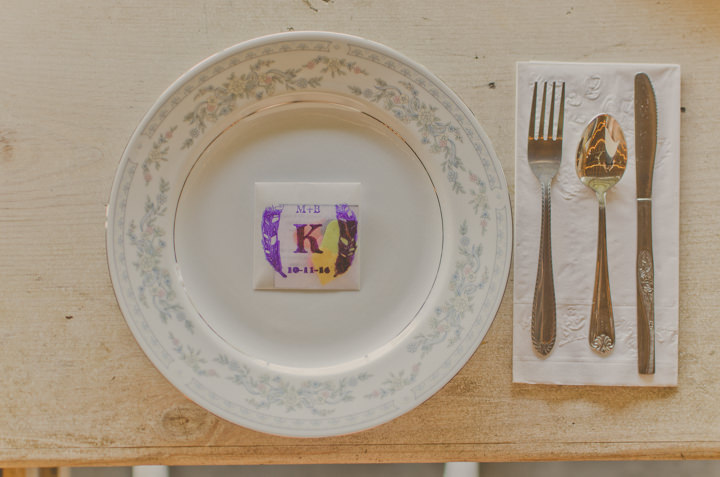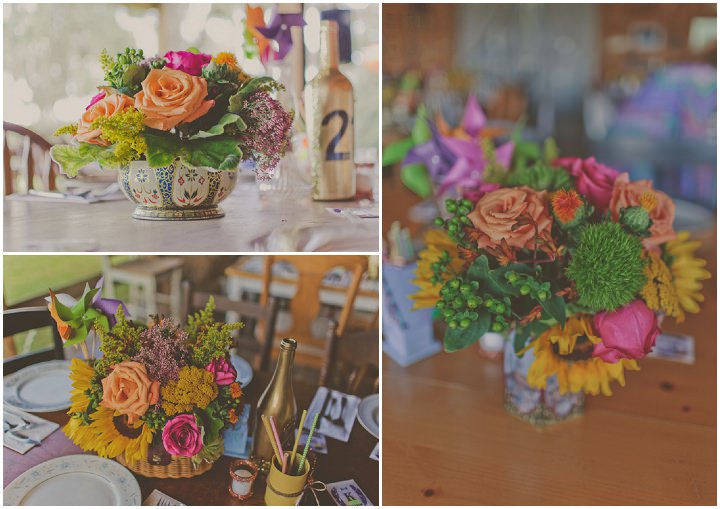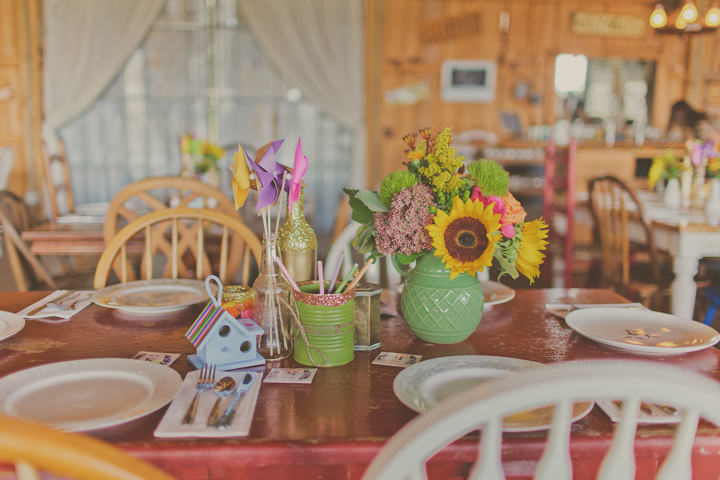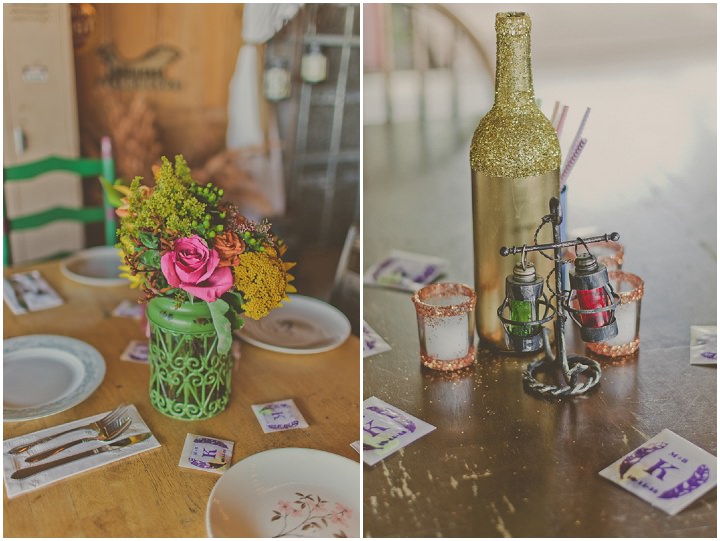 Theme or Colour Scheme
We had a music festival theme which included plenty of color and glitter! The flowers and most decorations were yellow, orange, green, and pink with dashes of navy and dark purple which matched the bridesmaids dresses and grooms suit.
Flowers
Solidago, Yarrow, Roses,Sunflowers, Trick, and kangaroo paw done by 2BirdsEvents.
Decoration
The barn itself had a lot of great rustic and vintage decorations all on its own that was fantastic! Additional decorations on my end included paper lanterns, tee pees, aeclectic center pieces, and yard games! Our DJ provided a lot of lighting options for us and Suzie even had a large wooden "K" we used over by the dance floor.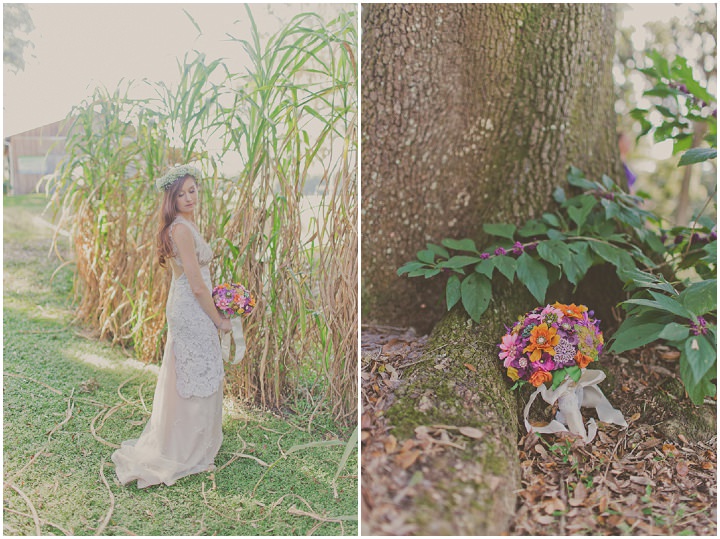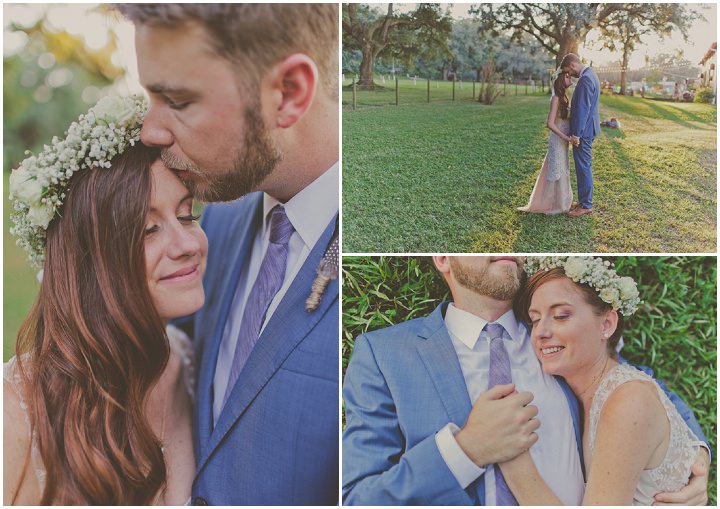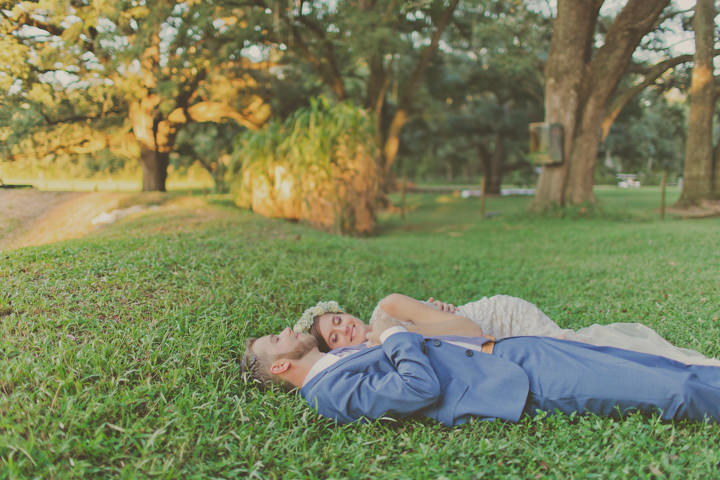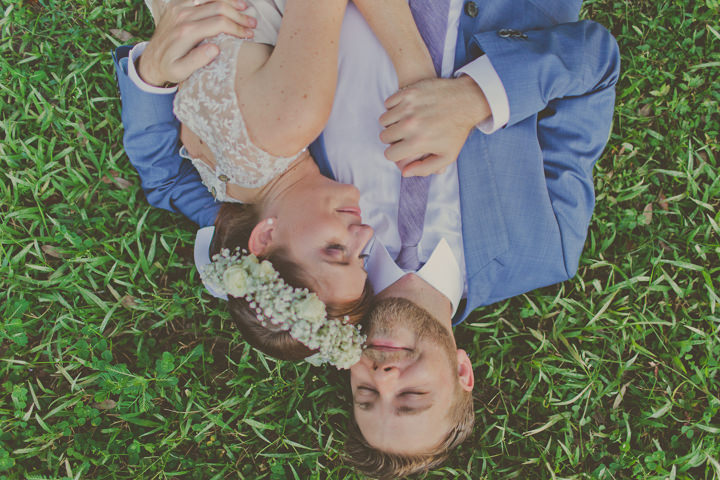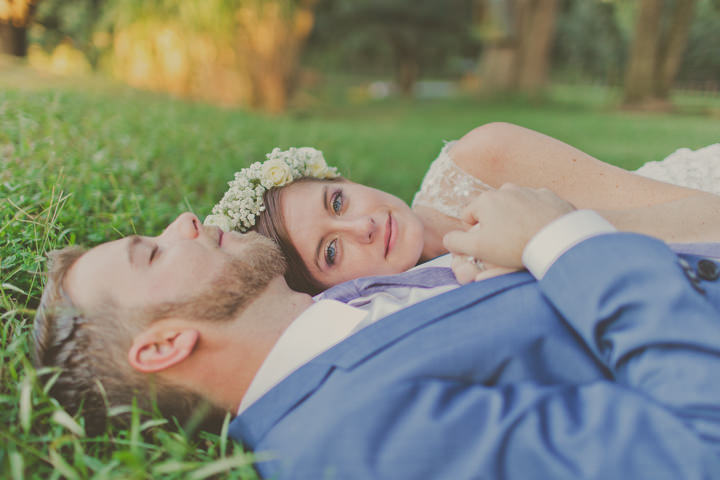 Food
Sticking to the music festival theme of the wedding, we decided to opt for food trucks! We wanted to have two separate ones so we could have a variety of foods that people could enjoy. Our menu from Wicked Wiches food truck included: COCKTAIL HOUR: fried pickles with chipotle ranch dippers, sweet potato chips with salty brown sugar, chicken and waffle minis with syrup pipettes, classic chicago dogs, 4 assorted set stations of fresh fruit, prosciutto and cheese. SOUP/SALAD:butternut bisque soup, a harvest salad of mixed baby field greens, farmed goat cheese, granny smith apples, cranberries, sugared walnuts and tossed in an apple cider vinaigrette. ENTREES: hand carved apple cider smoked cranberry, brie & spinach stuffed breast of chicken with a fig reduction brown sugar and marshmallow mashed yams. hand carved boneless rolled mojo pork loin with a fresh mint scented au 'ju saffron rice and black beans. slow red wine braised boneless short ribs mashed potato puttanesca.asparagus bundles tied with bourbon smoked bacon stix and fried green tomatoes. Sarge's Smokehouse BBQ was the other truck we used who provided us with some of the most amazing subtle spins on some barbecue classics and delicious homemade barbeque sauces: pulled chicken and brisket sliders, macaroni and cheese, baked beans, and green beans.
Wedding Cake
The cake we cut was also made by my mother and is Brian's favorite cake that she makes. It was chocolate with a whipped frosting that was mixed with chopped Hershey's almond chocolate bars. For our guests-Alleycakes Dessert Company made a variety of flavored cupcakes (lemon, funfetti, chocolate, vanilla) and frostings (blueberry, vanilla, chocolate) that they could mix how they pleased with different sprinkles to top with as well as mini apple pies in mini mason jars with heart crusts on top :)
Entertainment
We had a DJ that we found locally, South Tampa DJ-Kelly Gump. He was awesome and really helped keep the mood fun throughout the entire night and was very creative with our visions and helping us fulfill what we wanted. He provided an excellent amount of lighting in his services and had plenty of up to date equipment that worked flawlessly during our ceremony and reception set ups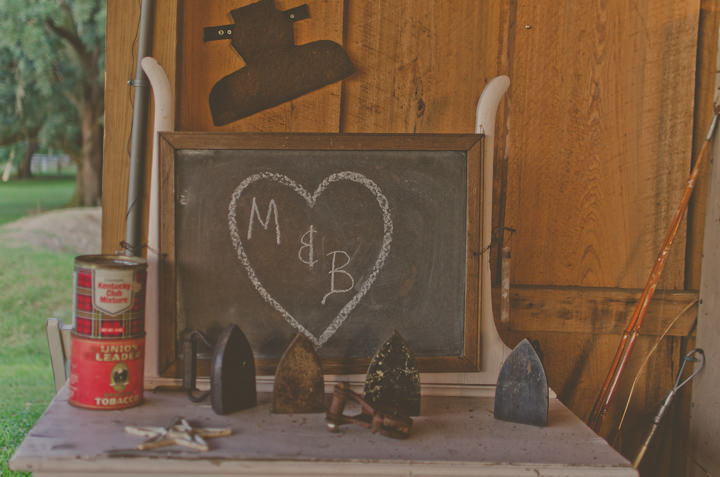 Buy or DIY your Stationery
We bought our stationary through Invitation Consultants-and they did an INCREDIBLE job! Courtney Davis was who we worked with and she did an amazing job putting our ideas and visions into our products. She made our save the dates, invitations, programs (VIP Lanyards), I Spy photo tents, and yard game posters that had the directions printed on them; and each item was flawless and just perfect for the theme and our descriptions given.
Personal or Handmade Touches
SO MANY personal touches and DIY products! The tables numbers were made from old wine bottles that were spray painted gold and decorated with some touch of gold glitter, votives were bought and then decorated with glitter using modge podge, there were bird houses that were put out as centerpieces that were decorated as a part of my bridal shower, we modge podged glass jars with tissue paper for luminaries, spray painted tin cans and used glitter/twine/glitter dipped feathers for decorations on those, and the pinwheel parts were ordered off etsy and constructed by my wonderful brother's girlfriend! I also ordered feathers off of etsy and hand made the men's boutonnieres, I bought tubing/connectors/decorative tape to make all of the hula hoops used, I hand painted the table numbers onto flower pots (and spray painted glitter over it) and then planted succulents in the pots writing names on popsicle sticks to stick into the soil as name cards. Also at my bridal shower, we made tie dye sheets that we used for a sitting area in the tee pees in the yard. The tee pees on their own were also a DIY project one of my bridesmaids and I tackled together with a lot of hot glue and fabric. Together Brian and I created a logo for the wedding and used it on various projects, one being a rubber stamp that we stamped on glassine envelopes that we filled with eco friendly plantable seeds in our wedding colors as our guest favors. I folded old music sheets into an envelope and stuffed them with lavender and sprinkles I ordered for tossing at the end of the ceremony. Many of the signs throughout the wedding were hand painted on compressed cardboard or canvas and the miscellaneous trinkets we used on tables that littered our home for so long were typically found at yard sales and antique stores! For my present to Brian, I had a friend of ours hand paint the logo for the Chicago Blackhawks (his favorite sports team) on a set of cornhole boards with the Chicago skyline across the bottom; this was my favorite gift I have ever surprised him with!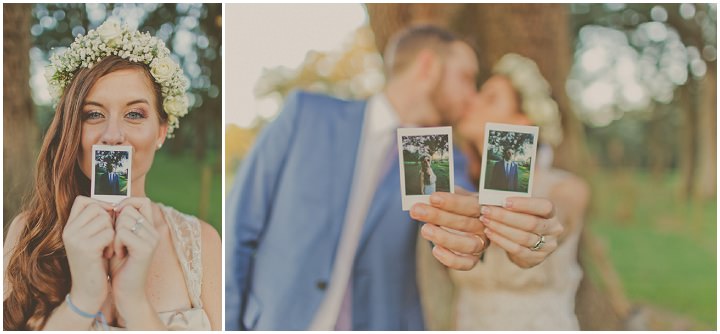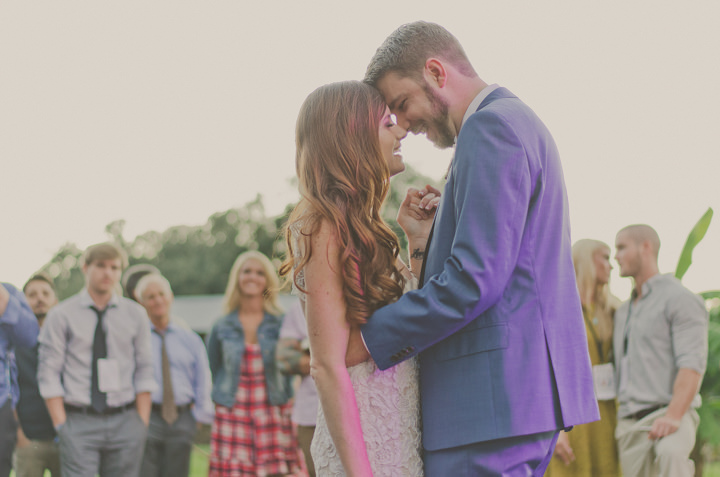 Special Moments
The way my husband looked at me throughout the entire evening, hearing his incredibly written vows, walking through the doors to the ceremony and the overpowering sensation of love coming from everyone there, and "our moment".
Advice to other couples
-Keep information organized and utilize wedding blog checklists! I used a spreadsheet system I found on pinterest which was incredibly helpful for storing needed information and making timelines.
-The numbers will work out and anyone who is supposed to be at your wedding, will be. This is your day and everything will be perfect, even if it wasn't according to plan because nothing is by accident-let it all go and remember why you are here.
-AND, my sister in law advised me that they day goes by so quickly and to remember to at ANY point and take a step back in soak in "a moment" together–it was one of my favorite parts.
Biggest surprise
The thoughtfulness of my gift from Brian, my new adventure vans decorated with our logo and my name, Brian's vows, my best friend's maid of honor speech and how amazing our wedding day really was.

Supplier Shout Outs
I am fully convinced we had the most amazing vendors ever for our wedding, I can't even tell you how lucky I feel that we found all of them and that they were so willing to work with us in making it our special day. I would hands down suggest any of the vendors mentioned for any bride that wants someone who will listen to their wants and execute them flawlessly.
For more information on Stacy Paul Photography's work please go to:
www.stacypaulphotography.com
www.stacypaulphotography.com/blog
FACEBOOK
Hi! I'm Stacy, a Tampa, Fl based wedding photographer. Along with taking pretty pictures, I love singing, twirling around in dresses, handwritten letters and key lime pie (yum.). I like to think that my style of photography is vintage inspired with a little quirk and a lot of whimsy. Mostly, I just love photographing love.