Hello to you all! I have a real treat for you today with this truly delightful wedding, that has been sent into me by Hannah the Beautiful bride. It's a destination wedding from Mallorca and it is just stunning! After meeting in Mallorca on a holiday romance and then going back there for the proposal it seemed only fitting that Hannah and Russell got married in Mallorca aswell. This they did in true Spanish style with the most amazing views, and a gorgeous outdoor ceremony and outdoor reception. With a gorgeous first look, great surroundings, fabulous food and dancing under the starts this wedding is just wonderful. Thanks to Violeta Minnick for the images.
'Our wedding day was all about sharing a special, beautiful place with those closest to us. We aimed for a relaxed, rustic country aesthetic with a squeeze of Spanish citrus.'
Hannah and Russell  were married on 4th June 2014 at a Private Villa on the outskirts of Cala D'or, Mallorca. 'Having met on the island 4 years previously it was an obvious choice. We wanted to share the beautiful island with our friends and family and don't think anywhere else would have felt quite right. We were engaged for 3 years. I began collecting ideas as soon as we got engaged however we didn't start any official planning until about a year before the wedding. Once I had a list of possible photographers, caterers and villas we flew to Mallorca to see them. We had a total of 60 guests.'
How they met
We actually met in Cala D'or, Mallorca 4 years before. It was the world cup final and Spain won for the first time in history so you can imagine what a crazy night it was- the Spanish know how to party! Neither of us expected that a holiday romance would turn into something serious but when we both got back to the UK our feelings hadn't changed and I moved to live with Russ in Buckinghamshire a couple of months after.
The Proposal
A year after meeting we went back to Mallorca, to revisit where we first met. On the day Russ proposed we hired a scooter and spent the day exploring the island. He then took me to our favourite secluded spot by the sea and asked to marry me. I was so surprised I didn't say yes for about 10 minutes!
How did you allocate your budget
One of the most important things for us was having the right photographer that could document the day in the way we wanted and for this we were willing to spend a large percentage of our budget. Getting married abroad meant we could eliminate some of the costs which we may have incurred having a traditional English wedding and we were very fortunate that our venue was effectively paid between ourselves and the other guests staying with us in the villa for the week.
One thing I would recommend is splitting the cost up as much as possible so you don't get landed with lots of huge bills at the end. I am particularly glad we did this as Russ broke his knee two months before the wedding! Being a plumber and self-employed he was off work right up to the trip and we were very thankful that we had already paid off some of the bigger costs beforehand.
How did you choose your photographer
We looked at many photographers who are based on the island but Violeta was a clear favourite from the start. We love her natural, timeless and graceful style. Neither of us are big posers, and we wanted to work with someone who we felt relaxed with and understood us and the type of day we were planning. When we met Violeta we instantly knew she was the right photographer for us, she is an extremely talented, professional and sweet person, we feel very lucky to have had her capture our day.
The Dress
I always knew I would wear a Rosa Clara gown, her timeless elegant and understated designs were a perfect reflection of me and our wedding flavour. I chose her Amatista dress with a custom designed neckline which I found more flattering. Being a Spanish designer there are limited Rosa Clara stockists in the UK, the gown was purchased from Palma in Mallorca which made it even more special. I struggled to find shoes, I knew I didn't want white or ivory, I found my Kurt Gieger heels at the last minute and knew they were what I'd been holding out for all along! As my hair was down I wanted to keep jewellery to a minimum, my necklace was a present from Russ, and my earrings were my "something borrowed" from a friend.
The Suit and Bridesmaids
Russ's suit was from his favourite designer, Hugo Boss. I was slightly worried when he called me saying he gone out and bought it on his very first shopping trip but he did a great job.
The bridesmaid dresses were from J.Crew. I wanted the girls to wear the same dress but not be completely matching so I picked a selection of styles from the range and worked out who would be best in which dress- with the girls help of course!
Theme or Colour Scheme
Although we love colour we wanted our wedding to feel very natural and organic, there was a palette of greens, white and yellow. Sunflowers became a slight theme almost accidentally, they have always been a favourite flower and we were thrilled to be able to incorporate them both into the floral design and other elements of the day.
Flowers
We really like flowers that are rustic, relaxed but still interesting. We wanted a variety of different blooms and foliage all within our colour scheme in an almost 'thrown together' fashion as we are not a massively into heavily structured, rigid, identical arrangements. We asked that every bouquet, buttonhole and arrangement was slightly different.
My bouquet was made up made up with white Lisianthus, mini Sunflowers, pale green Molucella,
yellow Craspedia and white Anemones with Echinevera succluents. The bridesmaid's posies were made up with white Lisianthus, white Freesia and a few clusters of yellow Craspedia with silver Euclyptus foliage.
Decoration
We loved creating the DIY elements and décor although the villa was so beautiful with lots of rustic elements already in place that we didn't want to do too much and cause a decoration overload! My dad made various wooden direction signs for the day, these proved really important as being in the middle of the countryside the villa was tricky to find! He also made a sign which read "Uncle Russ Here Comes Your Bride" for Russ' niece and nephew to carry down the aisle and surprise Russ. We made other pieces of decoration including burlap covered mason jars, a chalkboard detailing the running order of the day and confetti holders (and managed to source sunflower petal confetti!)
Food
We felt passionately that the food should be a reflection of the way we like to dine and chose a rustic Mediterranean menu with dishes served on platters to encourage our guests to pass food around their table, interact and try exciting local cuisine.
Wedding Cake
As neither of us are a big fan of icing and to tie into our rustic aesthetic we chose to have a "naked cake" which was three tiered vanilla sponge with jam and buttercream. We found a local baker through a recommendation and didn't realise until we met her a few days before the wedding that we are familiar with her family who run one of our favourite bars in the area!
Entertainment
We had a local musician perform during canapés and throughout dinner, we actually discovered him playing in a cute little tapas bar on a previous trip to the island. He is very bohemian and a total live wire, our guests thought he was fantastic and he had them in stitches! We had a DJ Ben Cain fly out from the UK to play us into the early hours. Our first dance was Chris Malinchuk's "So Good To Me," Russ is a massive house music fan and this is a track we both love, we wanted something different and the lyrics were perfect. Having the villa for the week meant we could celebrate until the sun came up.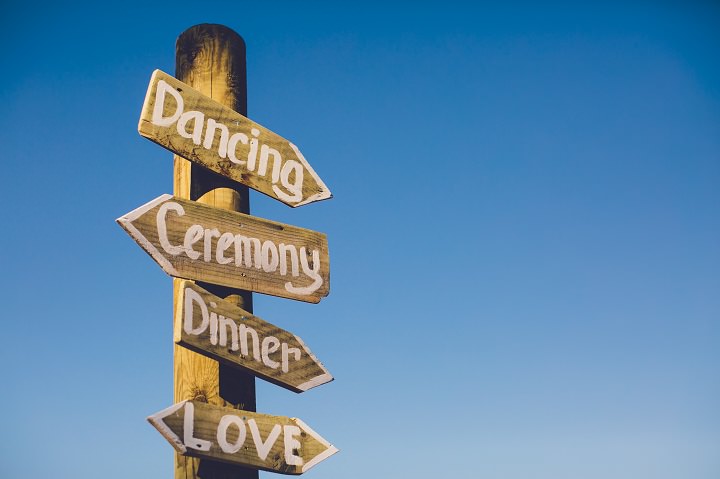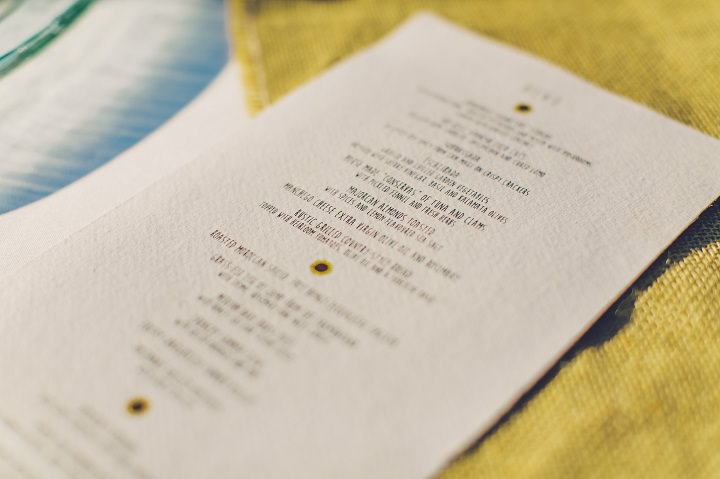 Buy or DIY your Stationery
Stationary was designed by a talented graphic designed friend. We had many late night frantic printing sessions
Personal or Handmade Touches
We were so blessed to have so many friends and family make the trip to Mallorca that we were determined to make every guest feel special. I secretly sourced pictures of everyone as children and inserted the image into individual tins with clear lids. A simple table plan directed our guests to their table but to find their seat our guests had to find their photo! Our guests were amazed at this thoughtful touch and the photos proved a great conversation starter before dinner.
As a secondary favour I made floral garlands for all the ladies and funny stick on moustaches for the men which made for some cute and funny photos. The girls loved the garlands and barely took them off for the rest of the holiday. I've seen them cropping up on my friends in various festival snaps throughout the summer too!
I also made a "Photo Mobile" of wedding photographs of all our married guests to remind them of their special day- our parents loved this special surprise.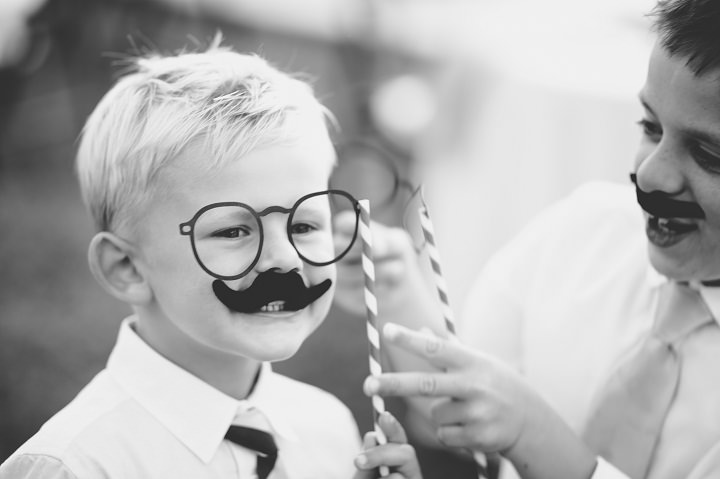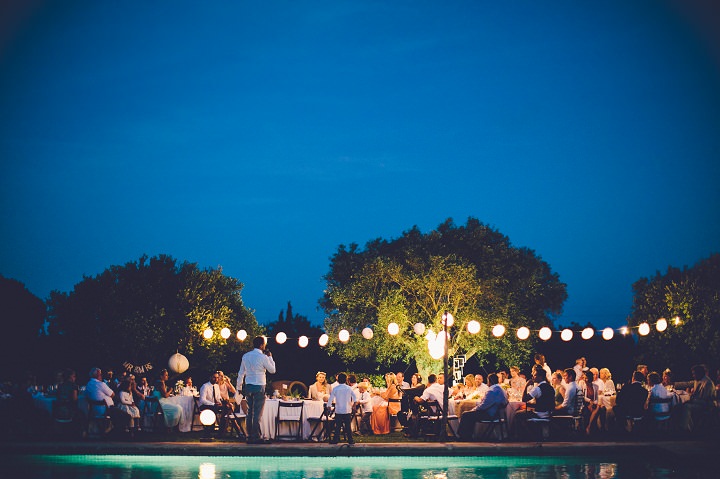 Special Moments
Russ and I chose to have a 'first look' photo shoot before the ceremony which was one our favourite memories of the day, we met at a secluded spot overlooking our best-loved beach. It was wonderful to have some precious moments together after frantically getting ready, before everything got started and was an opportunity to reflect on our story so far and the exciting time that was ahead. It also meant that we didn't leave our guests for portraits after the ceremony which was not something we were keen on doing- we hate to leave a party!
Advice to other couples
If I could bestow any advice to brides my main point would be to make sure the day reflects you as a couple. The choices we made for everything including location, food and music were what we felt passionate about, not what we felt was expected from us. You forever hear that it is the best day of yor lives so make sure it is YOUR day, not a copy of what you think a perfect day should be! On that note as secondary piece of advice I will start with another cliché, the day really is over in an instant. We were so thankful that our celebration was spanned over the space of a week and we would advise any couple if you can make your wedding extend over the course of a few days then do it. We have the most amazing memories from the week away which all add to an unforgettable wedding experience; from a crazy night out in town, days down the beach, walks in the countryside, barbecues at the villa, a deep sea fishing trip and tapas for 30 in our favourite spot the night before the wedding.
Biggest surprise
Our biggest surprise wasn't a particular element it was the overwhelming feeling of happiness at having all of our friends and family in our favourite place to support us for our day. It was truly out of this world! Seeing the people closest to us really enjoy each other's company and form new friendships was the best gift we could have asked for, we felt very blessed.
Supplier Shout Outs
For more information on Violets's work please go to:
www.violetaminnick.com / www.violetaminnick.com/category/blog / FACEBOOK / @violetaminnick