Today I have a real treat for you. I love to feature different kinds of photography here on the blog, different styles for different tastes, so today I am delighted to be able to introduce you to one of my current sponsors Faby abd Carlo. Faby and Carlo are a husband and wife team who specialise in beautiful Boudoir Photography. I don't often feature boudoir on the blog, it's something that is very much down to personal taste, but the soft tones and beautiful use of light in the work of Fabo and Carlo made it the natural choice to highlight this ever popular medium. As well as boudoir, Faby and Carlo also cover wedding, family, lifestyle and editorial so if you are looking for any kind of photography at the moment then these are the people for you.
'We are Faby and Carlo, real life husband and wife and partners in photography. We have known each other for a very long time, and it was love at first sight. We got together in 2000 and not before long, not only we realised that we share love for each other, but also a love for visual arts and photography. Passionate and creative Italian souls, although we take our photography seriously, we do also have a sense of humour that ensures we do not take ourselves too seriously!
We started as street photographers when we first moved to the UK, to then land into editorial fashion and advertising.
Out editorial approach to portraiture, and almost 10 years of experience in photographing women, converged into our distinctive elegant boudoir style. In fact, we specialise in photographing women beautifully.'
We asked Faby and Carlo more about their business……
How long have you been taking photos for?
It has been almost 10 years now. Carlo started quite young because his parents were quite decent amateurs photographers themselves and passed on their passion for creating memories, while Faby was constantly sketching women and clothes when she was a kid, but started photography only 10 years ago.
When did you start your photography business and what made you start?
We started our photography business 3 years ago. The main reason is because we are passionate about people, beauty and stories. We love to capture the essence of a person, their beauty and their personality through our images. We believe that photographs are both emotional and visual memories… something we love to create and that gives us great pleasure.
Where are you based?
Battersea in London
How far will you travel for a wedding/boudoir?
We went to Australia to photograph a beautiful bridal boudoir and the wedding itself, so we would say that the world is our limit.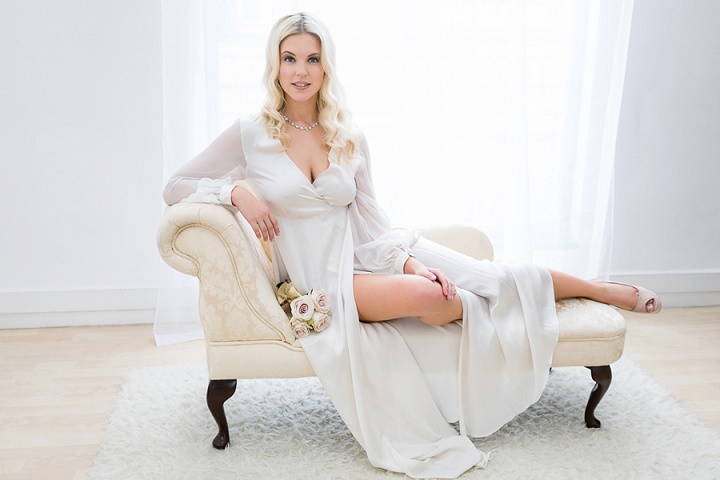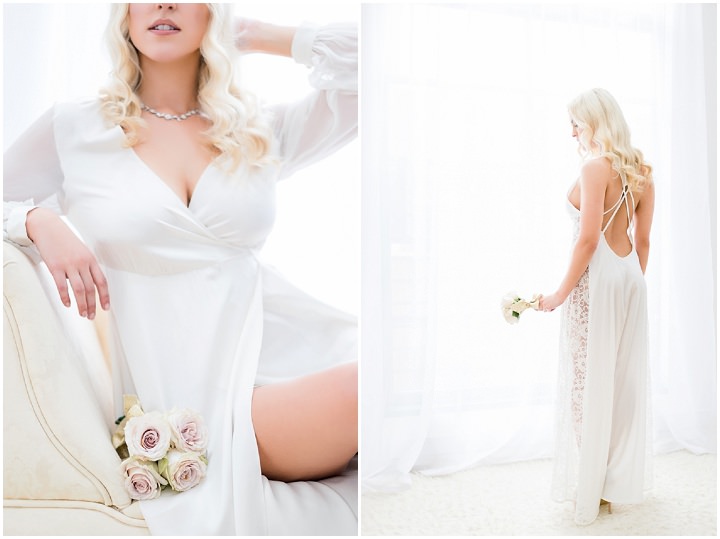 How would you describe your style?
Elegant, timeless, sensual. It is our job and our expertise to bring out the best in the women we photograph and to deliver the best photograph they have of themselves.
What is your favourite bit of technical kit?
The piece of equipment we prefer is our eyes. There is no camera or lens – no matter how great and expensive – that can replace the way we see the world. It is said- "Beauty is in the eyes of the beholder", and we find it to be true, because we see beauty in every single person.
What makes you different to your competitors?
The fact of being a husband and wife team is a great advantage because the pictures we create are made of 2 different visions, and it is also reassuring to have the two of us as a couple.
Many women feel uncomfortable in front of a camera, and even more when it comes to having very little on. The way we treat and photograph our customers is unique because we take time to get to know them as individuals, coach them on the most flattering angles for their shape and body type, and advise them on styling along the way. The experience we offer is tailor made on the individual because every woman is unique, and she deserves to be treated as such. Together we create a relaxed environment where our customers feel free to be themselves and have fun.
Another distinct advantage is our elegant, timeless style that has nothing to do with with stiff or awkward poses that often women dread when they hear "boudoir photography". For us, everything has to be natural, beautiful and elegant, no matter what you wear, or you do not.
What do you enjoy most about your job?
The time spent with the women we photograph. We take time to get to know them to deliver what they dream for themselves. Many of our customers become good friends of us after working together.
What is your biggest achievement so far?
Changing someone's life by changing the way they see themselves. For this reason our Boudoir Experience is much more than just a photo session.
Many women do not see how beautiful they are, because they lack confidence and they focus on flaws that nobody but them can notice. It really does not matter how attractive they are in real life and how many compliments they receive, they do not see it. When they have their pictures in their hands and they see themselves from a different, positive perspective, something clicks. It changes their perspective, and this helps boost their confidence in every aspect of their lives.
What sort of couple/women do you think you attract?
We also offer couple boudoir sessions, which is becoming very popular. Our couples are in their late twenties and in their thirties. They want to have passionate but elegant pictures to celebrate their love and passion for each other. It is also a beautiful and romantic idea for a private engagement shoot for their memory/eyes only.
As for individual customers, we attract beautifully smart, strong and caring women. They love keeping fit and despite having their own personal hang ups, they are willing to push their comfort zone to create beautiful memories for themselves and their husbands to be. Their reason is that there is nothing more personal you can give to your husband than…yourself, right?
It is said that you attract what you send out into the world, and, in fact, our customers tend to be open minded, in touch with themselves, honest, health conscious and do not take themselves too seriously.
What would be your ideal wedding/ bridal boudoir to work on?
For a wedding, surely an elegantly simple, beautiful and happy wedding. To create stunning images, there is nothing better than people that are happy and enjoying themselves because they emanate good vibes that will be captured by the photographer.
For a bridal boudoir, the best customer is the one that trusts our expertise. Our aim is to make women we photograph feel great and look at their very best. We believe that "confidence" is all a woman needs to be dressed in when booking with us, because we will take care of all the rest.
We are both photo takers as well as photo makers. Our weddings tend to be more documentary in style, while in our boudoir sessions we coach women move and pose in a natural and flattering way.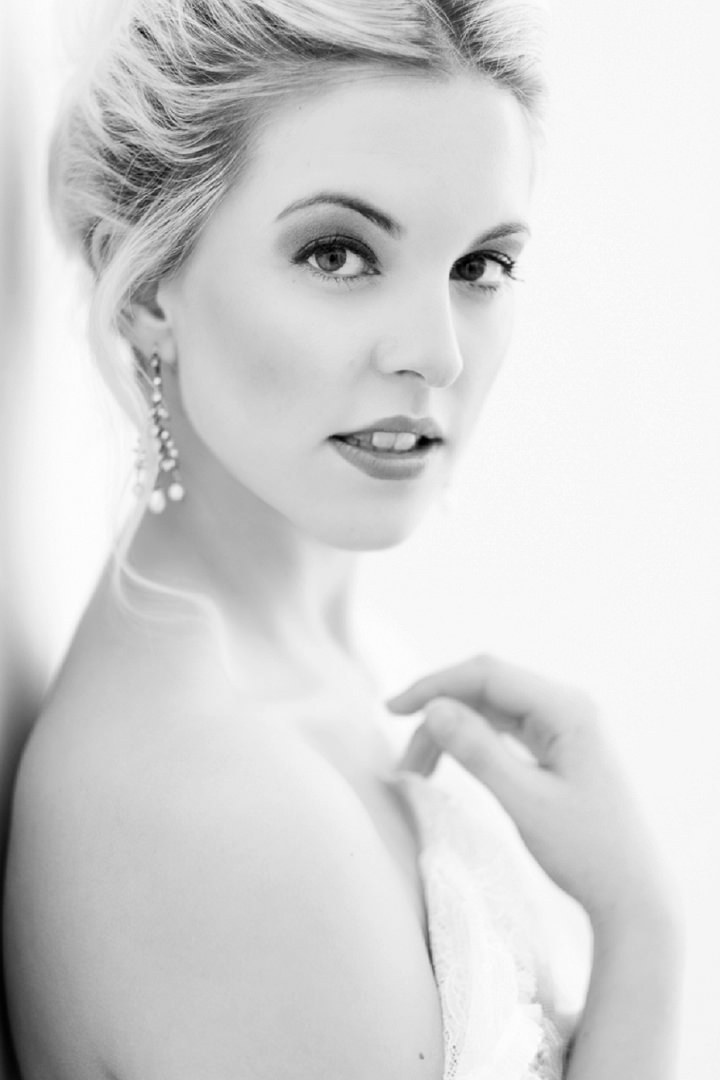 Which celeb would you like to photograph?
We would love to photograph Jennifer Lawrence. Her personality seems to be amazing and she looks like a woman that does not take herself too seriously. A person we would love to share an evening with for some chit chat, not just to have in front of our lenses.
Who is your favourite photographer and why?
Helmut Newton, Hellen von Unworthy and Vivian Maier. They are very different from each other, and their style is different as well, but their images are inspirational. Helmut Newton used to pose his models from top to bottom, Hellen Von Unwerth captures movement and natural people, and Vivian Maier captured deep, real life, candid moments. They all had/have such an incredibly unique vision. We find their art incredible.
If you were to get married who would take your pictures / who did take the pictures at your wedding?
Definitely not the ones who shot our wedding years ago. We had a horror story with our wedding pictures, that is why we decided to shoot very few selected weddings.
We love Jeff Ascough's style. He is incredible at capturing emotions and recounting stories.
For a boudoir session, we love Christa Meola's artist view. Her taste, vision and sense of aesthetic are truly outstanding.
What in your opinion makes the perfect photo?
Real emotions. There is nothing more endearing and beautiful that a picture taken when real life develops in front of you. As a photographer, more than seeing a moment, you need to feel it. Only in that way you can capture the right moment, and make it a memory that is as real as the emotion you witnessed.
What is your favourite photo that you have taken?
There are many we love, however the ones are really proud of – and they will have to remain private – are those of our customers because of their commitment and the true emotions they conveyed.
What advice would you give couples/individuals when choosing their wedding/boudoir photographer?
Meet your photographer in person and ask them to see 2-3 complete weddings. Remember that portfolios are created by sourcing the best of the best of all the weddings a photographer has worked on, so, to have a better idea of their style it is advisable to see one or more entire events covered.
As for a bridal boudoir session, first piece of advice is to talk to the photographer and meet them in person/ via Skype to have a feel of what they are like, and see if you feel at ease with them. It is very important that you feel comfortable with your boudoir photographer, so our advice is to follow your gut feeling.
Second advice is to not be afraid of asking questions. There is no such thing as a silly question when it comes to your peace of mind.
Third, make sure you do not compromise on the style you love. You – and your husband to be – want to be happy with your pictures. You want to treasure memories you will always be proud of looking back 20 years from now.
Can you give me some information on your pricing structure?
The session fees are £200 and they include the service of a professional make up artist that will pamper our clients, make sure their best features are enhances and camera ready, plus of course our time and expertise. Our customers' medium spending for a bridal boudoir session with us is around £1200, and our wedding packages range from £1000 to £3000, depending on many different options.
For our bridal boudoir, we do not have a minimum spending and we do not require our customers to commit to big packages upfront because we are confident that the quality of the pictures we present at the viewing session will speak for themselves.
What is your ideal way to spend a day off?
Going around London on a sunny day and photographing strangers and buildings
What can you never leave the house without?
I guess it is our Iphones. Thank goodness iPhones have decent cameras and Instagram makes it easy to share your pictures with the world
Who would be your 5 dream dinner guests dead or alive?
Tom Ford, Steve Jobs, Helmut Newton, Anjelina Jolie and the Dalai Lama
What would you do if you won the lottery?
Travel the world and buy a house on the beach of a sunny location like Santa Monica in LA
If you weren't running your business, what would you be doing?
Travelling the world more and taking pictures.
Thanks to Martina Bellieni for the beautiful makeup and hair of Laura from Bridge Models and to Dolci Follie for being so kind to provide us with the beautiful bridal lingerie.
For more information on Faby and Carlo Photography please go to