Happy Friday everyone, how are you all? I am so excited for the weekend as tomorrow the Christmas celebrations officially begin. We are off to the cinema tomorrow to watch the Grinch and then on Sunday it's the Christmas lights switch on in Sheffield city centre! SO excited for Christmas!! Today though, I am brining you some sunshine filled elopement inspiration from beautiful Portugal. Muza Weddings Concept came up with the idea for this shoot, as they wanted to show how elopement and intimate weddings can be just as beautiful as large-scale celebrations. The shoot took place in October of last year at Sublime Comporta in Portugal as they wanted to show off this beautiful venue. They drew inspiration from Morocco and filled it with gorgeous flowers and amazing Moroccan inspired decoration.
 A very intimate wedding celebration and that's was the key for this shoot, intimacy.
Muza Weddings Concept tell us more about the shoot
We are very passionate about this specific region of Portugal and we keep imagining a wedding on that specific hotel. Is a place where times seems never go by.
We were inspired by the colours and textures from Marroco and by our out of the box approach to the weddings styling. We love to give a little bit of flavour to each celebration, turning it quite unique and tailor-made.
Our main goal was to promote intimate weddings and show people that is ok to be who you are and that you must live by your own terms and not from what's expected from you. Go ahead if you want to elope! Live your life it is the last day. Just the two of you or the close family, small weddings are always the most special ones. Our main goal is in the future just do small weddings until 50 people, max.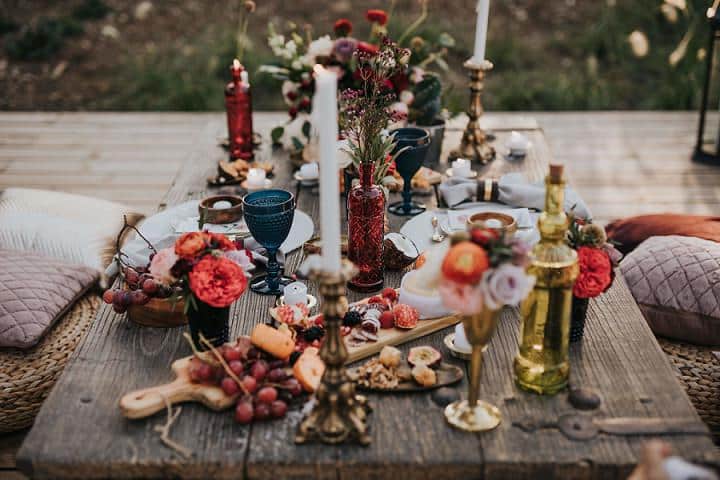 The suppliers who made the shoot possible