I have a very special wedding for you today as it is the wedding of Boho Bride Kate. Kate wrote for the blog as a Diary of a Boho Bride and we followed her wedding planning journey for a year. Kate was a  great contributer to the blog and always had lots to say about her wedding planning and worked incredibly hard on every aspect of it.  I am absolutely over the moon to be able to share the finished result with you. The wedding itself is gorgeous, Kate and Andy have done a fantastic job, as have all their friends and family who helped them. They were so lucky with the weather which meant they were able to hold their ceremony outdoors, as well as their picnic style wedding reception in the stunning gardens. With an abundance of handmade projects from Kate this wedding is brimming with gorgeous little touches and details, Kate really has worked her socks off to create all the finishing touches for her beautiful day. To top it off we have the hugely talented Rik Pennington who has captured the day so perfectly.
'It was such a personal, chilled out and emotional day, brimming with smiles and a whole lotta love. Everything came together perfectly, and to share it with our best friends and family was the true icing on the cake!'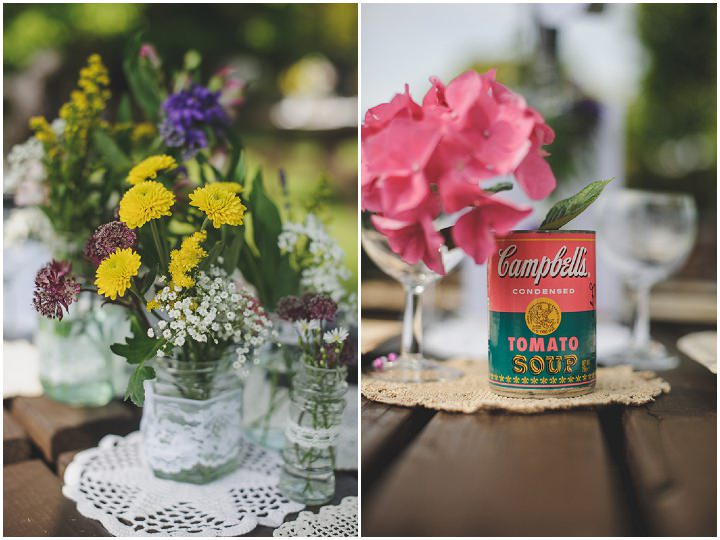 Kate and Andy were married on 12 July 2014 at Le Blanc Fine Art Foundry, Manor House, Saxby, Leicestershire (their friend's family home) 'We spent a long time looking for venues which were close to where we live, but also gave us a complete blank canvas, not charging extortionate corkage charges and where we could really put our own stamp on the place. I loved the idea of a barn, but the amazing places we found were just way out of our budget!
In the end, we realised that widening our search area would be necessary, and my friend's family home suddenly became a possibility. It's a place where we have been many times and had many a great party. The gardens are just beautiful as they are the main showcase area for my friend's parents' bronze sculptures, which they make in the foundry there too. The price was far cheaper than we could have hoped for from anywhere else, and we were able to bring in all the services we wanted, chosen by ourselves, and of course have the help and support of my friend in setting up the entire venue. It was a perfect solution, and a perfect location! We had 42 guests in the day and another 25 came in the evening. I guess you would probably say about 18 months it took to plan as I was planning it in my head right from the day that Andy proposed! I just loved the whole process, and the experience of a wedding for me definitely involved the enjoyment I got out of planning it.'
How they met
The very first time we actually met was probably some time in 1998, but neither of us know exactly when. My brother became the drummer in Andy's band, who were touring in Germany at the time. We met in passing when I visited my brother. It wasn't until 2002 when we were both living in Leeds and both single that the mutual attraction became obvious and so, a huge 12 years since we got together. We now have two beautiful children and we are finally married. (Obviously we don't believe in rushing these things!)
The Proposal
Christmas Day 2012. Our front room. Me: PJs on, no make-up. Our two daughters: running around giddy with excitement. Andy: down on one knee in front of me!
He gave a wonderful speech (although I was so shocked that I barely remember any of it!) and of course I cried! It was a complete surprise. I said yes, and the girls brought me a tissue! They remember it too, which is lovely.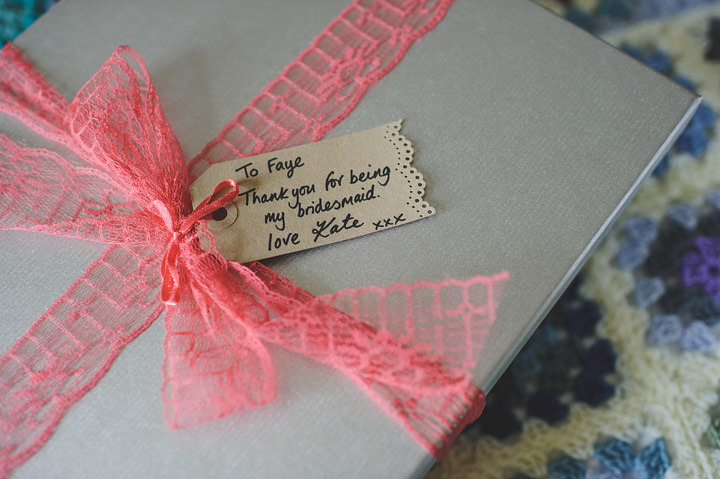 How did you allocate your budget
Our budget was small. Neither of us could justify spending a huge amount on one day, but it was definitely me who was determined to have the wedding of my dreams, even though it was on a tight budget. Being quite crafty, I knew I could do a lot of it myself.
The food bill was reduced massively when we opted for picnic style food. With no hot food and the use of picnic baskets for each table, we did not need any staff to serve us. This saved a huge amount of money.
The main things where we spent money were: the photographer (which was so worth it!); the food (daytime and for the evening also); the venue; and the band. My Mum very kindly bought my dress, so our spend totalled around £6,000.
How did you choose your photographer
I was initially going to have my good friend as our photographer, as she is a wedding photographer, but I soon realised that if she did it, then she wouldn't be able to enjoy the wedding as a guest. Wedding photographers work so hard, constantly for the entire day, and I couldn't ask that of my friend who would have had to watch her friends having a great time while she was working. It seemed and felt wrong.
So, the search was on for another photographer. I had read so many real wedding blogs, and seen so many amazing photos that I was starting to know what kind of style I liked – 'reportage' style, and the use of natural light was important too. I love unusual shots of things other people just wouldn't see, and I wanted a photographer who was able to really capture the feel of the day.
Rik Pennington fitte the bill perfectly. His name should be part of the definition of 'Creative Genius', because he is. He finds the light, and uses it to amazing effect. I love the way he captures fleeting moments, and all without anyone knowing he is there! He worked unbelievably hard – which everyone commented on – and stayed til well into the night. I can't recommend him enough. And to top it all off, he's a thoroughly nice bloke too!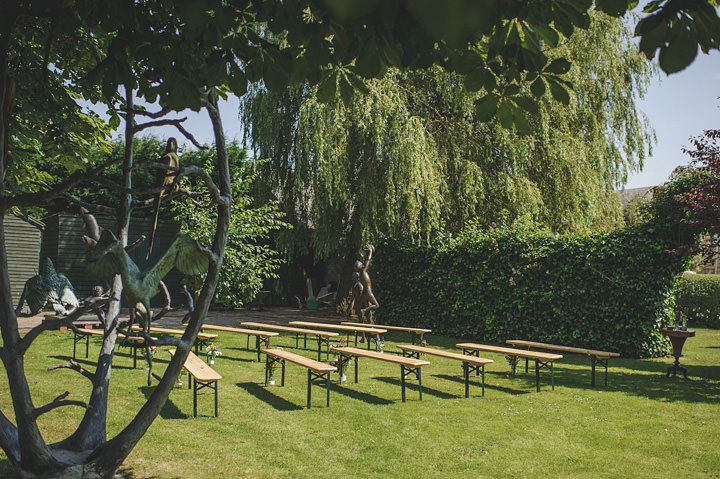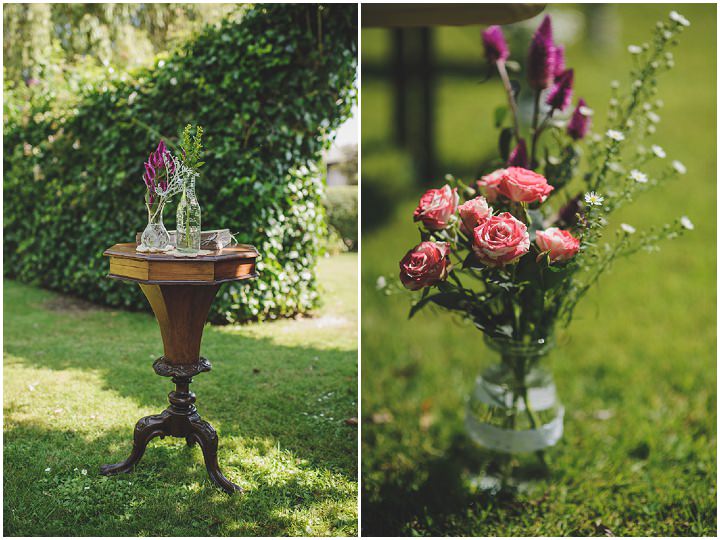 The Dress
My dress was 'Boadicea' by Charlotte Balbier. And just like any bride should, I felt a million dollars in it! I bought it from the beautiful Lace & Co bridal boutique in Horbury, Wakefield. Heidi from Lace & Co. really deserves a special mention as she is the smile that greets you, and the person who makes the whole experience so special.
As for my shoes – I love them! I knew I wanted coloured shoes, so mustard yellow peep-toes with a bow detail were perfect. They are from Agnes & Norman  oh so comfy, with the right amount of quirkiness, yet still extra special for my big day.
I also knew that I didn't want a veil. I'm not sure why, but whenever I tried one on at a bridal shop, it just made me laugh. I was planning on a birdcage veil instead, and I bought one too, but in the end decided against wearing it because I felt it actually distracted from the utterly stunning headpiece that I bought from Vintage Headdresses – an original 1900 piece, adapted to be made into a headpiece. A hint of vintage glamour for sure.
I didn't have any other accessories other than a silver bangle which was 'borrowed' from my mum. It was an anniversary present that my dad had given her years ago. The whole look was completed with the amazing work of my sister-in-law Debby, who did my hair and make-up perfectly.
The Suit and Bridesmaids
Andy had his suit made, and it fitted him perfectly! I'm sure he wouldn't hesitate to recommend George at Kristoffers in Leeds.
My 'adult' bridesmaids wore a stunning floral dress that we found in a Monsoon outlet store at the amazing price of £50 each. And it's a dress they can wear again, which I really wanted.
My gorgeous daughters wore an ivory pleated dress with bow detail from M&S. Their shoes were from Next and have made perfect party shoes since the wedding!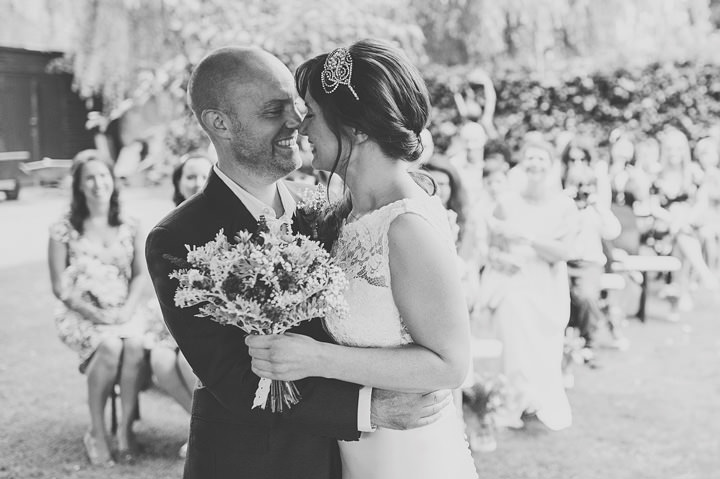 Theme or Colour Scheme
There was no set colour theme. I went with the country garden feel that suited the picnic idea so there were many different colours used! I didn't actually know what my flowers would look like until a couple of days before, when we bought them, so I didn't want a strict colour theme that had to be adhered to! The whole wedding was outside, so I guess you could say that was the theme –the whole day had a very relaxed, rustic, handmade, diy feel about it, which is exactly what we hoped for.
There was also a hint of theme in the 'Campbell's soup' iconic pop art image by Andy Warhol. We used this image on the invitations, on the homemade badges that were handed out, in an adapted framed print, and also the limited edition tins which held flowers in! I am now Kate Campbell, so it seemed appropriate!
Flowers
With a very tight budget, the flowers were always something that I knew I would have to do myself, and so planning them in advance was impossible. I had to go with whatever I could get in the week preceding the wedding, although I knew I wanted lots of gypsophila, and then just pretty, country garden style blooms. We actually planted some flowers in our garden earlier in the spring, and I also used cuttings from these!
I was able to get some help and advice from the wonderful Dawn at Lavenders Florist in the village we live – I gave her £80 and a brief with the kind of flowers I liked, and she went to the flower market and bought what she could! Added to that I spent an extra £25 at Asda and Aldi, and that was my total flower-budget: £105. The day before the wedding I put together my bouquet, along with smaller bouquets for my bridesmaids. The rest went into lace-covered jars (and Campbell Soup tins!) to be put onto the picnic tables and various places around the venue. They looked oh so pretty, and fitted well into the outdoor, country garden vibe.
Decoration
As everything was outside, and in such an amazingly beautiful location, the main decoration was fairy lights, tissue paper pompoms, paper lanterns and paper lace bunting. The pompoms I made myself, with the help of Jo, my chief bridesmaid. We hung them in the main room where the band would play and they looked fantastic with all the lights when it got dark. We made three extra special pompoms which were hung in the trees above us in the ceremony. They were made from amazingly delicate tissue paper and the simplicity of them worked so well combined with the arch of the trees behind us while we said our vows.
The lace-covered jars with flowers in were also decoration – they really looked pretty and I was so pleased with them.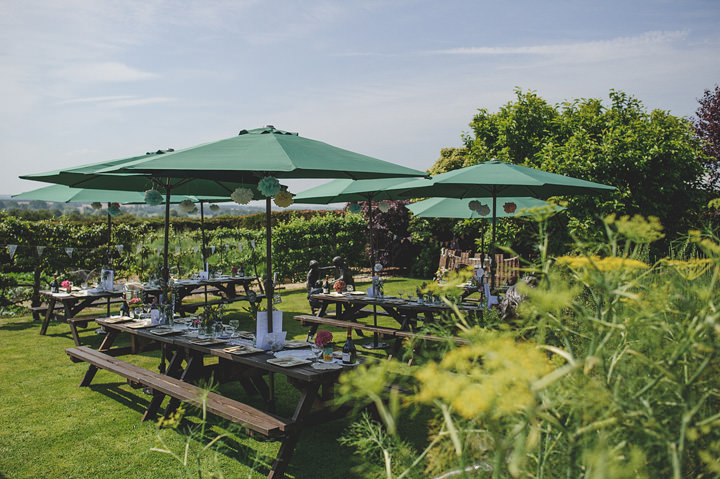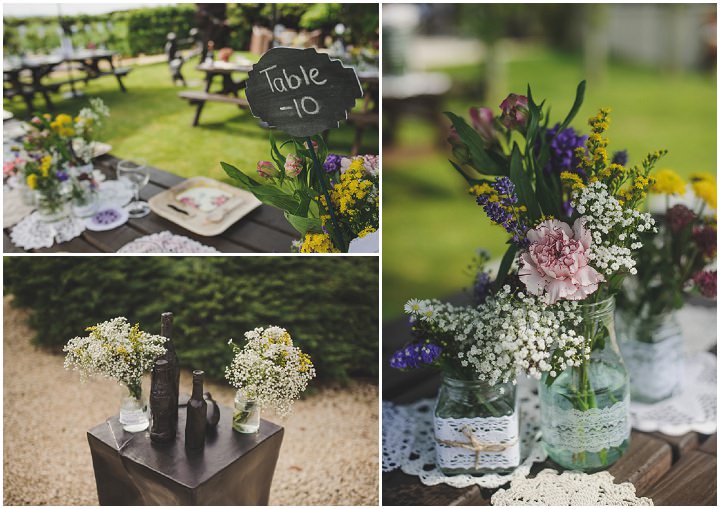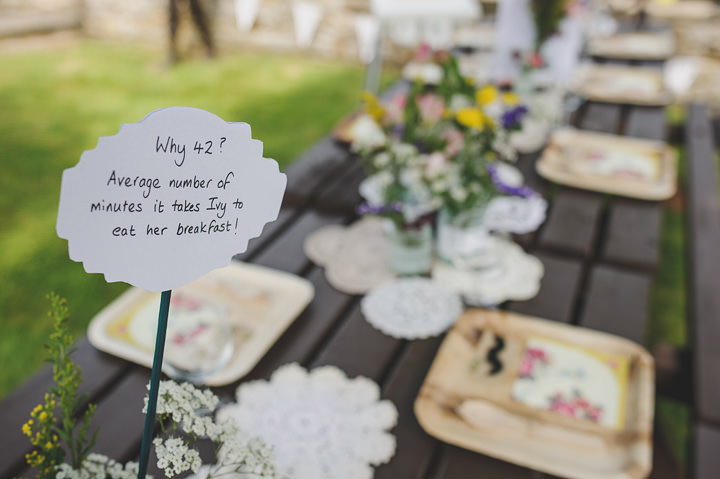 Food
We had a picnic as our main food – it was made and delivered by a local Leicester-based catering company called Dimblebee Catering. They were fab, and the food was delicious. We put each part of the picnic into the baskets I had bought and they were then put next to each picnic table just before we were about to eat. After our guests had found their seats, they opened the baskets and passed round the food in true picnic-style! Our menu was as follows:
• Meze dips and breads – Houmous, Tzatziki and Htipiti (feta & roasted red pepper) dips with toasted pitta bread with fresh rosemary and two crusty baguettes per table.
• A selection of cheeses served with pots of chutney on wooden boards.
• Mini Melton Mowbray Pork Pie or Veggie Pie (Spinach, red pepper, chickpea & feta), with homemade mini quiches – each wrapped in brown paper with garden twine.
• Salad bowls – couscous Moroccan-style; new potatoes with roasted peppers on onions in paprika butter; chunky Greek salad; and deli-style coleslaw.
• For desert we had asked our guests to bring along a cake – there was a whole array of cakes to choose from: red velvet, carrot cake; lemon cake; gooey chocolate heaven cake, Victoria sponge and of course our 'guitar' cake
In the evening we hired The Pizza Pod, who brought with them their mobile wood-burning pizza oven, and served the most perfect pizzas, constantly for about an hour. We were able to specify our toppings beforehand and they just kept them coming! There were many great comments from our guests, and I would definitely recommend them. Yum yum.
Wedding Cake
Once again, a very tight budget meant that spending on a traditional 'wedding cake' was never going to happen. We had asked guests to bring a cake along to be part of our desert option, and so we decided that the 'winner' would then be our 'wedding cake'. However, my Mum very wisely pointed out that we had no way of knowing if enough people would definitely bring cakes, to ensure there was a sufficient amount for all the guests! She was right. We couldn't be sure. So… unbeknown to Andy I had an idea…
Instead of a traditional wedding cake, I wanted something a bit different. Andy plays the guitar and loves his electric guitar, so why not get a cake made that looks like Andy's guitar? Luckily we have friends who run The Coffee and Cake House in Leeds, and their resident baker Martin was up for the challenge. He did the most amazing job of making it look exactly like Andy's guitar. And it was far cheaper than a 'wedding cake' would cost. Andy got the shock of his life when it was unveiled! And boy did it taste nice too!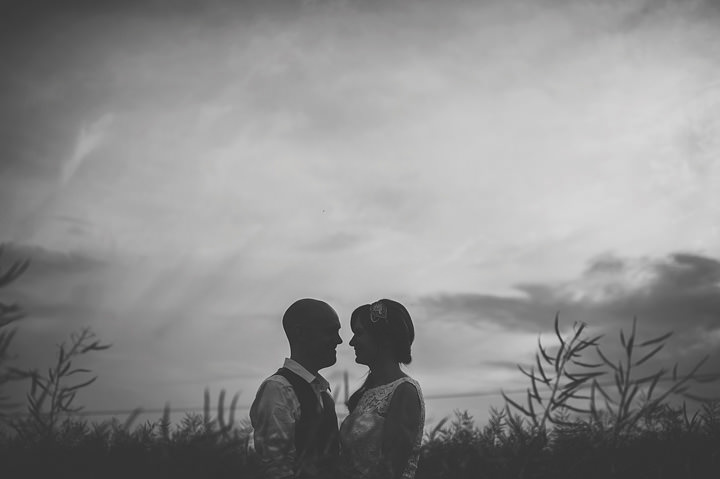 Entertainment
Throughout the day we had music that we had carefully compiled playing on the iPod. We have some amazingly talented friends – and two of them played during the ceremony; Dave on his guitar singing 'This is the First Day of my Life' by Bright Eyes; and Helen playing an old blues tune called 'Need Your Love So Bad' on her sax. They did us proud! Andy had also recorded our girls singing a gorgeous song, We played it during the ceremony and there definitely wasn't a dry eye in the house!
In the evening we hired the band that my brother used to play with over 10 years ago, and who actually played at my 21st party. My brother was 'reunited' with them, picking up his drumsticks again especially for our wedding! They are called the Boogie Men, and we certainly did boogie! they had me dancing ALL night, and gained amazing praise from everyone there!
There was also extra-special entertainment from Andy himself. During the band's break, Andy played his guitar and sung two songs. The first was one he had written about our daughters, but he dedicated it to me also! The girls have heard it before and so the sweetest thing was watching Esther, our oldest daughter, singing along, sat in front of Andy, like she was his biggest fan! His second song was a version of Chas & Dave's 'In Sickness and in Health' – a great comedic song that we love!
Buy or DIY your Stationery
DIY all the way! There was never any question. I am a crafter born and bred, and I LOVED making the invitations as well as the welcome booklets and place-name cards, which doubled up as favours. You can see my tutorial for making the invitations in one of my previous blog posts.
Personal or Handmade Touches
There are quite a few! So here goes:
• Our Ceremony. I have listed this first as the whole thing was tailored to us, and with huge contributions from friends it was personal through and through. We had done the legal part of getting married a few weeks before so we were able to write our entire ceremony ourselves, and be 'married' by our close friend Neil (who actually got ordained by the 'Universal Life Church' in California!). He was perfect for the role and it was so nice to have someone who actually knew us really well to conduct the ceremony. We had readings from two friends – my best friend Jo read a poem that Andy and I had written, adapting it from 'A Foxtrot From a Play' by WH Auden; and our writer-friend Catley read an adapted version of 'A Letter for Lovers' by JC Marshall. We also had music from our friends Dave and Helen, and played a recording of our girls singing (see above, under 'Entertainment'). We wrote our own vows, which brought tears to many people's eyes, including our eldest daughter who cried when her Daddy said 'I promise to get rid of Sky TV, if you promise to stop watching wedding programmes' (she thought he meant getting rid of the TV altogether!). It was emotional, funny, and very personal. Just as a wedding ceremony should be.
• Flowers: I made all the bouquets, button-holes and arranged the flowers in the jars (with much needed help from my bridesmaids!)
• Jars: after collecting jars for at least a year, I bought lace to wrap around the middle of them. I did this about 3 months before the wedding and packed them all up. I was so glad I'd done this when it came to the 'manic' last week before the wedding. It is well worth being organised sometimes!
• Stationery: Invitations, Welcome booklets, Quiz cards (which were placed on each table, consisting of multiple choice questions about Andy and I), place-names (which doubled up as favours, see below), and small labels on the (tap) water bottles saying 'Right nice water'!
• Slate signs: Dotted around the venue, we had slate signs to inform and point people in the right direction! These were handmade using slate from the venue, a drill, some twine, white acrylic paint and a steady hand!
• Blackboards: I made blackboards for things like the drinks list, by buying frames and covering the image in blackboard paper. Works a treat, and I'll be using it again!
• Framed lyrics: With Andy being into his music, we thought it would be nice to have a few lyrics from songs which are special to us, and it could also be a 'guess the song from the lyric' type thing for our guests. I printed the lyrics off and put them in frames (some of which were hideous frames that I painted to look nice again!) and hung them with ribbon against a pear tree wall.
• Cushions: for the bench that Andy and I sat on during the ceremony.
• Tissue paper pompoms: In the trees in the ceremony space, and in the room where the band played. Oh and smaller ones under every parasol!
• Favours: for the ladies and girls I made button hair-clips. Two each were put onto a lace-edged manila tag, which also had the person's name on. These were placed on their place-setting at each table. (The men and boys had stick-on moustaches!)
• Table Plan: Using the same fabric that I made the cushions out of, I made hanging lists – one for each table – which hung on twine across old paint-splattered wooden step ladders. Spools of cotton stopped each one from swinging too much!
• 'Cards' sign for the Cards suitcase: This was made out of old maps, showing various places that mean something to us. A very minor detail which I don't think anyone noticed, but I thought it was nice!
• Badges: With the Campbell soup theme appearing subtly in the invitations and on the picnic tables, I made badges with an adapted Andy Warhol Campbell's soup image, saying our names and the date. Everyone wore them, and they looked great! Also a good keepsake for everyone.
• CD compilation: this was Andy's department, and he spent a long time deciding on which songs to include. It's a great little memento of the day, and includes songs played on the day, plus other wedding-related music! Again, it was another thing that the guests could take home, to remember our special day. I made all the CD covers out of one piece of A4 paper per CD. Took a lot of printing and folding, but they looked great!
• Guest book quilt: Instead of a guest 'book' I decided to have something different and so I cut up lots of fabric squares, bought a few 'laundry pens' and asked people to write their messages on them. The idea is that I then sew them together to make a quilt, which we can keep forever and pass down the generations. The quilt is not made yet, but I'm aiming to get it done before our one-year anniversary!
• Flower-crowns: My two daughters wore flower crowns, which I made myself. I went to a floristry supplier and bought everything I needed, made the base and then inserted artificial flowers in and around it. I finished it with ribbon so that it could be adjusted to fit their heads! They didn't keep them on all day, but when they did have them on, I think they looked beautiful!
Bridesmaids Bags and my Bridal Bag: This is what my business is all about – and we (myself and Jo, my chief bridesmaid) make clutch bags for a living, amongst other things too. We therefore had to make bags for all three bridesmaids, and also myself! For the bridesmaids, who had floral dresses, it was very hard to find the right fabric, but the navy blue polka dot seemed to work. Each lining was slightly different and each had a different vintage brooch on the side. My bag was made using the off-cuts of my dress, and so obviously it matched perfectly! Inside was the blue polka dot fabric to match the bridesmaids, but it also doubled up as my 'something blue'. We sell a whole range of clutch bags from our website www.kateyandjosephine.com. Please have a look.
Special Moments
Andy had recorded himself singing the song that I walked down the aisle to – that was extra special for me. I'm not sure if all the guests realised, but I knew. My two daughters walked down the aisle in front of me, and the 'awwws' from our guests as they did this nearly made me cry before I'd even set off! I will also always remember watching Andy performing his songs – the moment was really magical.
Advice to other couples
I had a vision in my head right from Day One of planning, and I kept that in mind all the time. However, there WILL be compromises. Sometimes they are hard to get used to, but you can still keep to that vision, and adjust it as necessary. It is still possible to have your dream wedding on a budget, and as long as you realise this then you'll be fine. Adapt and change your ideas, keep an open mind, but still stay true to your vision.
Try not to get too swept up in the 'I must have this' way of thinking – think outside the box and your wedding will be even more special and unique too.
Before the day, try and be organised so that on the day itself, you can relax and let everything just run its course. Lap it up, and love it! You undoubtedly will because it is YOUR wedding and nothing is quite as special as when YOU are the bride!
Biggest surprise
How calm I was! From the minute my sister-in-law arrived to do my hair and make-up, I really didn't worry about anything! I lapped it all up, and loved every minute! I think this was partly because I had been ultra-organised in handing out tasks, with timings, for all the best men and bridesmaids who were helping throughout the day. We really could not have done it without help and they were all brilliant! Having four best men was a real blessing, believe me!
And I read this all the time in wedding blogs, but another surprise was the weather. We really lucked out – the forecast was for rain right up until the day before, and with everything being outside it was a constant worry! We did have a rainy Plan B, but it would've been such a shame not to make the most of the fantastic gardens! As it turned out, the sun shone in the morning, while we set everything up, and then for the afternoon and evening it was warm, but not too hot! Perfect in fact.
Supplier Shout Outs
For more information on Rik's work please go to:
www.rikpenningtonphotography.com
www.rikpenningtonphotography.com/the-wedding-blog/
FACEBOOK
TWITTER
Due to an email issue if you have emailed me between the 2nd & 9th of December, please resend it.
X