It's no secret that I love cake, I mean I LOVE it! So when this rather gorgeous winter cake styled shoot landed in my in box I knew straight away that I wanted to share it with you. The creator of the shoot is first class wedding cake maker Cakes by Krishanthi. It's a Rustic Winter shoot with strong Boho inspiration and I just love it! Split into two parts this shoot features a winter shoot as well as Valentines shoot. Incorporating wood, moss, pine cones, stunning flowers and of course the most amazing cakes! Big thanks to Krishanthi for the submission and to Weddings By Nicola & Glen for the images.
'We have created two boho rustic photo shoots set in the season of winter both exuding romance and love but both very different in composition.'
Winter Shoot – 'A Winter's Tale Of Love'
I think we often forget how beautiful winter can be and the idea of the winter shoot was to bring the atmospheric beauty of winter indoors without losing its magic or quiet splendour. Whilst winter is a dramatic season, for us it also brings fragility and a certain vulnerability. All is laid bare to see. With the floral abundance of Spring or Summer missing there is little distraction, and the heart of nature is exposed allowing peacefulness to reside. It is this natural wintry calmness we have tried to capture in our shoot.
To create the spirit and mood of winter we kept to simplicity and the authenticity of earthly nature. Bark, bell cups, cinnamon sticks, antlers, and cones provide subtle colour, whilst the rich texture of the moss backdrop provided contrast to emphasize the elegance and purity of the white 'Winters Tale' wedding cake and the meringue tower. Warmth and intimacy is provided by candles and a touch of wintry ambiance by the paper thin veil of snow.
We absolutely loved making this shoot and hope it inspires couples to think about how beautiful a winter wedding can be.
Trees bared to winter's touch




By winter's breath laid bare




Leaves whisper of winter's heart




Of winter's heart they share.




('The Winter Tale' By Frederick Weyer)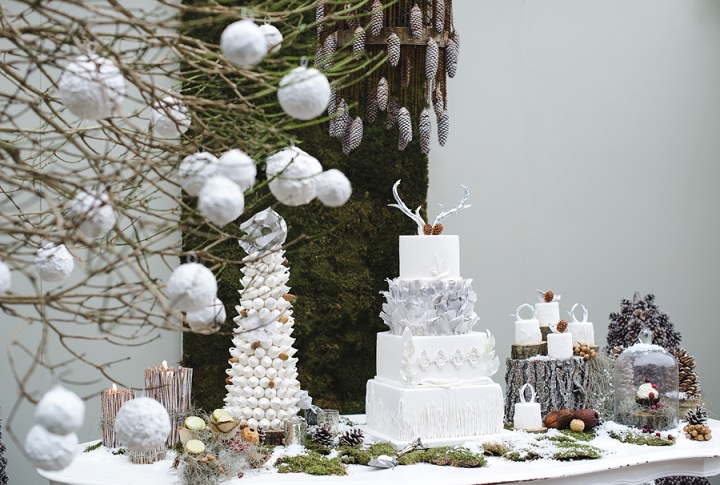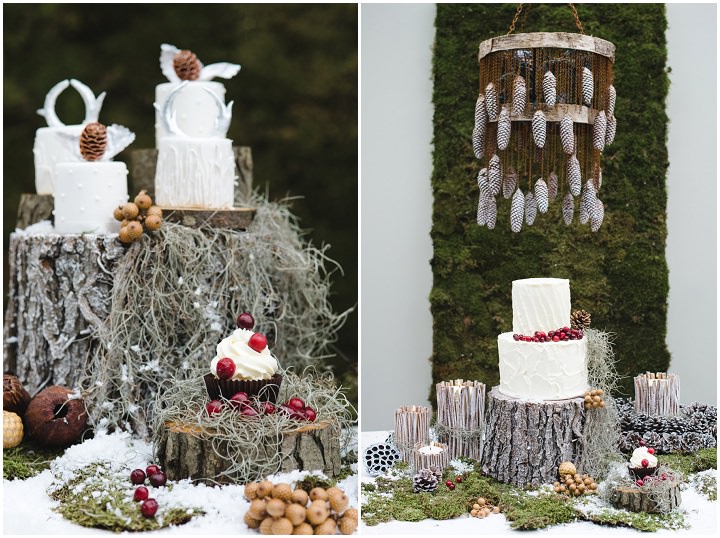 Winter Shoot – 'Sweet Valentine'
The inspiration behind our Sweet Valentine's shoot needs no introduction, the name commemorates the feast of St Valentine's, a special day epitomising the celebration of love. Our boho rustic themed shoot is
a compliment to the exhibition of love and the ethereal romanticism that is Valentine's.
The aim of the shoot was to create a whimsical feel of romance set in the midst of winter, and demonstrate how this could hold beauty, warmth and elegance. Using an eclectic mixture of rich textures and a subtle palette of pinks and greens, a fairytale haven of love was styled. Throughout the set there is a sense of woodland magic, this is fully captured by the mini cakes who's heart shaped wings seem to flutter as if about to fly off into the mystical ether.
We let our imaginations loose on this enchanting shoot and in embracing the idea of bohemian love, we sourced a myriad of thoughtful, beautiful accessories from Scented Floral Creations. These ranged from the shabby chic wooden hearts to the more elaborate wreaths. Each composition was made from organic materials adding to the overall liberated spirit of being at one with nature.
It was an absolute joy and pleasure to work with Weddings by Nicola and Glen, and hope the wonderful images they produced help inspire couples to listen to their playful and fun inner child.
The suppliers who made it possible
Cakes: Cakes By Krishanthi
Photography: Weddings By Nicola & Glen
Flowers: Scented Floral Creations
Stylist: Kerry Scanlan