It's November and I am never sure if that means Winter is here or if we are still in Autumn? I'm guessing we are still in Autumn as the trees are still dropping their golden leaves on the ground. Today I have the most gorgeous autumnal styled shoot to share with you. If you are looking for something that isn't typically autumn, but still carries its accents, then this 'Modern Boho' autumnal wedding inspiration shoot is just for you. The shoot took place on 19th July 2020 at The School House in Dallas, Texas. I just love the colours of the flowers, the cake and all that amazing food! The decor is gorgeous and the flower girl is super cute! I love this shoot, I love the modern take on an autumnal wedding, showing that you can do chic and rustic. Big thanks to Brady Lewis Photography  and her team of wonderful suppliers for this natural, rustic, autumnal wedding inspiration.
A Sunday morning styled shoot, that draws inspiration from all things bohemian, natural and chic.
Brady the photographer tells us more about the shoot 
I did this shoot because I love the bohemian vibe and have not had a chance to shoot a wedding like that, so I decided to create my own! This was my first time setting up a styled shoot and it won't be the last! I loved being able to see my ideas come to life through the amazing team of vendors. My inspiration really was just the simple natural bohemian vibe that I was craving to shoot!
I wanted of course amazing photos and definitely got them. But I also wanted to team up with other vendors and work with them to create something beautiful. Meeting and collaborating with all the vendors was one of my favourite parts of the shoot. The venue took place at the Dallas Historical Site, the Eagle Ford School. From 1923 – 1956 the historic school hosted students, including the infamous Bonnie Parker, from the duo Bonnie & Clyde, now has been repurposed as The School House to host beautiful weddings.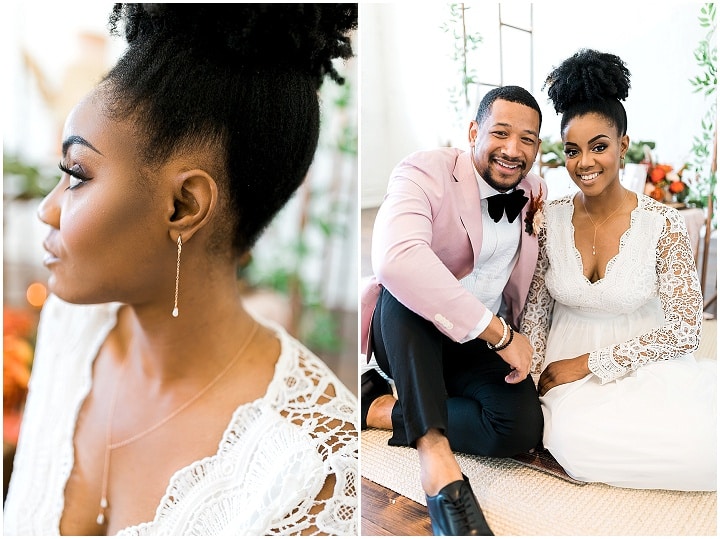 The suppliers who made the shoot possible
Venue: The School House
Photographer: Brady Lewis Photography 
Coordinator: Veil and Vine
Charcuterie Board: Gifts of Graze
Cake: Farm House Cakes and Cookies
Fresh Florals: Linspired Creations
Stationary: Sassy Elegance Designs 
Wood Florals: Lone Star Florals 
Jewelry: Rose Pridgen Jewelry 
Hair and makeup: Beaute at Heart 
Cocktails: Betty Cocktail
Linens & Rentals: The Soire Girl 
Wedding Gowns: @rent_from_lael
Models: @steph_co @the_curry_kids @theturnedgentleman