Happy Monday everyone and how are you all? Did you have a good weekend? I do hope so. It's a chocka week on the blog this week and I'd like to welcome Kelly C to the Blog today as she starts her fist day here at Boho HQ! I know you will make her feel at home. To start off the week I have this DIY wedding courtesy of Jay Emme Photography. Cassie and Nick decided they wanted to go for a music themed wedding with plenty of sweet pea flowers. They pulled in lots of help from friends and family, calling their day a 'do it together' wedding opposed to do it your self!
'A beautiful, personal dream come true. A day that surpassed all of our expectations and left us with fabulous memories'
Cassie and Nick were married on 8th August 2014 at Great Witley Church with the reception at The Crown and Sandys in Ombersley. 'A church wedding was important to both of us. Great Witley Church is just stunning, with a beautiful Baroque interior that looks like it could be in Italy. We have always loved the Church and we were so thrilled when we realised that we would be able to get married there! It also meant that we could arrange to have some photos taken in Witley Court itself, which is one of our favourite places – a beautiful ruined manor house, owned by English Heritage. It has an eerie romanticism about it and we knew that having some of our photos taken there would be pretty special. We wanted a very relaxed and informal reception and the Crown and Sandys ticked all of the boxes – plus the events co-ordinator there, Erica, was just brilliant and we knew that she would help us create exactly what we wanted. We had 100 gests during the day plus a few extras in the evening, the wedding took 6 months to plan.'
How they met
We met online and have been together for 2 ½ years. Nick was living in Sheffield when we met, but he moved back down and we moved in together in May 2013, along with Molly the dog.
The proposal
Nick proposed on Christmas morning, with his Grandmother's engagement ring – it was perfect as the ring is vintage and really unusual, just what I would have chosen myself.
How did you allocate your budget?
We had a fairly small budget so prioritised the things that were really important to us – such as photography, the right reception venue and church, the music and the making our wedding as personal as possible.
Why did you choose your photographer?
I have known Jay for several years – she is a good friend, and we knew that we didn't want anyone else to shoot our wedding! We love her style and how she captures the tiny details rather than lots of formal shots – we knew her style would suit what we wanted for our day perfectly. We also knew that we would have heaps of fun with Jay shooting our day – and we definitely did!
The dess
My dress proved to be really tricky! I am quite tiny and found that I looked ridiculous in 'typical' wedding dresses. I wanted something unusual and a bit 'boho'. In the end the dress I found was just perfect. It is from Phase Eight and I had it in the sale so it was an absolute bargain. I loved that fact that it had a vintage look to it and it didn't swamp me. For the first time I felt that I was wearing the dress rather than the dress wearing me. And what made me even more certain that this was the dress was its name – Firenze. Florence is one of my absolute favourite cities and Nick and I visited together on our first trip to Italy, it is such a beautiful, romantic place so I knew that I wanted to wear Firenze on my wedding day. As I'm so short my brilliant, clever Mum had to completely re-make the bottom of the dress – a mammoth job with all of the beading and embroidery. She completely re-beaded where she had shortened it, scalloping it all around. She kept the back slightly longer, which looked so lovely and I have to say that her version of the bottom of the dress was so much more beautiful than the original – she is so, so clever!
My shoes are Kurt Geiger and I absolutely love them! my Mum found my pair on a sale rack – half price, my size and the last pair in the shop. I think it was shoe destiny! I also had a pair of Dune sparkly flats for dancing in the evening – any excuse for more shoes ;0
I decided that I wanted a veil, mainly to cover my shoulders in the church – the full length veil I chose from Monsoon was just perfect. Again, it had a vintage look to it and the material was so fine that it didn't hide the dress.
The suit and bridesmaids
We wanted to keep the informal theme with the men's suits – we knew that we didn't want to hire 'typical' suits and have everyone dressed the same. So we asked the men to wear a suit of their choice. We found a pale pink tie that we loved, so all of the men wore the same tie and my mum made matching handkerchiefs. Nick's suit was Paul Smith – he knew when he put it on that it was the suit he had to have. It's gorgeous and he will be able to wear it again and again. Nick also changed into his yellow Vans in the evening for dancing, which made him something of a hero with the younger generation! The bridesmaid dresses are from Monsoon. I picked out three navy dresses that I liked (with one that I liked best) and the bridesmaids all liked the same one. The dress was simple and elegant, which was perfect.
Theme or colour scheme 
Not really. We knew we wanted sweet peas, so partly worked around those kind of tones, and music became something of a subtle theme as all of the different elements started coming together – which is apt as I teach Music and we are both passionate about it.
Flowers 
We wanted sweet peas – they remind me of my Grandad, so we asked family and friends to grow some for us. We also love lavender, Nick especially, so we gathered lavender from our gardens and also bought dried lavender in bunches and loose for scattering. The day before the wedding we had a little band of family friends making up the jars and vases for on the tables. They looked so beautiful and were just what we wanted. Wendy also made the loveliest hand-ties for the bridesmaids out of the sweet peas, gypsophila and lithianthus – they were just gorgeous! We had my bouquet and the buttonholes made by our local florist, Cooks, using pale pink roses and gypsophila. We were so thrilled with these when they arrived, they were so delicate and beautiful – and they matched in with the other wedding flowers perfectly.
Decoration 
We hand decorated all of the flower jars and vases using twine, raffia and lace, and also decorated little glasses and tea light holders in the same way for candles. We made heart shaped bunting and table confetti cut out of old sheet music. The music confetti was scattered on the indoor tables, along with dried lavender. We chose not to have a formal sit down meal, so there were no place holders or table plan. The outside tables had our jars of flowers and candles, while the inside tables had our jars, candles and confetti along with a vintage radio on each table. My dad has a huge collection of vintage radios and after taking one of his record players as a prop on our engagement shoot we thought the radios would finish our tables beautifully – they turned out to be quite a talking point! We also put together a 'memories' table, with old photos of family weddings and the people who we wished could have been there with us.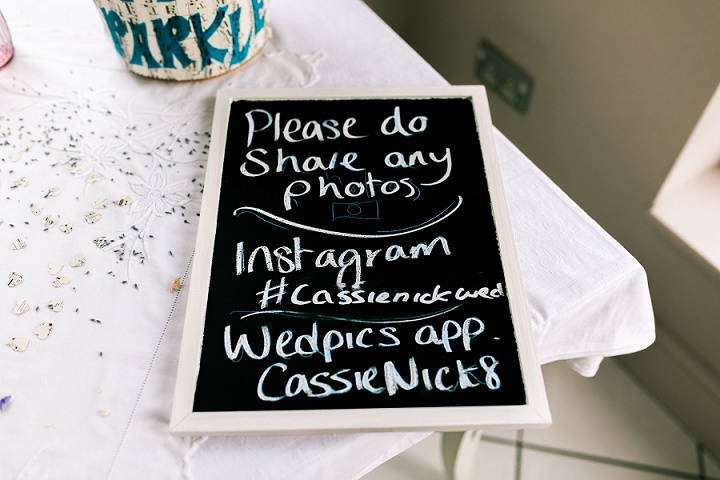 Food and wedding cake
We wanted simple, rustic food – nothing formal. We opted for pulled pork with crispy crackling, soft rolls, applesauce and stuffing, served with garlic and rosemary potatoes and salads. For desert we had big bowls of Eton mess and profiteroles for people to help themselves to. Later in the evening we had grazing boards of antipasti. We also created a desert table of sweets, cakes and biscuits, called 'Italian Treats and Yorkshire Sweets' – drawing on our love of Italy and our Yorkshire roots.
Our cake was made by a friend of my Mum's, who makes a lot of our family cakes. Nick and I really struggled to find a cake design that we liked, but in the end we found a picture we liked on Pinterest, which she recreated beautifully for us. We wanted a cake topper similar to the one on the picture, but couldn't find anywhere in the UK that makes anything like it. So I took to Twitter and asked if anyone knew where we could get one. Ali at Jackdaw Décor said she thought she could re-create it for us, which she did brilliantly.
Entertainment
Music was an extremely important part of our wedding and we wanted to make it as personal as possible. My brother Tim played trumpet during the wedding ceremony. He played during my entrance and our exit, as well as during the signing of the registers. Our friend Chris also sung during the signing of the registers. I teach music and two of my gifted year 11's, Ewan and Becky, performed our first dance song (Falling Slowly from Once) as one of the pieces of coursework. They made such a beautiful job of it (and got full marks to boot) that we decided to book them for the reception. They performed a lovely set whilst we had our drinks reception on the lawn and then played again for our first and second dances. It was so lovely to have this personal touch as well. We had a DJ in the evening, but asked people to request songs for the playlist when they RSVP'd, so it meant that the disco had a personal touch as well.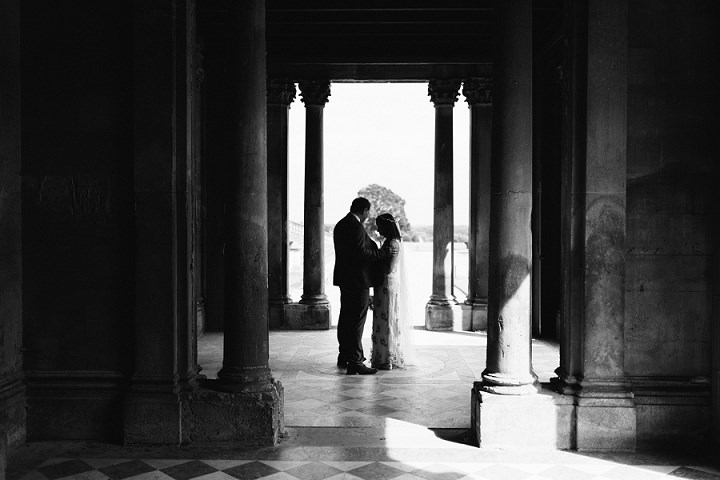 Buy or DIY your Stationery?
We made our invitations and the order of service – using stamps and cutters as well as printing. We had so much fun making them. Nick, my mum and I made a great team working on these, usually with my dad cooking Sunday lunch in the background – well worth the effort! And I was only accused of going into 'teacher mode' once or twice!
Handmade or personal touches
We've already mentioned a lot of the personal touches, but we also made all the favours. Beautiful handmade fabric 'bags made of pretty voiles, filled with sugared almonds, and little envelopes of wildflower seeds with the message 'Plant these seeds and when they bloom, remember the love shared today by the bride and groom'. And we made little confetti cones out of music paper as well, filled with locally sourced delphinium petals. And sparklers. There had to be sparklers!
My Auntie's partner also provided the car for the bridesmaids and my mum. He just was brilliant! The whole of our wedding was so personal – just what we wanted it to be! We called it a 'do-it-together' wedding as so many people offered their help and service to create all of the personal touches. The week before the wedding friends and family helped with everything from flowers to favours. Setting the venue the day before the wedding was just so much fun with so many lovely people helping to make all of the little touches come together into such a beautiful setting. Everyone was just brilliant and we were so lucky to have so many brilliant friends and family around us who were so willing to help. But my Mum deserves an extra special mention for everything that she did, from baking to confetti cutting, but especially for the hours and hours that she put into altering my dress – I'm sorry I didn't grow more Mum, but thank you so, so much!
Special moments or highlights
There really are too many – the whole day was just perfect. To name a few: Seeing each other at the church, the beautiful settings, how fantastic the vicar was, the little moments we shared, the speeches, the music, the shoes, seeing the joy on people's faces, family and friends from far and near, the photography, the never-ending prosecco, knowing that we made nearly everything ourselves, the informality, the beauty of it all, making memories that we will cherish forever. And how much everyone has told us they loved the day since – we had the perfect day that we wanted, but it means a lot that everyone else loved it so much too.
Advice for other couples
Make sure that you have the day that you want, not the day that people tell you you should have because that's how its normally done. We were so happy that we were able to do everything that we wanted and that was thanks to the church and the reception venue. Plus Nick and I were so together on what we wanted that we were able to make sure it happened just the way we wanted.
Also, Pinterest. It's just brilliant for ideas. Many of the lovely touches that we had evolved from things that I had seen on Pinterest and made our own.
Biggest surprise
How much we enjoyed it! Neither of us like being the centre of attention and we didn't think we'd like that, but it was so much fun! And because of the informality of the day we were able to enjoy that without feeling like we were on display. And seriously, we just want to do it again!
Supplier Shout Outs
For more information on Jay's work go to:
jayemmephotography.com
jayemmephotography.com/blog
FACEBOOK
@jayemmephoto