Happy Friday everyone! I hope you've had a lovely festive week so far and that you have more festive plans for the weekend. I am off to a pantomime on Saturday with Dexter, then on Sunday we are going to our local children's Christmas party just up the road (snow permitting!) Add in Christmas card writing and present wrapping and a super fun Christmas weekend will be had….I can't wait!
Today we have this lovely rose gold wedding for you, which takes place just up the road from me in York. Aneta and Jack (who had their 5 year anniversary yesterday) decided to do as much of the wedding themselves to cut down on costs and to keep the day super personal. They created a wonderful day filled with rose gold touches, gorgeous flowers and lots of fun. The whole day has been captured by Stevie Jay Photography
A wedding bringing two families and different traditions together. Relaxed with lots of food, polish vodka and happiness!
Aneta and Jack were married on 23rd September, 2017 at St Mary's Church, Nun Monkton in York followed by a reception at Skipbridge Country Weddings. The first trip we took together was to York. We love the area and dream of living here one day. I grew up on a farm and wanted a barn/country wedding. We both wanted a relaxed celebration and once we stumbled across Skipbridge, we knew it was exactly what we were looking for. We had 70 day guests and approx 50 extra evening guests and the whole wedding too approximately 12 months to plan.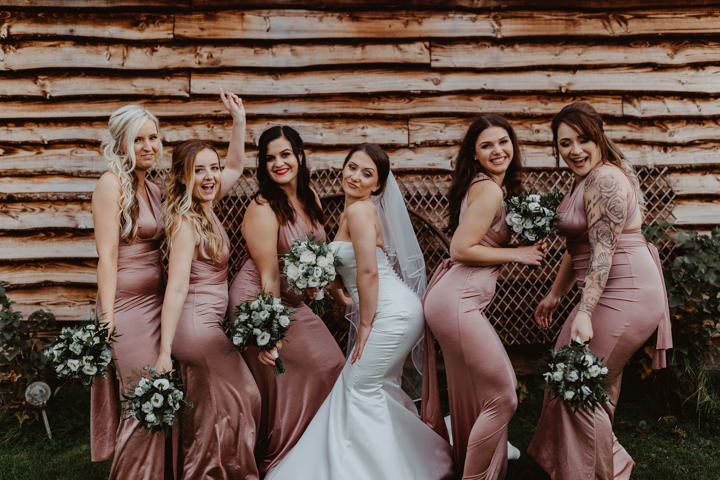 How they met
We met through social media but met properly in our local town on a night out. We hit it off straight away as we are both silly and we just clicked. We've been together 5 years.
The Proposal
Jack proposed on our second holiday together in Fuerteventure in August 2015. We went along with Jack's brother and his wife. We'd been out for a lovely meal and a dance. It was getting late but Jack suggested we went for a walk along the beach, which I thought was cute. It was an all inclusive hotel so the gates to the beach were locked therefore we had to jump over the gate. We found a little spot where Jack wasted no time getting down on one knee. The proposal was just 'us' all over as we can be serious but we are both just very silly and it showed when the ring was a bit too small – but I managed to get it on! We headed back to the hotel but this time getting back over the gate into the hotel was a lot trickier! I had nothing to stand on so Jack had to pull me over. It was a moment I'll cherish forever but had to have a bit of laughs and giggles in there too.
How did you allocate your budget?
We tried to be as clever as we could with our budget – DIY'ing as much as we could as in all honesty I am a bit of a perfectionist so I would rather save a bit of money, and make things myself as this is much more fun for me!
Where did you splurge and how did you save?
We didn't 'splurge' on anything as such. We had a mindset from the start that we don't need the fanciest of things – we can add our own little twist and keep things within the budget. We had a lot of help from our kind family and friends who put towards the wedding in one way or another. My wedding dress was a gift from my grandmother, the DJ is actually friends with my brother and the cake and evening catering was done by my mother's best friend. The flowers were done by family. We were very lucky to have a lot of help.
Why did you choose your photographer?
We had a basic idea of what we did and didn't want. We wanted someone that was relaxed and understood our awkwardness in front of the camera. Someone that focused on capturing the moment – rather than making every moment look posed and too 'perfect'. We came across Stevie Jay Photography on social media and chose to meet with her straight away as her photos were exactly the kind of style photographer we were looking for.
The Dress
My dress was from Anna Soranno (Wed2B) and I wore earrings made out of Swarovski crystals (a gift from my Maid of Honour). My shoes were from ASOS.
The Suit and the Bridesmaids
Suits were from Slaters and the bridesmaid's dresses were from ASOS.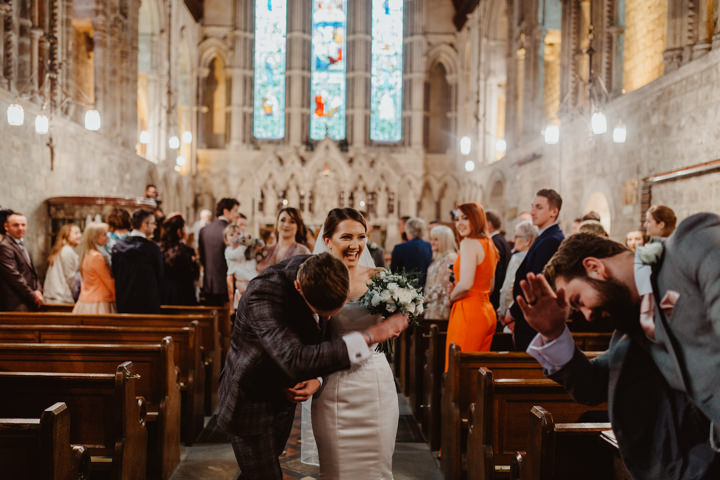 Theme or colour scheme
It was fairly modern – grey and rose gold with white roses incorporated.
Flowers
White roses with lots of greenery
Decoration
Candles, signs/plaques, floral garlands, hanging pom poms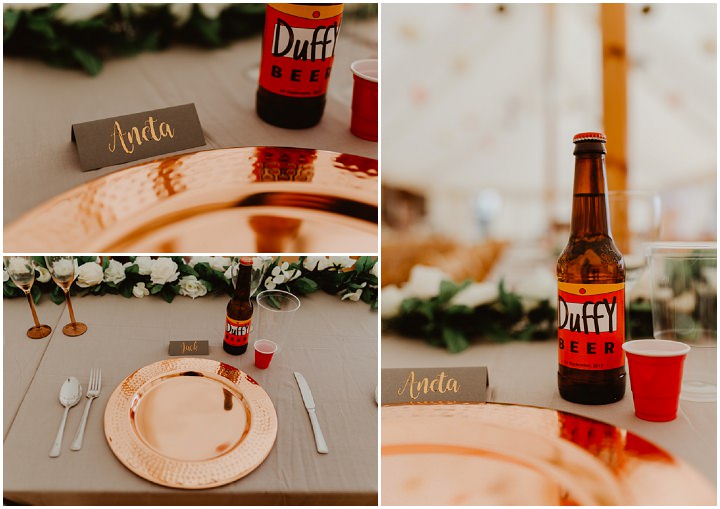 Food
Reception meal was a beef/turkey roast dinner with buffet food served by family friends in the evening.
Wedding Cake
The wedding cake was made by my mother's best friend
Entertainment
My brother's friend was the DJ!
Who supplied the stationery?
I DIY'd the stationary myself – lots of grey paper and rose gold foil!
Personal Touches
Pretty much the whole wedding was done by myself. Myself and the groom came up with the idea of 'DuffY' beer. This goes back to 'the Simpsons' where they drink 'Duff' beer. We came up with the idea randomly and thought it would make a good wedding favour. We purchased 'Budweiser' beer, took off the labels and then stuck on new labels we had printed and cut out ourselves saying 'DuffY beer' to have on the tables and favours.
Special Moments
We tried to incorporate some polish traditions such as bread sharing/shot taking/throwing. Unfortunately neither of our dads are in our lives and so we were brought up by our hard working mum's. So after our first dance we invited our mum's onto the dance floor to dance along to 'Thank you for loving me' by Bon Jovi. This was important as at first we danced with our own mum's and then we swapped, we then invited the rest of the family onto the dance floor after to show we are all one big family.
Advice for other couples
As many other people have said before, enjoy the day! It goes so so fast, take in every moment, let go of what goes wrong or doesn't go according to plan. Don't be afraid to have things your way, it is YOUR day after all! Appreciate who has been able to join you for the big day and don't worry about those that couldn't/didn't join you.
Take time to step away from the chaos just the two of you – it gets so crazy with posing for photos and trying to speak to everyone that you don't actually spend all that much time together as a newlywed couple! Take a 'time out' to go and take in what is happening and check in on each other.
I would highly recommend getting the day filmed – it goes by in the blink of an eye and there are so many moments you can forget or didn't see and there's nothing better than being able to watch it and see it all over again! So nice that we can keep these memories forever.
Biggest Surprise
The biggest surprise of the day was my gift from my groom on the morning of the wedding. My Maid of Honour brought me a box with a photo of a tattoo that Jack got to represent us and our relationship. He's in the army so in the box was also a pendant that he had worn when he was in Iraq which he got personalised with the date we got together, the date we got engaged and our wedding date.
SUPPLIER SHOUT OUTS
For more information about Stevie's work go to:
Stevie Jay Photography / www.steviejayphotography.co.uk/blog / [email protected] / FACEBOOK / INSTAGRAM / TWITTER