Yesterday I shared with you the fantastic news that Kelly, the other half of Leeds Wedding Photographer Paul Joseph Photography, will be joining me here at Boho HQ as my new assistant blogger, so today I felt it only right that I share with you a wedding that Kelly and her incredibly talented husband shot earlier this year! It's the lovely Yorkshire wedding of Rachel and Andrew who created a gorgeous full on homemade wedding. Everything was homemade, including the wedding dress, wedding cake, flowers and decoration. With some amazing details this wedding is just brimming with gorgeous touches and is full of happiness and laughter.
'A homemade wedding day in the stunning Yorkshire Dales with all our friends and family. It was everything we had wished for.'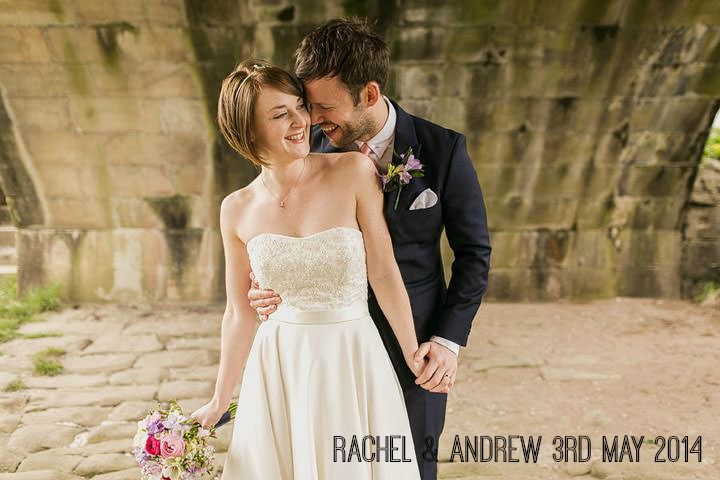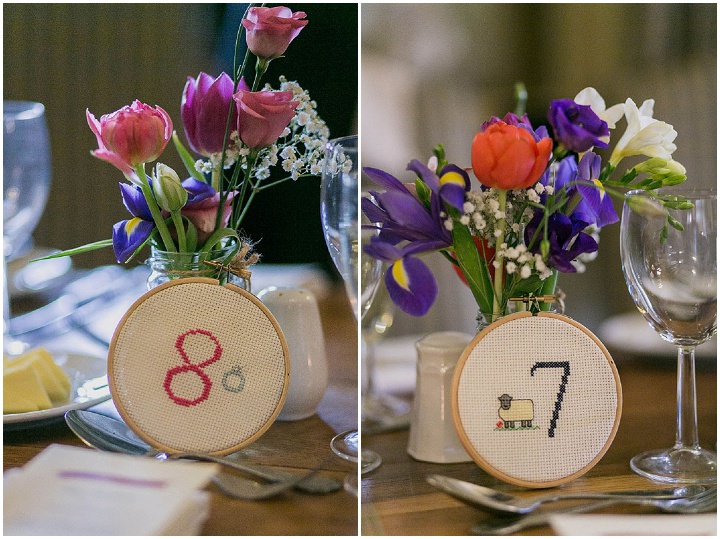 Andrew and Rachel were married on the 3rd May 2014 at The Red Lion Hotel, Burnsall. 'We didn't look anywhere else! Before we were even engaged we discussed getting married at The Red Lion. We had stayed there a couple of times and loved it. We wanted an informal and relaxed day. It's in a beautiful spot on the River Wharf and serves gorgeous food and ales! We had 70 guests in the day and an extra 30 in the evening and we were engaged for 15 months before the big day.'
How they met
We met each other a few years before we got together. I was at University in Newcastle and met Faye, Andrew's sister on my first day. We got on well (both being from Yorkshire!) and ended up living together with a group of friends. Over the years we met a few times but it wasn't until we were both back in Leeds that we started dating. We have been together 5 years.
The proposal
We had discussed getting married and we started discussing engagement rings. Andrew suggested that we should go and look at some! That moment was almost as overwhelming as him proposing! I guess I knew he was ready to do it but I didn't realise that it would be quite so soon…. We were away in North Yorkshire on a wintry February weekend. I had no idea it was going to happen, but looking back, he was acting a bit strangely! I won't disclose his exact words but it was very special. We celebrated with champagne and called our families.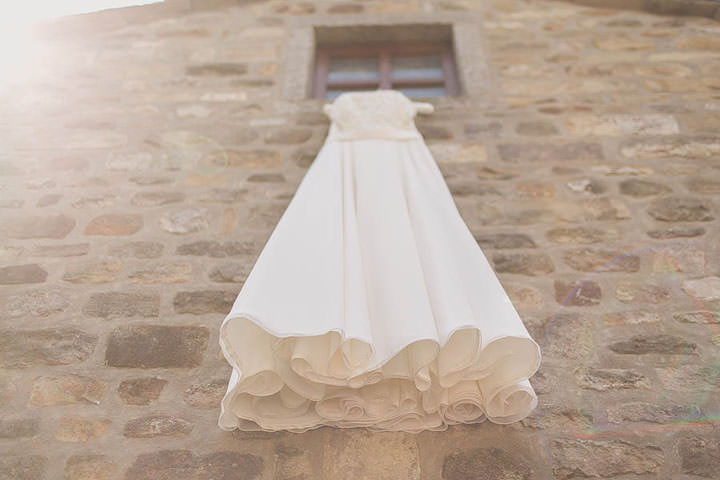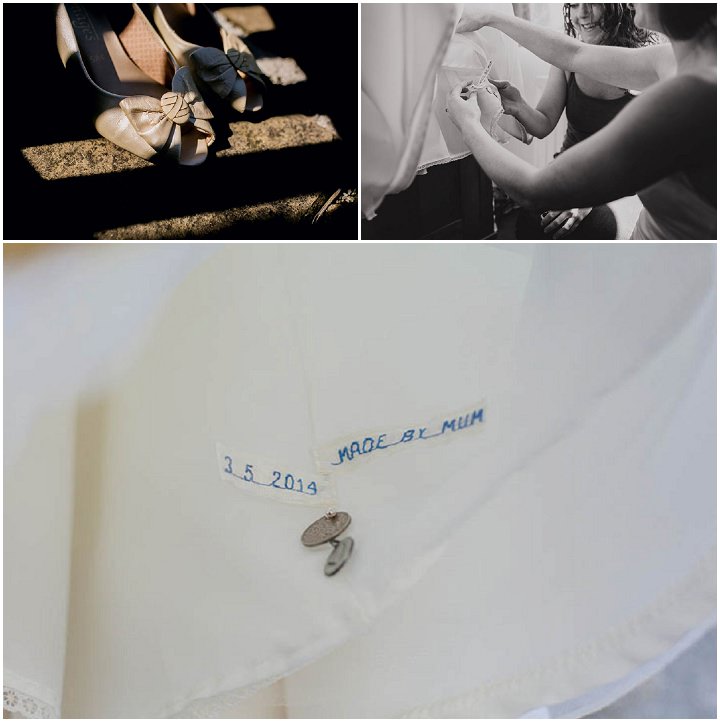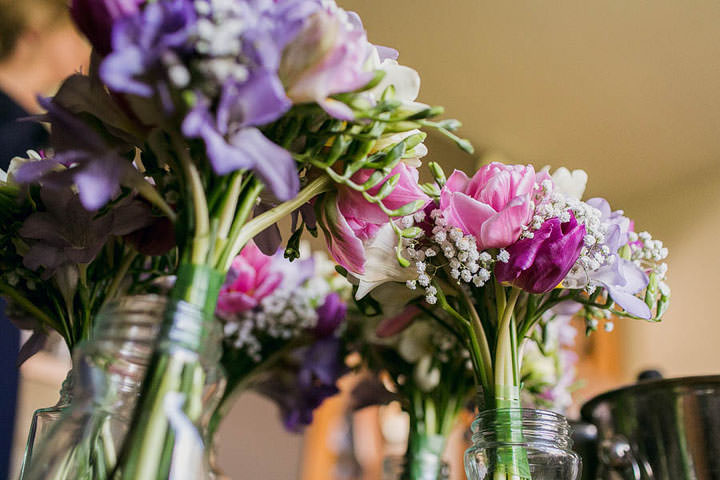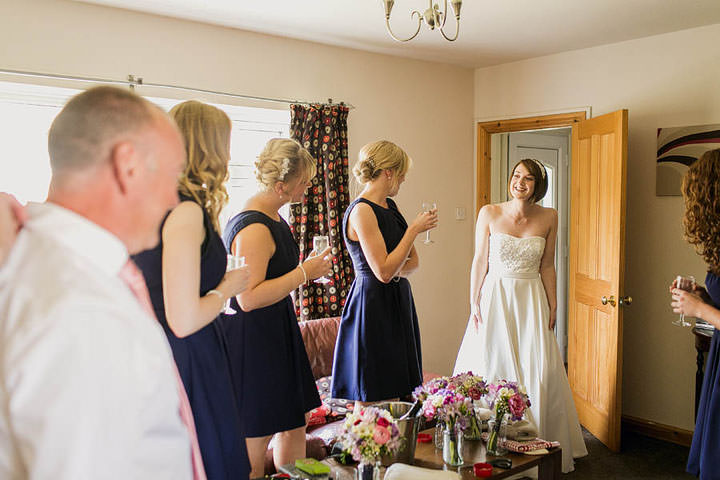 How did you spend your budget?
We were very fortunate that both sets of parents contributed towards our wedding. From the outset we thought that some elements of weddings can be ridiculously priced so we decided to do some bits ourselves. We were happy to spend large parts of the budget on food, drinks and photography.
Why did you choose your photographer?
We loved Kelly and Paul and they are great to have about on your wedding day! We saw Paul Joseph Photography advertised on Boho Weddings and really liked their style. After meeting them we felt really relaxed around them – what you want when looking for a wedding photographer! We had a "Love Shoot" with them and we loved the photos and also had a really good laugh with them. I loved having them there on the wedding day. We had such a laugh doing the photos – I certainly won't forget Paul and Kelly holding my dress up whilst climbing over fences!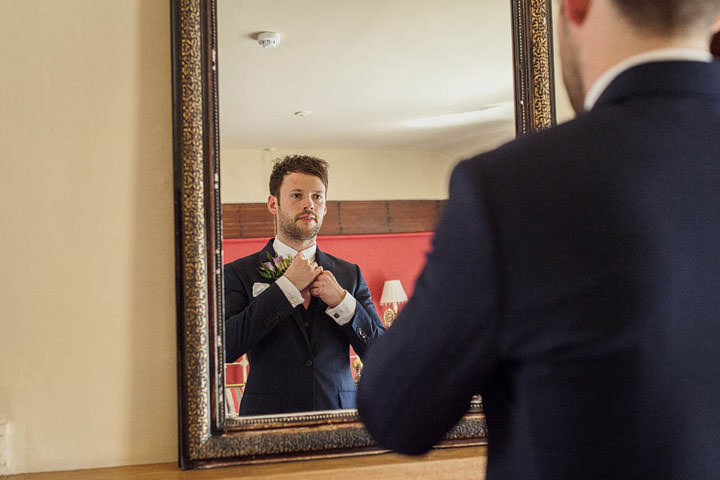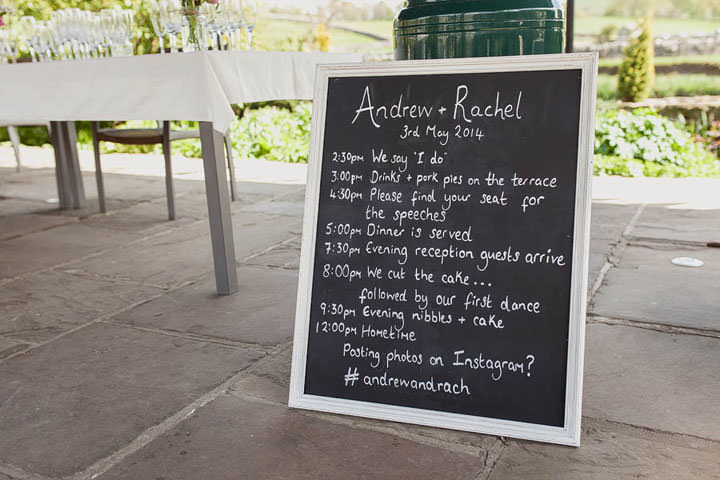 The dress
I'm very proud to say that my talented Mum, Shirley, made my wedding dress. It was amazing walking down the aisle in such a special dress. I had an idea of what I wanted in a dress but unfortunately didn't find anything that was quite right. I felt overwhelmed by a lot of the dresses and the advice I got from different shops was very contradictory! I wanted a simple shape and to look like myself. Mum was amazing! At first, she wasn't too keen but in the end, she really enjoyed making the dress. We got to spend lots of time together – we must have had a dress fitting every weekend (!), but it was completely worth it and I felt amazing in my dress. Mum also made a headband using lace from my dress with the help of one of my bridesmaids and best friends, Anna. My shoes were from Leeds Vintage Wedding Fayre and were a bargain at £15!
The suit and bridesmaids
We knew that we wanted to spend a bit of money on getting Andrew a smart suit for the wedding – so often the groom is overlooked! He chose a three piece navy blue Reiss suit. I hadn't seen him in the suit until I walked down the aisle and he looked very handsome! My bridesmaids were my sister Liz, Andrew's sister Faye and my best friends Anna and Beth. They wore dresses from Warehouse and all looked beautiful.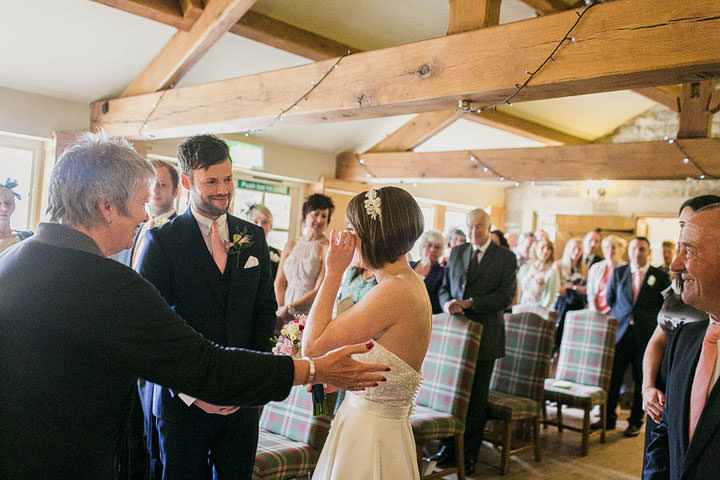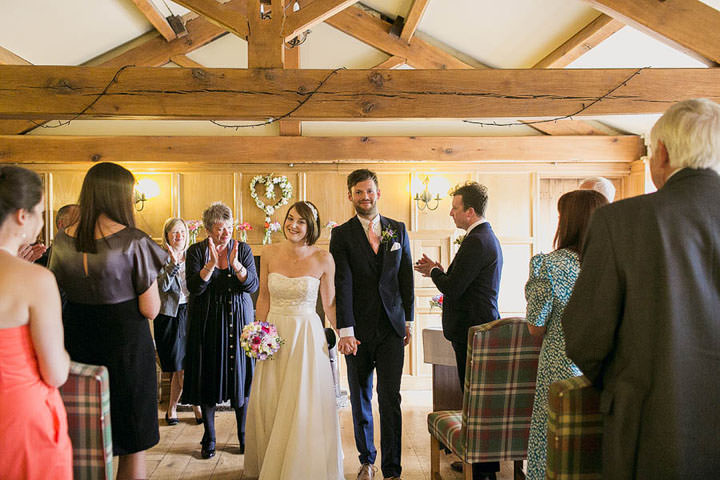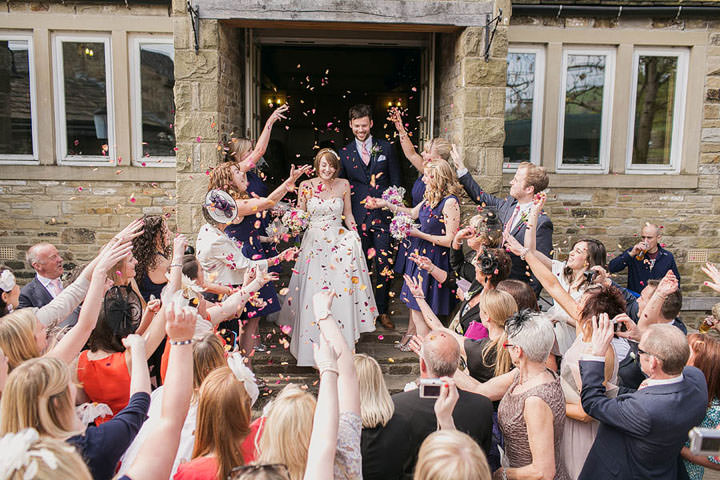 Theme or colour scheme
We didn't really have a colour scheme but seemed to feature blue, purple, pink and red. The theme was definitely homemade – it made the whole day very personal.
The flowers
We decided to do the flowers ourselves, sourcing them from RG Flowers in Bradford. Alan and Richard were very helpful advising us what to do. We chose flowers that were in season – freesia, ranunculus, iris, tulips and gypsophila. We managed to make 5 bouquets, decorate the cake and about hundred flower jam jars for £300. We had loads left over too. Guests took all the jam jars home so no flowers went to waste.
The decoration
Bunting, lots of jam jars with flowers and tea lights and lots of homemade bits and pieces.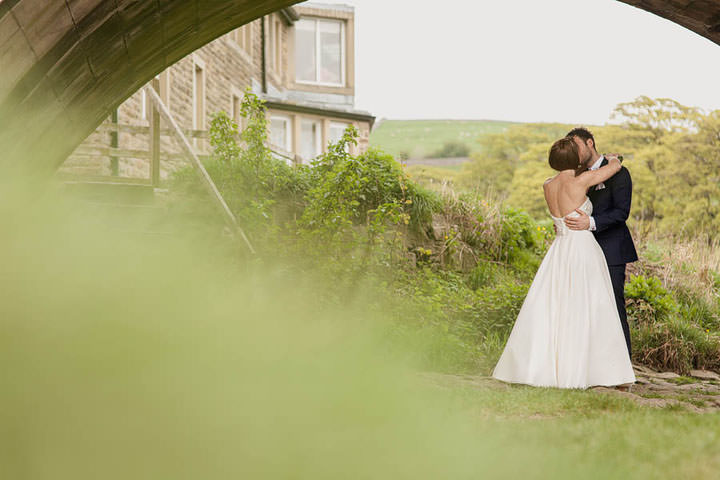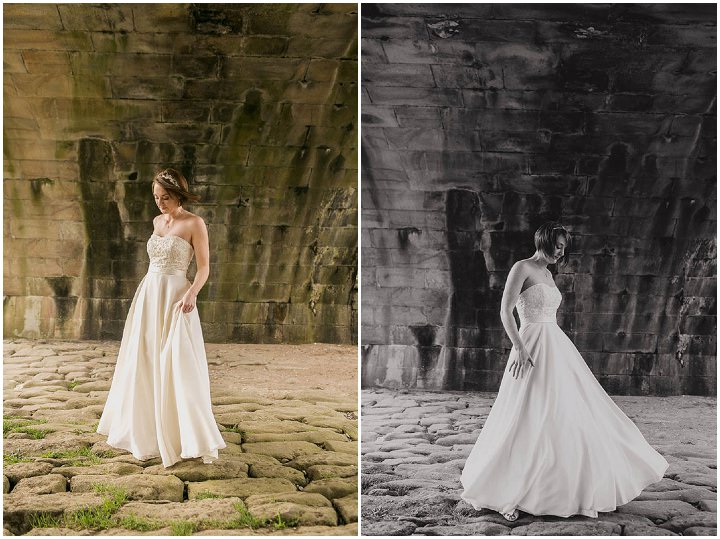 The food
The food at the Red Lion was delicious! We started with local pork pies as drinks reception snacks. Guests were able to choose what they would like to eat in advance. For starters they could have soup or smoked salmon; for mains there was a choice of braised lamb with parsnip mash or chicken stuffed with Yorkshire Blue cheese and wrapped in Parma Ham; and for dessert there was sticky toffee pudding or locally made ice cream. In the evening we had mini fish and chips in cones.
The wedding cake
I baked the wedding cake and then my sister iced it. It had three layers – chocolate and Guinness, lemon and almond and Victoria sponge. Transporting it to Burnsall was terrifying! On the morning of the wedding Liz and Faye decorated it with fresh flowers. We carried on the baking theme with our favours. We set up a baking pick and mix for guests to create a take home bag of treats. Andrew even got involved, baking a delicious salted caramel millionaires shortbread! I think they cured a few hangovers!
The entertainment
We used the DJ from the Red Lion – Richard Powell. Richard was great and our friends did us proud by keeping the dance floor jam packed all night!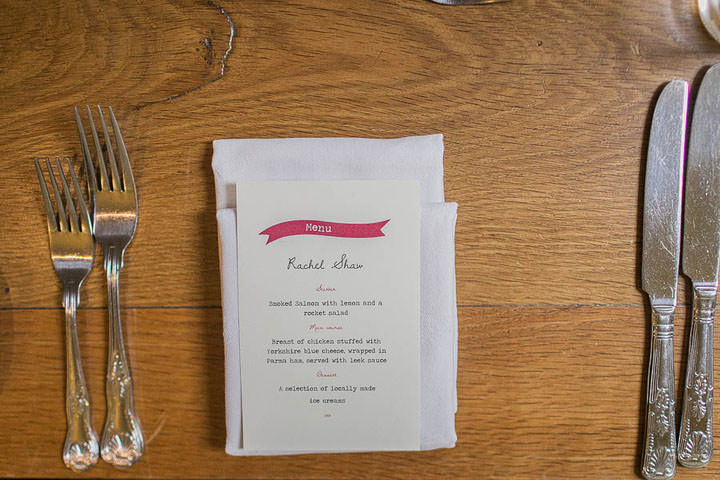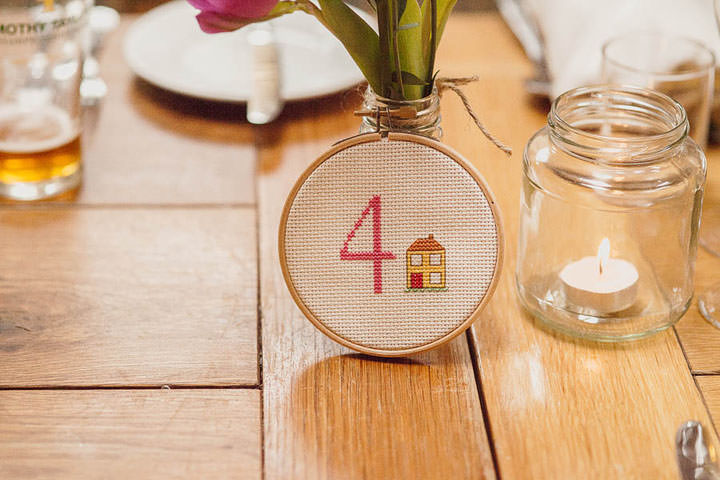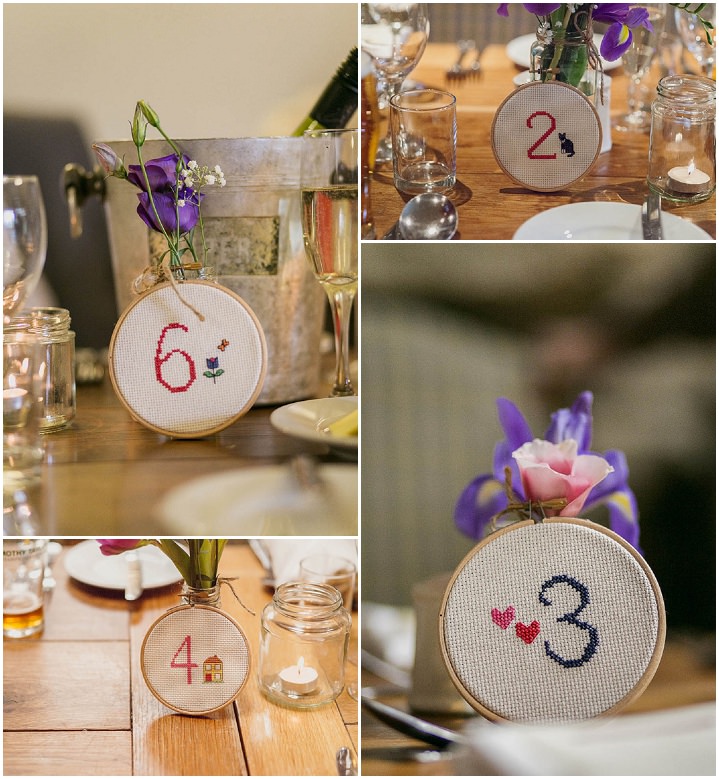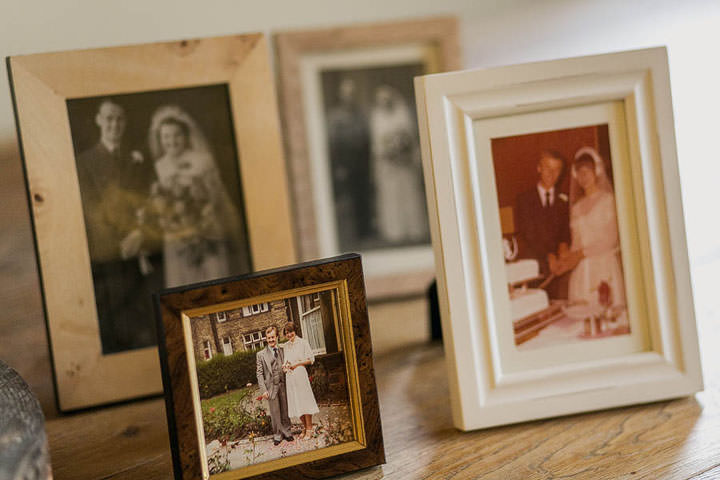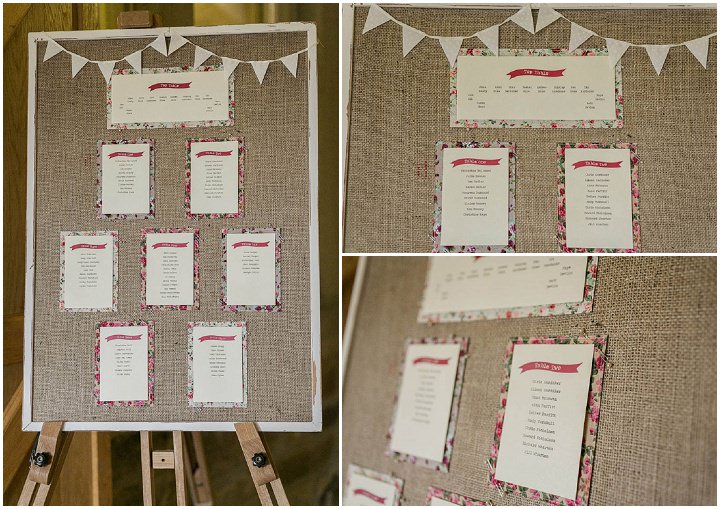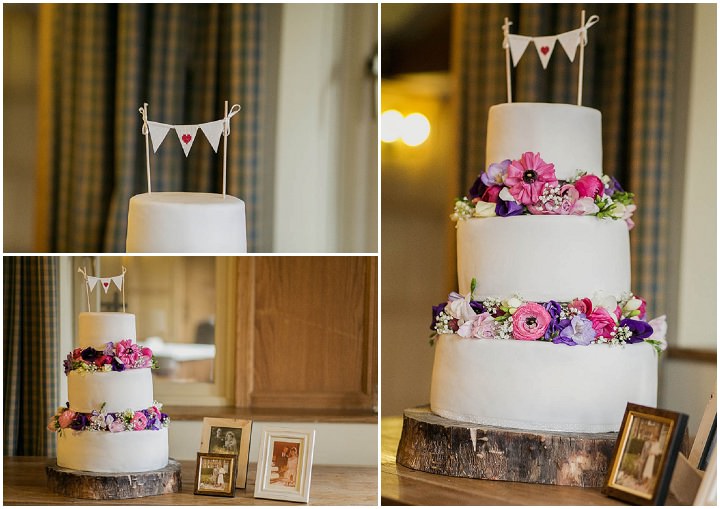 Buy or DIY your stationery?
We were very lucky that our friend Alex offered to help with the stationary. After a brief conversation with me trying to get my ideas across, Alex designed up invitations, menu cards and RSVPs which were perfect! We then made fabric pockets by sewing fabric onto card to put all the information in. Alex also designed up images and text that I could use on the place names, table plan etc. It took a lot of hard work doing a lot of it ourselves but I was really happy with it.
Personal or handmade touches
We did lots of wedding DIY partly to save on costs but really because I wanted the day to have a very personal feel. It was a lot of hard work but I'm really glad we did it. Many people told me I was mad to bake the cake, bake the favours and do the flowers the few days before the wedding (and maybe I was!) but it paid off and was really happy with the result. We also had a great team of people helping too – our parents, the bridesmaids, our Best Man Adam and ushers Jimmy and Matt, Kath, Faye, Mum and Julie for baking and my University friends for taking charge of the bunting!
We made:
• The wedding dress and headband
• The flowers
• The cake
• Baking pick and mix
• Invitations, table plan, place names, order service etc
• Decorated jam jars
• Tree trunk cake stand
• Bunting
• Cross stitch table numbers
• Order of the day blackboard
• Flower petal confetti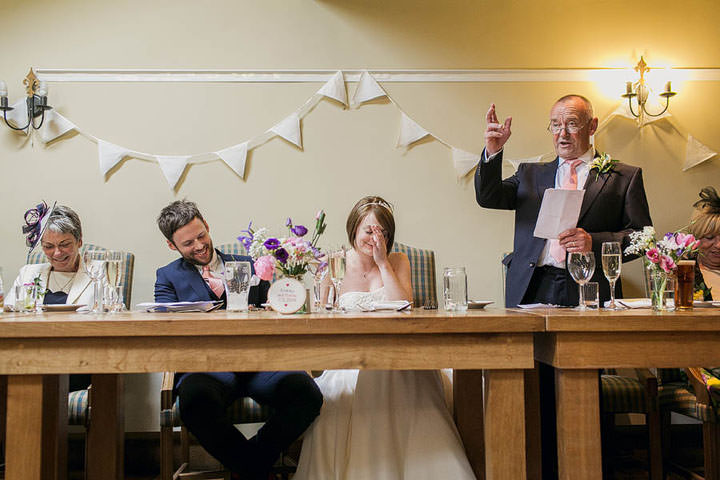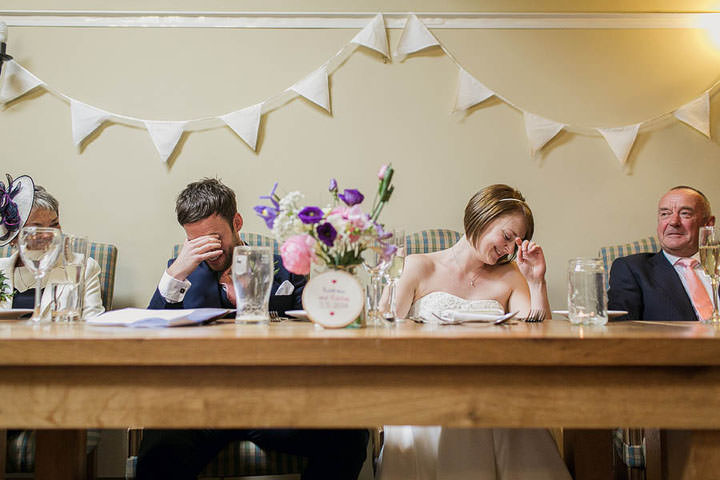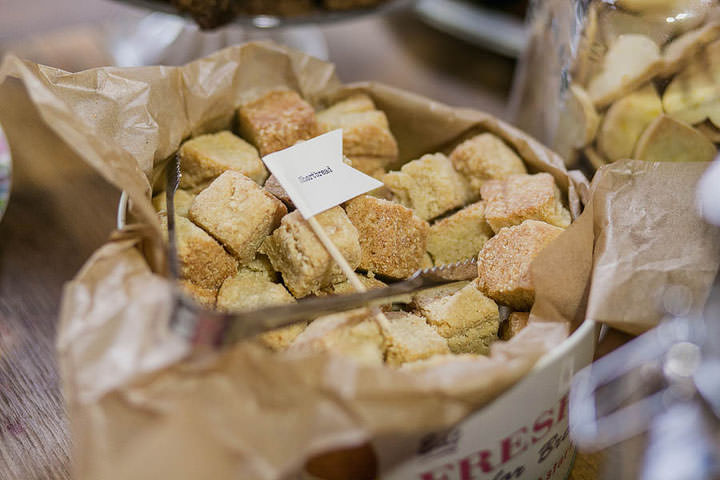 Special moments or highlights
Rachel: Getting ready in the morning. Andrew surprised us by sending loads of Prosecco to the cottage we were staying in – it put us in the mood! After all my Mum's hard work, it was very special for her to help me into my dress and show everyone! I remember feeling so excited when I was told that Andrew had arrived – it was really going to happen. I just couldn't wait to get married then. The ceremony was perfect. We had music and readings that were very "us" meaning it was personal and emotional.
Andrew: Obviously seeing the beautiful bride walk down the aisle. I'd heard a lot about the dress and knew how much time and effort Rachel's Mum, Shirley, had put into making it, but I wasn't prepared for just how stunning it was – breath taking.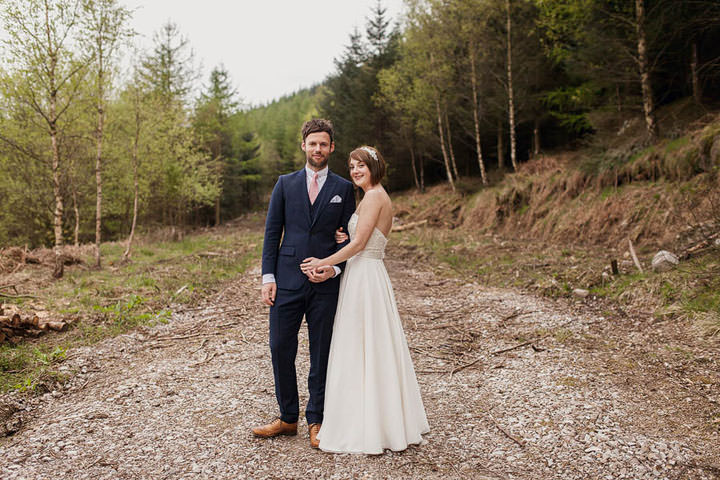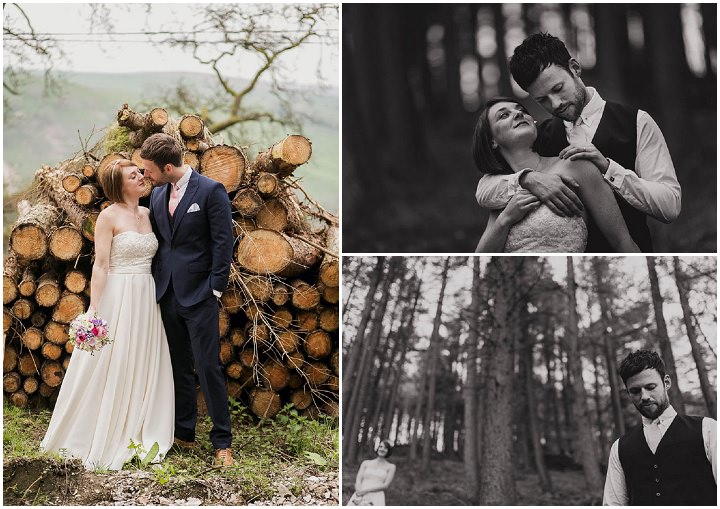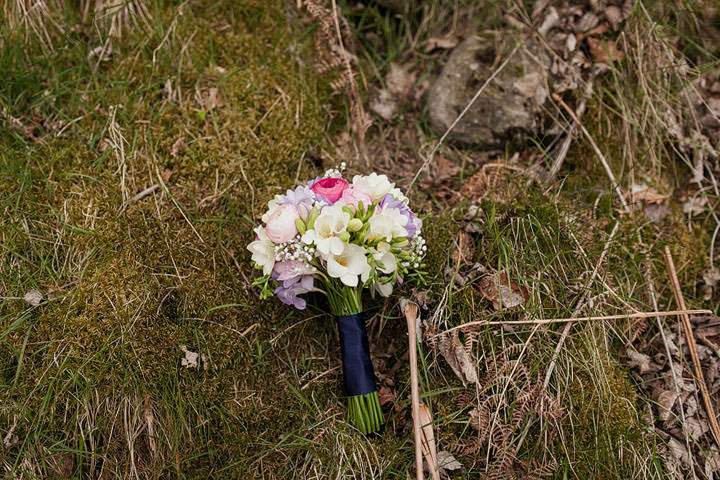 Biggest surprise
Rachel: How overwhelmed I was walking down the aisle! I had hoped to enjoy the moment with my Dad and be smiling as I walked towards Andrew. Once the music came on I was a blubbering wreck!
Andrew: The story that my best man decided to tell. Needless to say, I was squirming in my seat – as evidenced by some of the photographs taken!
Advice for other couples
Enjoy the whole process! Being engaged should be a very special time. Lots of people like to give their opinions when it comes to weddings… listen to them and take it on board the good advice but stick to your guns if you feel strongly about something. It's your day and ultimately about you marrying the person you love. If you do decide to go down the DIY route, start as early as possible and practice – no one will complain at sampling wedding cake. Let your family and friends help if they offer – I was so touched by how many people wanted to help us. Also be willing to let things go if they aren't working or you run out of time.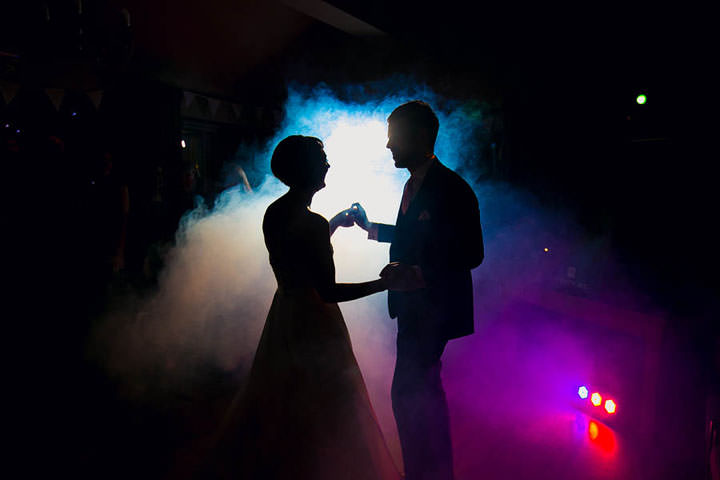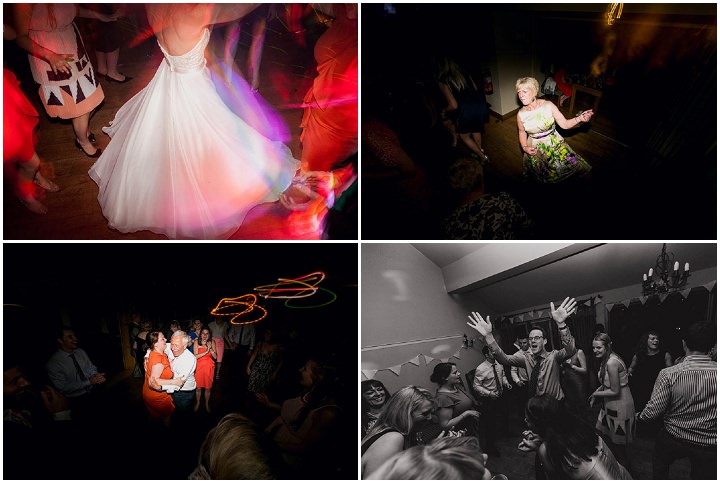 Supplier Shout Outs:
For more information on Paul and Kelly's work please go to:
www.pauljosephphotography.co.uk
pauljosephphotography.co.uk/blog
FACEBOOK
@paul_PJPhoto