I have a lovely wedding for you today from two of my favourite wedding photographers, Paul and Kelly from Paul Joseph Photography. This gorgeous Yorkshire wedding takes place in one fo my favourite wedding venues, Utopia in Skipton, where I have had the pleasure of working a couple of years ago. The wedding itself takes influences from the venue's gardens with a country garden theme, mixed in with Easter eggs that come from the proposal story. The day is beautiful, as is the photography; I hope you enjoy it as much as me.
We performed our first dance to More Than Words by Extreme and trying to think about how to describe our wedding day would honestly take more than words, soppy but true! If we could relive one day for the rest of our lives we wouldn't hesitate picking the 1st June.
Hannah and Neil were married on 1st June. Their Catholic ceremony took place at Sacred Heart Catholic Chapel and the reception at Utopia, both on the Broughton Hall Estate just outside Skipton, North Yorkshire. "Broughton Hall sits peacefully in the beautiful Yorkshire countryside; it's easy to fall in love with the place. The scenery captured both of our hearts but there were three factors that just made perfect sense. The first was the Catholic Chapel, a hidden gem inside Broughton Hall itself and perfect as both Hannah and I are Catholic. Then you have Utopia, a modern canteen come architectural masterpiece growing within the walls and flower bed of the landscaped garden. This transforms into your reception venue, and is just a three-minute walk from the Chapel, five minutes if you pick up a glass of Pimms on the way! The final factor was Eden, a converted house with six bedrooms and an outdoor hot tub; it was a perfect base for Hannah and her family to stay for the weekend and also provided a great space to host a post-wedding barbecue on the Sunday afternoon. The laid back atmosphere and knowing that you have Eden for the whole weekend helps you to relax and enjoy your wedding day the way you should do. We had ninety-two guests for the day and another twenty guests in the evening. We booked Utopia at Broughton Hall in May 2012 and from then until the 1st June 2013 we thought and planned things at a steady/laid back pace."
How they met
We met at work in 2003 and have been together for 11 years.
The proposal
After 10 years together I needed to surprise Hannah when she least expected it. So on Easter Sunday 2012 I bought Hannah an Easter egg from Hotel Chocolat and iced "Will you marry me?" onto it and inside hid the vintage engagement ring that I had chosen from Aladdin's Cave in Leeds. After Hannah's initial shock when she opened the box and said "You're effing kidding!", she did say, "Yes". The proposal became a big part of the table decorations on our actual wedding day tying in well with the bird theme and it also provided a perfect finish to my Groom's speech.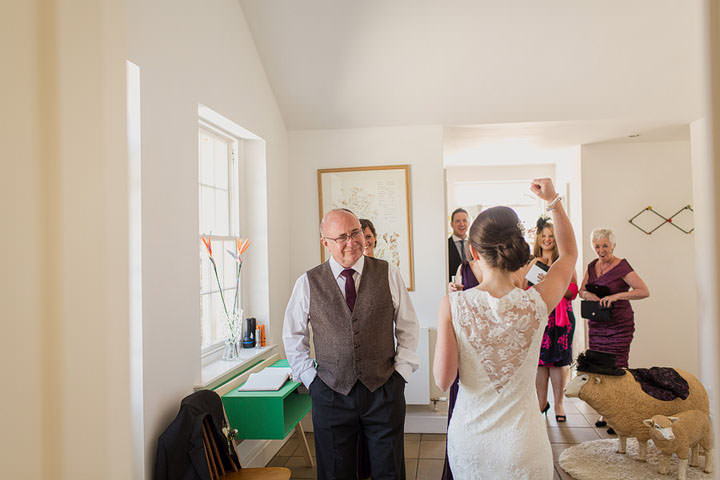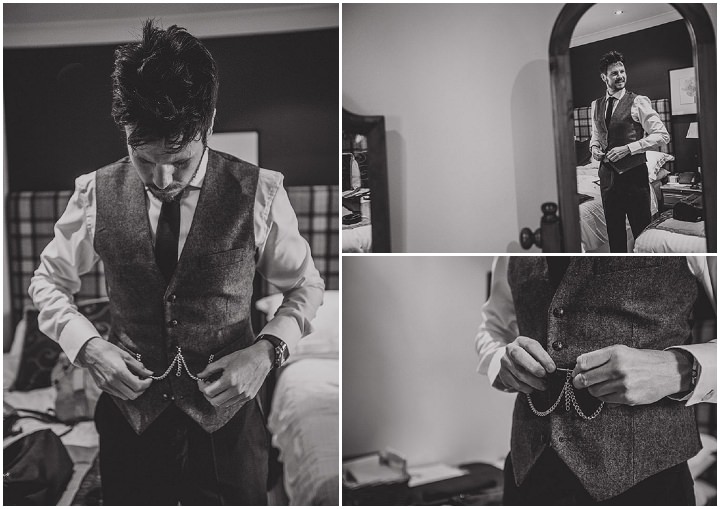 How did you allocate your budget?
We started with the big stuff – dress, venue, catering, live band and string quartet. Then we started to budget by using our own suits for the groomsmen, making our own stationery, picking flowers from Hannah's parents garden and decorating the venue and Chapel ourselves with homemade bunting, dried lavender, wheat and other quirky touches.
Why did you choose your photographer?
After meeting Paul and Kelly you would struggle to find a reason why you shouldn't choose them to shoot your wedding day. They are genuinely lovely people who have a great passion and professionalism for what they do. We felt relaxed and reassured by them the first time we met and over the course of planning the wedding we became their friends more than clients. They captured the essence of our perfect day in their photographs and we will cherish them forever.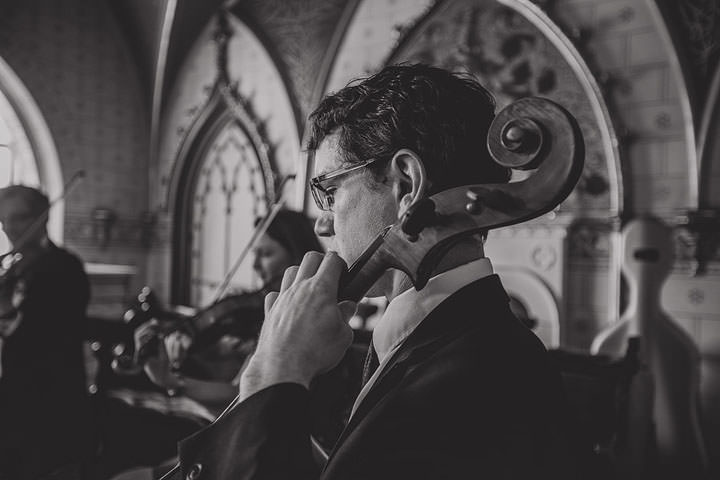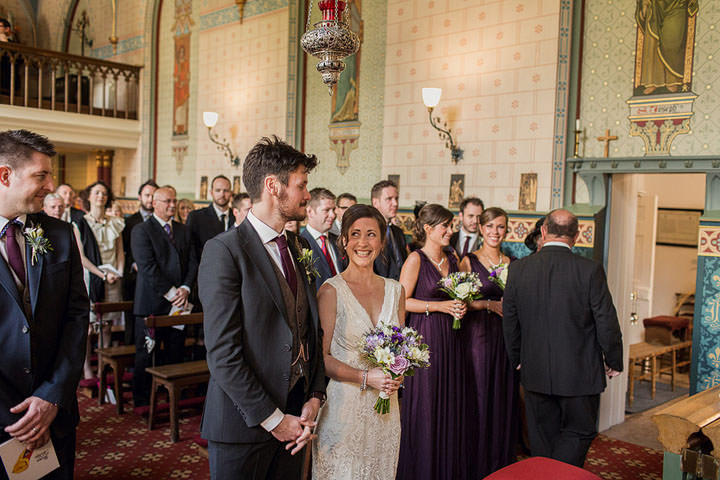 The dress and accessories
Hannah's stunning dress was by OLVI from Ava Rose Hamilton in Barrowford, her hair and jewellery accessories were from Victoria Walker Boutique in Farsley, Leeds. The shoes were from Debenhams.
The suit and the bridesmaids
Bought a few years ago from Zara, it's my only suit. I wanted to feel comfortable on the day and I wanted my groomsmen to be relaxed also, so we went with wearing our own suits and bought matching tweed waistcoats and purple ties (to match the Bridesmaids dresses) from Burton Menswear. To help me stand out as the groom and to finish my outfit I added a pocket watch chain to my waistcoat. Bridesmaid's dresses were from Debenhams, and shoes from Next.
The theme
With the venue Utopia sitting inside a garden full of colour and beauty we decided to use the illustrations of garden birds by Matt Sewell as inspiration and went from there with a rustic country theme. We also added touches that meant something to us and our family and friends.
The flowers
On the tables we had fresh flowers that Hannah's mum had picked from her garden, and some supermarket bought flowers, plus some dried lavender and wheat. Hazel Grove Flowers in Stockport created the bridal bouquets following our brief of rustic country with pheasant feathers thrown in. These were also reflected in the groomsmen's buttonholes.
The decoration
We decorated Utopia and the Chapel with help from our families and my best man on the afternoon into early evening before our wedding day. In Utopia we hung Hannah's mum's homemade bunting from the ceiling, we placed garden flowers in glass jars and dried lavender and wheat in tiny vases on the tables. And in the Chapel we hung rustic wooden hearts with a ribbon bow on the end of each pew.
The food and the wedding cake
We had a collection of canapés that were served to guests in the June sunshine after their stroll from the Chapel to Utopia. For the Wedding Breakfast we chose a Goats Cheese and Red Onion Marmalade tart for the starter, Traditional Roast Beef and Yorkshire Pudding (when in Yorkshire!) for Main and then for Dessert we picked a trio of desserts – Eton Mess, Chocolate Tart and Lemon Torte. All locally grown and produced ingredients magically transformed by GFS Catering.
In the evening we went with pancakes, two savoury and two sweet, they were the perfect choice as they were gobbled up quicker than they appeared.
The wedding cake was a tricky one. We had Hannah's Mum and her Nan both separately pitching their baking skills to us, to which Hannah's sisters and brother found very amusing. In the meantime, I had rescued some small paint tins from going in the skip at work thinking that they might just come in handy with something for the wedding. With the metal tins being white, of a handy size and with there being so many of them, I thought that they would make a great wedding cake sculpture. So after convincing Hannah on the idea we filled each of the 130 tins with an individual cake and two teabags, and then applied a sticker to each lid that said "Let them eat cake". We then created a cake tin tower in the shape of a wedding cake and decorated the top tin with a Lego bride and groom. The guests each took a tin home with them as their piece of wedding cake come wedding favour.
The entertainment
One of the first things we agreed on was a live band for the evening and a string quartet for the daytime. We are so glad we did as both the band and quartet made our wedding day unforgettable. Whenever we bump into a friend they always mention how great our wedding band was. If you can imagine a laid back gypsy jazz band who twist modern pop classics and The Fresh Prince of Bel Air theme tune into dance floor filling music that lasted all night long then you have "The Gypsies of Bohemia".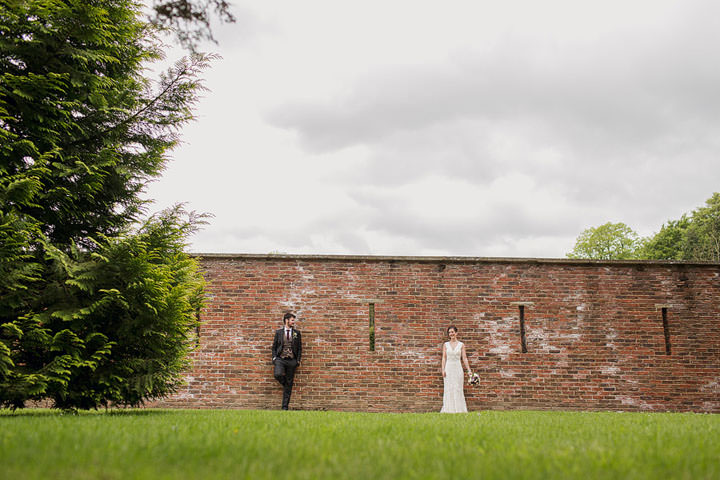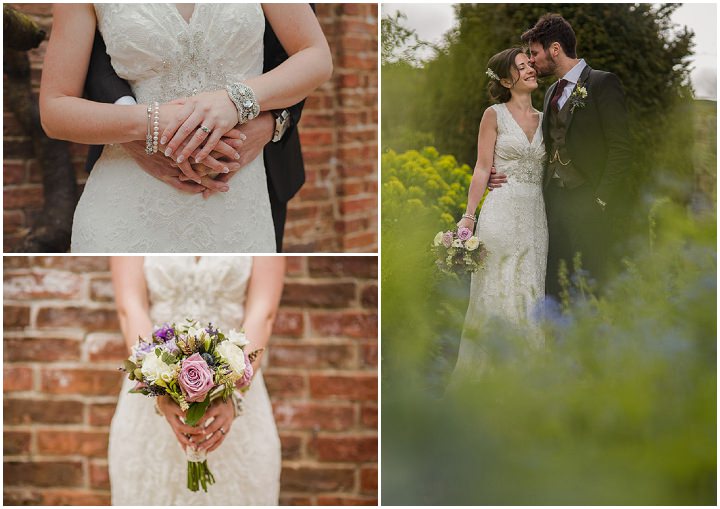 Buy or DIY your stationery?
I've created wedding invites and stationery for friends and family over the past few years. So the pressure was on when it came to our invites and stationery! We combined the garden bird theme with a scruffy script font and printed the invites, order of service, and table name cards on an uncoated, water-colour paper stock to keep with the rustic country-style.
Personal or handmade touches
We decorated Utopia ourselves with help from our families as mentioned above. GFS catering then set out the cutlery and crisp table linen once we'd finished. – On the top table we placed a bride and groom Mr & Mrs Potato Head in front of our seats because having the surname Masheder at school led to the nickname Mashpotato and has stuck ever since. – We also took an old wooden school desk from our house to use as a place for the framed photographs of our parents and grandparents weddings to show where we had come from – our parents loved this as Hannah's Nan is our only living grandparent. – For ninety-two table name places we placed a painted hollow chicken egg in an egg cup on top of a doily and floral paper napkin. Around each egg we'd tied a ribbon and tag with the guest's name and message saying "Please save me for the Groom's speech". When it came to the end of my speech, I told the story of our Easter egg proposal and stopped at the point where Hannah said her three word response. Inside each of the guest's eggs we had carefully placed a few bird feathers and a rolled piece of paper – all the pieces of paper had a different three word quote written on like "I love you" and "Please be mine". But inside three of the ninety-two eggs there was just one word from Hannah's response on the day I proposed. So after telling everybody to smash their eggs open, and with shell and feathers flying everywhere, I asked the three people with just one word on their piece of paper to come up to the top table to read out in order the three word response. They each read out their word, the guests laughed, I apologised for my wife's potty mouth and presented each of them with an Easter egg. Luckily and by complete chance (even though he doesn't believe it to this day), my best man ended up reading the "effing" word out!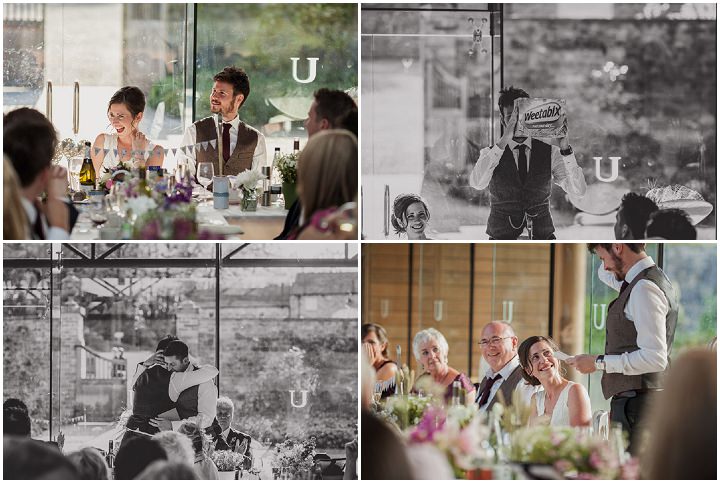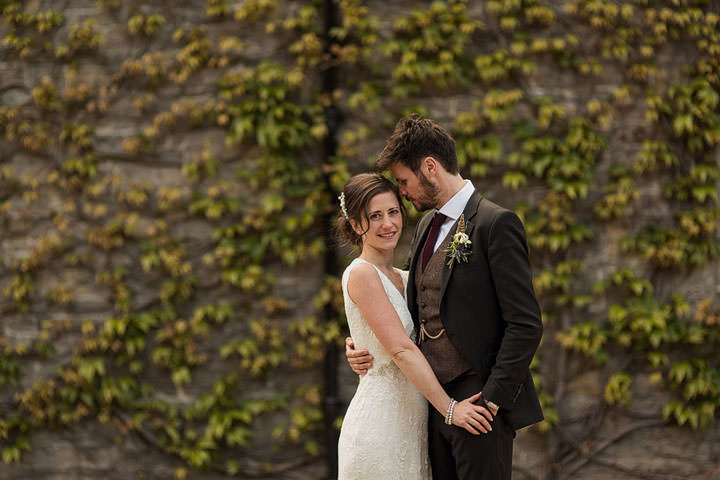 Special moments
Meeting each other at the altar. – It was the first marriage ceremony that our local young priest Father Edmund Montgomery performed. – The sun shone after a week full of rain. – Percy the peacock behaving himself. – The speeches. – A full dance floor. – Laughter and love. – Calling each other husband and wife.
Advice for other couples
Our best advice is to choose what you want as a couple, your guests will enjoy your choices because they enjoy you. Tip for the day – appreciate the day for what it means to you both – enjoy the time and love of all your family and friends who are all in one place, on one day, for you.
Biggest surprise
For me the biggest surprise was my youngest brother Josh reading out a card from our middle brother Dan who lives in Australia and couldn't make it over for our wedding. Josh burst out into tears while reading the card out to everyone over the microphone. It made me appreciate just how much the day meant to everybody in the room and on the other side of the world. The nicest surprise for us both was that we ended up getting something old, new, borrowed and blue for each other as little gifts for the wedding morning. Hannah's something new to me was a commissioned water-colour of two blue tits by Matt Sewell – which blew me away. For Hannah, I leant back a letter I had kept that she had written to me when we first met – she didn't read the whole letter from fear of crying and ruining her wedding make-up.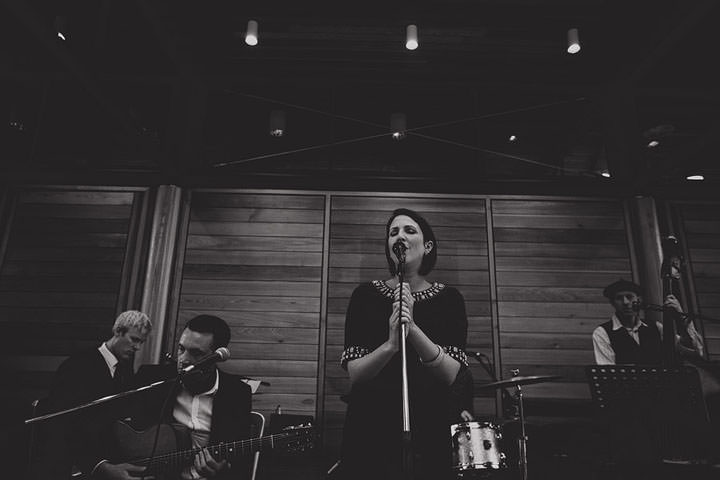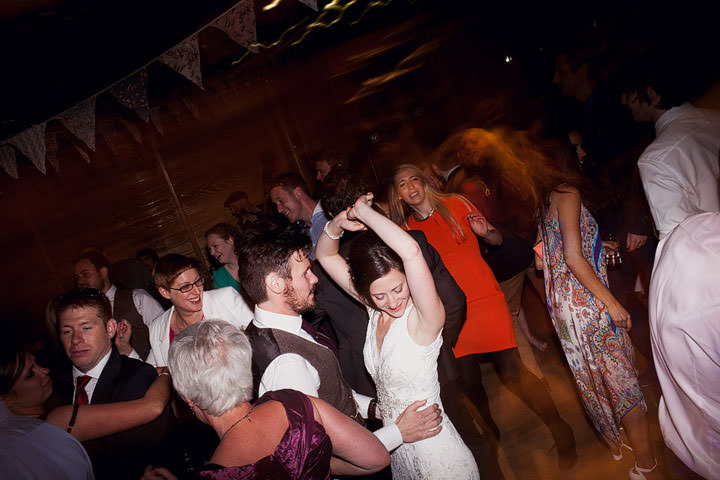 Supplier Shout Outs:
For more information on Paul and Kelly's work please go to:
www.pauljosephphotography.co.uk
pauljosephphotography.co.uk/blog
FACEBOOK
@paul_PJPhoto