Today's wedding is FULL of fun, absolutely full! Which is not surprising when you have Paul and Kelly from Paul Joseph Photography taking the photos! You may remember Chris and Cathy from their love shoot HERE, we got a glimpse at what a fun couple they are in this shoot and they certainly carried this through to their wedding day. With a 1950s hint of vintage meets book theme mixed with a HUGE amount of DIY and a scattering of pretty pastels, this wedding is just brimming with personality! What a fantastic day!
'An informal mish-mash of the crazy ideas that occur to one just on the verge of sleep. It was moving but a lot of fun.'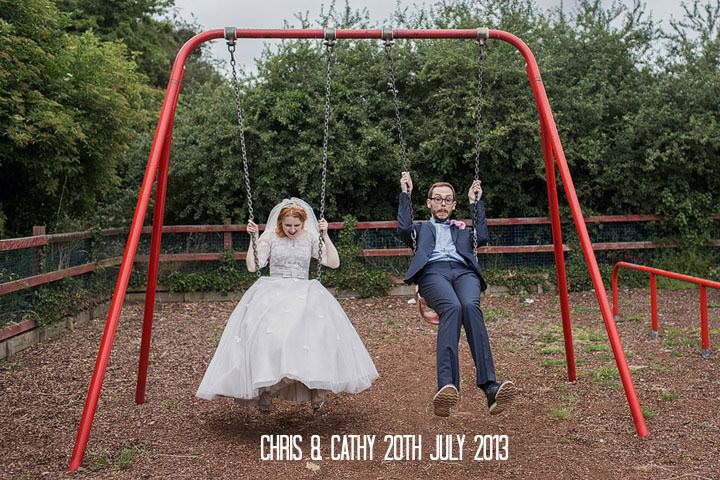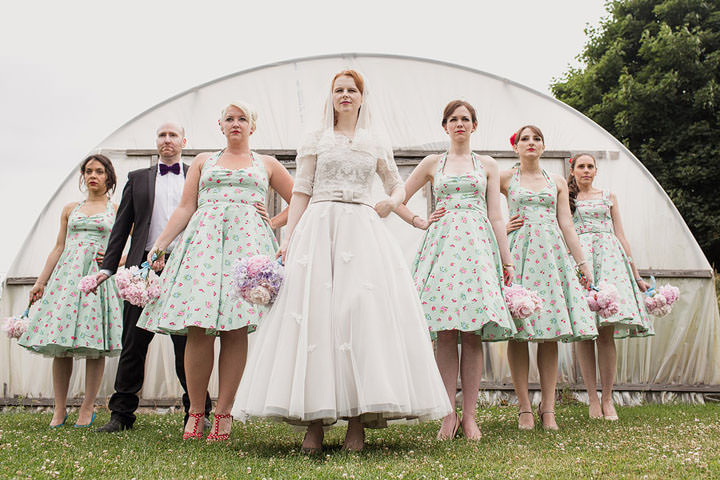 Cathy and Chris were married on the 20th July at Northorpe Hall West Yorkshire. 'Cathy: After looking at a LOT of venues and them just not feeling right, we both knew pretty much as soon as we drove up to the venue that this was it! Chris: It is a stunning venue and on top of that, all money raised from the hire of the venue goes back into the amazing work that they do with vulnerable young people. We couldn't even contemplate having got married anywhere else. We had 95 guests and aside from the mental planning that at least one of us has been doing since 1983 it took about 11 months.'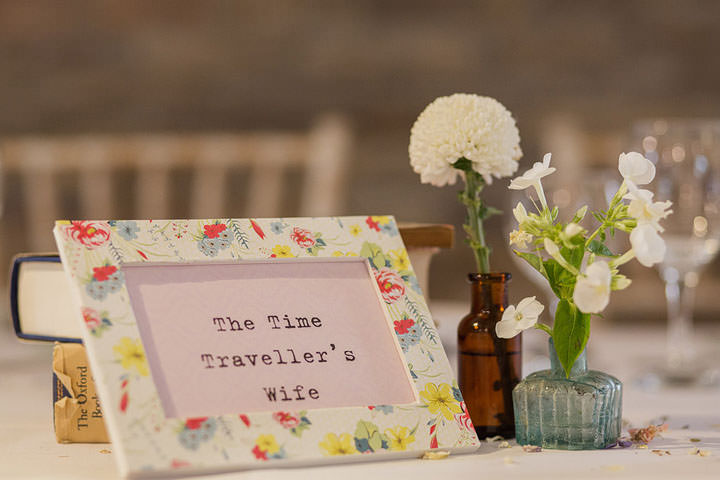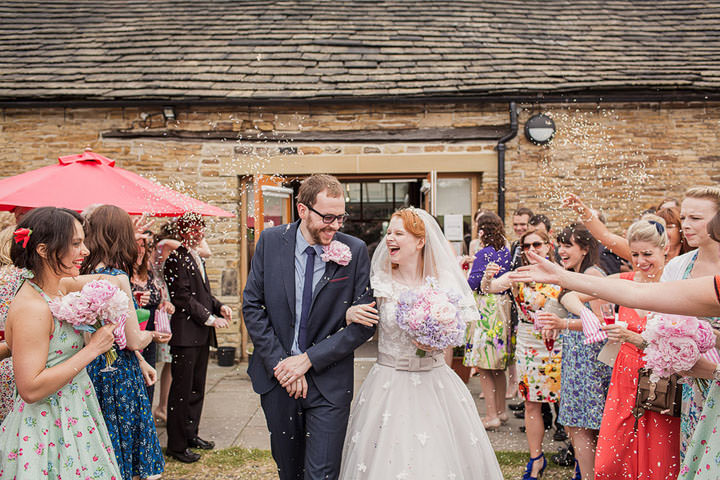 How they met
Cathy: We met on a Theatre in Education tour of Schools and have been together for five years. Chris was hanging from a night out in Soho and was unimpressed by the noisy person rudely awakening him during his mortal hangover!
The proposal
Chris: It happened under the stars by a little shepherd's hut at Heath Hall Farm in rural Surrey during the Perseid meteor shower in August 2012. I wanted to find somewhere remote with no distractions so it would just be myself and Cathy. As it happened there were also three llamas and the farm dog, but I don't think they count. On our third night, I managed to persuade Cathy to turn the Olympic Closing Ceremony off and come outside where I got down on one knee and asked her to marry me underneath the stars. Thankfully she said 'yes'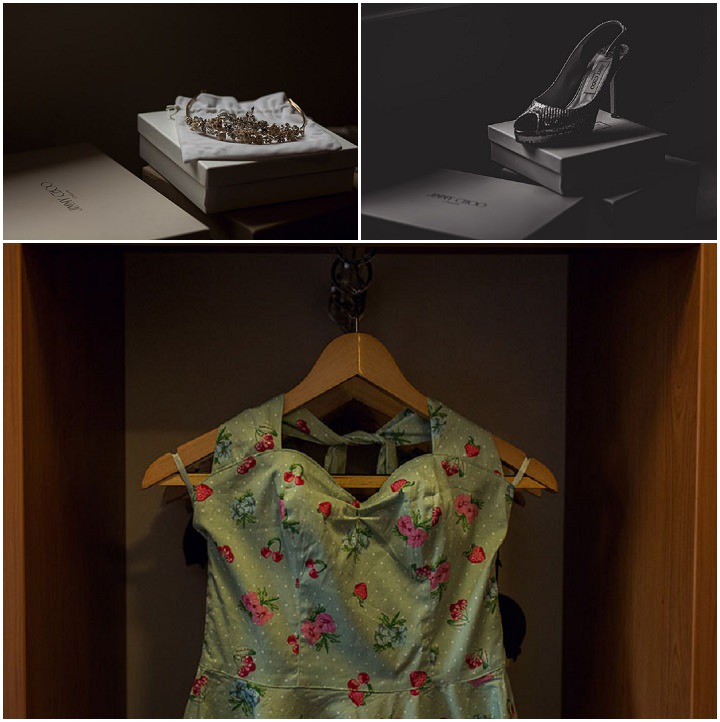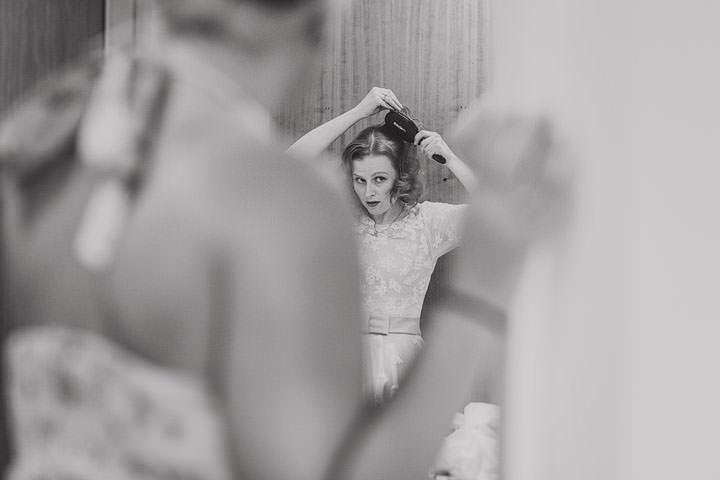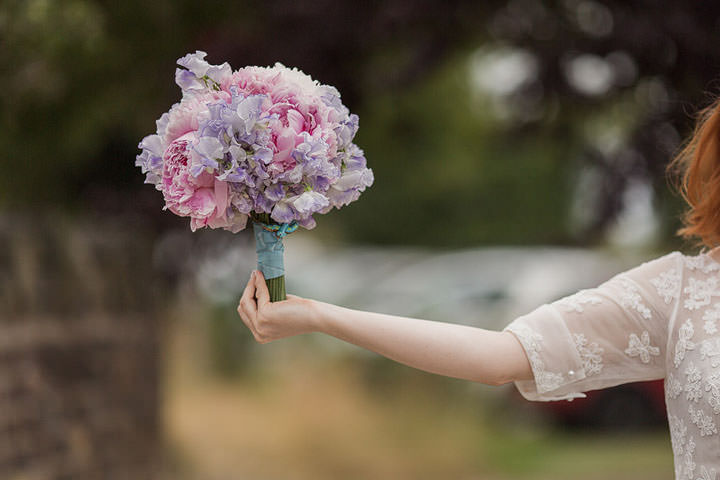 How did you allocate your budget?
Cathy: We had a very basic idea of how much to spend and had to rethink a few ideas when we found out the actual cost of things! The reason we made so much of our own stuff initially was to try save money but it ended up being a big part of the day! However, we would have been lost without our dynamic spread sheet with all the costing dates/ running totals/remaining budget etc on it!
Photography
Paul And Kelly at Paul Joseph Photography – they were a huge and integral part of our day and went above and beyond the call of duty… and I'm sure you'll agree that their photos kick ass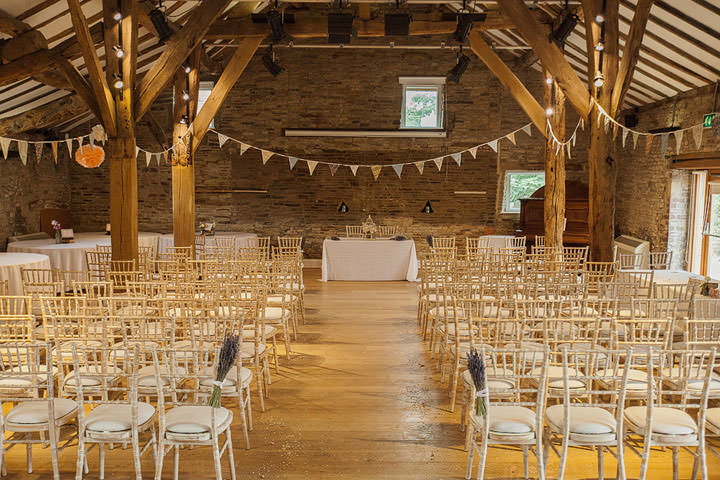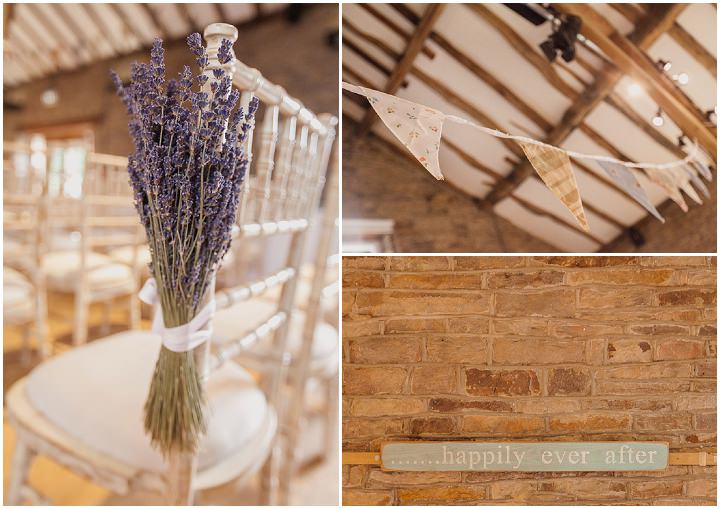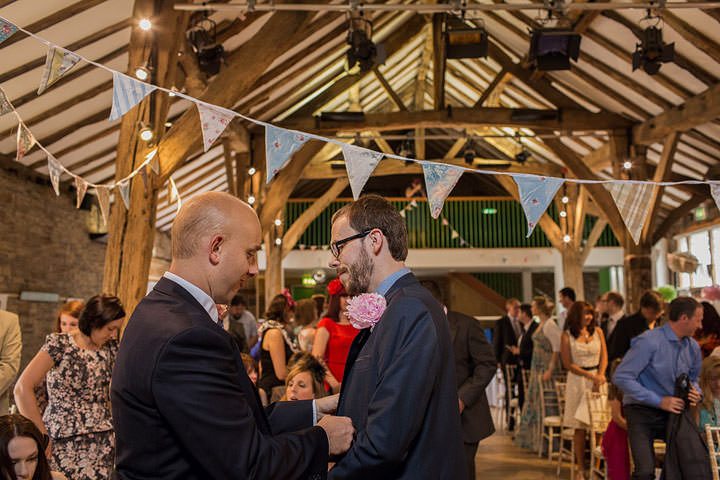 The dress
My dress was Cynthia by Lou Lou Bridal which I bought at the very lovely Miss Bush Bridal. It was love at first sight, exactly what I had in mind. It was quite emotional when I first put it on. I spent 6 months looking for hair accessories (by far the most difficult thing!) But I'm glad I stuck it out because the ones I got were perfect! My veil was a shorter version of Grace by What Katy Did Next my day time tiara was Wild Orchid by Olivier Laudus and the evening side tiara was Rose of Gold Side Tiara from Glitzy Secrets. My necklace was a gift from my dad when I was a bridesmaid at his wedding. It was from Links of London and is called Hope White Topaz.
My ankle chain was borrowed from my bridesmaid Ellie. My something blue was a Blue Swallow Broach from Aladdin's Cave in Leeds. My handbag is called Paloma and is from Coast.
My engagement ring is Tiffany & Co and the wedding rings were made by the amazing Asquith's of London. And last but certainly not the least; extra kudos to Chris for enabling me to fulfil one of my life's ambitions of buying a pair of Jimmy Choo Shoes!
The suit
My' suit came from Topman, courtesy of the personal shopper service. The shoes were Ted Baker.
The bridesmaids
They were a brand called Hell Bunny who make amazing 40s and 50s vintage-style dresses the two dresses were called Bobbi Lee and Tiger Lilly.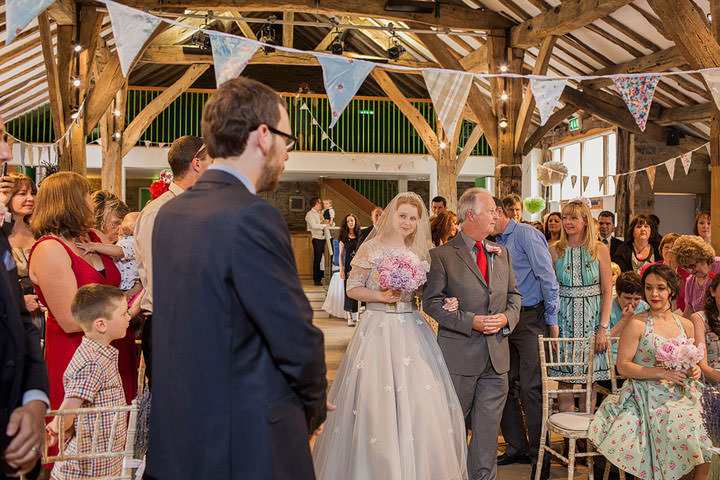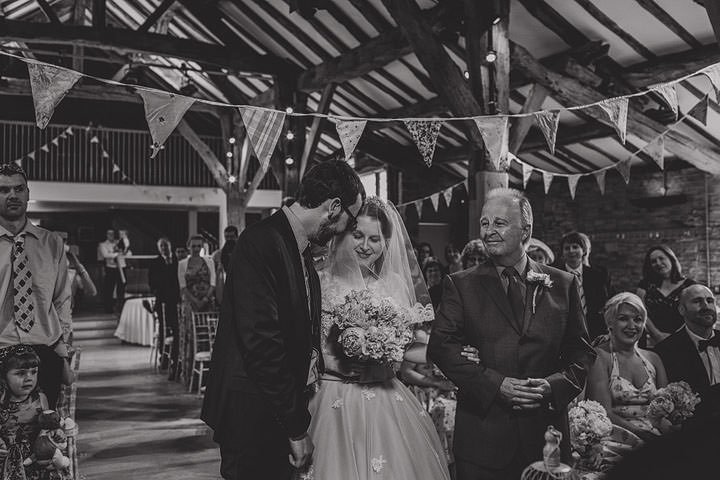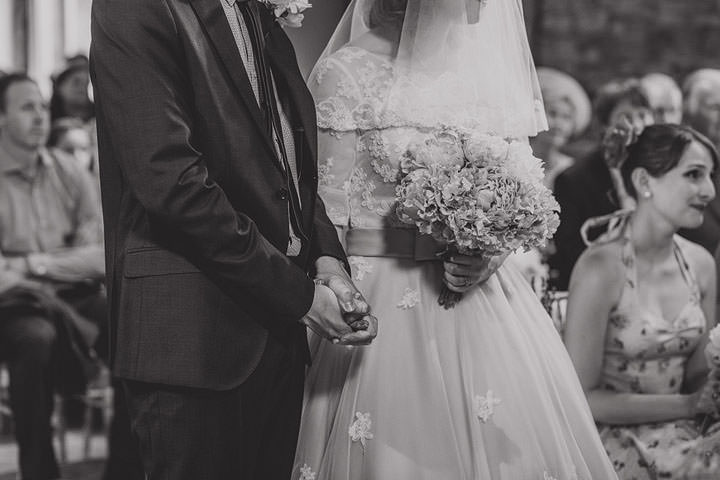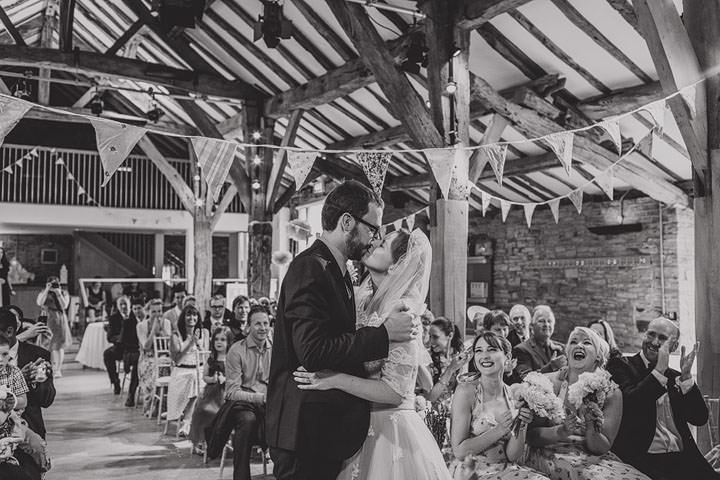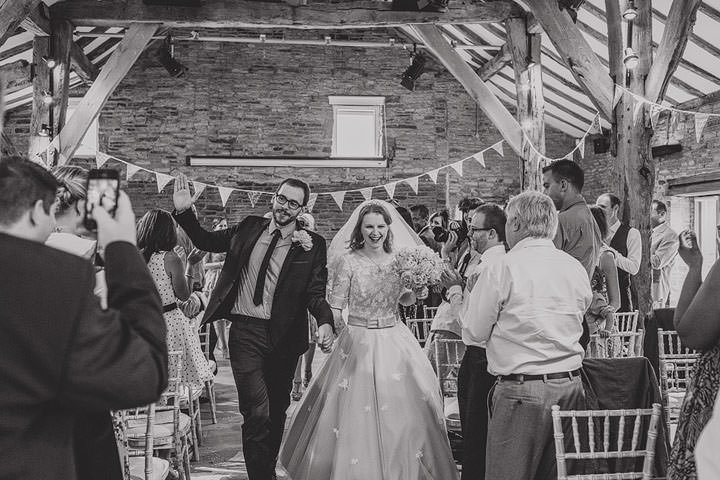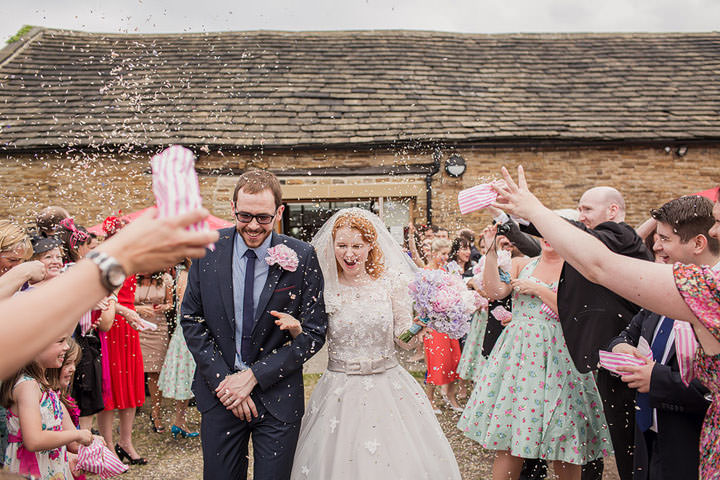 Theme or colour scheme 
There was no strict colour scheme, really, just pastels. (Ish)
Decoration
Cathy: Gosh – how to describe it?  A chintz explosion in a library, maybe?!
Chris: We had loads of bunting across the room, bunches of lavender tied to the end of the front and back row of chairs, the registrar's table had a vintage birdcage filled with flowers, with bunches of lavender and confetti on the table and a little wooden "Mr & Mrs" .
The tables were strewn with old books, flowers in jam jars and tiny, Victorian medicine bottles. With a sprinkling of confetti. The place settings were library cards made from patterned card and the favours were old school pink-stripy sweetie bags.  Each table was named after a book and had the name in a little picture frame.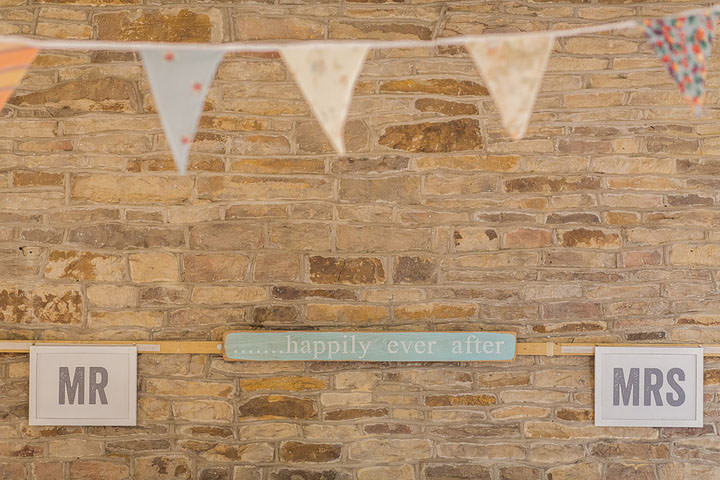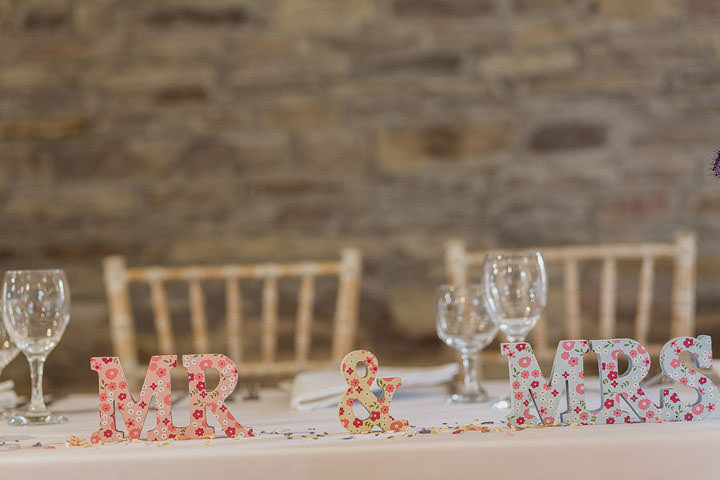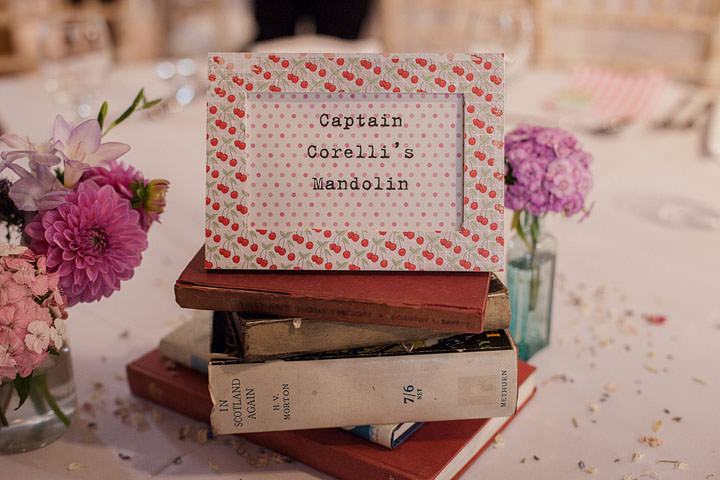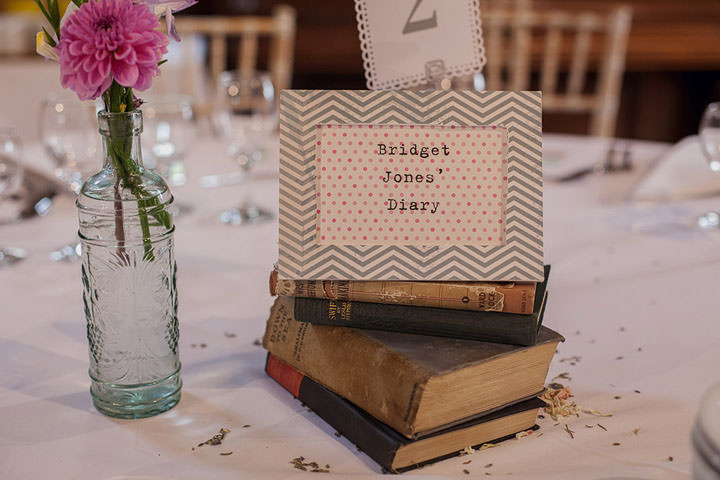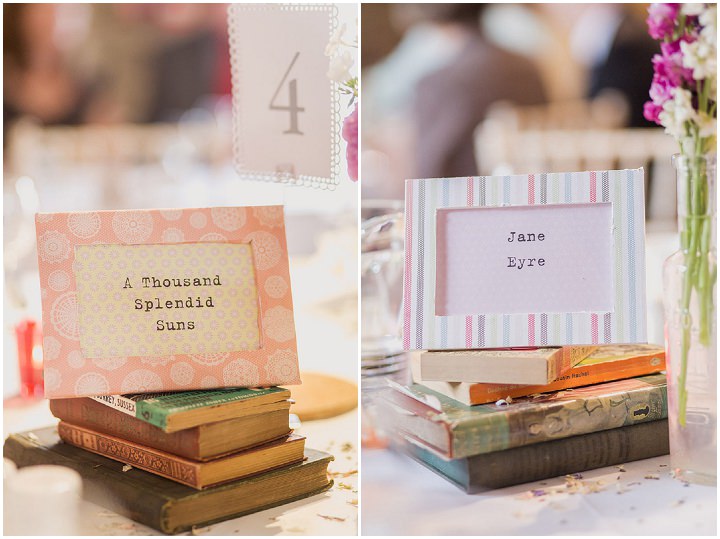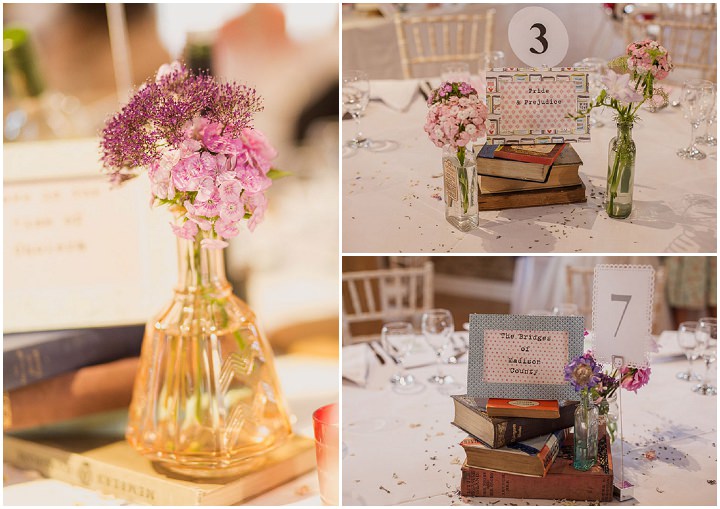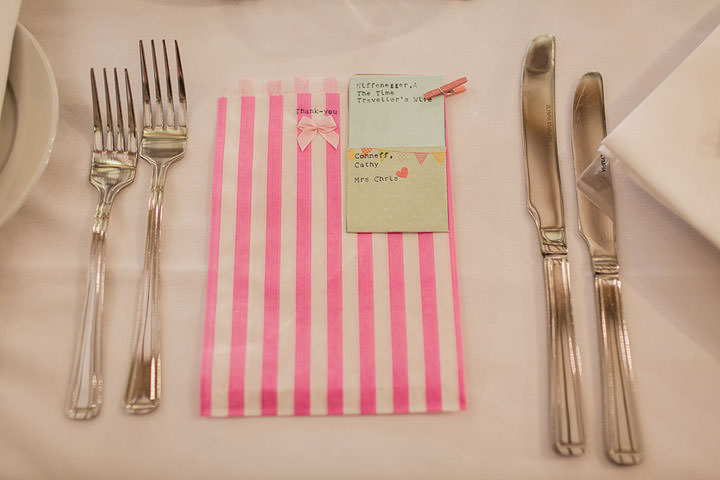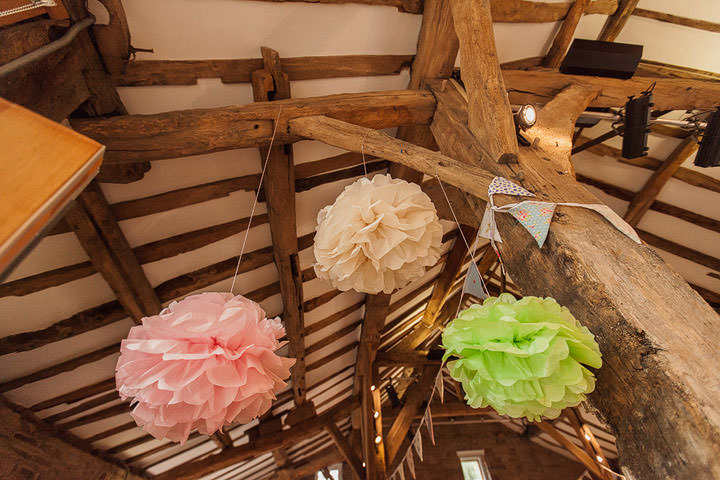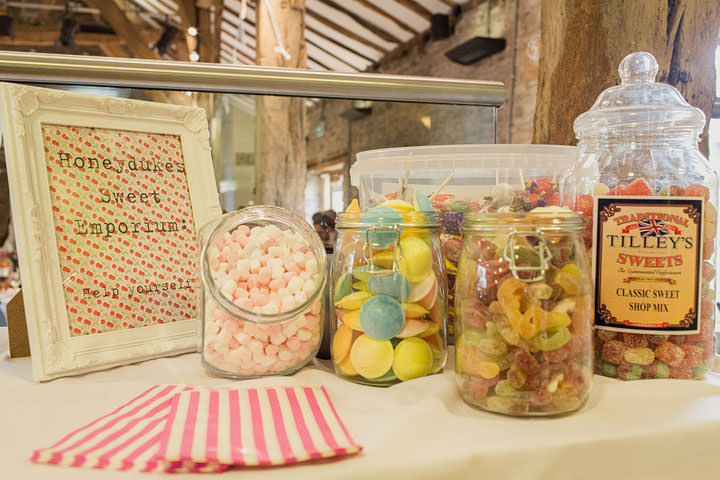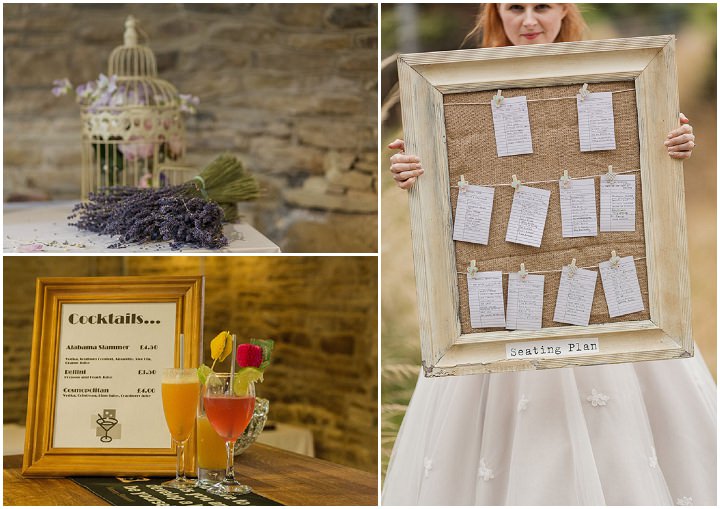 Food
Menu 1: Spicy Thai Crabcakes, Shoulder of Lamb, Crème Brulee
Menu 2: Roasted Red Pepper Soup with Basil encrusted croutons, Butternut Squash Risotto, Gluten & dairy free brownies
Entertainment
SILENT DISCO!!!!!!!!!!!!!!!!!!!!!!!!!!!!!!!!!!!!!!!!!!!!!!!!!!!!!!!!!!!!!!!!!!
3 channels of pure partay!!!
We had both thought of this independently of each other and it was the first things that we decided on, even before the dress, the venue…anything really!
Flowers
Sarah Bernhardt Peonies and Sweetpeas (Sweetpea is Chris' nickname for me) in the bouquets and buttonholes. I also bought a lot of traditional English Garden flowers, like Sweet William, Dianthus and dephiniums, which I bought from New Covent Garden Flower Market in Vauxhall, London.
When we got there, we did have a few floral casualties (hot day+car+delays on m25 = flower death!) So we also bought some gorgeous wildflowers from Sue Bradley Flowers in Mirfield, whom I would highly recommend!
We also got flower petal confetti from Shropshire Petals and mixed it with lavender from Yorkshire Lavender. It smelt amazing!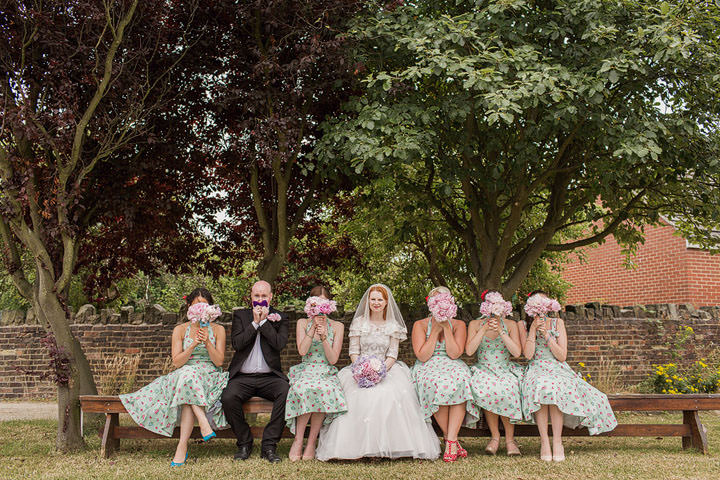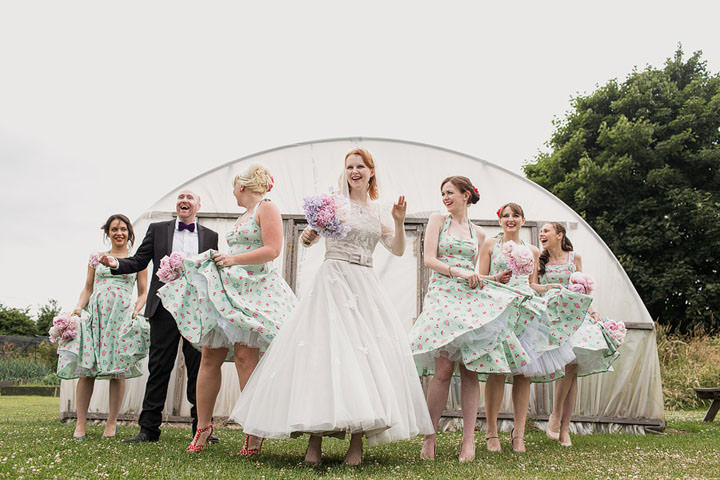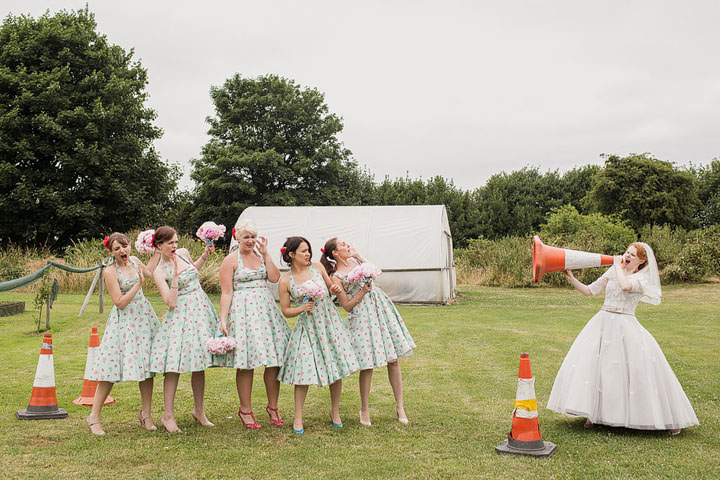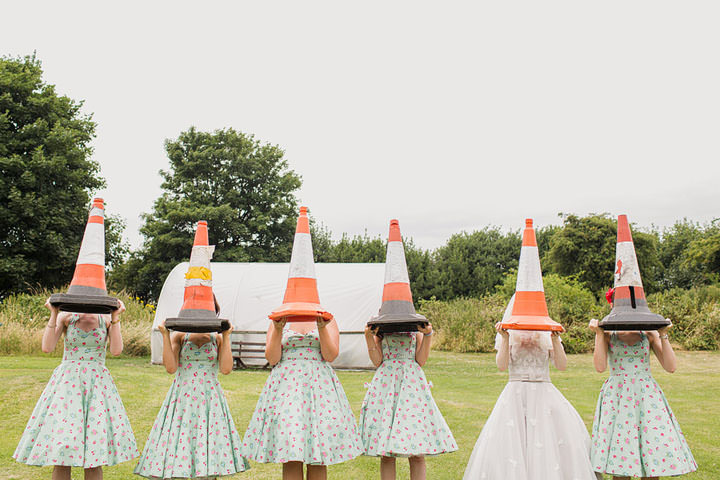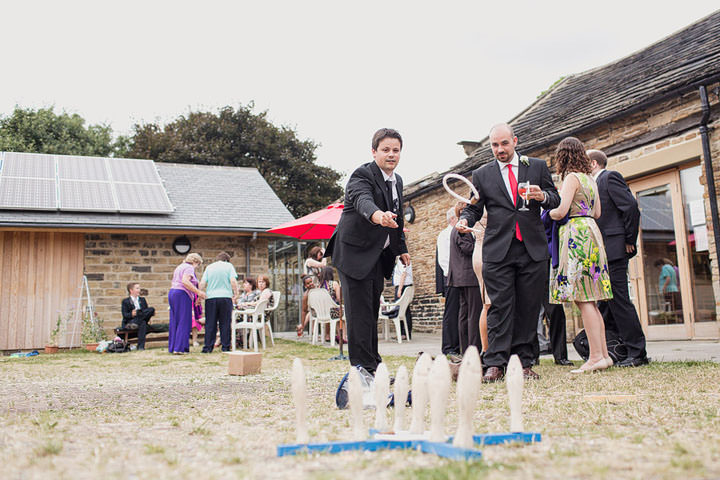 Personal / handmade touches
Pretty much everything to be honest!
In this digital age, we thought the best way to keep people up to speed and to get people to RSVP was to have a wedding blog in addition to the invites (obvs!). You can see it at: http://mrandmrstillyflop.wordpress.com/
The invitations – Extracts from our favourite romantic novels with typed inserts
The Orders of Service
The favours – pink striped sweetie bags with tiny pink bows glued on and Thank-you typed on
All the floral arrangements
Two sets of bunting made from ribbon, rope, curtains, bedsheets and any old bits of fabric (found at car boot sales, charity shops and on freecycle). There was quite a bit of it (45m in all – I was sure glad when that was over!)
Library card place settings printed out from an online template onto craft paper and then I hand typed an interesting fact about each person on each one on the typewriter.
A cryptic music quiz to get people talking and fill the dead space! (Again typed on the typewriter) Solve the riddle and name the band /artist. Prize – a 45p Tesco Voucher!
Colouring books & crayons for the children and books for the older children so they didn't get too bored with all these dull adults!
Paper pom-poms (I made way too many of these & ended up donating them to a care home!)
We used the 1930s typewriter that we made the favours, invites, quizzes and place settings with as our guestbook
We had a little sweetie stand where people could fill up their favour bags.
The seating plan – I bought a really quite freaky print of The Laughing Cavelier in a lovely whitewashed frame, took out the picture, covered the backing with sack cloth and stuck pieces of string on to hold on the table-plan cards using little pegs. The cards were again library book cards.
Our "Face Book Wall" – a large piece of mdf covered in sackcloth. We then had a polaroid camera and loads of batteries and film that was passed around from person to person and then the pictures were pinned to the board. (And then shaken during "Hey Yah!")
The playlists for the disco
"Emergency supplies" in the toilets – baby wipes, deodorant, sewing kits, clear nail polish, plasters – that sort of thing (nothing worse than getting caught short at a wedding!)
The frames for the tables were plain white 2 for £1 jobbies. I stuck on some craft paper with PVA glue and then printed out the table name on a contrasting piece of craft paper.
Chris's sister, Victoria made our cake which was not only BEAUTIFUL to look at; it tasted OUT OF THIS WORLD! (Hello Red Velvet!)  She does this as a hobby at the moment and did not charge us a bean; please guys, join us in begging her to go pro!
I have to admit, although it was stressful at times, we're both really glad that there was so much of us in the day!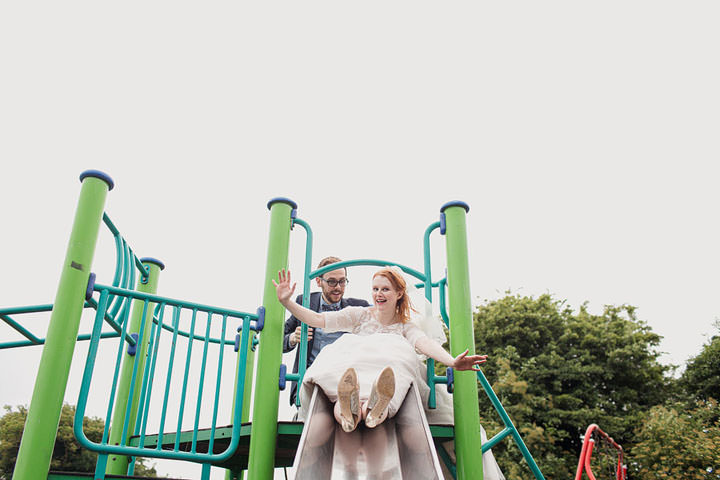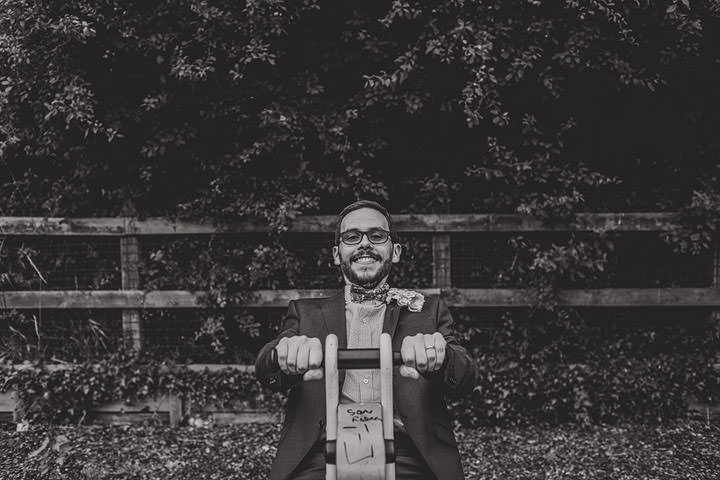 Special moments
Cathy:
Having breakfast with the girls
Waiting to walk down the aisle with my best friends
Seeing Chris face as he first spotted me (I think he had grit in his eye…)
My friend James' reading of A Lovely Love Story by Edward Monkton – not a dry eye in the house (There were a lot of tears in general!)
Chris' speech
Not dying during first dance
Silent Disco
Chris:
The first dance was awesome – we'd had lessons at JJ Dance Studios in our home town, Beckenham.
Seeing Cathy in her stunning dress for the first time – I think I had a piece of grit in my eye.
Silent Disco
The cake – it was so much better than I thought it would look.
Cathy's speech – there was more grit in my eye
Wandering off with Cathy and the photographers to have our picture taken in a playground round the corner.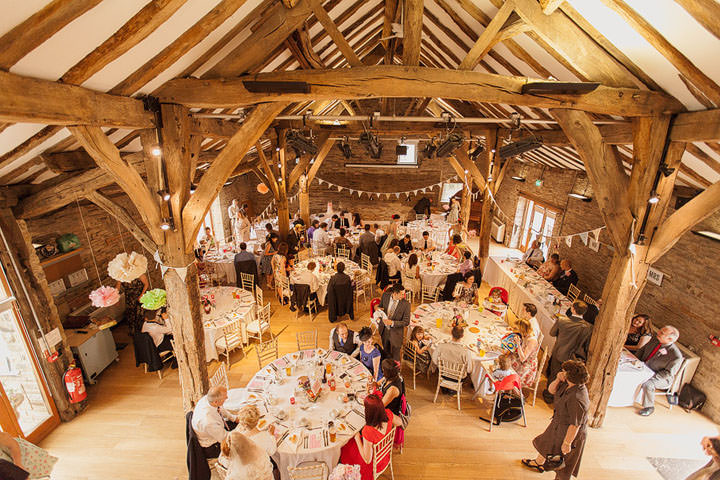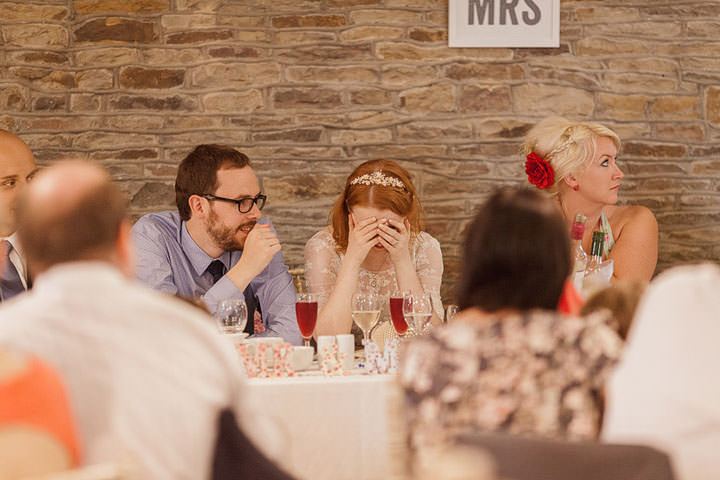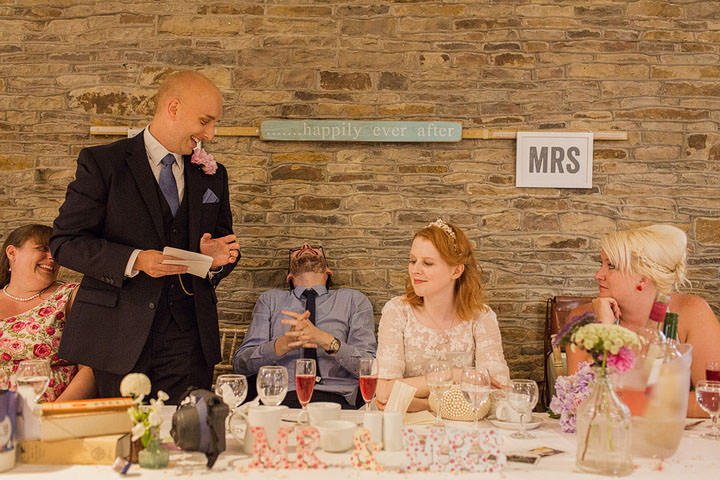 Advice for other couples
Cathy: Don't get caught up too much in the minutiae, you can get really obsessed with things that don't really matter at all.  And relinquish control on the big day (I know, I know, I was terrified about the million things that could go wrong!) and just enjoy the ride!
But I think the most important thing to remember is that it is a celebration of you and your partner's love for each other, so don't get bound up too much in what a wedding should be. Make it your own – everyone will love it!
PS Wedding Fairs can be a little bit terrifying; take a friend and hit the bubbly.
Chris: Make sure people owe you favours before you get engaged, then they have to help you. Don't be afraid to let other people help, family & friends will be more than willing to help and it will make a big difference. Planning will only take over your life if you let it.
Biggest surprise
Cathy: How quickly it went. It really did seem a few minutes long.  Also how emotional we both got, especially during the speeches. Chris is a man of few words usually and definitely isn't one for poetry, so I was knocked for six by his gorgeous speech.
Chris: I agree with Cathy, it seemed to be over in moments. I was also amazed by how the venue looked. Cathy had spent a lot of time on the day before decorating and it looked breathtaking. I popped in a few hours before the wedding to drop something off and the place was deserted. I had a few minutes to just admire it.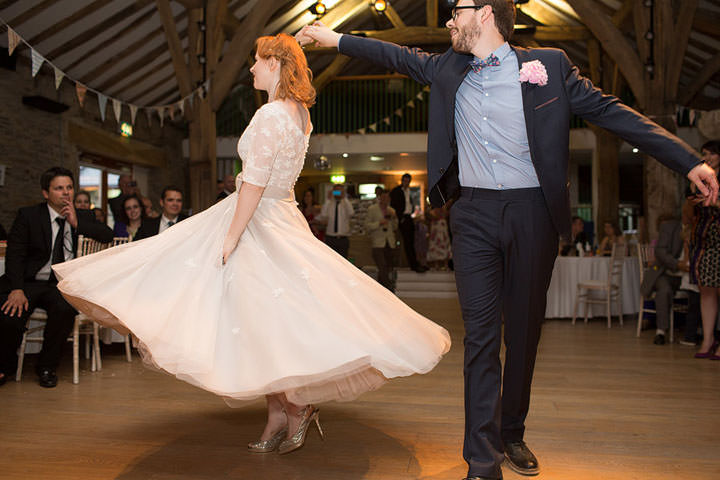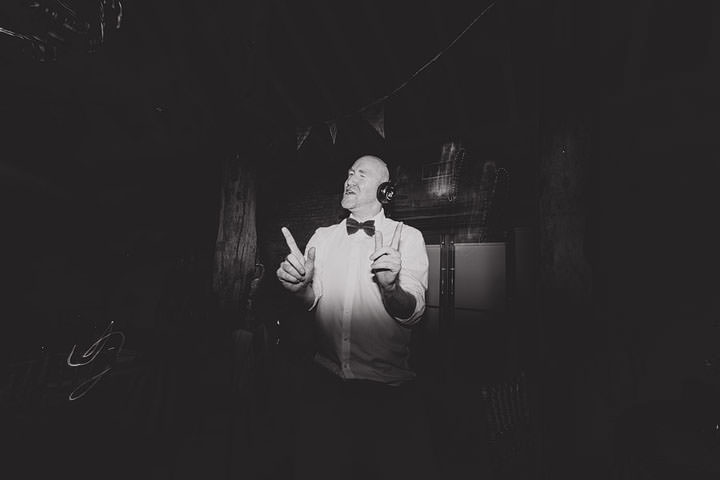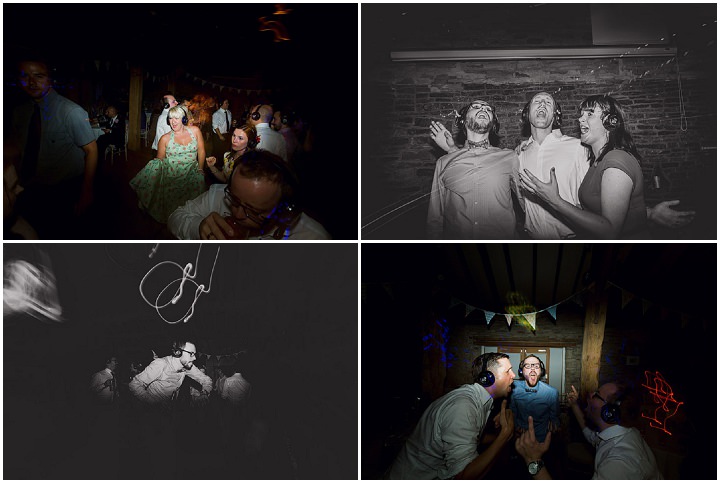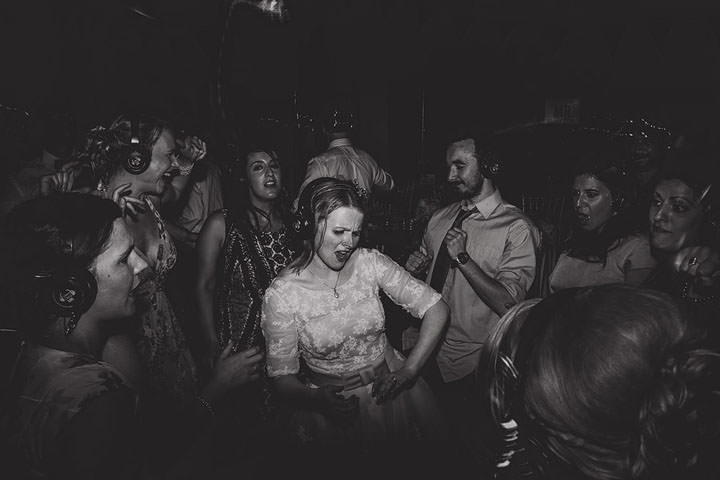 Supplier Shout Outs
Other suppliers:
Fore more information on Paul and Kelly's work go to
www.pauljosephphotography.co.uk
http://pauljosephphotography.co.uk/blog/
FACEBOOK
Paul on Twitter
Kelly on Twitter