Happy Monday everyone and how are you all today? Are you ready for the week ahead or are you wishing it was still the weekend? To ease you into this Monday a little easier I have this fun London gay wedding for you, which comes courtesy of Babb Photo. Andrew and Steve were waiting for the laws to change before they got married so they could have a wedding not a civil partnership and with it came a fun-filled day in the Prince Albert Pub in Camden. With a loose travel theme the couple put together a lot of the decorations themselves, including arranging all the flowers.
'A relaxed and laid back fun London wedding. We did it our way.'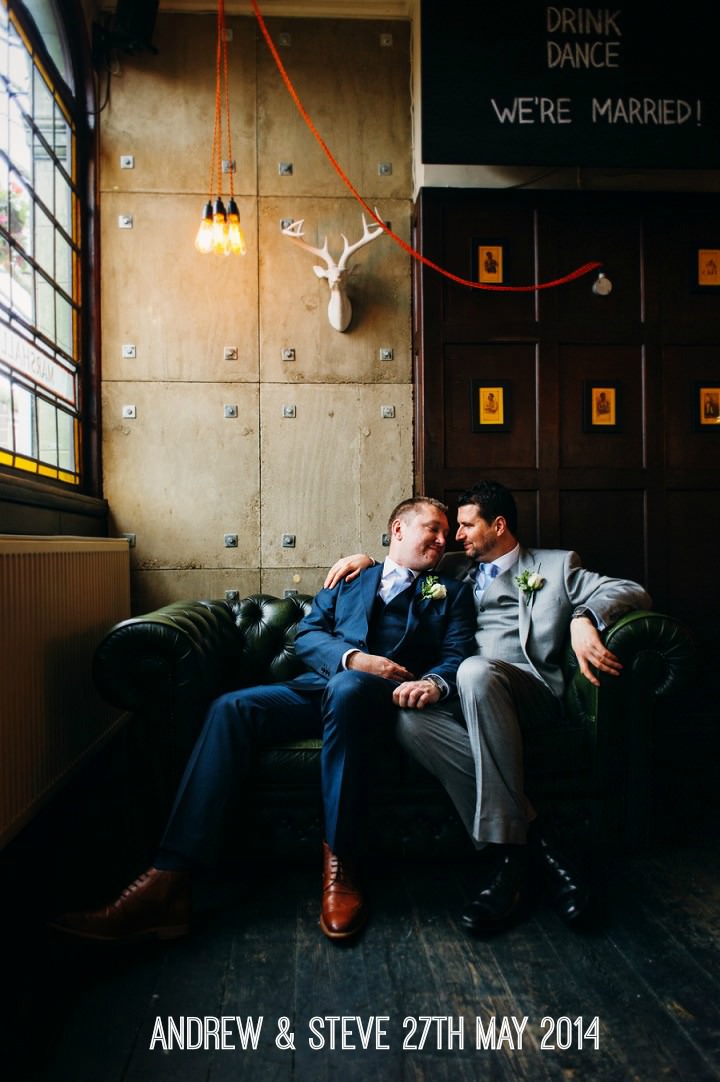 Andrew and Steve were married on the 27th May at Islington Town Hall and our reception was held at The Prince Albert pub in Camden. 'Islington Town Hall had a beautiful council chamber which was something a little bit more "wow" than other registry offices – it could also accommodate the number of guest we had. For the ceremony/wedding breakfast we had 50 guests and a further 40 came to the evening reception. We did no planning until we set the date and then had 7 months until that date! It was all done quite quickly though and most of it done within the first 4 months. '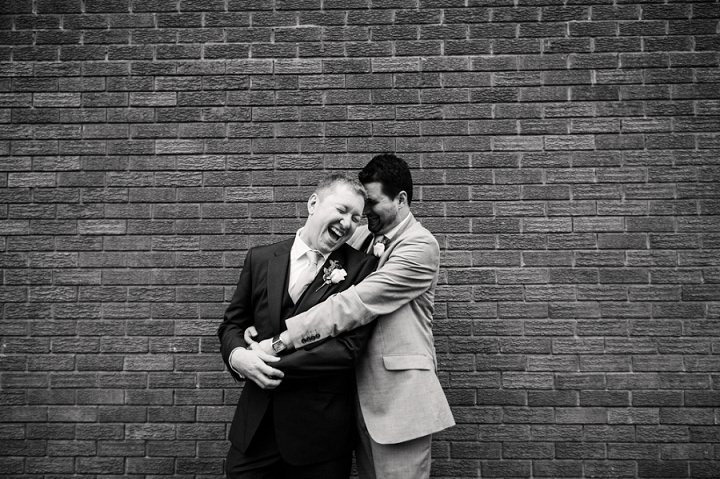 How they met
We met through our mutual friend Gary one night at a pub in March 2009 and have been together 5 and a half years.
The proposal
Steve proposed to Andy drunk a few years ago! It was then always something we knew would happen but we wanted to wait until the law on same-sex marriage was passed. Once this happened in July 2013 a more sober and sensible proposal happened one rainy Autumn Sunday last year. No grand or romantic gestures – but that's not really our style so was quite fitting!
How did you choose your photographer?
We did a lot of research into different photographers and actually saw Laura's website from another wedding at The Prince Albert which featured on their website. We liked her style and though her website and images were really strong and contemporary. We didn't really want stiff and formal (i.e. traditional) wedding photos and Laura seemed to fit well with that. Once we met her we liked her vibe and relaxed attitude – which again fitted with us and our plans.
How did you allocate your budget?
We had a limited budget and prioritised what was a need and what was a want. From our total budget just under half went on our venue (including food and drink). After that the biggest expense was the photography and then suits and other clothing we had.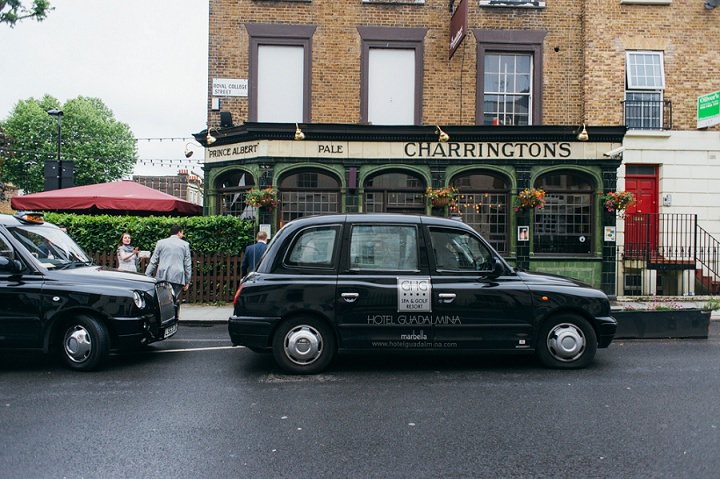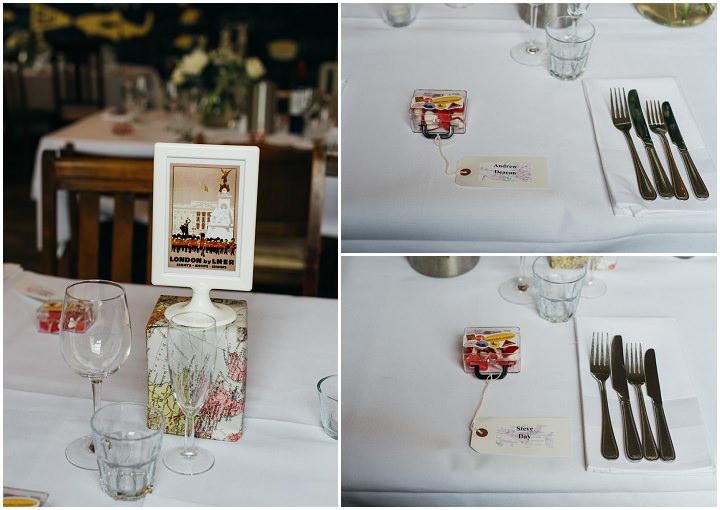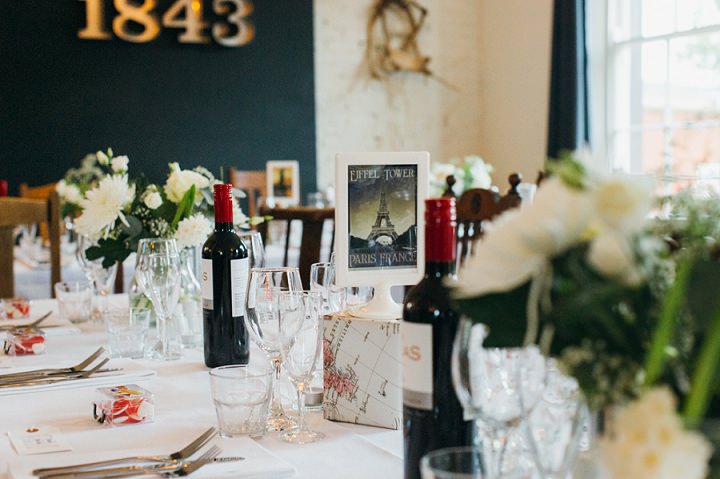 The suits
Our suits were from Debenhams. We both knew the style and colour we wanted but like we said our budget wasn't huge so had to be realistic and practical about our suits and their cost – we would have loved a tailor made designer suit but didn't have the budget!
Theme or colour scheme
In terms of decoration we had a loose vintage travel theme with tables named after European Cities we have been too and wedding favours in the shape of mini suitcases – but it didn't dominate the day. In terms of colour we didn't really have a scheme although our shirts and ties matched (our suits we different colours) and we had mostly white and green flowers on the tables and white roses as button holes.
The flowers
We bought the flowers ourselves from Columbia Road flower market and arranged them ourselves. They consisted of white roses, hyacinths, peonies and chrysanthemums with gypsophila and eucalyptus. These were used as table decoration during the wedding breakfast – we then gave them to some of our guests take home at the end of the evening.
The decoration
Flowers as table decorations as detailed above plus the wedding favours and vintage travel postcards of the cites (which were the table names) as also detailed. Both the Town Hall and the pub are such beautiful venues in themselves we didn't need to add much!
The food
The food options that The Prince Albert gave us was great and very varied! We chose to have a grilled vegetable and halloumi stack for starter, followed by Chicken with pancetta and mash for the main (vegetarian option was mushroom risotto) and lemon tart and raspberry mousse for pudding. We were really happy with the food and got lots of comments from our guests on how tasty and filling it was.
The wedding cake
We had a 3 tiered wedding cake made of cheese! We served this at the evening reception with French bread, crackers and chutneys.
The entertainment
We created the most amazing playlist on our itunes for the wedding ceremony, wedding drinks reception/breakfast and the main one was for the wedding disco! A lot of effort went into this and we were therefore delighted when the dance floor was full all night!
Buy or DIY your stationery?
We ordered it via Vistaprint. We had neither time or enough creative skills to do it ourselves but were really pleased with our choice which had a slight 1920s look to them.
Handmade or personal touches
As above we bought and arranged flowers ourselves and made the table plan and place cards too.
Special moments or highlights
Having all our friends and family in one place was really special. We had family from Australia and friends from all over the UK as well as Ireland and Canada. One of the highlights was when we arrived at the pub to see everything set out and in place waiting for us! We also liked looking around the room whilst made our speeches and seeing the emotions of our guest – we really could feel the love in that room!
Biggest surprise
How quickly It went – people tell you it does and it really does! Also just how much love and good wishes we got from everyone. We were totally overwhelmed. We are very fortunate to have such amazing friends and family.
Advice for other couples
Do want you want not what you feel you ought to do. We were fortunate in that same-sex marriages don't have any traditions to follow so to speak so we could create our own! For example we had one shared best man, we had no top table (we sat with our friends who had been involved in the ceremony – eg those that had given readings or acted as witnesses – whilst our families were on other tables). We had no first dance as a couple but instead asked everyone to dance with us to the first song on the playlist. Set a realistic budget and stick to it. Prioritise what is important and what isn't. Get a good photographer! The day goes by so fast and your photos will last forever. Things will go wrong or not exactly to plan – a few things with us did but we realised it didn't matter, we were married and happy and no-one else noticed so it didn't matter!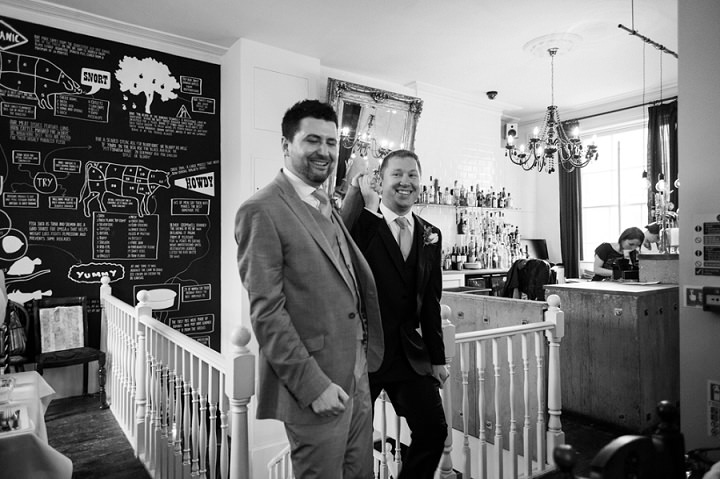 Supplier Shout Outs:
Obviously Laura Babb our photographer!  www.babbphoto.com
We also want to say a huge thanks with our reception venue The Prince Albert in Camden (princealbertcamden.com) – who were amazing from day one.  They couldn't have done more and had every aspect covered and provided excellent food and service.
For more information on Laura's work go to:
www.babbphoto.com / www.babbphoto.com/blog / FACEBOOK / T:@BabbPhoto