Todays wedding is a fine example that you don't need years and years of planning and 100s of guests to have the perfect wedding. Jessica and Ebony planned their day in a matter of 3 weeks and still managed to have a gorgeous day that reflected them as a couple. They wanted a relaxed, intimate wedding with their closest friends and family and by hiring out the The Games Room at the Zetter Townhouse in London they did just that. Big thanks to Alice from Babb Photo for the images.
'We wanted something relaxed, intimate and quirky. A pleasant environment for our friends and family to meet and mingle'
Ebony and Jessica were married on 4th April 2015 at Mayfair Library and the reception in The Games Room at the Zetter Townhouse. 'We wanted a simple town hall wedding. The Mayfair Library had a clean, classy feel and they were responsive and easy to work with. We had 35 guests at the wedding and 55 at the reception. It took about three weeks to plan the wedding! We went to Bali the month before and "forgot" to do any planning. We had the venue and a dress/suit… what more could you need, right…'
How they met
We lived in the same building in Broadway Market and met at Jessica's housewarming party. Things moved slowly but surely since then. That was September 2010, so almost 5 years ago.
The Proposal
We got engaged in Martinborough, in the New Zealand wine country (Ebony is a New Zealander). It wasn't a formal proposal as much as a romantic conversation over dinner. After we got back, we designed Jessica's bespoke engagement ring together.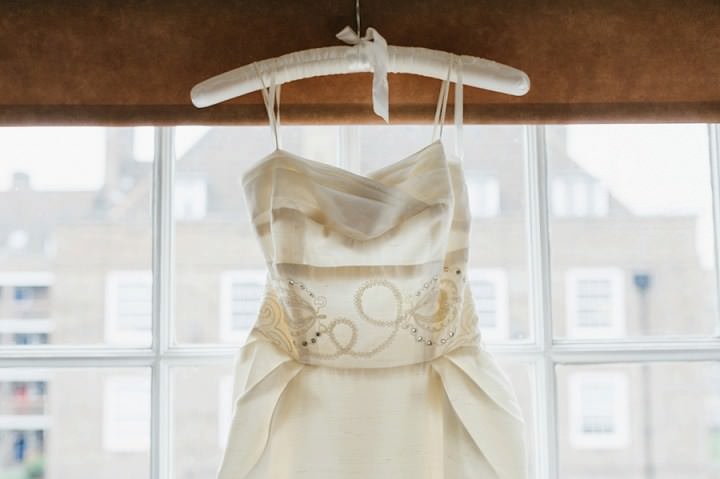 How did you allocate your budget
Things just sort of happened. We thought we were going to spend £2k, but we went a tad over budget.
How did you choose your photographer
We found Alice at Babb Photo on our wedding planner's blog. We liked her relaxed, documentary style and clean presentation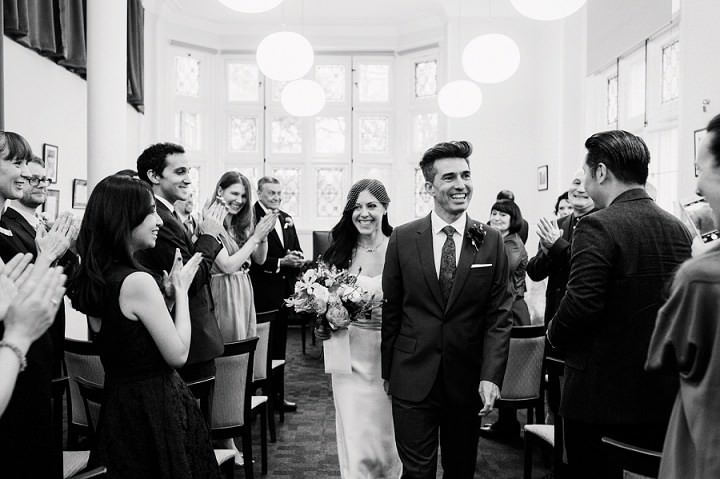 The Dress
The dress is a 1950s vintage cocktail dress from Los Angeles. The shoes are Gucci.
The Suit and Bridesmaids
Suit is by Paul Smith in Petrol Blue. Shoes by Loake of England. We didn't officially have bridesmaids, but Jessica and 10 of her closest female friends + family got ready together in the house beforehand with the help of some makeup artists and a takeout lunch from Otto Lenghi
Theme or Colour Scheme
Kind of a springtime theme – basic palette with pops of bright colour.
Flowers
Fun, seasonal mix by Rebel Rebel. Lots of bright Icelandic poppies and peonies
Decoration
The Zetter did most of the decorating, but we supplemented with Rebel Rebel's flowers in eclectic glass vases and lots of fun kawaii animal stickers and confetti from a Japanese stationery store
Food
We had small plates and canapés going round for about 4 hours – nice selection by Zetter in-house restaurant Bistro Bruno Loubet
Wedding Cake
The wedding cake was a traditional French croquembouche. It had chocolate, vanilla and Praline filling and huge sparkler candles.
Entertainment
Low key, vintage music at the Zetter, then Ebony made a wedding mix that we played in our suite.
Buy or DIY your Stationery
Everything was over email. It made things so much simpler.
Personal or Handmade Touches
We bought a beautiful, Italian handmade notebook and provided candy coloured Fujifilm Instax cameras to the guests so that they could take their own polaroid photos. Afterwards, we gave them Japanese washi tape and stickers to paste the photos in with. We ended up with a beautiful, hilarious, heartwarming photo album full of lovely messages, drawings and jokes from all of the guests. It is our favourite memento from the day.
Special Moments
Jessica's favourite moment was lounging in her bathrobe in the hotel suite after the reception, drinking champagne with her best friends and new husband. As one of the readings during the ceremony, Ebony's best man read out a letter from Ebony's dad, who couldn't make it from New Zealand. It was beautifully written and really struck a chord with all of us.
Advice to other couples
Because our wedding planning had to happen so quickly, we picked a few key details that were most important to us and just let the rest go. In retrospect, we think we got the balance exactly right. Don't drive yourself crazy with all the options and minutiae that are available for creating your "perfect day." Just pick a few core priorities and keep the focus on friends and family.
Biggest surprise
Not so much a surprise but a relief that everything went so incredibly smoothly throughout the whole day. No hiccups and everyone had a wonderful time
Supplier Shout Outs
For more information on Babb Photo please go to:
www.babbphoto.com
www.babbphoto.com/blog
FACEBOOK
@BabbPhoto
I: babbphoto
Due to an email issue if you have emailed me between the 2nd & 9th of December, please resend it.
X