Today I bring you an urban London wedding courtesy of Babb Photos. As much as I love a wedding in a field with a tipi and a load of hay bales, I also love a good old London wedding, urban weddings set in warehouses, pubs or restaurants and today's wedding is one of those. Laura and Charlie chose the Prince Albert and were over the moon with the service they got. They also decided it was very important to make sure that all aspects of the wedding were handmade, recycled and re-used, so went about collecting and creating all manner of decorations. The whole day is full of character, fun and lots of London charm.
'Fun! A day filled with smiles, surprises, laughter, full of wonderful people that we love. Through our creativity and commitment to sustainability, the whole day (and night) was very much us.'
Laura and Charlie were married on the 11th of October with a ceremony at Camden Town Hall followed by the reception at The Prince Albert, Camden, London. 'Charlie was originally from out of London, and Camden was always one of the places he loved coming to. Laura looked at a whole load of ceremony venues in Camden, someone we knew mentioned the town hall and their huge marble staircase. We saw it online and fell in love with it straight away. We weren't sure about "U" shaped tiered seating in the council chamber, but everyone felt really close and it was great! We were blown away with how helpful the Prince Albert staff were, they wanted to do as much as they could to take the load off on the day, and their pro-activeness and attention to detail was superb – all the while remaining very relaxed. They also source their food locally and seasonally, which was really important to us. We had 80 guests to the ceremony and, around 120 for the evening. We got engaged in January and started planning pretty soon after, so it was about 9 months of planning.'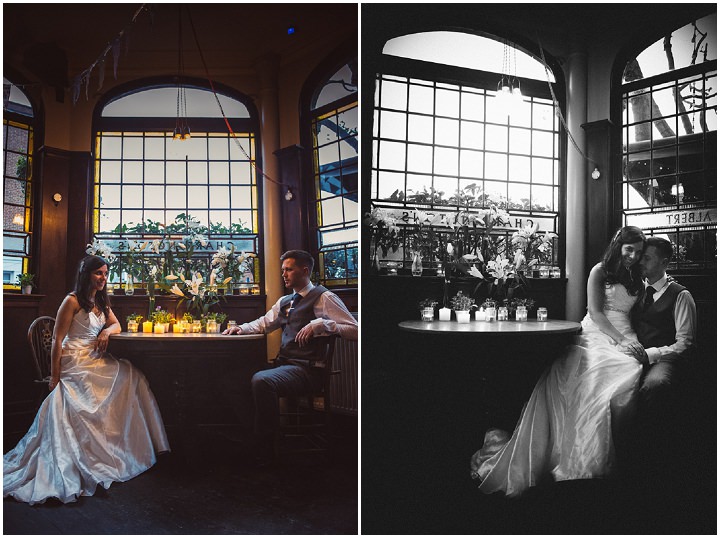 How they met
We met at work, Laura had to sit at Charlie's desk for technical training during her first month in the office! We were both in relationships at the time but stayed friends. A year later we were both single and in the perfect place to start a life together.
The proposal
It happened on the day we moved in to our first home that we'd bought together. I carried Laura over the threshold and proposed shortly after – in our bedroom to be!

How did you allocate your budget?
We got great advice to choose two things that are most important to you and hang on to them, the rest is just details. For us, it was about the music and the photography; "The In-Laws" were an incredible band and effortlessly filled the dancefloor from start to finish. Laura Babb took the photos for us. She represented the day wonderfully. We're very lucky to have such special moments captured forever so beautifully. We saved money by making things ourselves – not just because for saving money but it was more personal and we were able to make things more sustainably.
Why did you choose your photographer?
We were in Berlin for a surprise weekend for Laura's birthday – Laura had some wedding 'sites' noted and we checked out their photographer recommendations. We were instantly impressed by Laura Babb's work – We love her style, both quirky and at the same time capturing a "story" in each shot.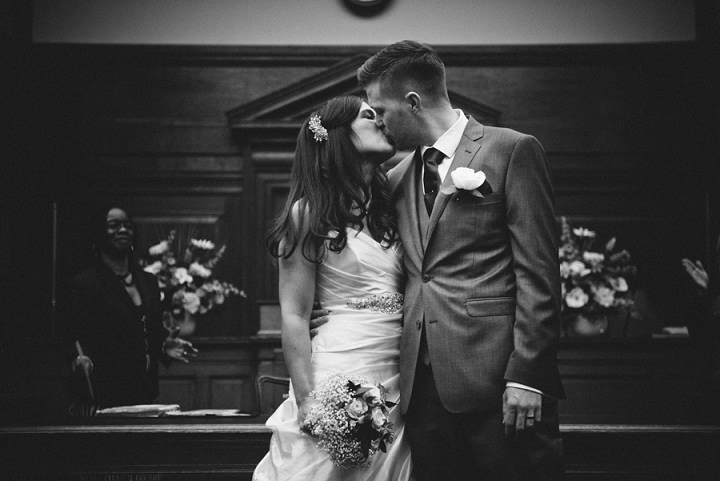 The dress
Second hand (there are so many beautiful dresses that already exist in the world – We need to show them off!). One of my bridesmaids lent me her necklace.
The suit and bridesmaids
The suits were bought from Moss Bros, their website was by far the easiest to use for buying suits in different sizes. The bridesmaids are internationally based so we went with J Crew to keep our sanity.
Theme or colour scheme
Two birds. A little bit of London. The two colours were navy blue and teal.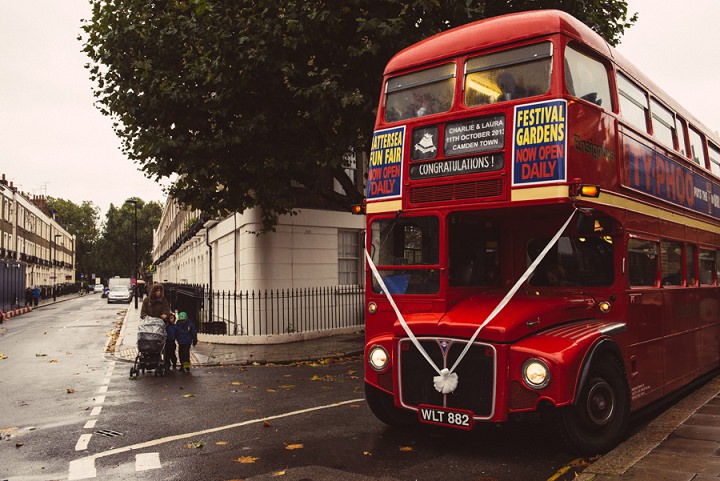 Flowers
We had plants instead of flowers at the venue – They came from a charity called "Cultivate London". They are a charity who transform derelict sites in the west of the capital into market gardens growing sustainable plants and vegetables for sale at farmers market/independent shops. They also run apprenticeship programmes for unemployed youths, leading to horticultural skills/qualifications for careers in gardening. Using them meant flowers weren't 'wasted', and they all perennials that could be re-planted. The bouquets were made by Laura and Charlie's mum. They got the flowers and worked out how to do it together – the results were great.
Decoration
We wanted everything to be handmade, recycled or re-used. All of the signs were made from our old shed that we tore down, with printwork on recycled card. We found two balls of wool that closely matched our colour scheme and used it wherever possible. The table plan was quite a feat – Charlie and Joe came up with the idea one weekend and it looked completely whacky on paper, but once it was made it looked great! A friend lent us the bunting and lights, adding a great atmosphere to the pub when they were up. The favours were recycled paper sweet bags containing "Divine" fair trade chocolate, that we stamped with a "Thank you" and tied on each person's name and menu choice with the wool.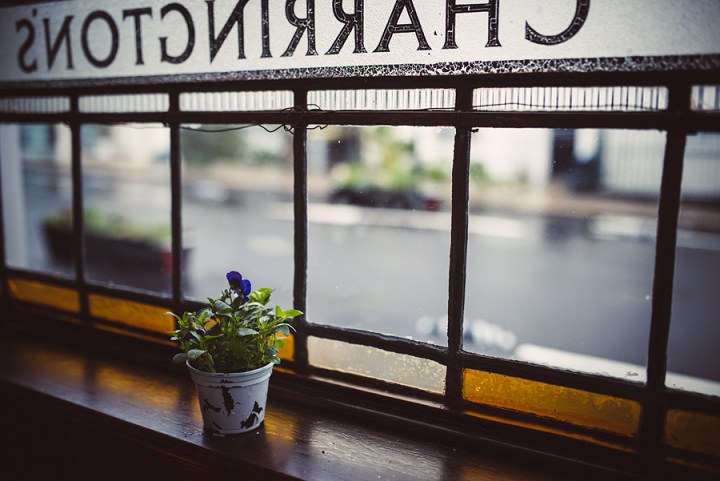 Food
Starters: Tomato and mozzarella tart, Shredded duck or Salmon tartare.
Main: Spinach and ricotta tagliatelle, Braised short ribs of beef or Fillet of hake.
The wedding cake
The wedding cake was made by Laura's cousin, Asher. He's one of the head chefs for Gail's Bakeries and he created an insanely beautiful gluten free carrot cake (so Laura could enjoy it too!)
Entertainment
In the evening we had a band called "The In Laws", they were really great to work with and we were introduced to them through a friend. They put a great set list together for us and were absolutely brilliant. They had a DJ who they worked with that provided the music after the band had finished – he was also incredible and was mixing up a great selection of music that kept people dancing for hours. There was a huge amount of talent between them!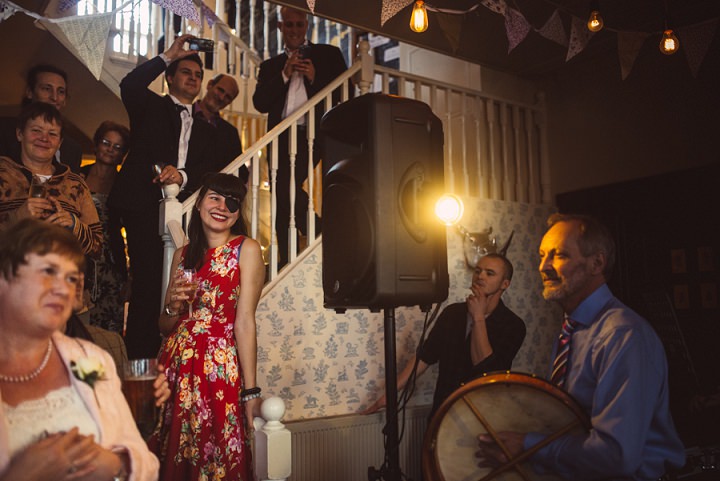 Buy or DIY your Stationery?
All of the stationary was completely DIY. We used electronic invites to minimise environmental impact. We're very fortunate that our best man works as a graphic designer and was able to put together some incredible artwork based on our specifications.
Handmade or personal touches
Charlie is an IT geek at heart, so it was fun to collect a lot of the videos and pictures on to a website, which we could then send with our "Thank You" emails.

Special moments or highlights
Seeing everyone we love in one room together, smiling, singing, dancing, having a great time. The speeches. Karaoke after the wedding (bride, groom and 12 others jumped in taxis to Soho and sang/danced until 5am!)
Biggest surprise
When Charlie surprised Laura with a song – singing and playing the guitar alongside a band made up of his Dad and two groomsmen.
Advice for other couples
Smile. Have fun. It's your day, so do what matters to you. Don't get swept up in other people's opinions or requests. If you are happy on the day, everyone else will be too.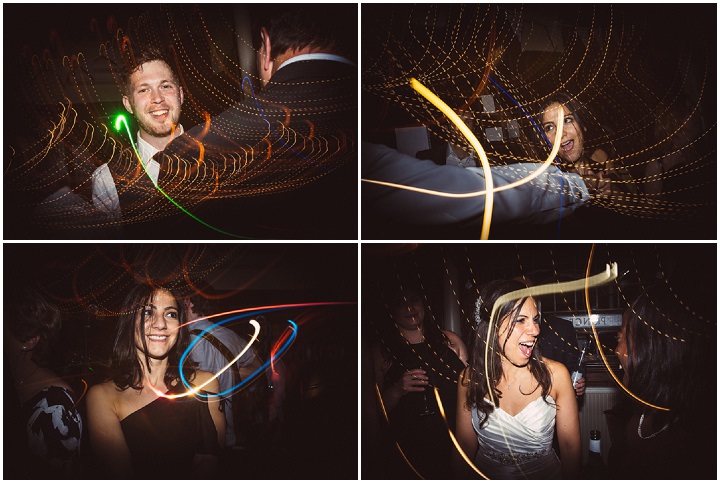 Supplier Shout Outs:
For more information on Laura's work go to:
www.babbphoto.com
www.babbphoto.com/blog
@BabbPhoto
FACEBOOK