Today we are heading to London, courtesy of Babb Photo for this wonderful wedding that took place in a greenhouse. Mel and Russ where looking for something a bit different for their wedding, so when they found Clifton nurseries with it's own greenhouse that you could get married in, they knew it was for them. Followed by a pub reception, this wedding is full of personality and perfect for this fab fun loving couple.
An intimate wedding, full of colour and life
Mel and Russ were married earlier this year in a greenhouse ceremony followed by a pub reception. 'We wanted the location to be intimate, full of colour and life. We instantly got a good feeling from Clifton Nurseries, it was so different and memorable compared to the other locations we looked at.  Our reception was held at The Princess Victoria pub. We were engaged for 9 months before we we married.'
Some words from Laura Babb, the photographer
Mel and Russ's Clifton Nurseries wedding was a first for me.  I've never photographed a couple who were married in a greenhouse before and I loved it.  Mel and Russ wanted their wedding venue to be intimate and full of life, and they knew Clifton Nurseries was the one as soon as they walked into the room where their ceremony would be held.
Friends and family members sat on benches, surrounded by plants and garden decor and then they drank prossecco in the sunshine while visitors to the nursery went about their business. One of my favourite moments from the day was being photobombed by a man buying compost.
After their Clifton Nurseries wedding ceremony they jumped on a Routemaster bus and headed to The Princess Victoria pub for gin, their wedding breakfast and their party.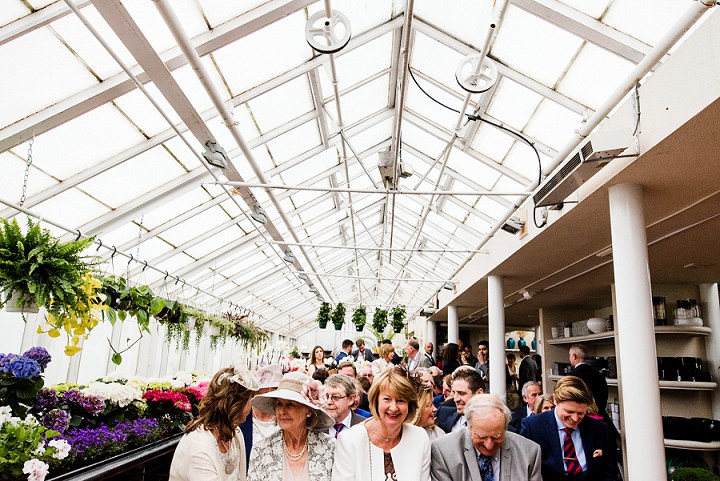 How they met
We met at a friend's house party, through mutual friends. We got engaged on a Greek Island last year in August, after knowing each other 4 years.
The Ceremony
There was a lovely moment when our dog Peggy let out a tiny bark in a quiet moment during the Vows. Do you take this man to be your Lawful wedded husband??….Woof!
We had the Owl and the Pussy Cat as one of readings and our registrar had plenty of personality, we were so lucky that she was great!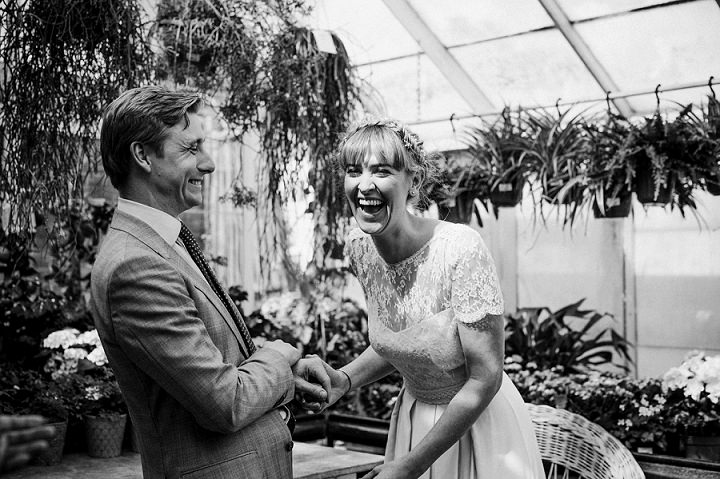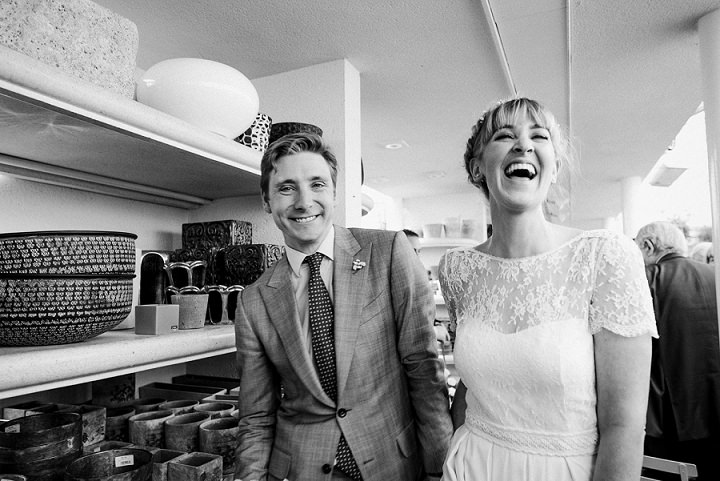 The Outfits
Mel's dress was by Laure De Sagazan and she was taken with the design because it wasn't too fussy. Russ says 'I work for Dunhill and my bespoke suit was created by them and inspired by heritage tailoring.'
The Flowers / Decor / Theme
Our wedding took place over the May bank holiday and lots of people chose floral outfits because of the venue.  The bridesmaids were in mismatched florals too.   Melanie's mum did the flower arrangements for the wedding breakfast. We kept it natural and simple, inspired by wild flowers.  The bouquets were by Wheelers Flowers.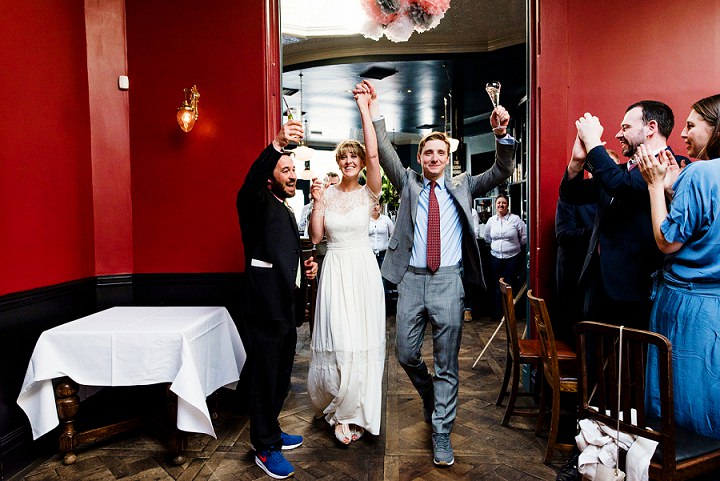 The Photography
Laura photographed two of our friends weddings and we saw from her website that she has a style and edge we liked.
We loved the way that she worked with us on the day, as neither of us are very confident in front of the camera.

Supplier Shout Outs
FOR MORE INFORMATION ON LAURA'S WORK PLEASE GO TO:
www.babbphoto.com / www.babbphoto.com/blog / FACEBOOK / I: @bisforbabb / T: @BabbPhoto