I love the relaxed, comfortable feeling I get from reading through today's wedding between Lyndsey and Ffion. No pomp and ceremony, no faff, no wedding stuff for wedding's sake. Just two women, obviously in love, surrounded by family and friends. The only rules, to wear Converse or trainers and have fun! Thanks to Jamie from Vickerstaff Photography for sharing this with us.
'It was exactly what we wanted. It was chilled, comfortable and fun.'
Lyndsey and Ffion were married on the 21st June at the Llyn Gwynant Campsite, "We wanted a very chilled wedding in a barn which we could arrange. We didn't want a package wedding. We wanted a rustic wedding which would reflect our personalities and make us feel comfortable! It was our day after all. We were engaged in Dec 2012. Lyndsey was superstitious so we were never going to get married in 2013.and being a 'camping wedding weekend', it needed to be in the summer. The long wait did mean that we got the perfect venue!"
How they met
Ffion and I started playing at the same hockey club in Woking. We had been together 5 years before we got married.
The proposal
It was understated which made it perfect! Being from South Africa, decorating the Christmas tree in actual winter is one of the most exciting times of year! We chose the first Wednesday we don't have hockey practice to make mulled wine, mine pies and decorate our tree. I was putting up the decorations when I picked up a decoration I didn't recognise. I opened it up and there was a ring inside. Nothing was said, Ffion just looked at me quizzically, and I finally understood what was going on.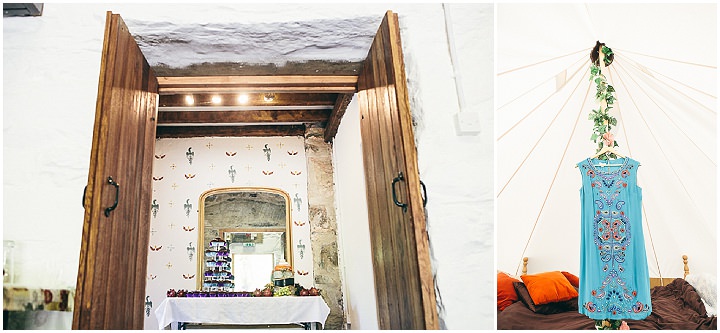 How did you allocate your budget?
The main amount of budget was spent on the venue. I originally was going to get a friend to photograph the wedding until a friend said that a good photographer was well worth their money. Ffion and I started having a look around and put a short list together.
Why did you choose your photographer?
Jamie wasn't on the short list…and then he blew the competition out of the water. We liked a few photographers' photos. But what sold Jamie to us…was his 'about me' section. He seemed chilled and fun! We don't like lots of 'posed' 'kissy' photos….and he was the only photographer which created amazing and unique photos which didn't make either of us cringe! His photos were beautiful, understated, and unique. Perfect in fact.
The dresses and accessories
We aren't one to bother about dresses, accessories nor shoes, so we didn't! The only requirement was that we wore Converse shoes. We designed these ourselves as well.
The theme
There was a smart casual theme where guests had to wear converse shoes/ trainers.
The food and wedding cake
We had an amazing hog roast! We had a Welsh cheese cake built purely of Welsh cheese from 'Porter's Delicatessen' Llangollen. As well as some lovely cupcakes from Moel Faban suppers. Both delicious!
The entertainment
We hired Vic's boogie-nights as DJ. He was great as he took a playlist we designed and mixed it with his own choice of music, the dance floor was packed the whole night…winner!
The flowers
We had proteas. The South African national flower (or used to be at any rate).
Buy or DIY your stationery?
A friend of mine designed our invites and printed for us.
The decoration
We had simple bunting and fairy lights, hessian and African beaded animals- perfect.
Personal or handmade touches
It was a DIY wedding- so everything was our own. Blackboards, fairly lights, tin cans used for table decorations. African beaded animals. Wooden picnic cutlery. Hessian runners.. etc. Wrexham lager barrel (self-service beer).
Special moments
The whole weekend. It was amazing spending the whole weekend with our special friends and family. The campsite was located perfectly with the most spectacular view. The time we spent with Jamie taking photos was special as well…. As we knew the photos were going to be spectacular!
Advice to other couples
Do whatever you want, invite who you want, do not get stressed about late cancellations or people not doing what you expect. Just enjoy the moment, it's all about you after all.
Biggest surprise
The fact that the sun was shining was pretty impressive!!! I had all my favourite people there, and my very special and amazing Mum, who was quite poorly, made it to the wedding. Nothing could surpass the importance of that.














Supplier Shout Outs:
For more information on Jamie's work please to go:
www.vickerstaffphotography.co.uk
FACEBOOK
@V_Photography_

[jprel]