WARNING – the images you are about to see will knock your socks off! This incredible shoot was sent to us by creative photography duo Zoe Campbell and Mack Photography (Lindsey Mackenzie Parker). It takes place on the Scottish Isle of Tiree in April this year and as you will see is full of wedding inspiration and just beautiful, clever, emotive images. Over to the ladies for more on this lovely shoot…
"An emotive shoot emphasising movement and mood, showcasing the dramatic beauty of the Scottish Isle of Tiree. Blending the unique character of the landscape with wedding inspired couture."
"We wanted to make the most of the beautiful beaches that Tiree had and show off Scotland as a beautiful and alternative destination.
Our main inspiration was the stunning landscape of Tiree, we wanted to create a shoot that portrayed the emotive beauty of the surroundings, the movement from the wind, the sea and the unpredictable nature of the Scottish weather. We knew early on that we wanted to keep the shoot as simple as possible, strip it all back so it could be honest and true to the surroundings as we could, simply just a gorgeous girl in a beautiful dress by the ocean.
We wanted the dresses to be bold couture and alternative pieces that emphasised the movement in the wind and shapes of the forms in the landscape and sea. Jo was fantastic and really helped to fit in with out plans for the shoot, choosing dresses with plenty of movement and a distinct celtic feel. Gemma created floral accessories, like jewellery inspired by the sea. Due to the time the flowers would be in transit this was no easy task, we chose succulents as the colours and textures fit with the surroundings and had the best chance of surviving the long trip to the Scottish Island. The flowers were perfect and looked incredible, we were a little in love with the succulent ring in particular, just beautiful!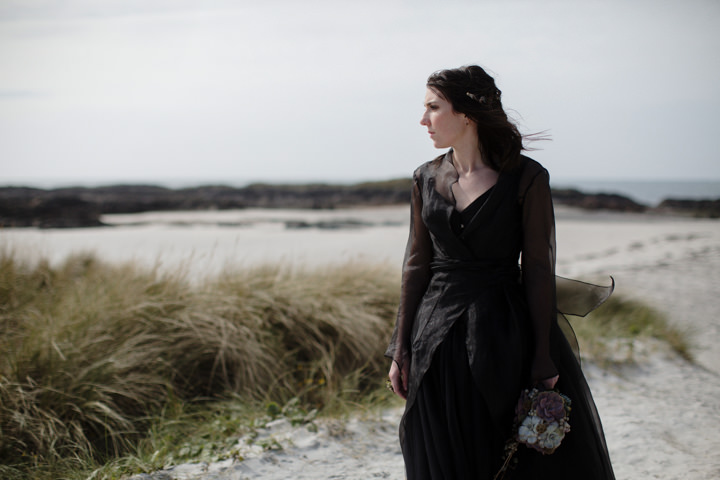 We knew we wanted a strong narrative for the shoot to pull everything together and after some research we came across the beautiful lyrics from the Song 'Song to the Siren' suggested by Jo from Couture, the lyrics seemed to fit perfectly. Kate created a beautiful version for us to use, her voice really suited the lyrics and the version has a distinct moody Scottish feel to it, it all came together so well and we can't thank her enough for creating such a beautiful piece for us, it couldn't fail to inspire.
We wanted to push boundaries of where we were shooting and be much more experimental than we could normally be at a wedding. We took risks by shooting in the sea for the first time, which was a new challenge for us both. This was exciting to try in the shallow waters. The other suppliers really embraced our vision for the shoot and we were delighted with the looks we created together."
'Song to the siren'
Kate Reid – vocals
Joseph Peach – piano
David McNee – guitar + production
Song to the Siren from Zoë Campbell on Vimeo.
Supplier Shout Outs:
For more information on Zoe and Lindsey's work please go to:
Zoe Campbell
FACEBOOK 
@zcampbellphoto
[email protected]
Phone – 07884037845

 
Mack Photography (Lindsey Mackenzie Parker)
FACEBOOK
@Mack_Photo 
[email protected]
Phone – 07968700652

[jprel]