Happy Friday everyone and how are you all today? Looking forward to the weekend? I am feeling a little jaded today as I was out at a Ben Howard gig last night. It was amazing and well worth it but I know today is going to be a tired, long old day! To finish off the week I have this gorgeous rustic wedding sent into me by Boho bride Hannah. Hannh and Paul decided to ignore lots of the normal wedding traditions and do things their own way. They hired out the most gorgeous rustic venue and created lots of DIY projects. Thanks to Green Glass Photography for the images.
'Our wedding day was relaxed, informal and fun with an emphasis on good food, good music and plenty of booze!We had a day unique to us that broke away from tradition'
Hannah and Paul were married on 23rd August 2014 at The Fleece Inn, Bretforton, Nr Evesham, Worcestershire. 'We really wanted a relaxed, informal venue that would give us the scope to add some personal touches to our day with regards to DIY projects/food etc. The Fleece was the second venue we visited and it ticked all those boxes, we fell in love with it instantly. We had 44 guests for the day and an extra 22 for the evening. We had originally planned to set the date for August 2015 but we both decided that was too long to wait! So we decided to bite the bullet and book for August 2014, we got engaged in March 2013 so we had 1yr and 5 months to plan.
How they met
We went down the traditional route of meeting down the pub! We were both out with a separate group of friends and Paul asked for my number, the rest is history!
The Proposal
Paul proposed to me on my birthday in Southampton, we were flying away the following day for a city break and he got down on one knee in our b&b the night before. It was a complete surprise!
How did you allocate your budget
The majority of our budget went on our venue, photographer, food and the band.
We are big on eating and drinking and both love our music so those three things were key for us. We saved some cash on decorations, as the venue was so beautiful it didn't need much doing to it. I also had quite a few DIY projects on the go so was able to save money making things myself.
How did you choose your photographer
We had met David through some mutual friends that had also used him at their own wedding so we had witnessed his brilliant work first hand. We knew we wanted to use him from the start. David and Tom did such a fantastic job capturing our day exactly the way we wanted. I must add we had some fabulous guest photos that we asked people to upload to Wedpics, I highly recommend this website! It's basically an app where you invite your guests to join your wedding and then they are able to upload their pictures and you can order prints, utterly fantastic.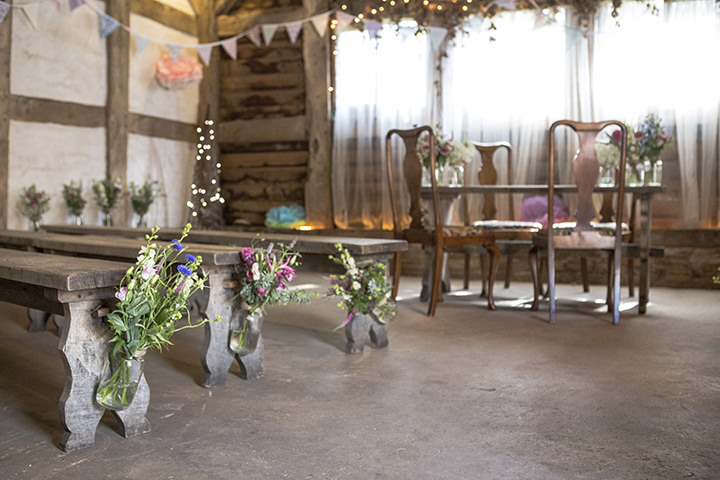 The Dress
My dress was by Benjamin Roberts; the bridal shop was Merry Hill Brides. It was the last shop I looked in and I had fallen in love with it before Louise had even zipped it up! Apart from its beauty it was so light and comfortable to wear. I knew from the start I wasn't a huge dress kind of girl and wanted something with a relaxed vintage feel.
I had two pairs of shoes from Rachel Simpson, I absolutely adored both pairs so decided to have a pair for day and evening. I had Mimosa in pale mint and Ginger in Gold. I can't recommend them enough, they were unbelievably comfortable and completely gorgeous! I was dancing all night. My earrings and bracelet were both from Etsy, my handbag was from Be. loved Bridal and my shrug was a last minute bargain in the Coast sale, I was so glad I bought it as it was a cold day for August
The Suit and Bridesmaids
Paul had decided early on that he wanted to have his suit made; he had it from A suit that fits in Birmingham. His shoes were from Debenhams and he had a Hugo Boss shirt. The bridesmaids dresses were that hardest thing to find! I had a budget of no more than £100 per dress and was determined not to go over. After a lot of searching I found the dresses in Coast and they were in the sale! I had originally wanted Kate and Claire to wear different dresses but they both fell in love with it when it arrived so we decided to order two. Their shoes were from Debenhams.
Theme or Colour Scheme
We decided quite early on not to have a colour scheme as I didn't want to be restricted to one colour and knowing how indecisive I am I thought it best to keep it open to any last minute changes! I suppose there was a loose pastel colour scheme and the overall theme for the day was rustic with a boho feel.
Flowers
My flowers were from Rose and Grace, they were recommended to me by The Fleece Inn and they were absolutely wonderful. Catherine worked so hard to capture the style we wanted for the day. I had a wild mixed bouquet with flowers and herbs, my bridesmaids had a gypsophilia bouquet and gypsophilia in their hair. We had a fresh lavender heart for the barn door and there was lavender tied into my napkins and in the buttonholes. The flowers for the venue were a country/wild mix of flowers and herbs displayed in jam jars scattered on tables, we also had the jars tied to the pew ends of the benches during the ceremony. I didn't want a veil and I am not a very glitzy kind of girl so I loved the idea of having a fresh flower in my hair.
Decoration
Our decorations included plenty of bunting in pastel colours, lots of fresh flowers, teacup candles, bird cages with tea lighst and tissue pom poms. We had hay bales for outdoor seating and chalkboards with song lyrics displayed around the venue.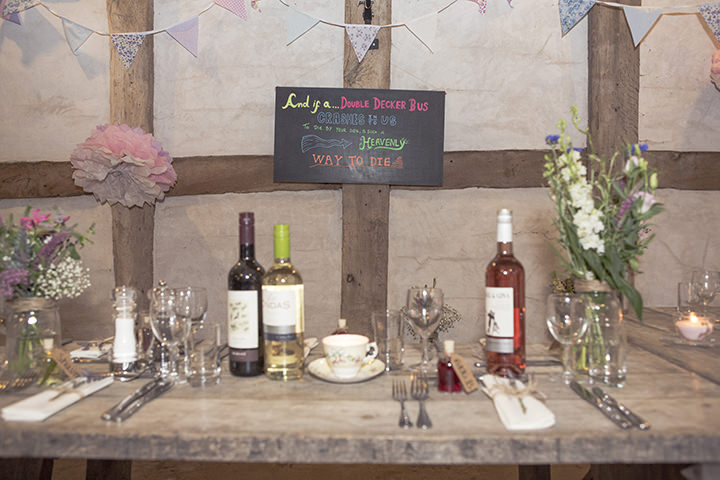 Food
Oh the food! Our favourite bit of all the planning was deciding on our food and drink choices. We absolutely love to eat and drink and we wanted to make sure our guests had plenty of delicious food to keep them going all day. We had a selection of canapés with the reception drinks including mini Asian crab cakes, prawn and chorizo skewers and sliced rare beef on sourdough served with prosecco. The main meal was sharing platters of cured meats, olives and tomato's followed by a BBQ with a selection of sides. We had our wedding cake for dessert followed by cheese and biscuits! In the evening we had beef/mozzarella and tomato cobs and a sweet table. Drinks were plenty of wine and a barrel of bathams.
Wedding Cake
Our wedding cake was from Angel Cakes in Wollaston. I fell in love with the idea of a naked cake from the start, as I loved its rustic relaxed style. We had two tiers in each of our favourite flavours. Paul's was bakewell tart and mine was carrot, it was the best cake I have ever eaten, so moist!
Entertainment
Our entertainment was the wonderful band, Plastic Pantomime, initially we weren't going to have a band we were just going to use our ipod filled with our favourite tracks, I am so glad we changed our minds! They absolutely made our evening and had everyone up and dancing. We found them at a wedding fare at the custard factory and emailed them as soon as we got home. They played some fantastic tunes and not a cheesy song in sight!
Buy or DIY your Stationery
We were lucky with our invitations as Paul works for a design company so one of his colleagues kindly designed our wedding invites for us and they were fab.
Personal or Handmade Touches
We had a barrel of bathams for our guests as we love our real ale and live in an area famous for fabulous beer! We were pleased to see it all got drank! We also had hay bales for outdoor seating.
There were lots of DIY projects!
Tissue pom poms
Raspberry and chilli and lime vodka wedding favors
Teacup candles
Wooden crate for cards with a template
Invitations
Twine jam jars
Napkins with twine and lavender
Photobooth
Sweet table
Large chalkboard signs for seating plan, menu order of service and decoration.
Small chalkboard sign for bathams, sweet table and photobooth.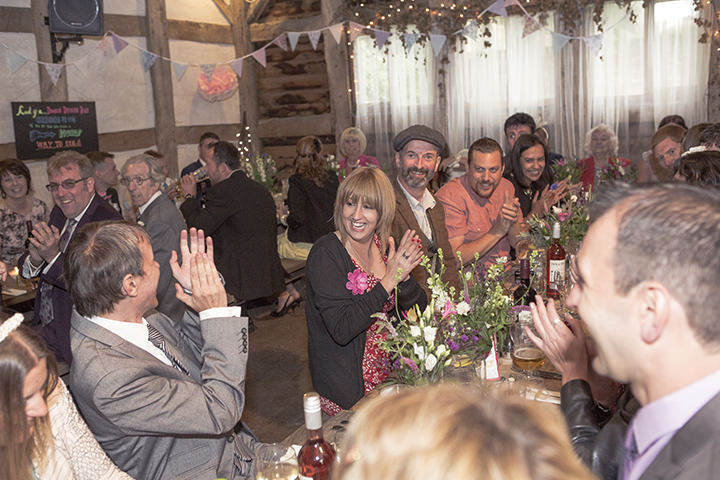 Special Moments
We knew we didn't want to do the whole not seeing each other before the wedding so we both just spent the night at home as usual. We went out for a meal the night before with the best man and his wife, which was lovely, and then we had the bridal party round in the morning for croissants and champagne before setting off to the venue together. I finished getting ready with my bridemaids upstairs at the fleece while paul had a couple of pints at the bar! It made the whole day much more relaxing for us. We also decided to walk in to the ceremony together after our bridesmaids, which was a really nice touch. Special moments were the speeches, we had four altogether, Pauls dad Roger, Paul, Craige (Best man) and Kate (one of my bridesmaids) they were all fabulous and filled with love and laughter.
Advice to other couples
My biggest piece of advice would be don't be scared to sway away from tradition if it isn't for you. We didn't spend the night before the wedding together and we walked in to the ceremony together, we also sent our bridesmaids down first. It worked perfectly for us, I would also try and incorporate elements to the day that are personal to you and your partner, people will notice and it makes your day so memorable. Above all remember what its all about and don't get lost in spending loads of money and stuff that isn't really important. Last but not least everyone says it but IT REALLY DOES GO SO QUICKLY! Take it all in and enjoy the run up as much as you can.
I enjoyed planning our wedding so much that I have started my own advice and tutorial blog!
Biggest surprise
How happy and fun filled the day was! It really couldn't have gone better, everyone had such a wonderful time. People said it was the best wedding they had been too!
Supplier Shout Outs
For more information on GreenGlass Photography please go to:
www.greenglassphotography.co.uk
FACEBOOK