Choosing your wedding decoration is a really fun aspect of your wedding day, deciding on a theme and colour ideas can really make a wedding your own. However sometimes turning your design ideas into reality isn't always as easy at it seems. Today I would like to introduce you to a company who can turn your wedding vision into real life wedding design and take all the hard work away for you. The Hanging Lantern Company offer not only a HUGE selection of indoor and outdoor paper lanterns but a wonderful array of hanging decorations; paper pom poms, parasols and fans, snowflakes, as well as chinese lanterns and star lanterns. I am seeing so many weddings with paper lanterns and paper pom poms at the moment, and often brides ask me where to get them from and how they can hang them, well the hanging lantern company are the solution to your problem. Not only do they sell over 700 styles of paper lanterns as well as having a bespoke creative studio to create almost anything, they have a designated customer service and experienced wedding team on hand to help design your wedding and help with any questions you may have.
Today I have invited Aimee Payne from the company to the blog to ask a few questions.

'We're a specialist team of wedding style advisors and one of the leading suppliers of paper lanterns, LED wireless lighting and other wedding décor. With over 700 styles of paper lanterns and an in-house creative studio which uses the latest laser cutting technologies, we can design completely bespoke and personalised indoor and outdoor décor for weddings.'
When did you start?
Since our beginnings from a home office in 2010, we have grown to a company requiring 9,000sqft offices across three large industrial units. We are now one of the leading distributors of paper lanterns, LED wireless lighting and other wedding décor.
Where are you based and what sort of geographical area do you cover?
We have a showroom and studio in Uckfield, East Sussex and an office in London. We cover the whole of the UK and Europe. Our showroom and studio is open during the week should couples wish to pop in for a coffee to discuss their requirements. Or, appointments can be made with one of our stylists.
How would you describe your style?
I'm a very organised, regimented person so I like lantern colours to match flowers and bridesmaids dresses. My designs tend to feature symmetry and patterns with neutral bases and the odd pop of colour. Natalie, our newest member of the team, likes more random scatterings of lanterns across a venue ceiling and particularly enjoys the challenges of finding new looks for quirky, unique venues.
What is your biggest achievement so far?
As well as working with couples planning their big day, we also work with many businesses. We are proud of so many of the contracts we have won and I couldn't possibly pick one – a few of my favourites include Harrods' Chinese New Year, London Olympics Opening Ceremony and Harvey Nichols Christmas window displays inspired by the Orient, for which we designed and created new gold and silver metallic lanterns and parasols.
What makes you different to your competitors?
We supply paper lanterns in every size and colour imaginable, pom poms, fans, parasols – you name it, we've got it. But, we don't just supply customers with products. We also have the design experience to know how best to display them and we offer a personalised wedding style service to help our customers make the best choices for them. This is one of the things that makes us different. Our customers can put their trust in us to guide them through the process and help every step of the way.
We pride ourselves on constantly developing different themes and styles to match our customers' individual needs. So much so that we've recently launched our own in-house design studio. If someone has something really special in mind, using the latest Trotec Laser cutting technologies our studio can create completely bespoke and personalised decorations to suit a specific design scheme. Some couples come to us with final artwork and just need us to bring their concept to life, others require assistance designing their idea from scratch. Either way, it's great that we're able to offer this service to our customers to help them make their day truly unique.
What do you enjoy most about your job?
As one of the Style Advisors and part of our dedicated wedding and events team, I love helping to create a look for couples as unique as they are. Our customers often share their wedding photos with us, so it's great to see a look I helped to create come to life. Receiving feedback from happy couples is also a fantastic part of my job. Pinterest is proving to be a huge source of inspiration for brides and many come into the office having re-pinned our pins to their wedding moodboards!
What sort of couple do you think you attract?
We've got such a huge range of products and they can be styled in so many different ways that we attract couples looking to create a wide range of looks. Popular themes include classic romance, relaxed boho and vintage glamour…and everything in between. A lot of the time our customers are looking for something unique to them and they need help choosing the right products and advice on layouts to help create their desired look…and that's where we come into our own.
What would be your ideal wedding to work on?
My own! Every year! With an unlimited budget of course. I have seen far too many ideas that I love now to be able to plan just one wedding. I'd want a vintage wedding with a 50s style dress, colourful lanterns and laser cut bunting. I'd want a whimsical wedding in a tepee with coloured ribbon and clusters of lanterns and fire pits, a rustic barn wedding with our new lace lanterns, and a destination wedding with our birdcage lanterns and rose petals lining the beach aisle. That's just for starters!
Can you give me some information on your pricing structure?
Most of our products are priced individually on our website, but some are also available in packs, for example you can buy our smaller 4" lanterns in a pack of 10. The services of our wedding style advisors are free of charge. Our wedding team works with each individual bridal party to work out what sizes and numbers are required to create a certain look at their wedding, we put packages together to offer savings when brides require 50+ lanterns. Packages of 50 lanterns are around £130.00.
Who would be your 5 dream dinner guests dead or alive?
Audrey Hepburn – we'd have an intimate dinner party with our tiffany blue lanterns hung in a cluster over the dinner table.
Peter Jones (Dragons Den) – I'm sure he'd have some great contacts to help get our new laser cut range on the high street.
Simon Cowell – He'd have some great stories to share and I'm sure we'd be able to convince him to hang some nylon lanterns on his boat.
My Oma (my German grandma) – She passed away over a decade ago now and I would have loved her input with my wedding. She would have made my dress by hand
And my absolute favourite famous person, Gary Barlow, to play the piano whilst we have the most amazing evening!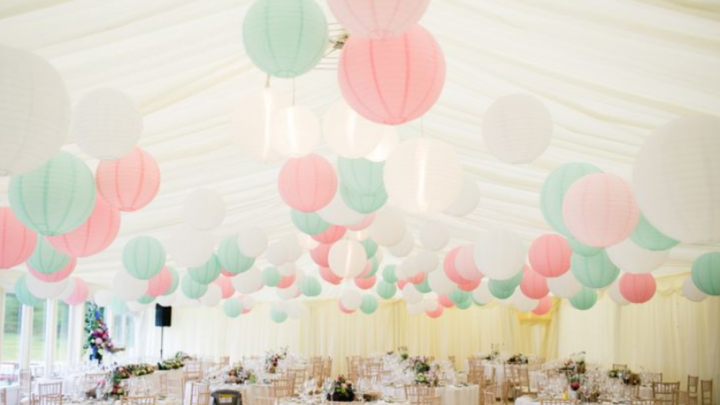 The New Hand Drawn Collection
We're very excited to have just launched a range of vintage inspired decorative birdcage lanterns, intricate bunting and glass decorations. Every item in our 'hand drawn' range is lovingly handmade by us from the finest UK milled papers which are FSC certified and from managed forests. You can find out more about the new collection HERE Every item in the collection is available as standard in seven different colours and three different designs (Lovebirds, Flutterby and Flora), but our in-house creative studio also means we can offer up to 50 colours and incorporate any design by request, to match any wedding theme.
For more information on the Hanging Lantern Compnay go to
www.hanginglanterns.co.uk
[email protected]
FACEBOOK
PINTEREST
@hanginglanterns
Phone: +44 (0) 845 465 5585