I have the last real wedding of 2013 for you today, so I've made sure it is a good one for you! It's a Sheffield wedding which I thought was quite fitting, considering that is where I live and it comes from my good friend and extreme talent Jon from S6 Photography. I absolutely love everything about this wedding! It is so good to see so many local spots in these photos that show off out city in it's best light. Jon has done a great job of capturing not only this stunning couple but 3 different and completely individual venus. The wedding is full of quirky touches and gorgeous vintage influences. A really fun day, full of personality!
'A bit of a blur! It went so quickly and we enjoyed ourselves so much, we just wanted to do it all over again'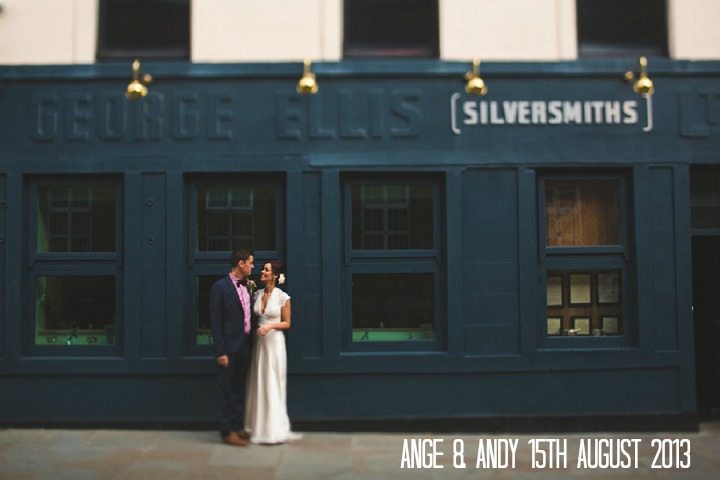 Ange and Andy were married on the 15th of August at the Crucible Theatre & Lyceum Theatre with a reception at Silversmiths Restaurant and party at Revolucion De Cuba, Sheffield. 'We looked at lots of different venues and none of them really interested us. We aren't particularly 'traditional' people and we wanted somewhere that people would remember as different. Andy is a Drama teacher and we love the Sheffield Theatres, so when we found that they had a wedding license, we set our hearts on it. (Also, everyone knows The Crucible Theatre for the World Snooker Championships; it's very cool to be able to tell them every year when it's on telly "that's where we got married!!" The Crucible staff were amazing, and made sure every detail was perfect and the day ran smoothly. We had 130 guests and it took about 4 months to plan.'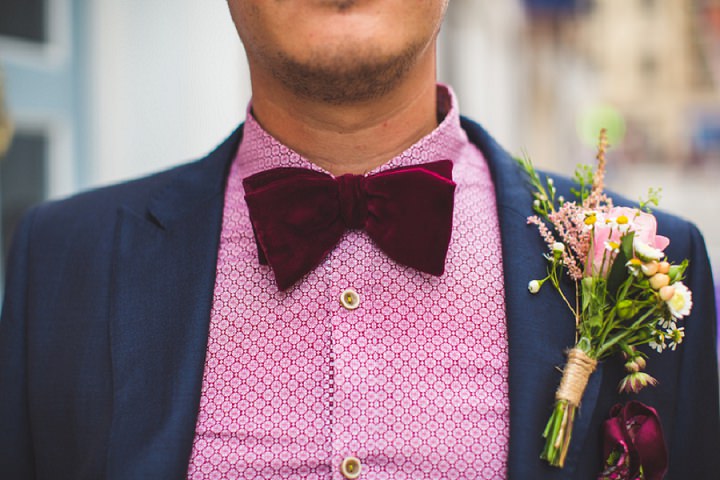 How they met
We met at University in 1999 and we were just friends. Our lives took different paths for a few years but we remained friends and stayed in contact. Then in 2010, we both went to a reunion, with our Uni friends, to London and we ended up getting together, over 10 years later! We have now been together for nearly 3 years.
The proposal
Andy had planned to do it a week later when we were on holiday, but once he had bought the ring, he was too impatient and couldn't wait! We were at a family fireworks party, last November, and when the kids were playing with sparklers the moment just felt right and he popped the question! After about 5 minutes of Angela saying… 'What? Are you joking? Are you serious? You'd better not be joking!' finally she said yes and then ran off to tell her family.
How did you choose your photographer?
We wanted someone who looked at things in a similar way to us. Non-traditional, contemporary and fun. Our main focus was that we wanted to stay away from 'staged' shots and to just capture the fun of the day. We looked at Jon's website and after a conversation with him over the phone, we knew that he would be perfect. He did an amazing job, better than we could have ever imagined.
The Dress
Angela's dress was created by Amie B Bespoke, who have their studio at Meadow Terrace, Sheffield. It was made from a vintage satin evening dress, and customised with vintage lace. She worked wonders, and it was unrecognisable from the original. The shoes were Jenny Packham and accessories were all vintage.
The bridesmaids
We had 2 bridesmaids and 2 page boys. Because we didn't want it too formal, the kids outfits were a mismatch of high street pieces, including Monsoon, H&M, Next and Debenhams.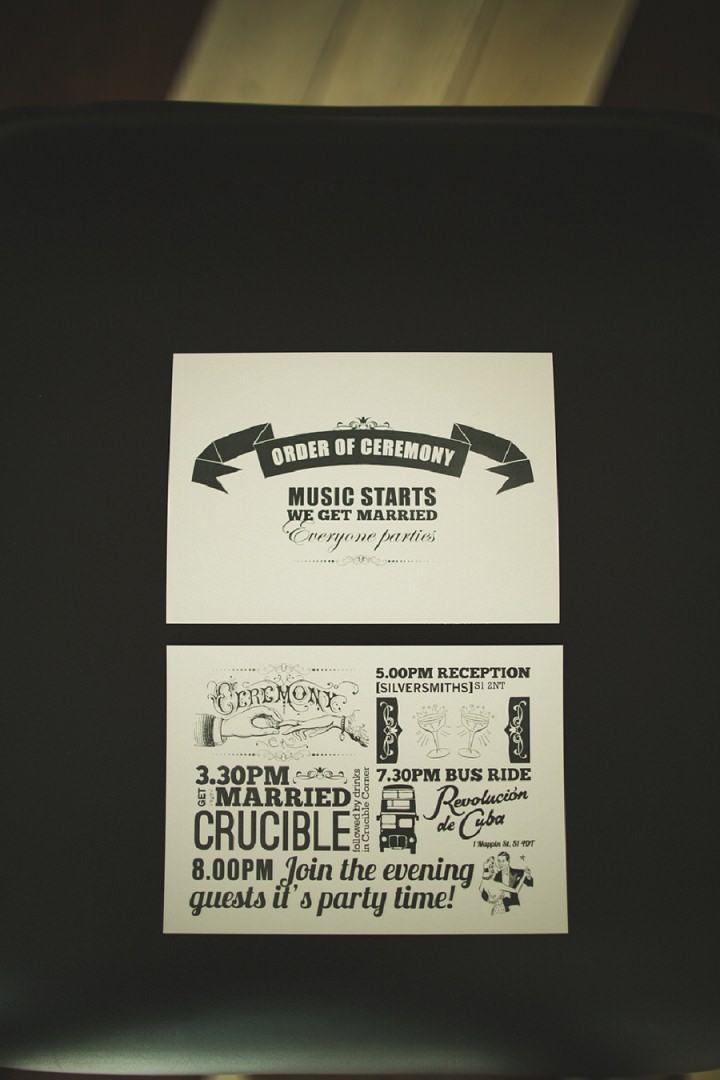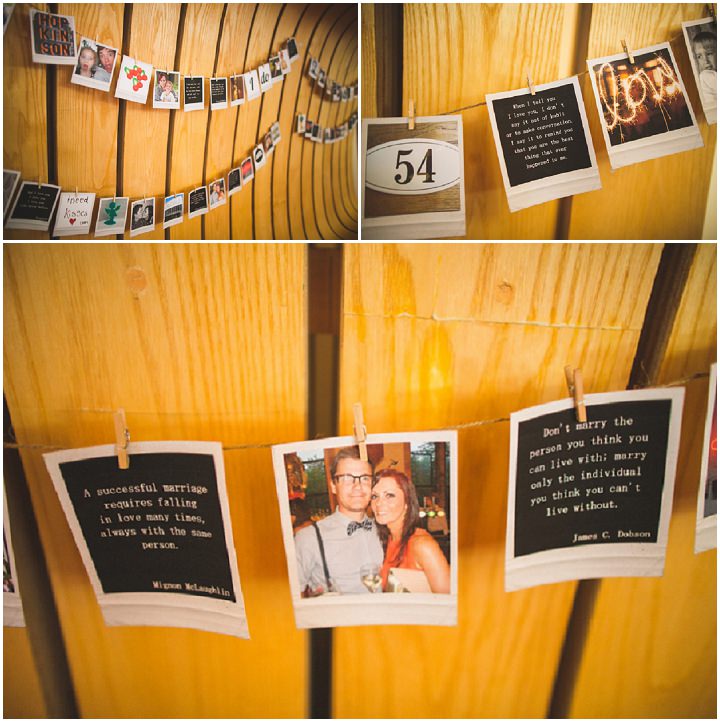 Theme or colour scheme
We both love quirky / vintage styling, so went for little touches to compliment the amazing venues we had chosen.
Flowers
The flowers were by Katie at the Flower Pot in Wadsley Bridge – she was amazing! She worked wonders creating a unique and unusual bouquet (with not much guidance from Angela!) to match the theme of the wedding. The dusky pink and ivory colours tied everything together, and she included berries and wild flowers to keep it rustic looking. They were fabulous! So fabulous that we didn't want them to go to waste, and the day after the wedding took the 25 jam jars we had as our table decorations to a local care home for the residents to enjoy!
Food
Each guest had 3 choices for each of the 3 courses at Silversmiths. All of it from locally sourced producers. It was wonderful, and everyone commented on how amazing the food was!
Entertainment
We had a local band called 'Dizzy Club' who specialise in a mixture of swing and jazz, they were amazing and had people up dancing all night. We also had a 'Swing Dance Class' and a DJ to finish off the night and keep everyone dancing!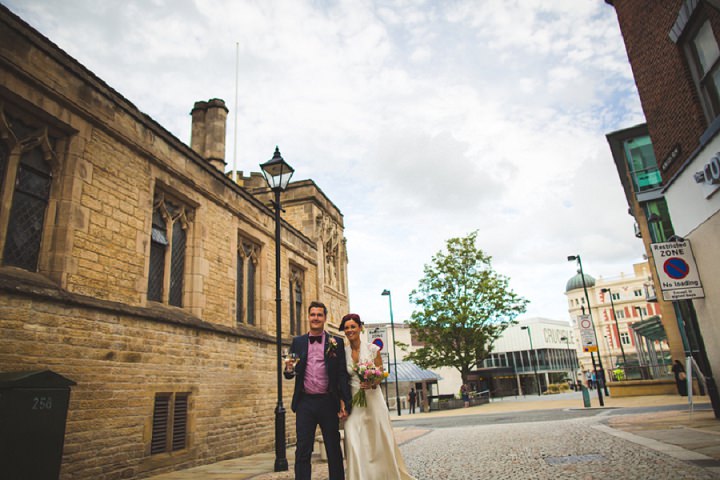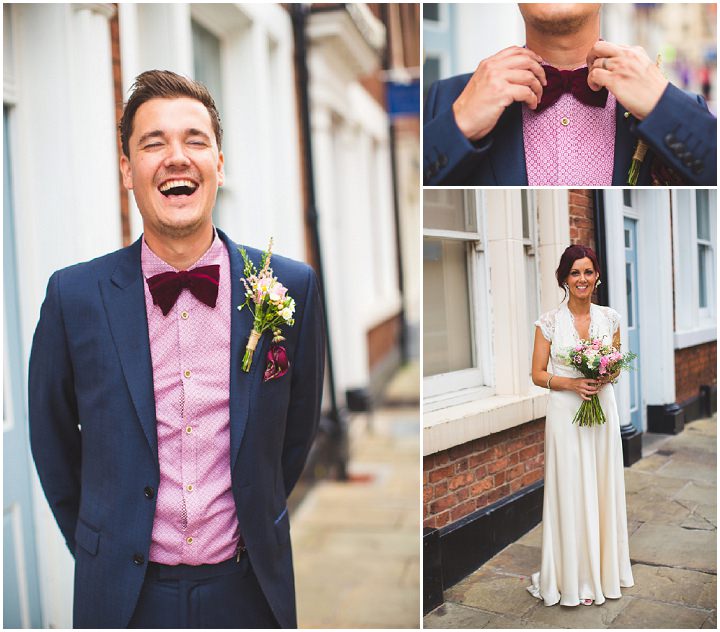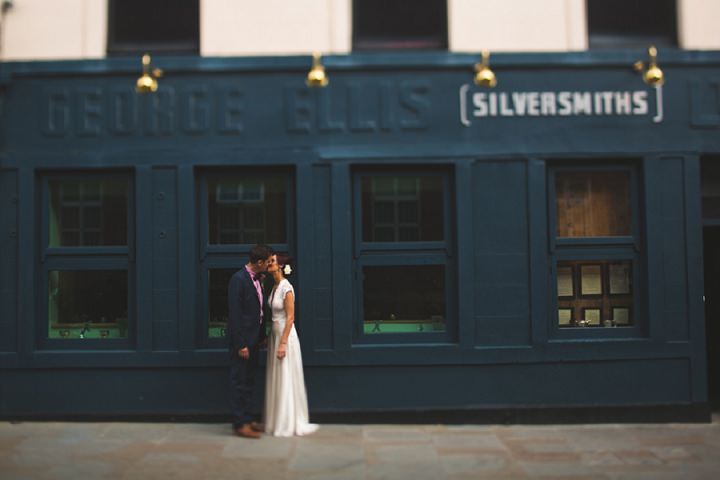 Personal or handmade touches
We didn't really have many, as all of the venues were chosen because of their character and atmosphere and didn't need much decoration. We added our own personal touches to each venue, such as a polaroid photo bunting depicting our lives together so far, vintage lace table runners, Elvis themed table names, 'Andy & Ange' light up circus letters (that we spent hours making ourselves!), and ornate framed messages to our friends and family. We didn't have any wedding favours, but instead spent some time personalising table name cards with a humorous anecdote for each of our guests! As we had 3 different venues, we hired a cream and blue vintage routemaster bus to take everyone from Silversmiths to our Evening Reception at Revolucion de Cuba.
Special moments or highlights
– Andy's son, Maverick was his Best Man and seeing him hand over the rings and taking his job very seriously was wonderful.
– Jorja, Angela's daughter read a poem in the ceremony that we had written and she made everyone laugh (and cry).
– Angela's Grandad, Roy (who is 87 and has recently been very ill) also did a reading and was the star of the show.
– Angela laughing at Andy through his speech as he couldn't stop crying and couldn't get his words out.
– Sharing the day with lots of friends and family, old and new and laughing all day.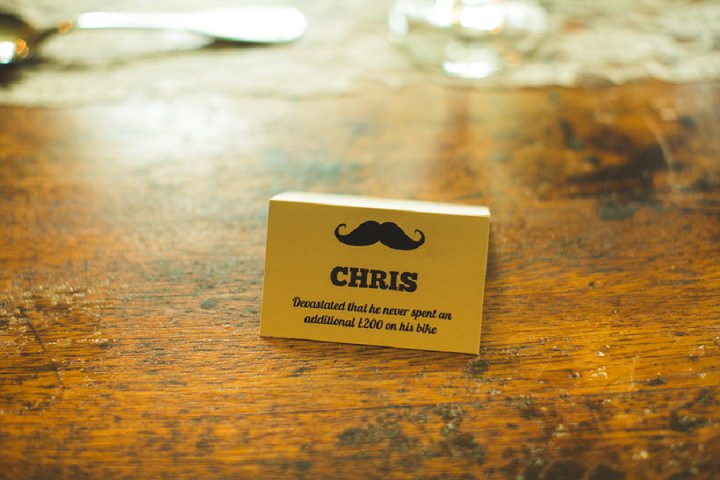 Biggest surprise
That Angela actually turned up! She hates anyone looking at her, so in many ways her own wedding was scary! But she loved it in the end and I think that she actually enjoyed being centre of attention for the first time. Also, we were shocked by the generosity of our friends and family with their wedding gifts. We were so lucky and it allowed us to enjoy an amazing honeymoon in Las Vegas!
Advice for other couples
Choose the right venue! Don't be afraid to choose somewhere that isn't a traditional wedding venue. We found somewhere we loved and approached the manager to see if it was possible to hire the whole venue. Also, find a time in the day to spend 10 minutes together, alone, without anyone else around. It sounds simple but it is really difficult to do! You are both so busy speaking to your guests, having photos taken, and being caught up in the excitement of the day. Time goes so quickly! You mustn't stress too much about keeping everyone in your family and friends happy, that's impossible. Remember it's your day, your taste, no one else's! Make it as special as you can just for you both.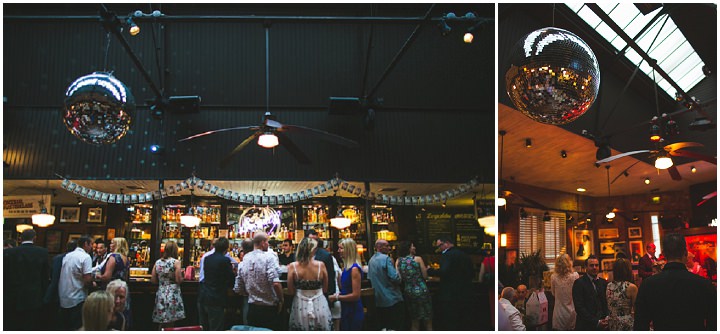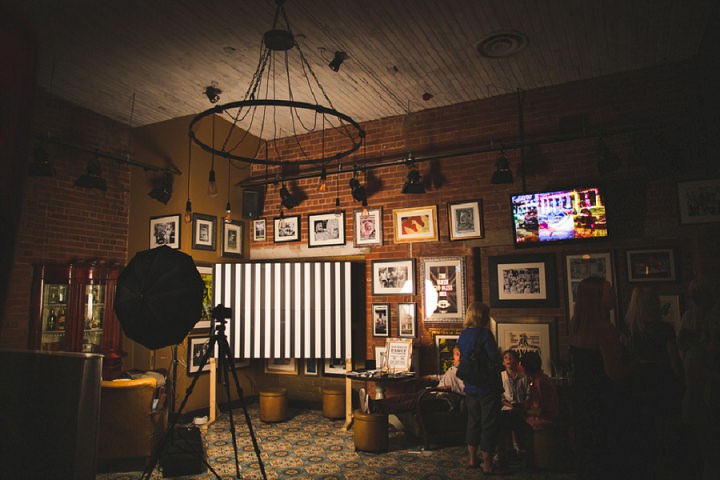 Supplier Shout Outs
For more information about Jon's work go to:
www.s6photography.co.uk 
s6photography.co.uk/blog
[email protected]
FACEBOOK
TWITTER