Today's real wedding, is a rather short post but full of creativity and originality!
It is brought to you by one of my regular contributors Jomel Gregorio Jomel is a destination wedding photojournalist based in the Philippines. His style is a mixture of relaxed shots, coupled with unique and imaginative ideas. He has the best couples to work with as they always let their imagination run wild and really give their wedding shoot their all. Jomel likes to inject some individuality into their engagement shoots, and encourages his couples to come out of their shell and produce something really different.
So imagine my delight when this wonderful little shoot hit my in box! The couple Royca and Aisa really went to town in their shoot. Both are big fans of star wars and took their inspiration from the film. Jomel as always manages to get the best out of them.
I hope you like it as much as I do!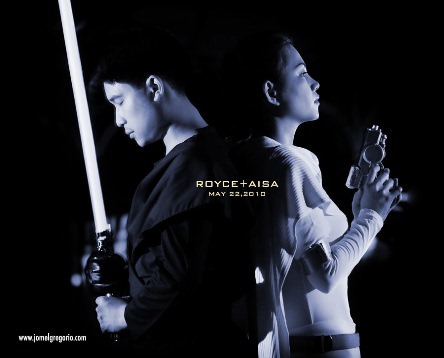 A MASSIVE thank you to Jomel for sharing his work with me, For more information about Jomels work go to:
www.jomelgregorio.com
www.jomelgregorio/blog
[email protected]