Woo Hoo it's Friday everyone, I do hope you are looking forward to the weekend and yet another bank holiday! It seems like we only just had one doesn't it! All is good though and I'm sure you are all looking forward to another 3-day weekend! We have the painters coming to paint the whole of the downstairs next week, so our weekend is full of clearing out furniture and getting rid of 'stuff', that and our last batch of baby shopping to pick up the last few bits and bobs! But before all that I have one last wedding to share with you this week. It's a super pretty vintage themed wedding with lots of props and DIY details, which comes courtesy of Diamonds and Doodles.
I may be speaking for a lot of men when I say that weddings aren't particularly my thing but I can honestly say that it was without doubt the best day of my life. A non-stop celebration of love and happiness rolled into a single day and shared with your nearest and dearest. What more could you want?
Faye and Benjamin were married in front of 50 of their closest friends and family on the 22nd March and then celebrated with 100 guests at Tithe Barn in Southport. "We live in London, but are both from the North West, Ben in Southport, Faye in a small town called Ormskirk about 8 miles distance from Southport. All of Faye's family & friends still live in the area, along with Ben's Parents who still live in Southport. We only went to view our selected venue once on a brief visit whilst visiting home & decided we would love to have a wedding near where we grew up. Plus we fell in love with the venue upon visiting, we felt it was really classy, yet with a personal touch & vintage feel. We planned the wedding in about 6 and a half months! We got engaged in June last year, and by the beginning of August we had decided that we didn't want to wait too long to become man & wife. The planning was certainly stressful at times, however we would definitely do the whole thing again!"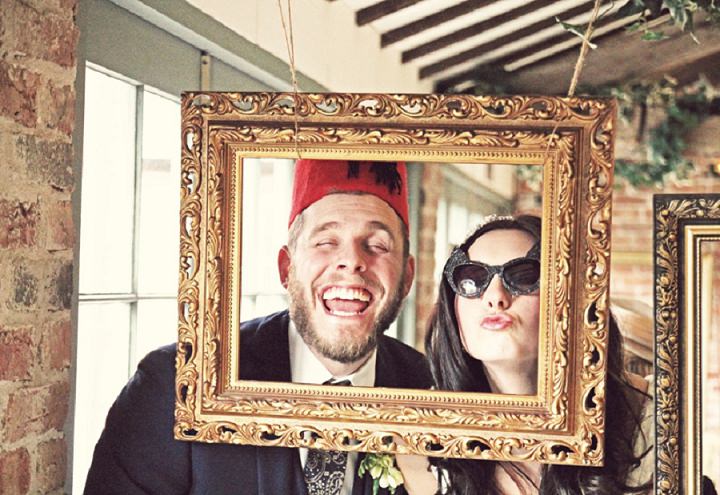 How they met
We got introduced by a mutual friend who Faye went to uni with & who Ben later on worked with in the North West. (Who we later chose as one of our bridesmaids). Ben would come and visit Faye at work, and as he was nervous made some very awkward jokes! Shortly after meeting Faye decided she was moving to London, where Ben shortly decided he had to follow! Within a month of dating we had moved in together into a little flat in Crystal Palace in South London.
The proposal
Since Christmas 2012 Ben decided that Faye was the girl he wanted to marry. Ben saved up for 6 months in order to buy Faye's engagement ring, (a vintage raised diamond ring bought from the Outer Hebrides!) On the 6th June 2013 Ben and Faye went for coffee & breakfast in a small café near Primrose Hill. Shortly after Ben took Faye to the top of Primrose Hill, where they could see fantastic views of The City of London. Ben explained to Faye that he was bringing her here because of the life we had made together in London and how special it was for them both. A few minutes later, Ben asked Faye for her camera and said he was going to take some snaps of her. Ben dropping to one knee, taking a picture, then pulling out the engagement ring in a vintage old-fashioned green heart-shaped ring box. Followed by a cheer & applause from passing joggers & homeless people. That evening (after a busy day of calling friends & family to spread the good news) we went to The Landmark hotel as a special treat (where we had been for afternoon tea before and loved) for a celebratory dinner. Which was actually the location of where the recent series 'Sherlock' was filmed where John Watson proposed to his girlfriend!
How did you spend your budget?
We were lucky enough to be given funding from both sets of parents. Ben's parent's money went on suits, photographer, band and honeymoon. The rest (dresses, venue, flowers, catering and much more) was covered by Faye's parents. Whilst we weren't given an unlimited amount we worked with the promise that we would be given a day that everyone enjoyed.
How did you choose your photographer?
We found Shelley from Diamonds and Doodles through Twitter! Faye had tweeted to see if anyone could recommend a quirky photographer in the northwest, Faye's tweet was found by Shelley who replied directly. Once we had looked on her website, there was no question that we wanted her to photograph our day! We loved her vintage, boho feel, as well as being able to capture more relaxed special moments and not just staged ones. As Shelley was from Sheffield, we only 1st met her on the special day! She was amazing though! So relaxed & friendly.
The dress and accessories
My dress was by Ronald Joyce. I bought shoes from Kurt Geiger and were a peep toe stiletto with embellished diamantes.
For my jewellery, I wore a dainty heart necklace which Ben & I had purchased from the same quaint shop in Camden market where we bought our wedding rings, I plan on keeping the necklace for if I have a daughter one day. My bracelet I wore was my nan's which I wore as my something old, and my earrings were my step mum's which were my something borrowed.
The suit and bridesmaids
Bridesmaids dressers were from Monsoon which we had altered. They were a cream lace with a silk purple sash round the waist with embellishments. The suits were Austin Reed and were tailored by Alterations Boutique based in Marble Arch, London. Ben also had a pocket watch given to him by his parents as a present, which he hopes one day he could pass down to his son. The Groomsmen also had blue & gold paisley ties & pocket squares which Ben organised and had specially made.
The theme
We decided to go with purple & green, (mostly because Faye couldn't decide on just one colour!) and we felt this complimented our vintage,country theme.
The flowers
We had a lot of Gypsophilia, lavender & rosemary. Mostly rustic looking flowers to fit with our theme & colour scheme,
The decoration
We had faded purpley green table clothes, and lace on the head table. We had candelabras on each table draped with flowers & pearl. Each crevice within the hall was filled with candles & fairy lights.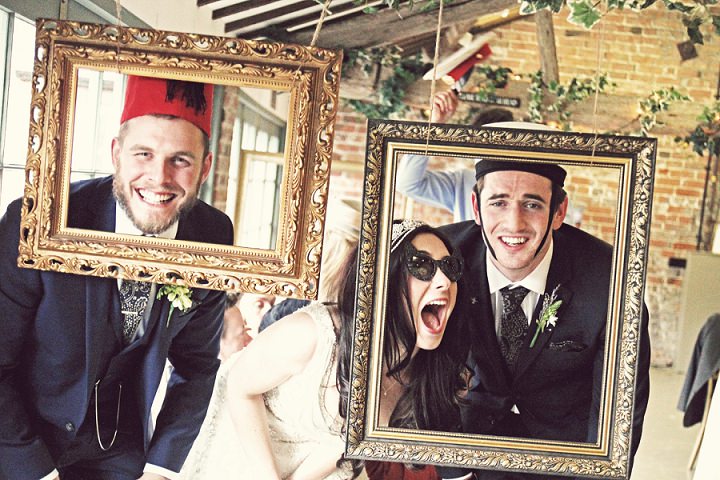 The food and wedding cake
We had a selection of canapés after the ceremony which included scotch quale eggs & haggis.
For our main meal during the reception we had lamb & asparagus wrapped in filo pastry.
For the evening food we had a hog roast served with hot cider!
We had two wedding cakes! One which was made by a local bakery in Birkdale Village styled from a cake Faye had spotted on Pinterest. And a cake of cheese! Served with port & red wine.
The entertainment
During the day time we had a live singer entertaining guests whilst we mingled, who was great and got our guests joining in!
In the evening Ben's little brother Sammy performed an acoustic set for the bride, groom & their guests (which was our favourite part of the entertainment) and we also had a modern band play for the duration of the evening, later followed by a DJ .
Buy or DIY your stationery?
We had all our stationery made by a small privately owned wedding stationery shop in Lydiate, called The Paperdoll.
Any personal or handmade touches
– Faye & Ben put together all the wedding favours themselves. They were sunflower seeds for the ladies & chilli seeds for the men. Which were presented in a bird cage favour box.
– We also had a sparkler for each guest which had a cover on saying ' let the love sparkle for Ben & Faye 22nd March 2013'
– For the bride's maids favours, each bridesmaid (there were 3) received a silver necklace with each of their names on & a green & purple beaded bracelet made by Faye.
– Ben bought his best men personalised cigar cutters.
– We also had a lot of vintage props set up around the venue, this included an old typewriter for guests to leave messages for their guest book. A gramophone filled with flowers. A bicycle with a personalised chalkboard. A coconut shy! A vintage prop box & hanging frames for guests to dress up & take pictures.
Special moments
Faye's favourite part of the day was getting to perform their first dance in front of all their family & friends. We danced to Paulo Nutini's 'loving you'. Our photographer captured some great shots too.
Advice to other couples
Get the important discussions that involve family members (guest list, money, seating plan) out of the way early on. Although it's your day you will quickly learn that it means an awful lot to an awful lot of people. Be firm where you need to be and be willing to make compromises where you are willing. Once you have the big decisions sorted the rest is a doddle.
Biggest surprise
Faye's mum organised for our puppy to show up after the ceremony. We weren't expecting him there and it was great to have a few photos with him.
Supplier Shout Outs:
For more information on Shelley's work please go to:
www.diamondsanddoodles.co.uk
www.diamondsanddoodles.co.uk
FACEBOOK
@shotbyshelley