Happy Friday everyone.  I do hope you have had a good week and are looking forward to the weekend ahead.  It's been a busy week on the blog and only a couple of weeks left now before the big re brand.  There's lots to get done behind the scenes. I am finishing off the week in style with this fab barn wedding  which was sent into me by Coates and Stain Photography. It's a Leicestershire wedding full of English vintage touches and some beautiful details. Faye and Louis worked on the wedding planning together as a team and by doing this they really made the wedding their own, so many personal and lovely touches included in this gorgeous day.
'A perfect day, where all the plans and preparation fell into place to form a day that was unique and full of emotion, it reflected the love that we have for each other'
Faye and Louis were married on 23rd May 2015 at Halstead House, the Ceremony in the Quail Barn and reception in the Opera house. 'Faye; When we visited Halstead house we had been together about 3 months and no one knew that we were contemplating getting married, we were not even engaged! When we visited the venue and looked around we were both full of emotion and stood in the small Quail barn where the ceremony would take place with tears in our eyes I remember knowing that this was the place I would be marrying Louis, and I knew just by looking at him that he felt the same! The day we visited was so sunny and beautiful and we walked around the lake and the views were so beautiful. The venue was unique and quirky and was a blank canvas for us to create our perfect wedding day, we booked the wedding that day, so I knew an engagement ring would be on its way.
How they met
We met face to face on 21st February 2014 on a blind date, although it didn't feel like one. We were both on a dating site. Louis had been on for a few weeks but I'd been on less than a week. I saw Louis' profile and messaged him with the very original 'hi' on the 16th Feb. He messaged back and then we messaged, texted and talked on the phone for the week before we met at all hours of the day. I think we knew before we met that it was going to be more than just one date.
The Proposal
This was after we'd booked the wedding and researched honeymoon destinations. I've mentioned the ring, we'll it had to be made and sent from America. I remember thinking that whenever we went out or away for the weekend he would 'surprise' me but when I was least expecting it he did. We were on our way to Lincoln to meet my maid of honour and her husband for a catch up when Louis pulled over in the middle of nowhere and told me to get out of the car and go and sit on a railway sleeper that was across an entrance to a field looking out on some beautiful views of Lincolnshire countryside, the sun was out and there were very few clouds in the sky. He went around to the boot of the car and took out a cool box, with a bottle of chilled Procceco in, two glasses and a smaller box with my name on it. It was a jigsaw! So I sat there doing this jigsaw and as I got to the end I realised a piece was missing… the one that said ' will you marry me' on it.
How did you allocate your budget
We didn't set a budget, but we didn't want to spend an extortionate amount, we had a great spread sheet to keep track on where the money was being spent, the main proportion being the venue and reception. We tried to reduce costs by sourcing items from ebay, high streets and where possible used local suppliers.
How did you choose your photographer
We stumbled across our photographers by chance after our original photographers pulled out of doing our wedding. One of the Photographers is the brother in law of one of my bridesmaids, and I had seen a lot of his work on Facebook it was amazing work but not weddings. They came across as so passionate about our wedding day and their enthusiasm on how they would capture our day captivated us, they reassured us that they would concentrate on being discrete and candid in there approach and with Louis being very camera shy this was a huge bonus! Jonathan and Andrew were such nice guys who clearly loved photography and the work they showed us did not disappoint, it was art and the confidence and passion for wedding photography was evident.
On the wedding day they were with us from 10 am until 23.30 and never stopped they seemed to get every detail and from all sorts of different aspects, giving us a complete story of the day.
The Dress
My dress was from Dress me pretty in Hinckley they specialised in dresses that were samples, ex displays. Along with some collections. My dress was a sample that never went into production and was made by Romantica. My shoes were from Matalan and then I had these customised with black diamontie with Mrs Walker and 23rd May 2015 on them by a company I found on Facebook called Dunn to perfection.
The Suit and Bridesmaids
The suits were from Philip James a local men's wear, suit hire and purchase in Hinckley, the suits were hired with the exception of louis as he brought his suit. The grooms men wore braces from Matalan, black ties from Fred and Florence (Tesco) and a selection of bright socks from An Ebay store. The bridesmaids were in a sage green long flowing dress that complemented the figures of all the bridesmaids, these were found from a small shop in Birmingham called RZ Dress World they were so helpful and the alterations and dresses were very reasonable. The flower girl dresses were from Amazon but the dresses came from America. The page boys had a 3 piece suit and bright socks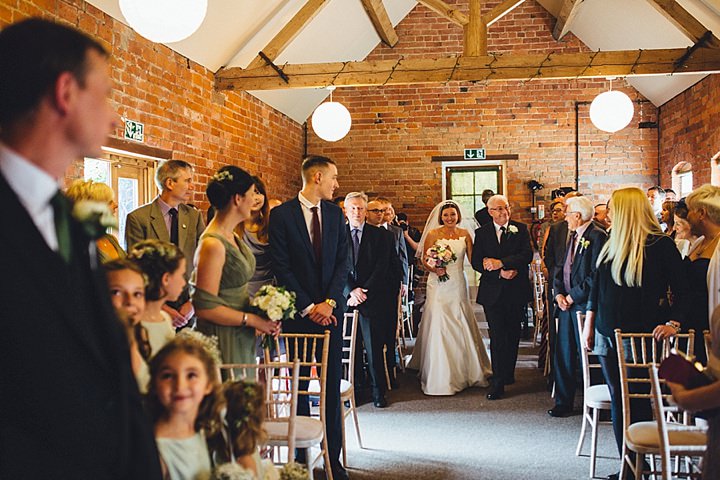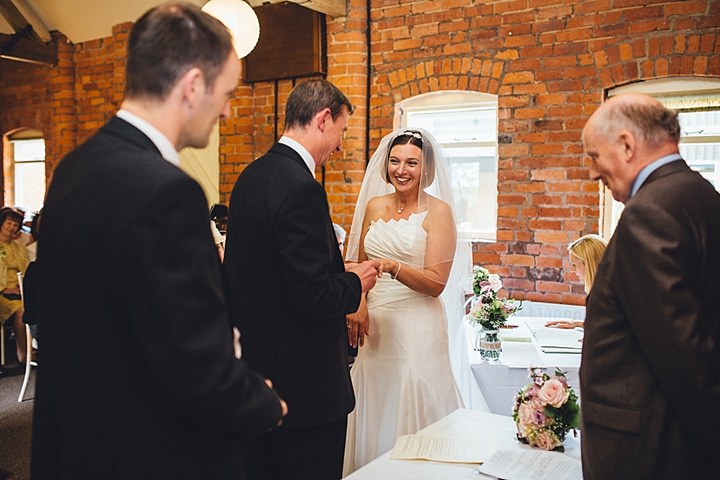 Theme or Colour Scheme
We had a English vintage theme and sage green was our main colour along with some pastel shades.
Flowers
Acacia rose, sage, mint, cream roses and lots of fragrant flowers.
Decoration
We put lots of thought into the detail of our wedding, we had lots of personalised signs with information to the guests. We hired some vintage props. We had vintage typewriter, suitcases, sweet trolley, bunting, teapots and large gold framed chalkboard which we used for our table plan. We used wooden log slices for our table centre pieces and we managed to get 2 large logs from a friend sliced into 1-2 inch slices to use as our table centre pieces, these had jam jars and large jars filled with flowers, we also had a teapot on the log slices. We had 80 feet of bunting and the room already has fairy lights on the beams of the barn. We had a gallery of Selfie photos or quotes that we have sent one another over the last 16 months pegged to twine and also a guest book that was a jigsaw in the shape of a VW camper van for everyone to sign.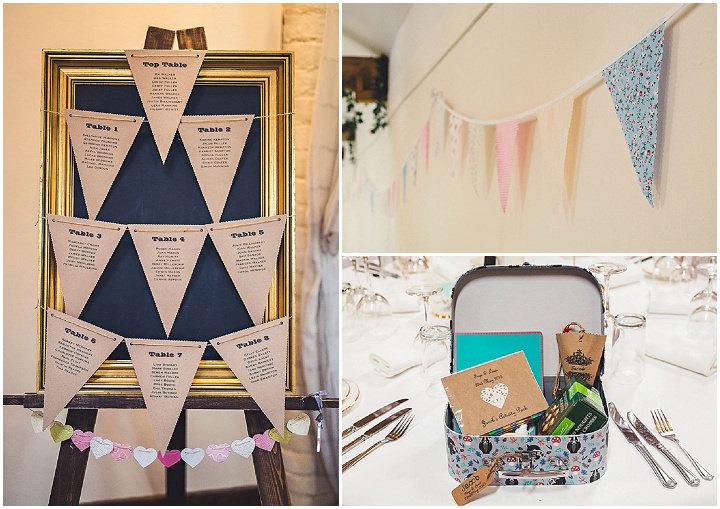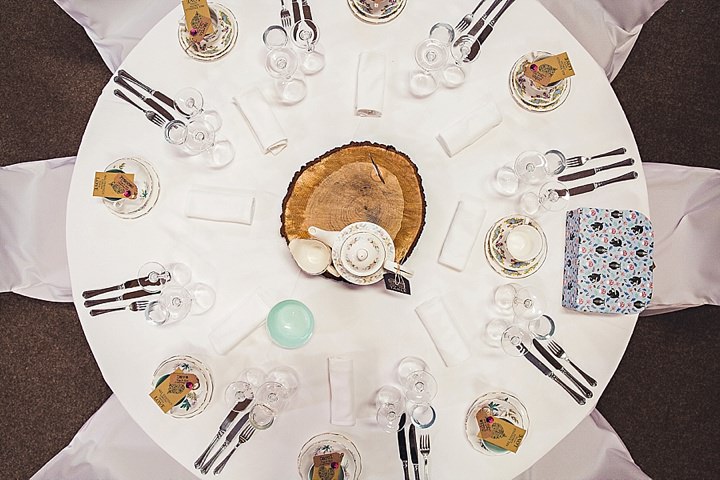 Food
We had a wedding breakfast of traditional afternoon tea with a selection of sandwiches, savoury pastries, fruit, and lots and lots of cake, and scones with jam and clotted cream, in the evening we had a hog roast.
Wedding Cake
Our wedding cake was made by a local lady, Chelles cake creations, we had 3 tiers 1 chocolate, one lemon and one Victoria sponge we had green ribbon and fresh flowers, and a vintage themed cake topper with Mr and Mrs Walker.
Entertainment
We had a disco but the DJ was there from the ceremony and did the pre wedding music, ceremony and music during photos and the meal, he was also out master of ceremonies.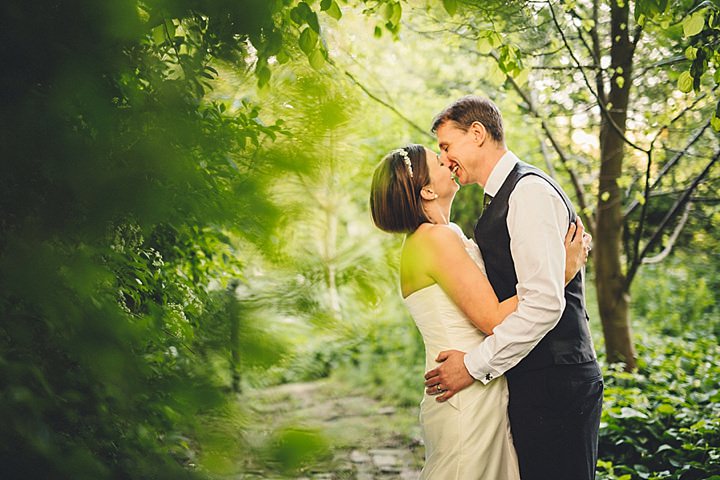 Buy or DIY your Stationery
We brought our wedding invitations, name place settings and table plan from companies on Ebay.
Personal or Handmade Touches
– Wedding favours: we decided we wanted to donate money to a charity for our wedding favours so we purchased autism badges as this a charity close to our hearts as my son is on the autistic spectrum, we pinned the badges to seed packets along with the place name, we filled the packets with forget me not seeds and a simple message.
-Huge poloroid frame, we used this as a photo booth and it worked so well. louis made the poloroid frame and we purchased various props.
– Kids suitcases, we sourced the suitcases locally and then filled with activities and wooden toys for the children to do during the speeches and reception. These worked so well.
– Handkerchiefs – I purchased these from an eBay store embroidered to my mum and Dad, I gave them to them on the morning of the wedding and they were both tearful, – Engraved glasses for parents, the parents all received a special thank you gift for all there help and support during the run up to the wedding.
– Jigsaw Cufflinks – the best men and grooms men had Cufflinks, socks and braces for the day and as gifts.
– Louis's gift box. I sent Louis a gift box on the day of the wedding with many items in all symbolised us and our journey to this day, it also contained the first love letter I had ever written. So the box also contained 2 wooden jigsaw keying so personalised with our names and the wedding date, a brown leather hip flask filled with port and a tiny luggage tag saying – a drink to calm the nerves and jigsaw piece cufflinks for him to wear. A clock on a chain,  A Wooden heart because my heard belongs to him. A bookmark that said if you live till your a 101 I want to be a 100 minus 1 day. Tissues to wipe your tears of joy and mints to ensure our first kiss is fresh! Oh and personalised luggage labels for our suitcases on our honeymoon.
– Best man and page boy these all had engraved pocket watches for them to keep as a keepsake they had there names and the date of the wedding on them.
– VW wooden puzzle guest book.
– Wedding promises these were done by ourselves to personalise the wedding and try to convey how we work together as a couple.
– The bunting, I brought the large bunting for the room from an amazon store but the smaller pieces we used around the venue was all made on my hen weekend, it was lovely to use it for the wedding, my little bit of bunting was used for the cake table.
Special Moments
Louis: Seeing Faye at the top of the steps just before she walked down the aisle. In her letter to me that I received in the morning she said to make sure I looked at her as she entered the room …and I did. So glad I did. It will be an image that stays with me until the day I shuffle off or drop off like a lump from this mortal coil.
Faye: For me my special moments were standing on the steps waiting to walk down the isle, I remember being full of love and emotion and so excited to be marrying my soulmate… I remember pausing trying to look around the room to take in that moment. I also remember saying our promises they were heartfelt and some more humorous ones. A special moment was my mums speech, she is not a public speaker and has never done a speech in her life and if I'm honest I was worried about how she would handle it as she is so emotional, but WOW she stood and delivered a speech without notes off the top of her head that was funny and full of love she stunned me and I was so proud if her it was really special. Finally our first dance….
Advice to other couples
Louis: Marry early. The morning was spent hanging around and then when kick off arrived it just went so quickly. Although it was relaxed and not too time driven I would of appreciated spending more time mingling with friends and family. Enjoy every moment and just roll with it. No point stressing over stuff on the day, it's too late, you're marrying the person you love and that's all that matters.
Faye : Do what you want and how you want it. Research the prices of everything it's amazing how you can find things cheaper from eBay. Picking a theme helped us to structure our day and make things tie in together. Attention to detail, you would think people would not notice the little things but one of the biggest compliments about our wedding was how much attention to detail we had.
We did timelines for various people and we managed to stick to that, make sure the timelines are realistic.
Try to spend time together during your wedding reception as it's so easy to be separated for long periods of time with the pressure of speaking to everyone.
We didn't do tradition , we wanted a day that reflected us, and our day was relaxed, full of love, and we did things the way we wanted and in the order we wanted it done. Our wedding planning was done together every step of the way which is why the blog has been done from both of our perspectives as it was, is and always will be about us.
Biggest surprise
Louis : My present (box) on the morning of the wedding from Faye. Full of little things that meant so much, and the thought that had gone into it blew me away.
Faye: How smoothly and how fast the day went….my one wish if I could have one would be go back in time and relive that day as it truly was the best day of my life…. it was a day to remember with love and happiness.
Supplier Shout Outs
For more information on Coates & Stain Wedding Photography's work please go to:
www.coatesandstain.com
www.coatesandstain.com/blog
07883072323
FACEBOOK 
T: @coatesandstain
I: coatesandstain
'We are a wedding photography duo based in the Midlands, UK. We consider our style to be natural and relaxed with an emphasis on storytelling. We like to capture all true emotions of the moments but we also like to take our couples away for 30-40 mins to create some epic portraits. Because we are a duo, we get to cover the whole day following both the bride and groom which allow us to delivery the full story as it happens'