Yay it's Friday everyone thank goodness for that! How has your week been? Are you looking forward to the weekend? Before we all break up for the weekend I have a fab London wedding for you full of summer goodness, even though it took place in October. J & A created an English tea party wedding with a Village Fete theme by bringing the outside inside! So no need to worry about the October weather! With plenty of cakes, DIY decoration, light up letters and some super cool bridesmaids this wedding is all kinds of pretty. Big thanks to Boho sponsor Love Oh Love Photography for the lovely images.
The day was beautiful, personal, delightful. It was filled with all the best things of our lives in one place.
J & Ar tied the knot on 12th October St Paul's in Hammersmith, London. Taking just 10 months to organise, the couple were married in front of 120 guests.
How they met
We met through a mutual friend, and had been dating for about 15 months before getting engaged. We'd known each other for a couple of years before that.
The proposal
For our first date of 2013, Alistair took me to Skylon in the Royal Festival Hall for a delicious meal overlooking the Thames. After the lovely meal where we reminisced about the year gone by and how much closer we had become as a couple, we walked towards Leicester Square for a viewing of the Life of Pi. As we were walking over Hungerford Bridge, Alistair said to stop to take in the view of the South Bank, St Paul's, etc. I was puzzled as to the tarrying because it was one of the coldest nights of the winter, and wanted to move along, when suddenly Alistair reached into his pocket, dropped on his knee, held my hand and said he loved me and asked me to marry him!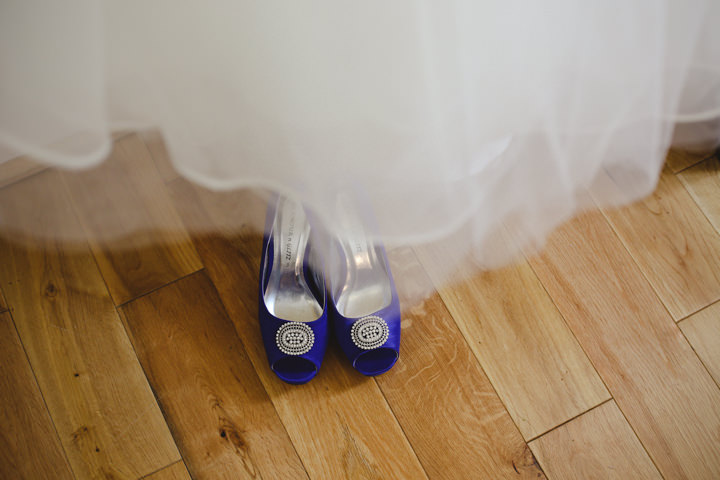 How did you spend your budget?
We were very fortunate that our families were incredibly respectful about the wedding details and didn't try to impose their ideas. We knew we wanted to hold the wedding at our church and have the celebration in the new, conservatory-like extension. We also knew that beautiful photos of the day was the priority over say, the best champagne. So we started with the things we knew were important to us and to the day.
How did you choose your photographer?
How could I not have chosen Pui from Love Oh Love? I saw her website, met with her, and instantly fell in love with her vision of the day. I wanted airy, in the moment photography, and also wanted all the elements of the day documented, and I knew from our conversations that Pui and I were of the same mind.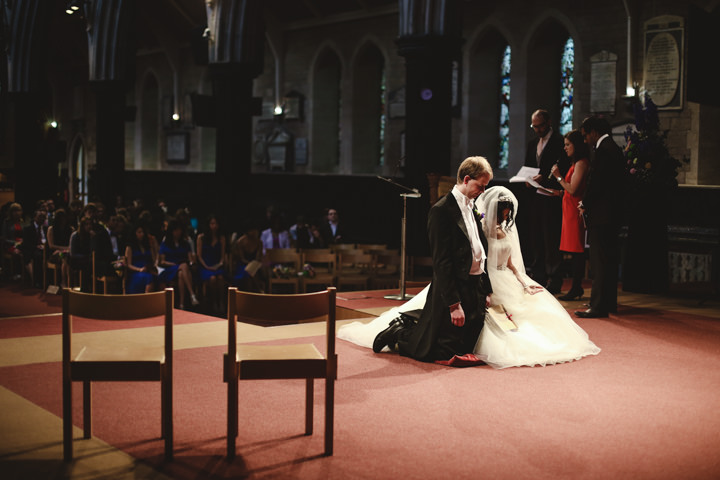 The dress and accessories
My dress was by Mori Lee, my shoes were from Lora Dora via Amazon (it was nearly impossible finding cobalt blue heels). My full-length veil was from NYK Wedding, tiara from DIAMIE, charm bracelet from Tiffany & Co. and earrings were a gift from my parents.
The suit and bridesmaids
Suits were hired, bridesmaid dresses were from Love, Bonito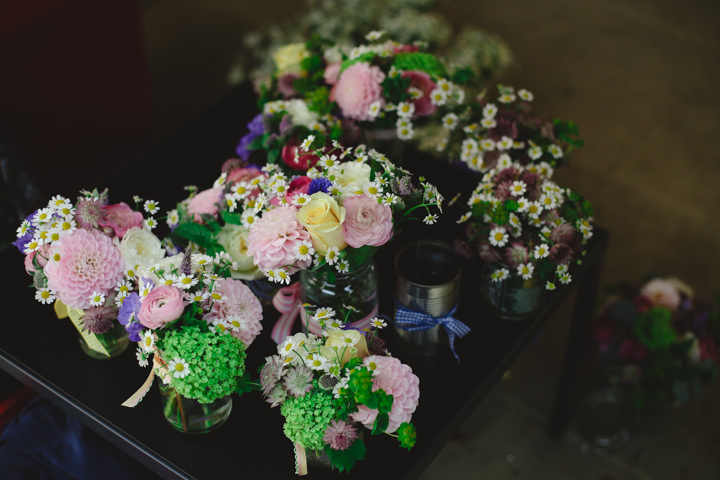 The theme
Royal blue and gold colours, and a classic English fete/tea party theme
The flowers
BLUE Hydrangea, Cornflowers, Scabius and Delphiniums
PEACH 'Avalanche' Roses and antique 'Amnesia' Roses
CORAL Garden Dahlias and Astrantia
PINK Mint flowers, Dhalias and fragranced old-fashioned Garden Roses
LEMON Garden Roses, Ranunculus and Chamomile daisy flowers
IVORY Jasmine trails, Dahlias and Dill flowers
GREEN Asparagus fern, Polygonatum (Solomon's Seal), Bupleurum and green/ivory
Viburnam Opulus 'Guelder Rose'
FOLIAGE French Ruskus and Ivy trails with succulent Echivera plants
The decoration
I wanted everything to be light and summery (even though it was October!), and wanted to bring out different elements of our theme, so I made a "just married" hanging sign from vintage tea/cake plates, a pair of framed silhouettes, both of which hung off the bridge in the middle of the venue, tissue paper pom poms, a ribbon backdrop for the dessert table, and handmade fabric pom poms for the sweet jars. I really loved the large show lights that still seem to be quite in vogue, but we didn't have space in the budget for it, so I DIY-ed as much as I could with fairy lights an "I DO" sigh for the gift/guestbook table. I also used an abundance of mason jars, treacle tins (for flowers), and bunting.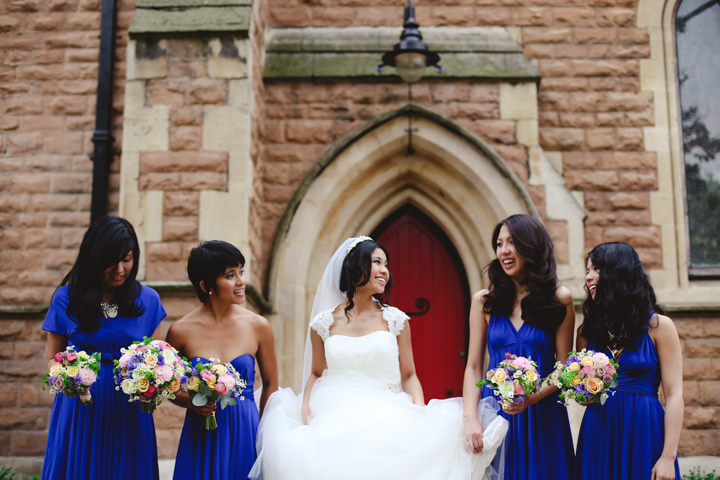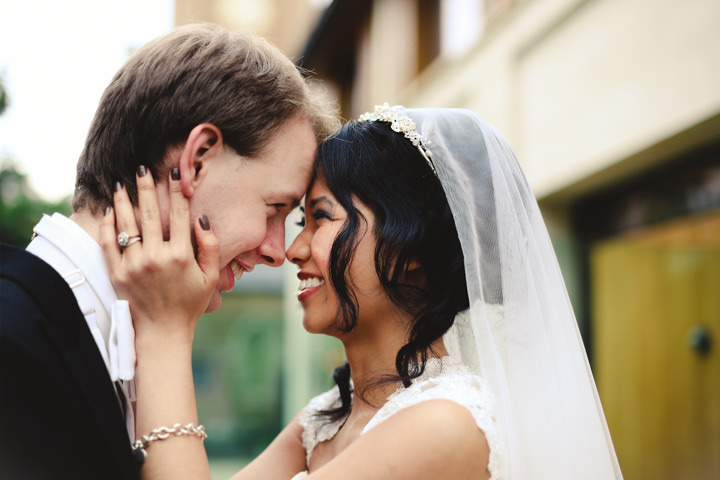 The food and wedding cake
Afternoon tea by Vintage Style Teas (who were beyond amazing), allergen free cakes from Brackenbury Cafe, mini cakes by Sandra from Black Rose Cakes, cupcakes from the Fulham & Chelsea Cake Company, mini iced fondants from Sweetness Online, macaroons by On Cookery and endless sweets! I loved sourcing all the desserts and cakes. We also had Nick Wilson and Lewis Rees (friends and top-notch mixologists) run a bar with Prohibition-era cocktails. Mint julep, anyone?
The cake was beautifully made by Sandra Edington from Black Rose Cakes. I loved the fresh ring of flowers between the tiers that matched my bouquet
The entertainment
Fete games from Fete Game Hire – we had an indoor coconut shy, hook a duck, giant connect four, etc. Our catering company provided a croquet set and gramophone music, and for the evening we had DJ Adam Utting. Apparently a young guest shrieked with delight when she saw the games! We also had a silhouette cutter, Matyas Selmeczi, a busker whom I discovered on the South Bank, and of course, a photo booth!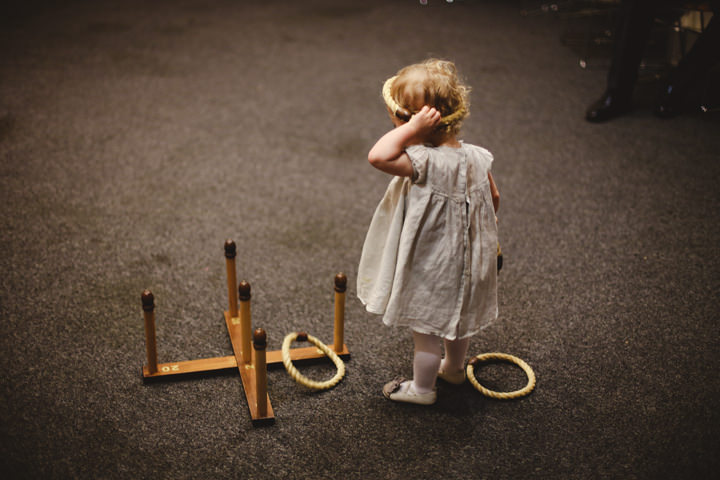 Buy or DIY your stationery?
Our friend designed the suite, and we made a rubber stamp based on the design and used it on our order of service booklets. The invitations were put together by us (the various bits were printed by different people).
Personal or handmade touches
See above. In addition, my little sister made chalkboard signs for the various 'stations' – the drinks station, the gift table, the dessert stall, etc. We also had a tall mirror that had the day's events written on it and was designed by two friends.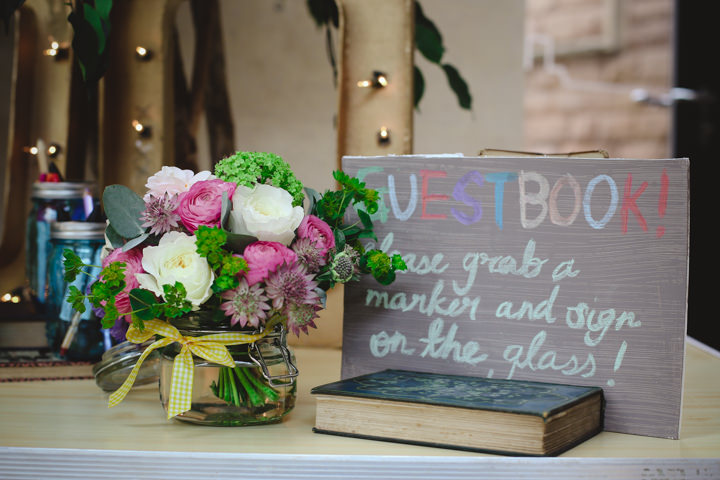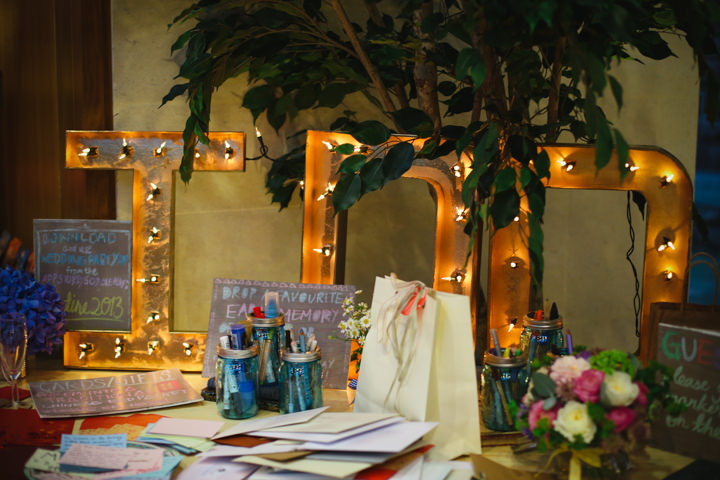 Special moments
Walking down the aisle and seeing Alistair's pleased face, standing up at the front of the church and exchanging vows, the receiving line… I still dream about the day, if I am honest! I have to say, the photobooth was insanely fun, as was the coconut shy. We loved seeing people having fun, meeting each other, celebrating our love with us.
Advice for other couples
Don't sweat the small stuff! It's difficult planning a wedding over an extended period, especially if you work, but we were reminded that what really mattered was that we both showed up with someone to officiate the event and we would still be married. The rest is icing on the cake, so have fun planning and have fun on the day! It will be beautiful no matter what. Oh, and definitely invest in finding a great photographer who gets you!
Biggest surprise
How quickly it all went and how much fun it all was.
Supplier Shout Outs:
For more information on Pui's work, please go to:
www.loveohlove.com
[email protected]
I am Pui Chan at Love Oh Love Photography based in London and the south-east. My aim is to create beautiful and timeless photos that tell a story. I believe the best shots are spontaneous, natural and emotional. This means I generally shoot in a more candid way, capturing the fun and emotion as it happens.