I have a real treat for you today courtesy of the amazing Jon at S6 Photography. This wedding comes all the way from Marrakech and is one of the finest weddings that Jon has ever shot (in my humble opinion!) Sometimes weddings just come along and make you sit up and take notice and this is certainly one of them! With Melanie the bride in a totally stunning yellow custom made wedding dress you just know this wedding is going to be full of colour, culture and a real glimpse at traditional Moroccan life! I simple adore everything about it, the simplicity of the day also goes to show that you don't need a million details to make a wedding special, sometimes less fuss is better to bring out the true emotion of the day! Jon has done a fantastic job with this wedding and has captured the day beautifully! Full marks to everyone involved for creating such a truly magical wedding!
'Our wedding was the most magical night ever thanks to all the wonderful people that were able to make it such an incredible night to remember starting with the staff at the venue, to the photographer, and ending with my family. It was the BEST place/venue/atmosphere anyone could have asked for, especially for their wedding'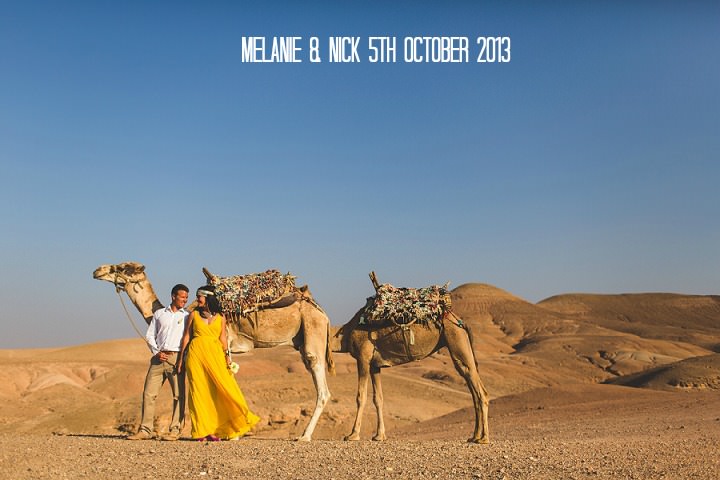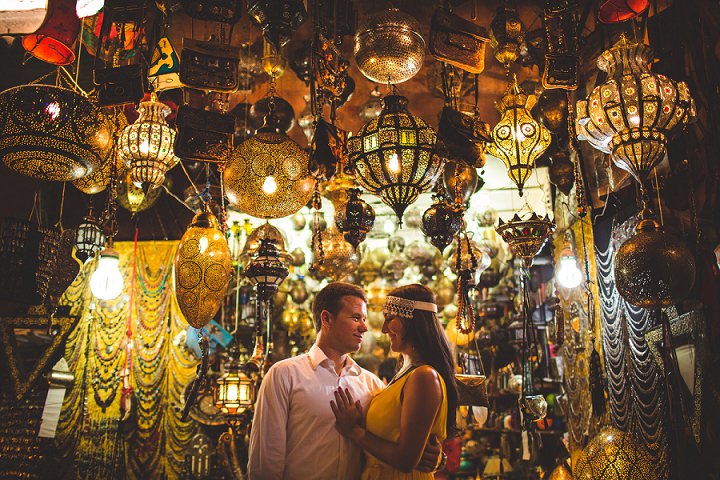 Melanie and Nick were married on the 5th of October at La Pause in Marrakech, Morocco. 'I was born in France but the side of my mum is from Morocco. Nick is from New Zealand so that's where we live. He treated me to the most wonderful trip to Marrakech for my 21st birthday to see my family. My family always try to spend 6 months in France and 6 months in Morocco and it was perfect timing. We fell in love with the city. Trying to plan a wedding in New Zealand was a bit hard knowing that my family might not be able to make it as, let's face it, we are completely on the other side of the world! So I started contemplating the idea of having 2 weddings: one in Auckland, New Zealand to start with, with Nick's family and the second one in Marrakech, Morocco with my family. Because we wanted both weddings to be strictly with family, we only had 13 guests in Marrakech. We have a big reception coming up for our friends. I planned my whole wedding in Marrakech from New Zealand and I think it took me about 2 months to plan.'
How they met
We met in October 2006 and back then, I still lived in Antibes, France. My husband is a professional yachtsman and he was based there with his racing team. We met in a bar. He was there with his friends and so was I. We were watching the rugby game All Blacks vs. France and I was probably the only French person in that bar that was supporting the All Blacks. That's probably how he noticed me. He later on revealed to me that he saw me a few times after that but was too shy to come and talk to me. I think he had to drink a lot of beers before coming and talked to me. He asked for my number and called me the next day to invite me to dinner. We have been together ever since.
The proposal
The proposal was something I didn't expect at all. I was at work that day and he had the day off. I had to take a 30mins ride ferry to go to work. He calls me as I was waiting for the ferry and tells me that he can't be bothered going to the supermarket so we were going to have a picnic in Devonport, Auckland. For whoever has never been to New Zealand, Auckland is full of extinct volcanoes and once you go at the top, you have this beautiful 360 degree view of the city. He then picks me up from the ferry terminal and off we drive to Devonport. He prepared to most wonderful picnic with champagne, sandwiches, strawberries & chocolate. It's funny how, when people ask me about how he proposed, people always tell that I should have seen something coming if he had champagne and strawberries but no, not at all. Nick is like that all the time. He is so caring, spontaneous and romantic so it wasn't the first time we went for a picnic with champagne and strawberries. We sat on this bench overlooking the beach so we were sitting side by side. I was talking a lot and all that but I couldn't hear anything coming from my side so, as I kept talking, I look to my right ready to ask him if he was listening to me and there he was, waiting for me to be quiet. He popped the question and a few tears have been shed. We called a few friends after that and went to celebrate.
How did you allocate your budget?
We didn't really have a budget as we didn't really know how much weddings normally cost and we couldn't really make a decision on how much we were ready to spend on our wedding so we started planning our wedding keeping in mind that we didn't need a lot to make it special. We also wanted to pay for my family's accommodation in Marrakech and didn't know how much we would end up paying for it. To start with, we knew we wouldn't be big on decoration as the venue was pretty much our decoration as it was just breathtaking. We knew though that we wanted good food making sure that our guests do not get food poisoning.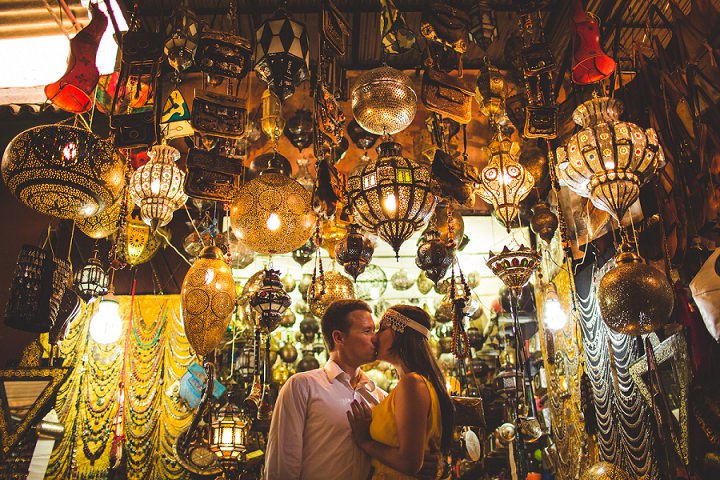 How did you choose your photographer?
When it was time to look for a photographer, I went on the Internet and started looking for one. I didn't want one from Marrakech as I knew it wouldn't have been exactly what I wanted so I looked up photographers in the UK. I emailed a few photographers but all of them were booked on the day of our wedding. Funny thing is that they all directed me to Jon Dennis from S6 photography. To be honest, I am glad all that all the other photographers I emailed were already booked as I loved Jon the most. His style was exactly what I was looking for and shot the day beautifully. I have looked at a lot of different wedding portfolio and I can tell you, I have never seen anybody as good as him.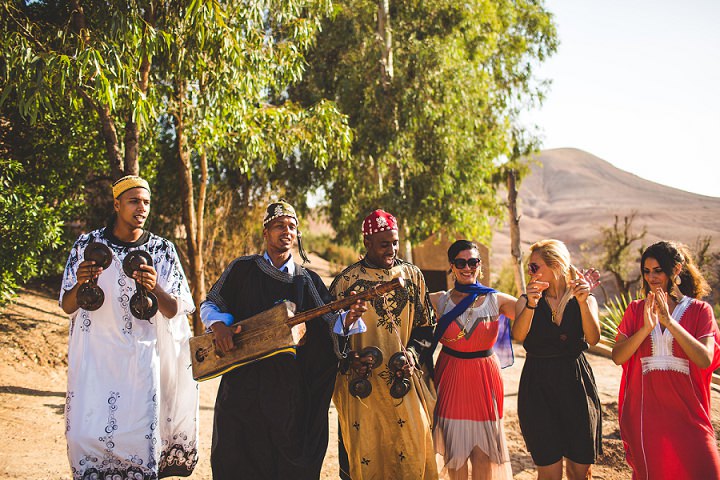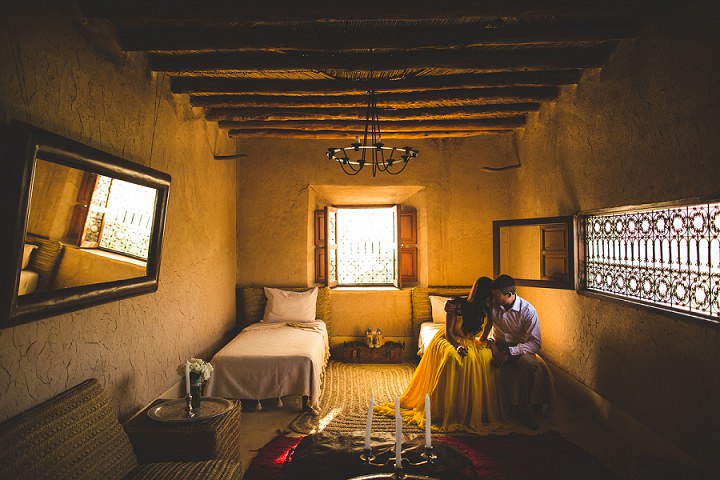 The dress
Well, because we were going to have a wedding in Marrakech, I didn't want to wear a white wedding dress as it just wasn't the way over there. I wanted to blend in so I decided to go for a bright yellow dress. Obviously, you can't go to wedding dress shops and expect to find a yellow dress so I thought that it would save me time just to have one tailor-made. The seamstress even thought that I came to have a ball gown made, she was quite surprised when I mentioned that it was for my wedding. For my shoes, I wore some that I already had – fuchsia wedges. I was also wearing a Moroccan headpiece handmade by a beautiful lady just the day before the wedding.
The suit
As it was really hot in Marrakech, Nick didn't want to wear a full suit and he felt the same way as I did. You can't really wear a suit in the middle of the desert so he wore clothes that he already had. A white shirt with beige chinos.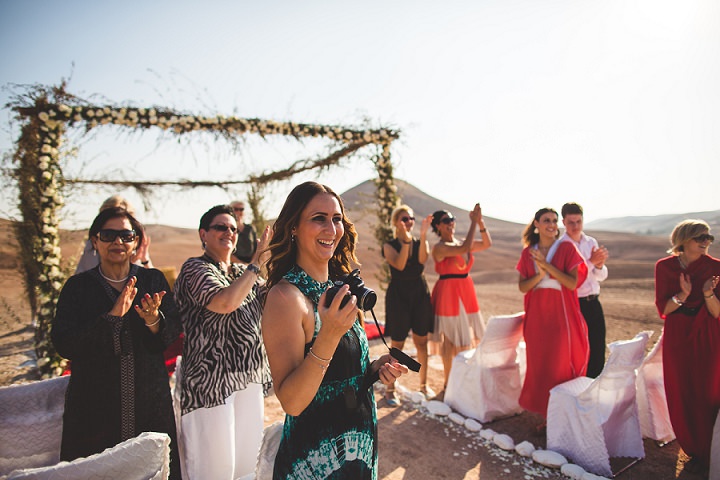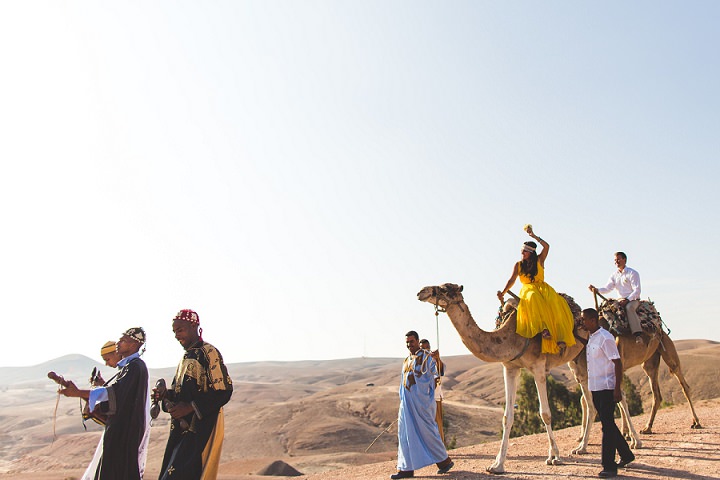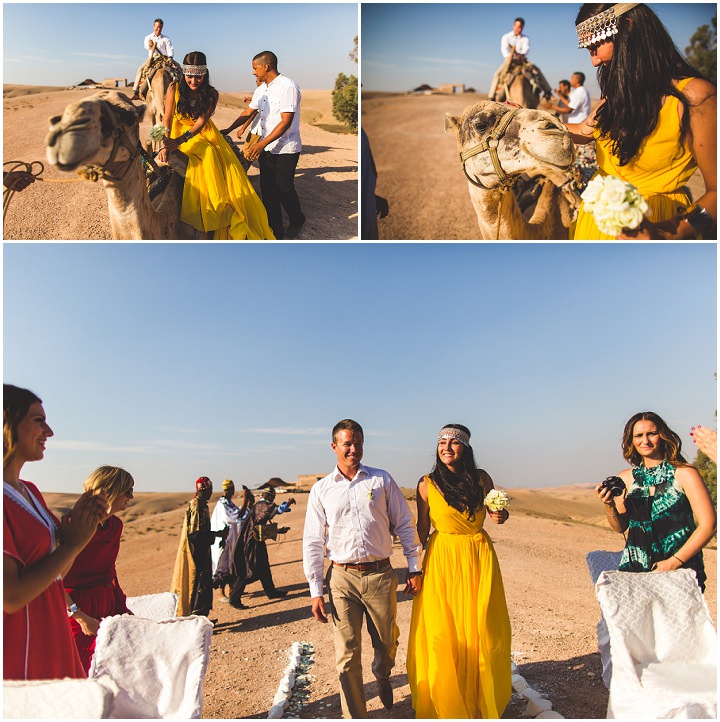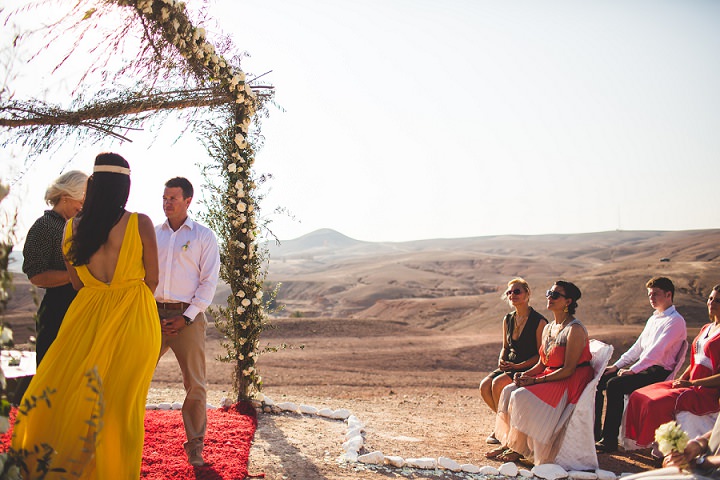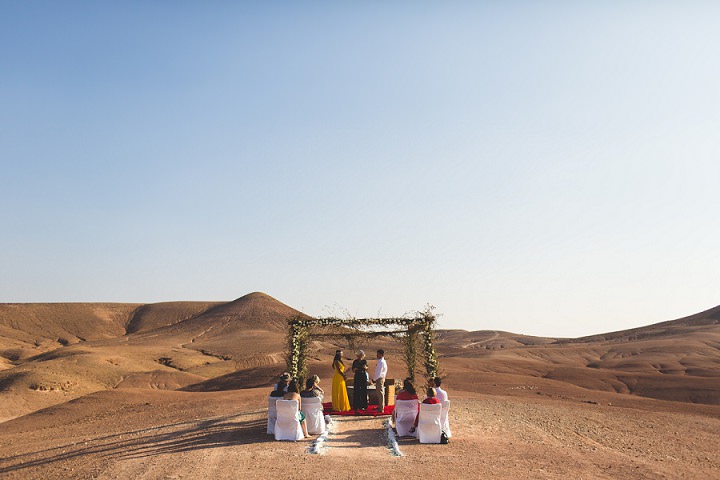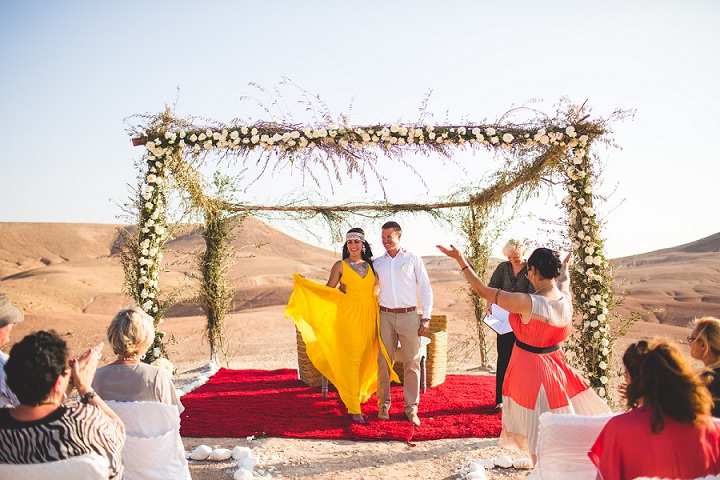 Theme or colour scheme
We really wanted the whole theme/colour scheme to stay within the Moroccan look so we kept it with the gold, yellow, orange, red, purple.
Flowers
I kept it quite simple with the flowers. I had a small bouquet of white roses and Nick had a small white rose as his buttonhole. The same flowers were all around the arch. We didn't want too much flowers as the desert was magnificent enough.
Decoration
To be honest, we didn't have much as the venue didn't need much decorating. We wanted to keep the venue just like it was and I know I said it a lot but the place was just unreal. We didn't need to do anything to it to be breathtaking.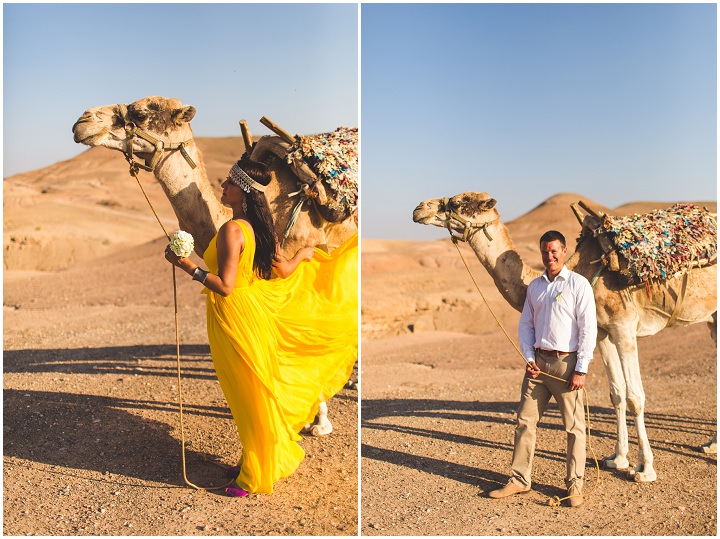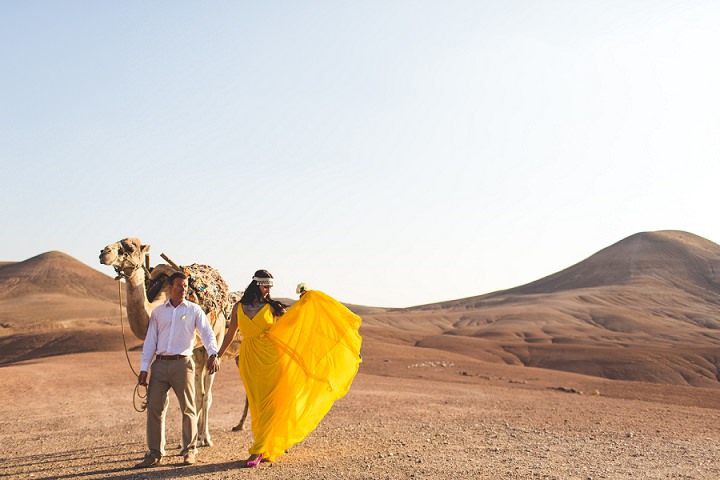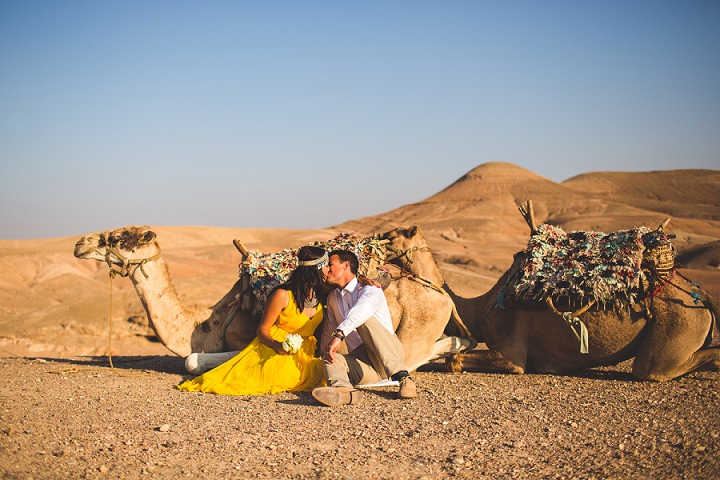 Food
For the cocktail hour, we were served Moroccan savoury pastries, meat skewers, olives with beautiful spice. For dinner, we started with Moroccan bricks (looks a bit like samosas) served with delicious Moroccan dips. For main, we had lamb couscous which tasted exactly the same as my grand-mother's. It was to die for. For dessert, we had a chocolate mousse. The wedding cake was organised by the venue which was great as I would have had no idea where to start to get one made in Marrakech.
Wedding Cake
We had a typical French wedding cake called Croquembouche which is profiteroles filled with custard and dipped into caramel. I couldn't get enough of it.
Entertainment
For entertainment, we had a group of musician, called the Gnaoua Musicians, playing typical Arabic music. They played as I was walking down the aisle, during cocktail hour and during dinner. We also had a troop of entertainers. They were jumping around, climbing on top of each other, steel wool spinning. They were unbelievable.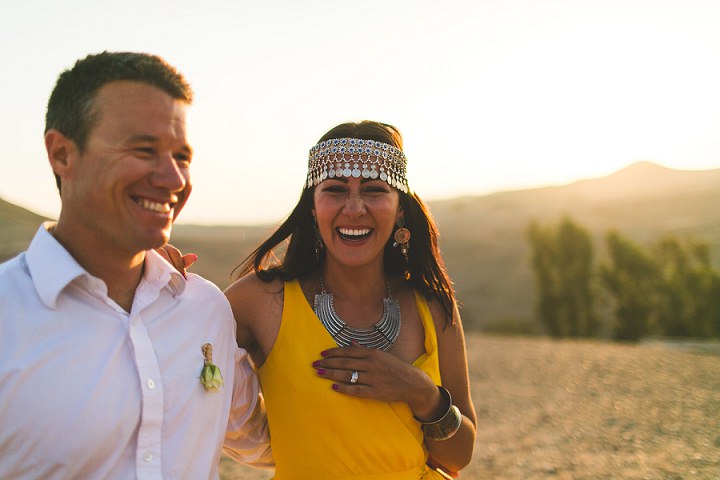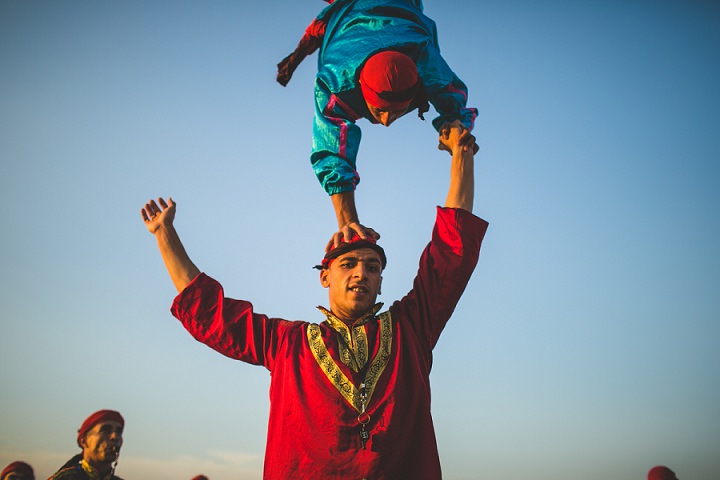 Buy or DIY your Stationery?
I did all my save the dates and wedding invitations. I wanted them to have a Moroccan look and it was quite hard to find some (or at least, some that I liked) so I decided to make my own. I don't regret it as it really feels like you are really involved with your wedding and it saved us a lot of money.
Personal or handmade touches
What I really wanted at our wedding was the place cards. I bought some gold little picture frames and had my guests names translated in Arabic to place in the frame. It was also for our guests to keep.
Special moments or highlights
To tell you the truth, the whole day was my highlight. The fact that everybody was having a good time, the fact that I was with my family for the first time in about 3 years, the fact that I was marrying the love of my life, the fact that everything went so smoothly and, maybe I shouldn't say it out loud, the photographer. My wedding day wasn't even over yet that I was already thinking of that time when the photos arrive in the post. All of the above were my highlights.
Biggest surprise
The biggest surprise was seeing my sister crying during the ceremony – she normally never cries!!
Advice for other couples
For all the future bride & groom, they just need to know that they don't need to spend a huge amount of money to have the perfect wedding. The day is about themselves and what they like not about their guests. They also need to think outside the box. Not every wedding has to be a bride wearing a white dress, the venue to be a vineyard or a wedding venue and the decoration to be flowers. Try to imagine it as if it wasn't a wedding, you will see things differently. Also, I know it's important to mingle around with your guests but it's also important that you spend 5-10mins on your wedding day just the two of you.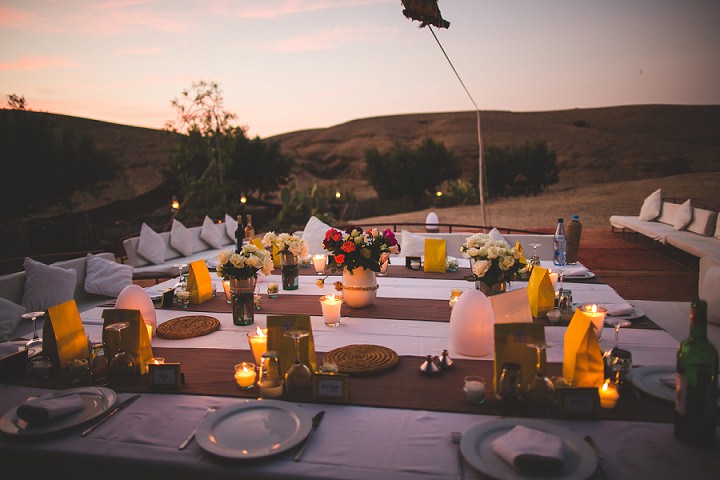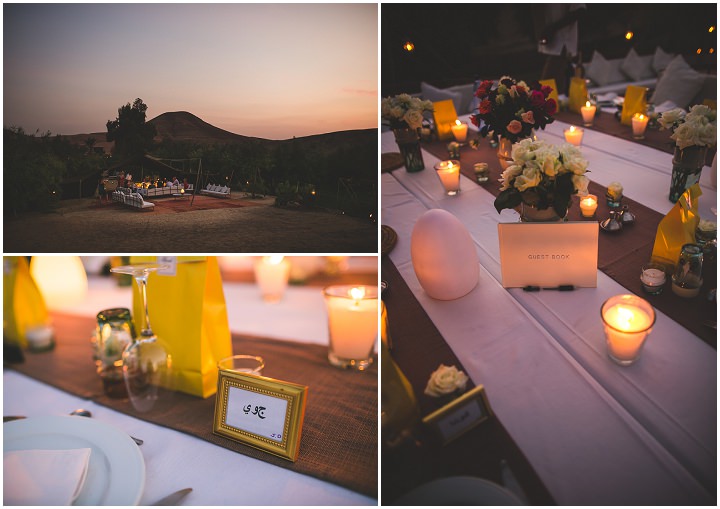 Supplier Shout Outs:
For more information on Jon's work go to:
www.s6photography.co.uk
www.s6photography.co.uk/blog
FACEBOOK
@s6photography

[jprel]