Happy Monday everyone! I have a smashing wedding for you to start off the week as we mean to go on! A fun-filled carnival wedding sent in to me by the super lovely Mark Tattersall Photography. The amazingly cute couple Kellie & Michael did a fantastic job at creating this DIY 80s wedding all for under £5,000. By calling in favours from friends and family, putting together homemade and DIY projects, borrowing things like the marquee and really researching the dress they managed to bring it all together under budget! It just goes to show you don't have to go without on your wedding day and still have the wedding you want. With loads of fun elements like carnival games, a bouncy castle, a photo booth and a fish and chip van this wedding is one that you'd want to go to as a guest ! As well as this it looked amazing with loads of DIY decorations, and an amazing collection of pastel vintage crockery! A splendid wedding with such an amazingly cute couple, I just love it!
'An eclectic day full of laughter, lemonade and Billy Idol.'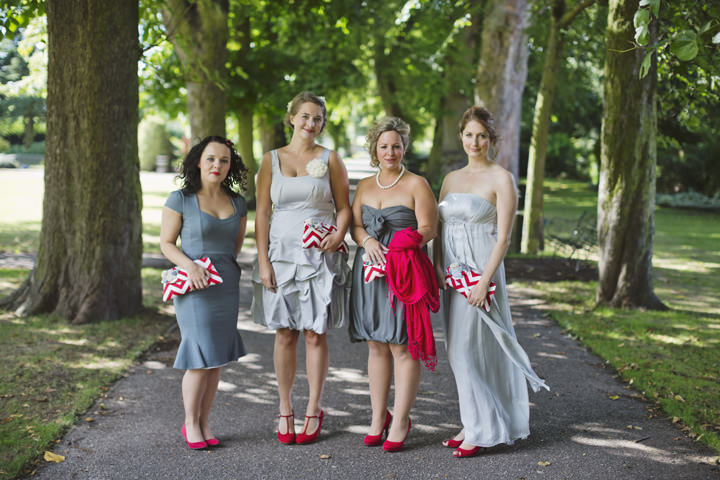 Kellie & Michael were married on the 7th of September at Lichfield Registry Office followed by a reception at the family home in Staffordshire. 'We wanted to keep it fairly local and not have too much distance between the ceremony and reception venues so it wasn't too much bother for the guests. When weighting up the various venue options my parents garden was the best option cost wise and I loved the idea that we could have flexibility over the inside and outside as we had loads of ideas of things we wanted to incorporate into the day. We did look at the Electric Cinema in Birmingham as a potential venue but when looking at local reception venues for afterwards the costs started to inflate a lot and I didn't like that you were often very constricted with the food and drink choices. If we'd have loved a reception venue we probably would have pushed the boat out but nothing hugely inspired us and didn't then want to make people travel from the centre of Birmingham to my folks house so Lichfield won. We had 30 guests for the ceremony, around 60 for the afternoon tea and around 150 for the reception. Mike proposed at the start of December 2012 and we set the date of September 2013 so we needed to get rolling with it straight away.'
How they met
We met at a pub in Lichfield and had dated around 4 years before the wedding. We were very open about discussing marriage but neither of us were really fussed as we didn't necessarily feel we needed it to cement our commitment to each other.
The proposal
We went to Berlin for a few days on holiday. We spent the days walking into the centre through the Tiergarten which at that time was fully blanketed with untouched snow. There was hardly anyone else around and it was just beautiful, it was literally a fairytale setting. We then spent our days walking around the various German Markets, eating and drinking and soaking up the festive spirit. At night-time they were magically lit up and snow continued to fall around us. One night we bought some food & sparkling wine and sat into the hotel apartment just talking and listening to music for hours, it was so relaxed and romantic. That night had worn on for a while and as I went to go to bed Mike became a little agitated and told me I couldn't go to bed. I politely told him where to go and started to get ready for bed. As I was taking my make up off in bed he (literally) dove by the side of the bed and proposed, I had a face wipe in my hand and my make up was half wiped off! Mike maintains this was the perfect timing. The ring was a reclaimed lovely vintage spoon handle but was a temporary one so I could pick my own.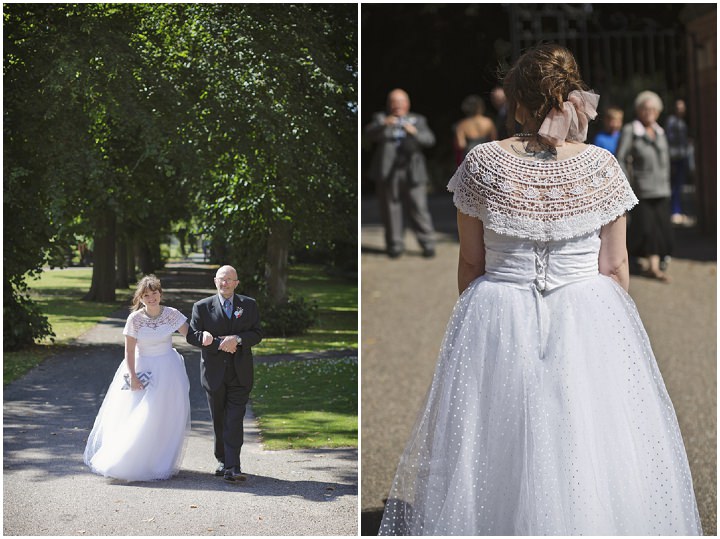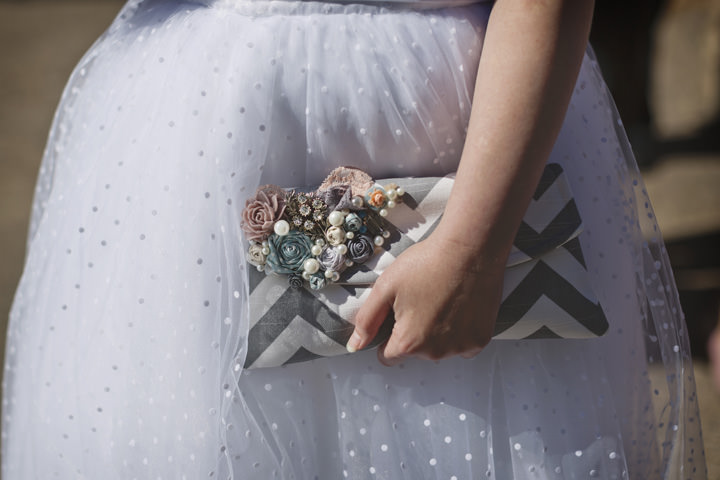 How did you allocate your budget?
We are in the process of moving house so that took priority for us moneywise. In any case we both agreed from the start that spending a huge amount on the day wasn't something we wanted to do because it wasn't something we really felt was reasonable. We also quickly crossed off a lot of traditional wedding things that we weren't really interested in which meant we had the money to spend on the things we really wanted. We definitely didn't want to spend more than £5000. There were some things we really were not prepared to settle on though – in particular the crockery for afternoon tea. Fortunately I tend to have tastes that aren't as popular in the afternoon tea circuit so they were easier to get hold of – arcoroc and pyrex as well as the more quirky Meakin pieces. I already had a quite a bit that I'd collected over the years but it took quite an effort to amass enough for 60 people. I spent months slowly collecting it together. Another non mover was the champagne glasses, they all had to be vintage saucers, I collected some beautiful vintage etched and Victorian ones which I've kept hold of. I wish I'd had enough room to keep it all, we sold it as a massive lot on ebay afterwards.
Why did you choose your photographer?
For me it was a case of all or nothing with the photos, either we get a great photographer or we don't have one at all, rely on the guests to be amateur photographers and I would edit them afterwards. However thankfully we came to our senses and realised we really need a photographer and it is worth paying the money. There were a handful of photographers I'd looked at that I liked and we were very very lucky that Mark happened to be available. We really wanted an informal style, not an emphasis on posed photos but relaxed natural shots of the day unfolding and in particular the small details and of guests enjoying themselves. Mark totally nailed it. He spent time searching around the farm looking for the best backdrops and places where the light would be best. He also managed to strategically nudge me away from the bouncy castle before any romantic shots were taken which was extremely wise as it was game over for my hair after that.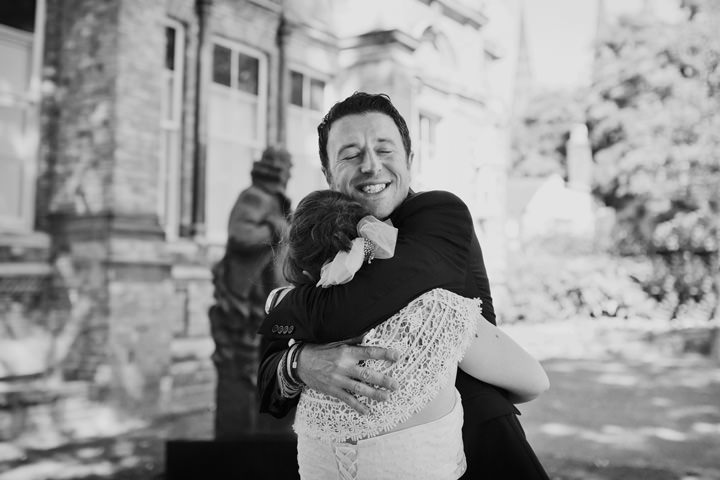 The dress
I had a lot of trouble finding a dress, I did look at dresses a lot online and went a tried some on but I wasn't feeling that instant love that should really happen. I had assumed I would probably end up wearing a really nice high street dress, plus I would probably be able to wear that again. I also thought about making one myself as I dabble in dressmaking as I did have an idea of what I wanted but I just could not find anything like it. I thought I would try the China route first though and allocated £100 for what I essentially classed as a gamble. I picked a supplier off ebay who had good feedback and sent them very specific instructions about the style of dress I wanted and the details I wanted. I did this genuinely thinking it wouldn't amount to much but when the dress came I was so surprised, I fell in love with it as soon as I saw it. It was still a gamble as the material wasn't exactly what I had asked for but I actually loved it even more, it was so unusual. Unfortunately just before the wedding I lost a bit of weight with all the running around so the waist wasn't quite as nipped in as it should have been but when it first came it fit like a glove. Shoes were standard high street, I wasn't really fussed about shoes as you barely see them and I ditched them quite quickly as they were really hurting and opted for my converse which actually produced one of favourite pictures of the day. Jewellery was vintage.
The suit and bridesmaids
I really wanted Mike to wear a bow tie but he refused. I handmade all the button holes as we couldn't find any we loved. Given that the allocation for our clothes was relatively small it didn't make sense to then go crazy with the bridesmaids dresses. We agreed instead that they would get their outfits themselves. They just had to stick to the colour scheme of grey dress and red shoes but could but pretty much get anything they wanted so they could bring their own personalities into it and have dresses they could wear again. Instead of bouquets I had clutch bags handmade for them and me. I had their names embroidered inside theirs and 'I love Mike Brown' embroidered in mine and then I embellished them.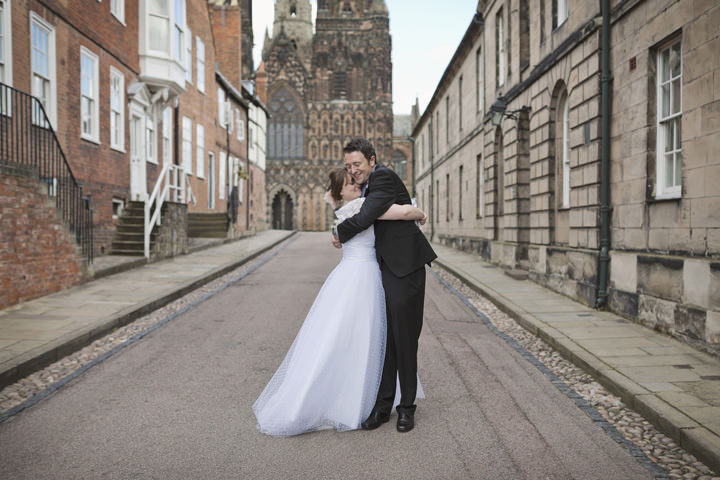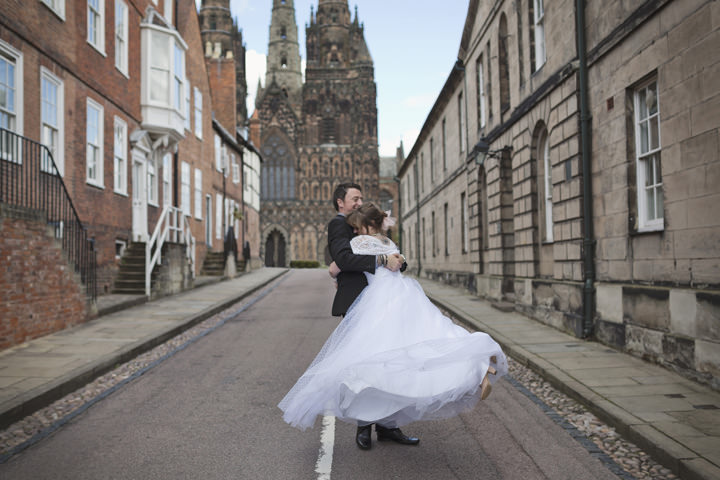 Theme or colour scheme
There was a vague carnival theme, mainly because I had a design of invitation I specifically wanted to make and wanted to use the carnivalesque fonts throughout. We didn't want this to be overbearing though and ultimately just let it evolve into whatever we wanted it to be rather than rejecting ideas just because they didn't fit. Overall it came out looking quite 80's, to the point that the spare tent we managed to source in case of rain bizarrely had a big banner saying 'Pretty things' stitched onto the front – it was the David Bowie tent.
Flowers
I knew from the start what I wanted with the flowers – not big arrangements but lots of vintage vases with mainly roses and the small white flowers that I can't remember the name of. I just bought these and arranged them a few days before the wedding. They turned out exactly as I imagined, I loved them.
Decoration
I spent months before hand making paper flowers and fans with the intention of using them decorating a particular part of the garden and making a specific pretty little sitting area. It was a little heart-breaking that it rained very heavily that week and heavy rain was predicted for the day so we had to re-evaluate at the last minute and were not able to bank on utilising the outdoors in the way we had hoped. Because we were realistic about it though it was all fine and we just re-arranged where everything would go in the garden and managed to borrow a second marquee at the last minute as the main one definitely wouldn't fit all the guests in. Despite threatening it all day it actually didn't rain in the end.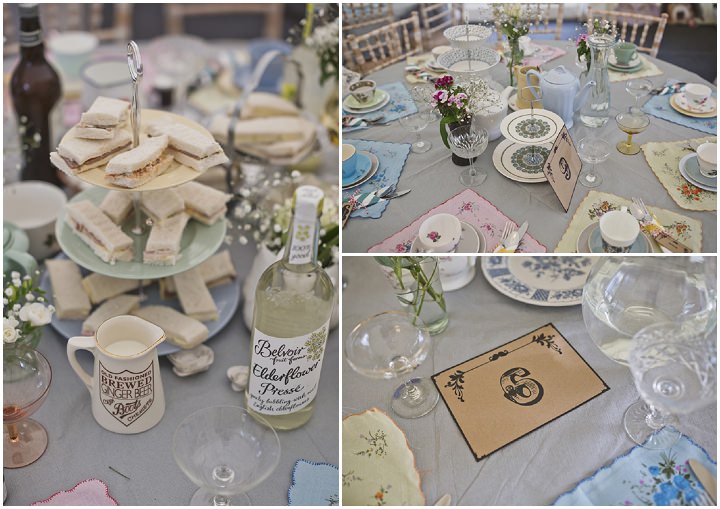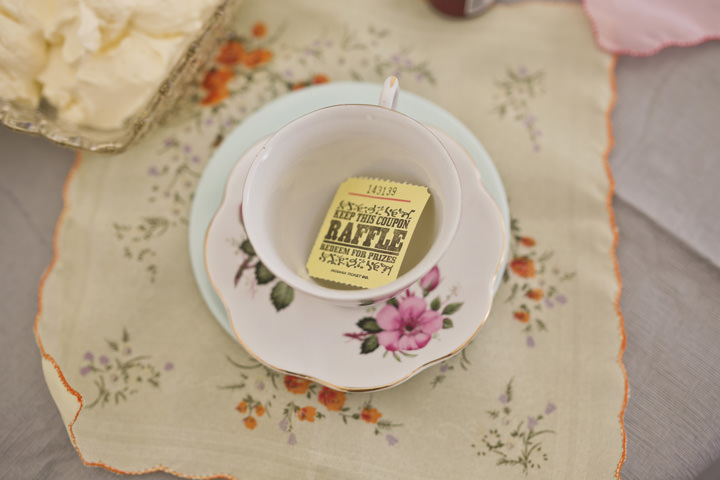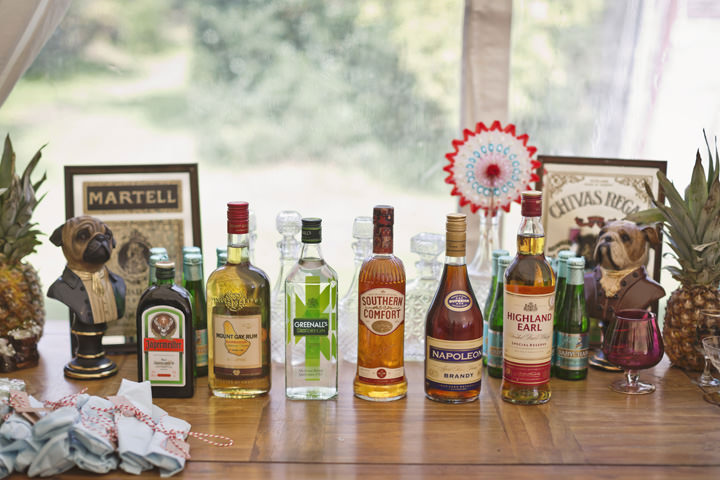 Food
We settled on DIY afternoon tea, my aunt works in catering and was a godsend, she cooked really lovely nibbles from scratch. For night time we decided fish and chips was the way to go, who doesn't love fish and chips. It was a really effective way around the food dilemma, providing something tasty for all the guests but without it costing the earth!
Wedding Cake
There was an assumption that I would probably make the cake as I have made elaborate cakes for weddings and other events but I really did not want to be faffing around with cake making at that time. A wedding cake was one of the elements neither of us was fussed about. My parents made us an amazing big cake stand which had a lampshade on the top and we piled it up with Mr Kipling mini cakes and Krispy Kreme doughnuts.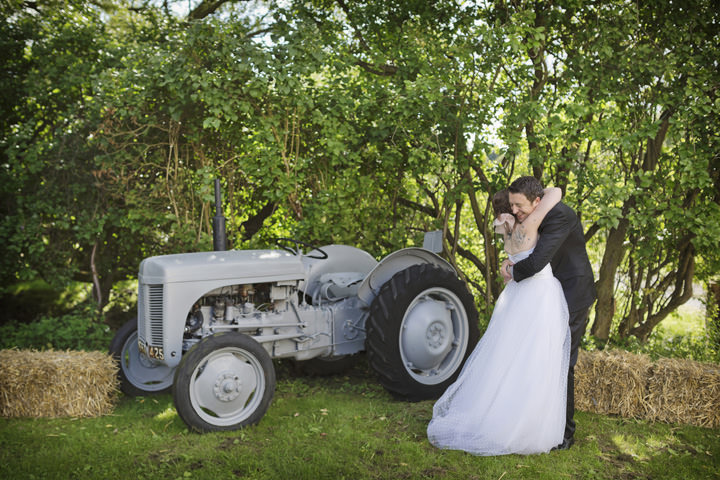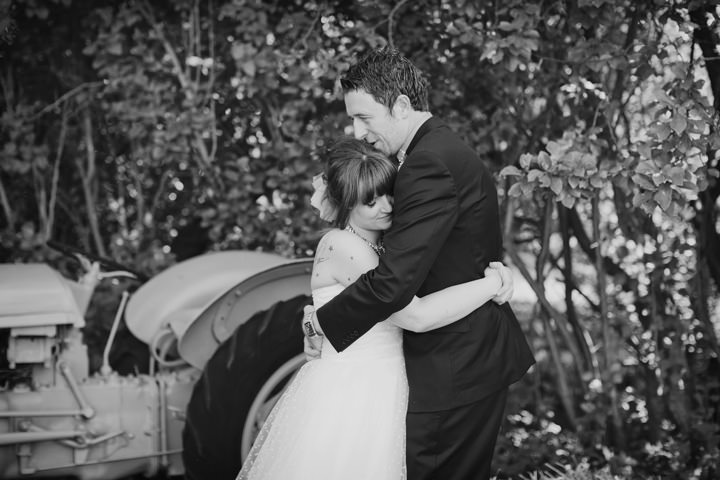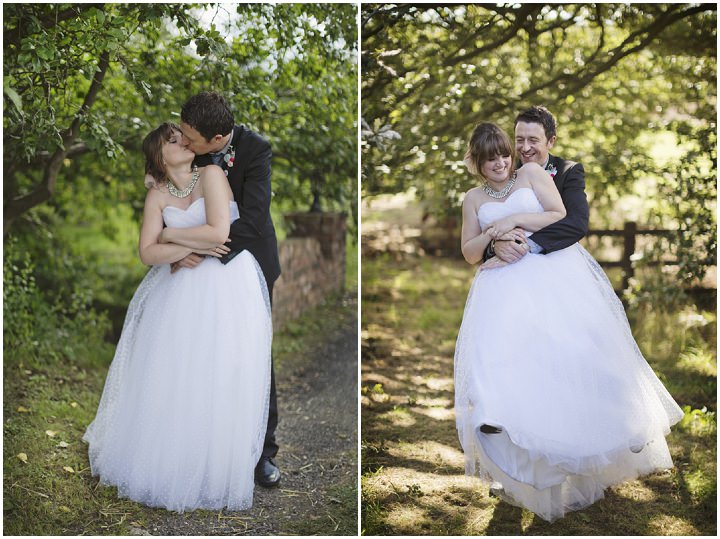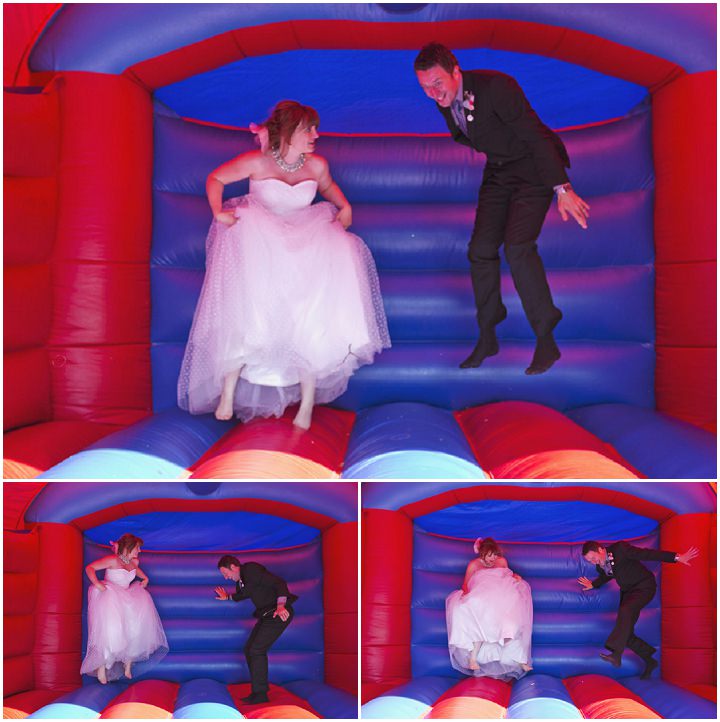 Entertainment
Another reason for the vague carnival theme was an excuse to make some stands to keep guests entertained during the day. For the night it was a straightforward disco, courtesy of an ipod and some borrowed speakers.
We classed the photo booth as entertainment and provided loads of props and dotted loads of things around, like the Lego parts on the tables and typewriter and pens, so people could play and be a bit creative. We also decided to do a raffle during the afternoon tea because we bloody love a good raffle. We picked a lot of vintage toys and a lot of kitsch prizes. This went down a treat, created some great photos and the more unusual prizes made brilliant talking points on the tables. We also threw in a couple of quite good prizes too, for instance vouchers for meals out, I guess we also saw this as the favours – instead of everyone getting a little something there was the opportunity to get a more substantial gift. Photographer Mark was most upset he didn't win the Battlecat! There was the bouncy castle as well. We did warn guests beforehand that it would be there and to dress appropriately if they wanted to go on.
Buy or DIY your Stationery?
DIY all the way. I love a good bit of crafting so I did all those bits, including any signage. I made button badges for the invitations, each one had a 'Team Mike' and 'Team Kellie' on – to make it clear it was a popularity competition. I had wanted to put in the invitations 'why wait for the divorce, pick your sides now' but we decided this was probably a little inappropriate.
Personal or handmade touches
• Whenever we have parties we make a 'big head' ie a giant cut out head. They always make great silly photos. Obviously for this we needed the god of weddings Billy Idol. For no definable reason me and Mike decided we wanted a cat and dog one too.
• Giant letters spelling out our names and for the candy bar and tea area.
• My parents are incredible at just knocking stuff together. They made the tin can alley, face cut out board, hat stand, candy bar and an incredible wooden postbox to put the envelopes in.
• I became completely obsessed with making a paper flower wall, I got totally absorbed and it took months to complete as I just kept adding to it over time. I didn't manage a whole wall but it was pretty big. It was beautiful, I want an excuse to make another one.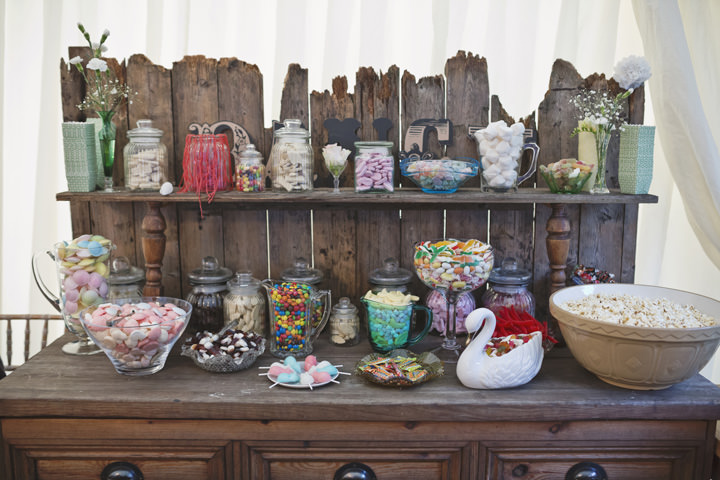 Special moments or highlights
A particular highlight was when Mike cracked my rib – it was when he was spinning me round in front of Lichfield Cathedral for a photo.
What was your biggest surprise of the day?
Surprises started before the big day to be fair. We left the way to respond very open and got some unbelievable RSVPs. We had a video one which was hilarious. Another was a photograph jigsaw puzzle which was split up hidden around Lichfield, me and Mike were sent on a treasure hunt to find the pieces. Someone cooked biscuits letters we had to re-arrange into the RSVP. We got a life-size plastic carrier pigeon/hand made mini circus tents/lego figures/beautiful hand crafted cards. We gave out gifts to the guests on the day because we were so blown away with the effort everyone made to RSVP. The best RSVPers got embossed vintage spoons.
Advice for other couples
I think there was a feeling at times that we were trying to be a little subversive in our approach by rejecting a lot of traditional wedding values but nothing could be further from the truth. At the end of the day it was a wedding, just like any other wedding; we got married, we ate, we drank, we danced! Weddings are brilliant, whether it's a totally traditional package affair or a casual knees up in a garden. Don't feel you need to adhere to a prescribed structure but equally don't bother trying to bend over backwards trying to be different because it's all been done before and it will all be done again. Do what feels right and what best represents you as a couple and keep it fun – for both of you.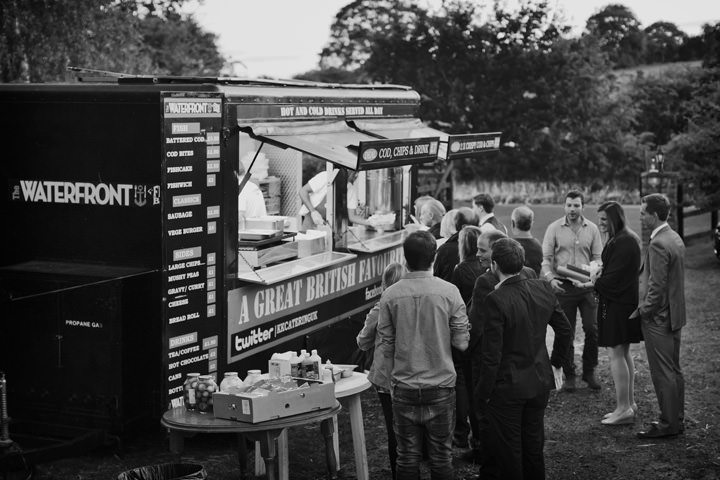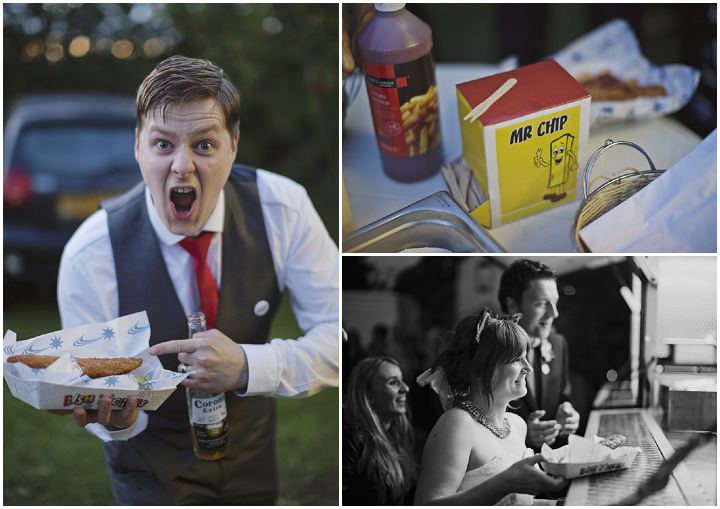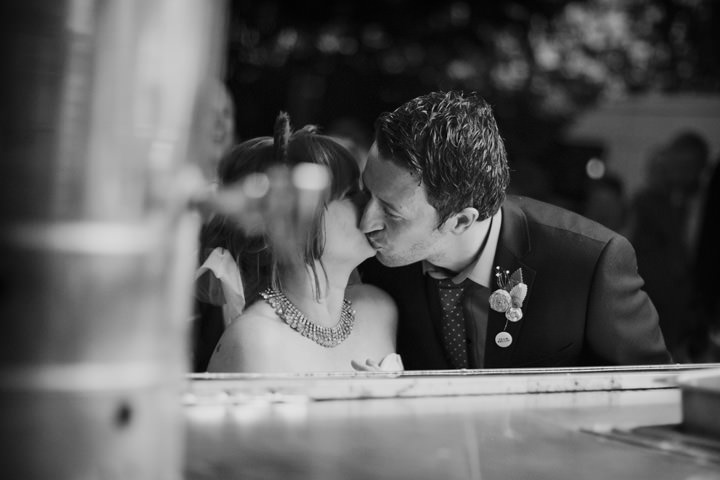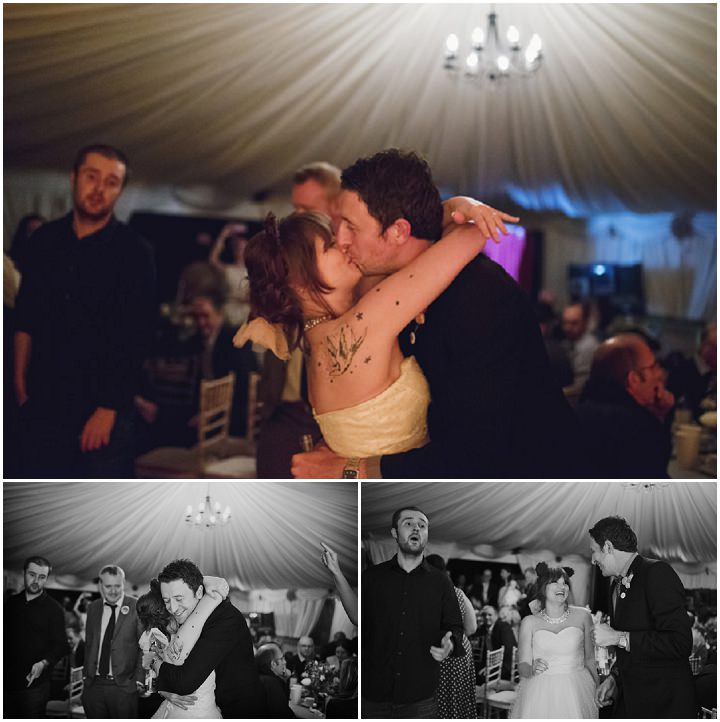 Supplier Shout Outs:
For more information on Mark's work go to:
http://mark-tattersall.co.uk/
http://mark-tattersall.co.uk/blog
FACEBOOK
@Mark_Tattersall
[email protected]

[jprel]