I have another lovely summer wedding for you today, to brighten up this cold December day! Brought to you courtesy of Mark Tattersall who I have had the pleasure of working with in the past, this wedding is full of colour, summer sunshine and a relaxed and chilled out couple. Set on a Farm so the couple had a blank canvas to work with, James and Lindsey really went to town on making sure this wedding was full of colour and fun. Taking inspiration from wild flowers as well as bright fabrics this wedding is full of handmade bunting, napkin rings, table centres, hay bales and lots of garden games. A perfect summer wedding!
'2 years of hard work and planning boiled down to a really special afternoon and evening. It was a relaxed, informal and very personal day.'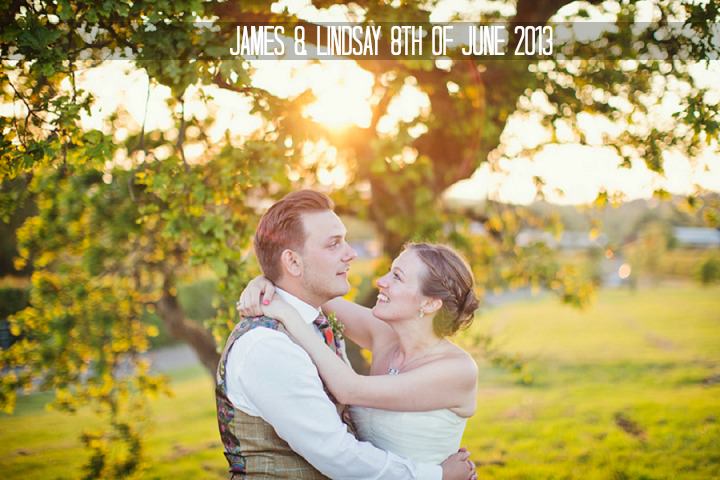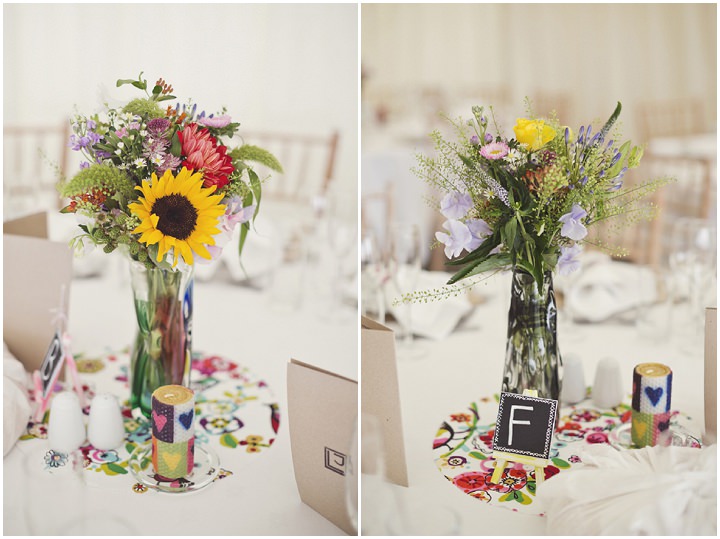 James and Lindsay were married on the 8th of June, with the ceremony at St John's Church, Frankby, and reception at Church Farm, Thursaston, Wirral. 'We looked at venues in Oxford (where we met), London (where we live) and on the Wirral (where Lindsay grew up). We chose Church Farm in the end for the sensational views and because it provided us with a blank slate to build the perfect wedding for us – we found this much more appealing than signing up for a standard package. We had 90 guests and were engaged for just under two years, planning throughout in fits and starts.'
How they met
We met at university 9 years ago and started dated 8 years ago.
The proposal
James suggested we go ring shopping so he could get a feel for the sort of engagement ring I would like. Almost inevitably, I ended up falling in love with a unique antique ring so he put a deposit down there and then. A week later, he took me to the Waterside Inn in Bray and officially proposed by the river before taking me for a slap-up meal to celebrate!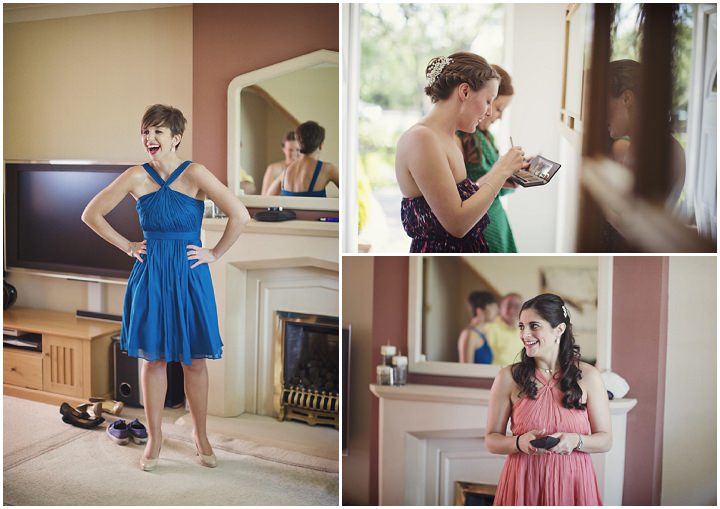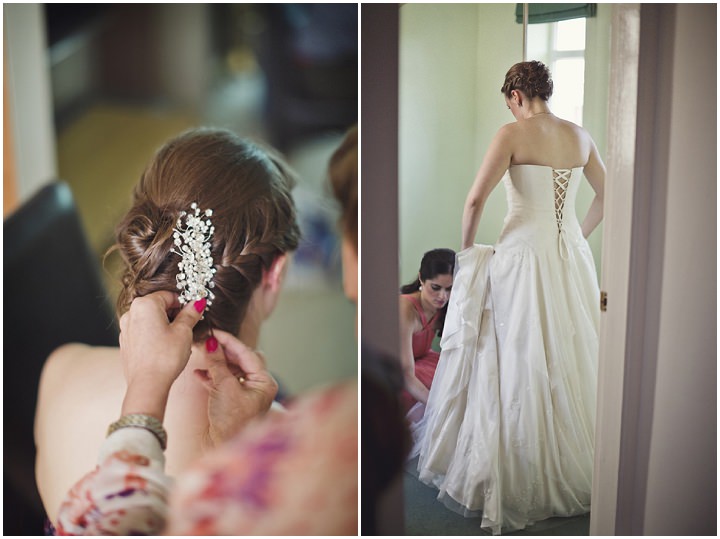 How did you allocate your budget?
We drew up a spreadsheet, each of us estimating how much we thought each aspect of the wedding would cost and taking the average as our budget. In terms of the costs for the day itself, our guiding assumption was that the reception (venue, food, drink) would take up c. 60% of the budget and everything else (incl. outfits, music, transport, flowers, church fees, photographer) would come to c. 40%. We also gave ourself a 10% contingency which mostly got used up in dressing the venue.
How did you choose your photographer?
We looked at loads of blogs (including Boho Weddings) and Mark's name kept coming up in relation to the weddings that formed the inspiration for our day – so he was the obvious choice.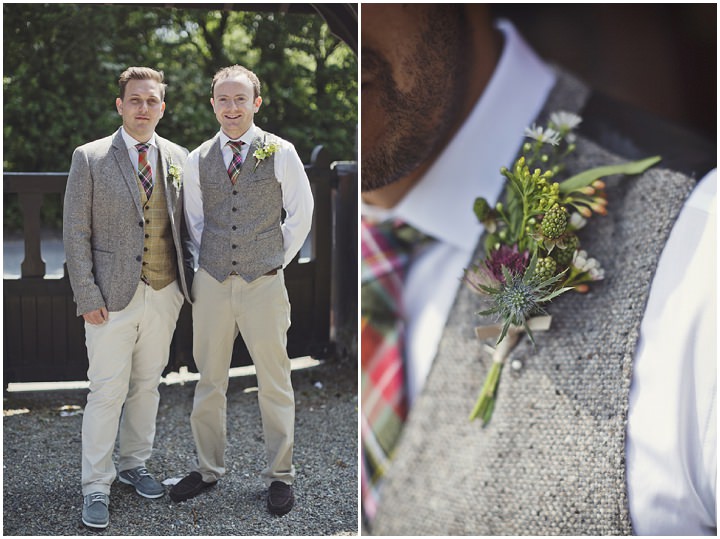 The dress
The dress was Jenny Packham and the shoes by Carvela. My jewellery was my 'something borrowed', a diamond and pearl set belonging to my Great Aunt.
The suit and bridesmaids
The bridesmaids wore silk chiffon dresses from J. Crew. We put together the outfits for James and the groomsmen, selecting items from Ted Baker (groom's waistcoat), Reiss (groom's trousers), Levis (groomsmen's trousers), Superdry (groom's shoes) and Topman (groom's jacket and groomsmen's waistcoats). And the ties came from a Scottish kiltmaker!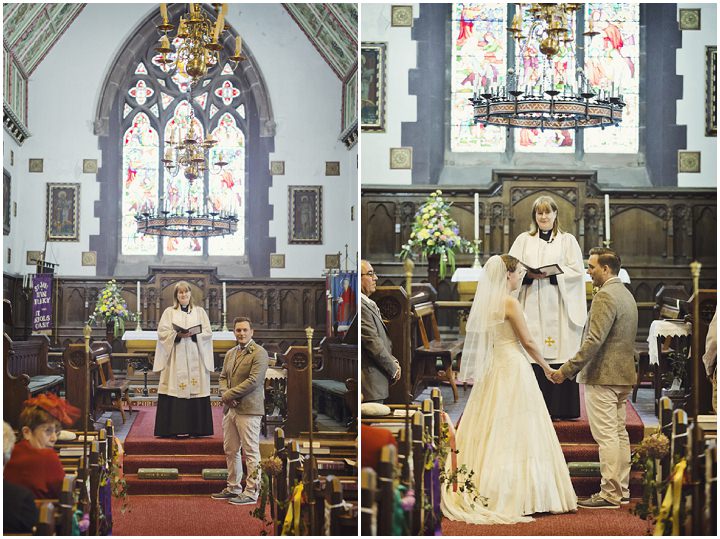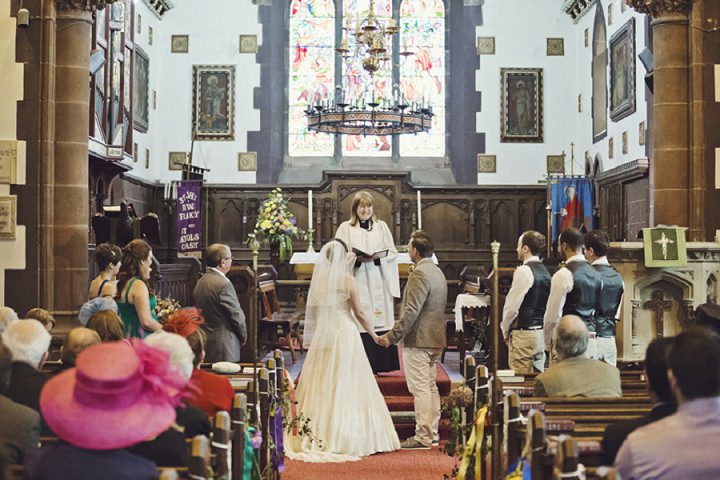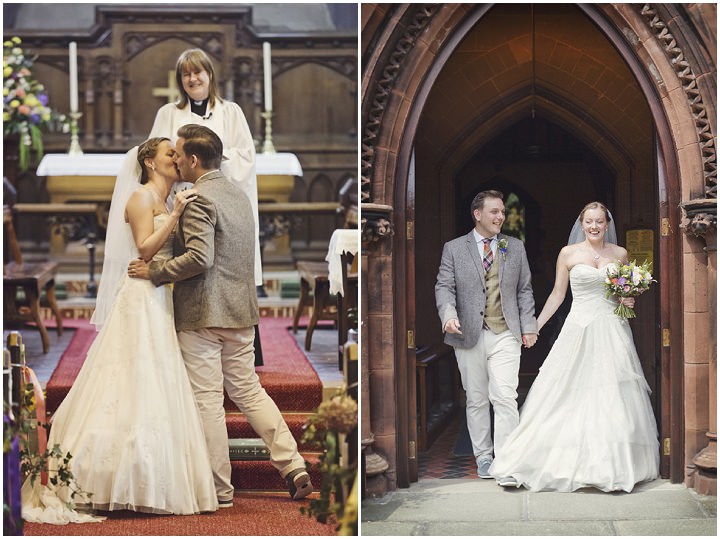 Theme or colour scheme
We didn't really have a theme, but the wedding palette was based on English summer wildflowers – so very bright and colourful
Decoration
The focus of our decoration was fabric and flowers. We chose a set of fabrics called Larkspur by Alexander Henry and used this to make bunting, napkin rings, table centres and anything else we could think of to brighten up the marquee! Our florist used the fabric to inspire the colourful floral bouquets.
Flowers
We went for a 'just-picked' look of seasonal English wildflowers. Our florist was great – we explained the general feel of the day, gave her swatches of the fabric we were using to dress the marquee and pictures of the bridesmaids dresses, and she did a beautiful job of pulling everything together.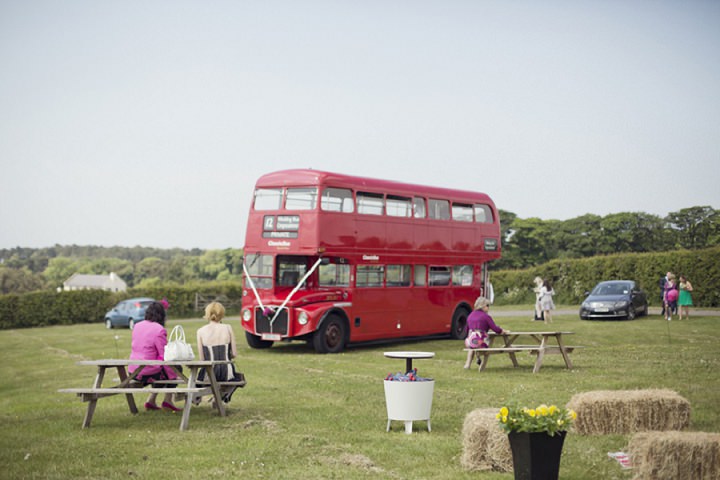 Buy or DIY your Stationery?
DIY!
Personal or handmade touches
• We made all the stationery (save the dates, invitations, orders of service, menus, escort cards and place-names)
• We concocted a signature cocktail (based on trial and error in our kitchen , it was a fun afternoon!)
• We hand-picked ten individual vases to use as the table centre-pieces, which we subsequently gave to members of the wedding party as a gift and memento of the day
• For the garden party / drinks receptions, James' sister made 100+ mini muffins and Lindsay and the bridesmaids iced 100+ mini gingerbread men
• We hand selected all the elements for the starter (charcuterie, cheese, chutney – even the serving platters, which were actually floor boards sawed into smaller sections by James).
• Lindsay sewed 220m of bunting as well as making 90 napkin rings from our fabric (this was a labour of love!). We also personalised jam jars for use as cocktail glasses (including stamping them with our wedding monogram) and put together the popcorn box escort cards
• We took a trip to France to source all the wine and bubbly for the wedding
• We chose and mixed the songs for the dance playlist
• For our "guestbook", we provided our guests with squares of the wedding fabric and fabric markers, which Lindsay's godmother is sewing into a quilt
• We pulled together all the elements for the garden party / drinks reception, including providing seating (mostly hay bales and blankets), garden games and outdoor candles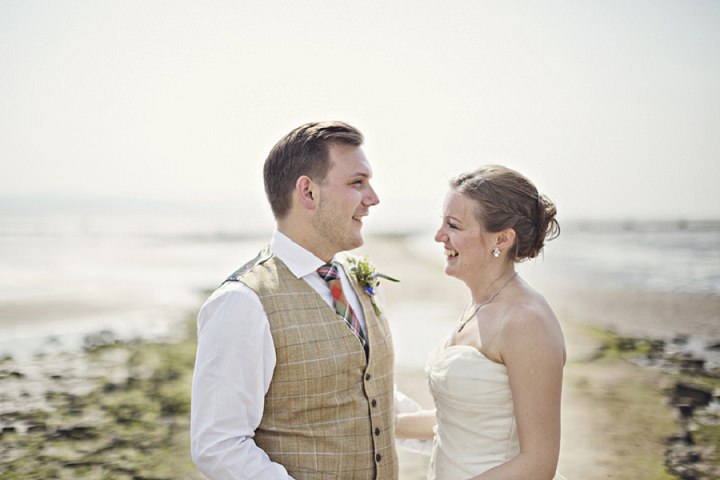 Food
The starter was a selection of British charcuterie and cheese sourced from Borough Market in London. The main was hog roast with roasties and summer veg, and dessert was a spectacular croquembouche per table. Each course was designed as food to be shared, served on platters to the table for people to help themselves.
The wedding cake
No wedding cake – just croquembouche for dessert and chocolate brownies for later on in the evening when the munchies struck!
Entertainment
We had a 2-person gypsy folk band during the garden party / drinks reception and a DJ for the evening disco (although we put the playlist together ourselves).
Special moments or highlights
Signing the register was a really special part of the day – after all the nerves and excitement of the morning, we were just married, really happy and able to share a few minutes of joy and laughter with an intimate group of our friends and family.
The other highlight was the first couple of hours at the farm, before we ate. The sun was out and everyone was chilling out, catching up and enjoying the games and punch. It was exactly the atmosphere and setting we'd set out to create.
Biggest surprise
We were both surprised by how nervous we were before the ceremony, but we quickly relaxed once Lindsay had made it up the aisle and we were together!
Advice for other couples
Figure out what you want for the day and then go for it – don't listen to those who may not share your vision (eyebrows were raised when we rejected a colour scheme and James announced he was going to cobble together the attire for the gents, but it all worked out!). And then, when the day arrives, just let go of all the planning, preparation and stress and enjoy it.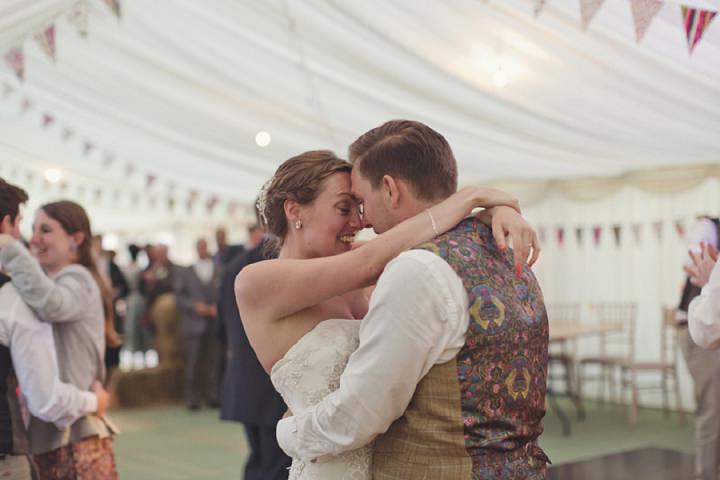 Supplier Shout Outs:
For more info on Mark's work go to:
mark-tattersall.co.uk
mark-tattersall.co.uk/blog/
FACEBOOK
@Mark_Tattersall