Happy Friday everyone I hope you are all doing well? I am so happy it's the weekend are you? I'm planning a chilled one, just me and my boys relaxing together and hopefully taking Dexter out somewhere fun on Sunday. To end the week I have this fab handmade wedding courtesy of one of my favourite wedding photographers Mark from Mark Tattersall Photography. I had the pleasure of working with Mark on a wedding a couple of yeras ago and he really is a lovely man. This wedding is simple, eclectic and full of handmade elements that the bride and groom did together to keep their budget down. Enjoy your Friday everyone and have a fab weekend.
'Our wedding represented the life we have created together and was intimate, relaxed and full of happiness'
Alexander and Louise were married on 15th May 2015. The Ceremony at the bandstand in the Horniman Gardens, Forest Hill & the reception at Canvas & Cream in Forest Hill. 'Both venues are local to where we live. The Horniman gardens are beautiful and were one of the main reasons we were attracted to Forest Hill in the first place. Canvas & Cream is a great place, with a style that really matches the relaxed and creative vibe we were trying to achieve throughout the day. Also it is linked to Havelock walk and all the artists studios which is just behind our flat and is another aspect that makes the living in Forest Hill so special. We loved the idea of having everything local and within easy walking distance from each other, the walking 'parade' from the ceremony to the reception was something we were really looking forward to. We had 55 ceremony guests & extra 50 guests to the reception. We were engaged for just shy of a year but started planning the wedding after a couple of months just enjoying being engaged, we spent about 10 months planning but most was done in the last 5 months.'
How they met
We met in Liverpool while both studying architecture around 8 years ago now
The Proposal
Alex proposed to Louise whilst on holiday in Porto. He proposed on a big rock on the coast in front of the Boa Nova Teahouse by Alvaro Siza which is one of Louise's favourite buildings. We then enjoyed the last three days of the trip celebrating before coming home and sharing the big news with everyone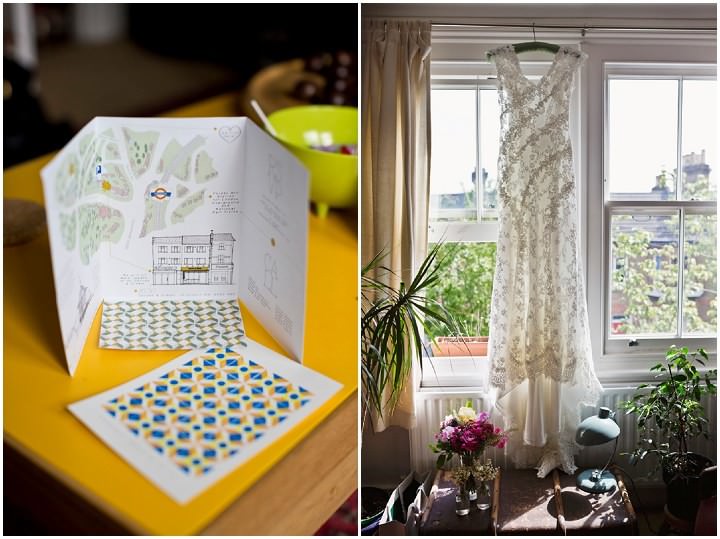 How did you allocate your budget
We simply looked at our savings and then used 'hitched.co.uk' to help us get a better idea of how to spread the money across the items. We had a strict budget and tried to save money wherever possible.
How did you choose your photographer
Louise has been a fan of Mark's photography for a while having noticed that every time a wedding on a blog blew her away it was photographed by Mark. So when we started wedding planning she was really keen to have Mark as our photographer. He really has a talent for capturing the day in a really un-fussy and natural way and his photo's are always so full of light and just so soft looking.
Where did you splurge and where did you save
We really wanted to spend on a great photographer to help keep the memories alive for the rest of our lives as we both really appreciate amazing photography. But we saved elsewhere- we both walked to the ceremony and we all walked to the reception together which was really fun as all the cars were beeping and waving at us! We made savings by doing all our own stationary which was also one of the most enjoyable tasks as we had a lot of fun doing it together. We also were very up front with suppliers about our small budget and often they gave us a better deal. We originally didn't think we could afford live music but our band gave us an amazing deal, and three of our friends DJ'd. The bride got her shoes on ebay for less that £20 and wore jewellery lent to her by her mother and a watch she already owned. We couldn't afford to pay for professional make-up but luckily the bride's best friend is a make up artists and really kindly did Louise's make up. Other savings we made by just not getting carried away and keeping things simple- paper plates at the bandstand, the everyday chairs instead of the expensive 'wedding chairs' that kind of thing all adds up. It is much much easier I think to keep costs down when you keep it local, and there are just fewer travel expenses and no need for hotels.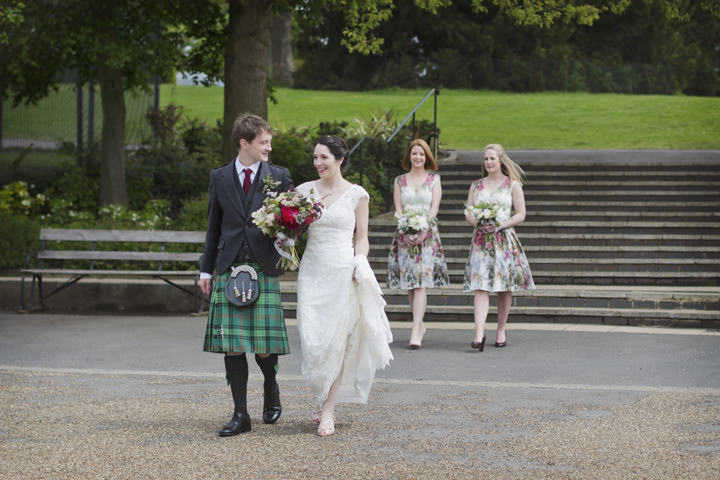 The Dress
The dress was by Allure bridal, but I probably wouldn't recommend them as it was meant to have a scalloped neckline but my dress just had a classic 'V'- I still loved it though! The dress felt beautiful but also comfortable which was important to me as I wanted to really be able to enjoy the day including eating and dancing as much as I wanted! My shoes were Office 'vintage' but I bought them on eBay. I loved them and they were just what I wanted as they had a low heel so I would be comfortable wandering around all day- they were perfect and less than £20! My mum kindly lent me some of my late grandmother's jewellery, which went perfectly with the delicate dress and it felt really special to have something of hers with me on the day. I decided the week before the wedding to wear a sparkly headband in my hair as I wasn't wearing a veil or anything and I got this on etsy for next to nothing. I wore a watch which was a gift from my Mum for my 21st birthday.
The Suit and Bridesmaids
The groom's family are all Scottish and his parents had bought him a kilt for his 21st birthday so he wore that. The groom wore a tie he inherited from Louise's grandfather and some brass Ella Cooley cufflinks which tied into the loose gold theme which emerged during the planning process. We hired a kilt for the best-man too as he was keen to wear one for the big day.
Theme or Colour Scheme
We didn't have a definite colour scheme as we wanted a natural, eclectic feel but whilst designing our wedding stationary we were drawn to a geometric tile pattern influenced by the all the beautiful ceramic tiles in Porto (where we got engaged). For our save the dates we spent a long time creating a lino print stamp of the pattern we designed and hand printed each save the date using various inks. This pattern then became a large part of the day being included on the invites, place settings and even the groom and best man's pocket squares. Colours within the patterns were influenced by the bridesmaid's colourful dresses.
Flowers
Originally we hadn't planned on hiring a florist as we thought we could cut costs by just grabbing something ourselves. But after making more savings than anticipated elsewhere and because the Bride loves flowers so much we decided to get bouquets for the bride and bridesmaids, some buttonholes and a flower arrangement for the ceremony table. Louise loves flowers so was absolutely thrilled with her bouquet- and it felt like such a bonus having originally thought it would be something home-made. Florence at Petalon did our flowers, and she was very affordable and she is so talented. We just asked for natural looking, unstructured bouquets with the brides picking up on the colours of the bridesmaids dresses and theirs being pale so as not to be too overbearing held against their dresses. We asked for lots of foliage, berries, seed pods and gave an indication of flowers we love and she produced the most amazing flowers!
Decoration
Both the venues we chose required little to no extra decoration. The bandstand being set in the beautiful gardens and with a wonderful panoramic view over London didn't need anything adding to make it a great ceremony venue. Canvas & cream's decor and style is one of the main things we love about it so we didn't need or want to change that. We spent a lot of time making all the place settings, table flower arrangements (fresh cut from Mother of brides garden in assortment of glass bottles and jars) and making personal signs for the different aspects of the reception (cocktail bar, photo booth and pick 'n' mix stall) which consisted of miniature cardboard cutouts of us creating little scenes.
Food
We had a cake and champagne reception immediately after the ceremony where we served wedding cake and other small cakes kindly made by Louise's Mum. Then for dinner Canvas & Cream prepared a phenomenal buffet. The food is amazing at Canvas & Cream which is one of the reasons we were so keen to hold our reception there. People are still telling us how much they enjoyed the food. We had bacon sandwiches during the evening too which went down well!
Wedding Cake
We are really lucky and both of our Mums offered to make our wedding cake! In the end Louise's Mum made it -including a delicious gluten free tier for the bride! It was a traditional fruit cake as both of us absolutely love it. Alex's Mum did an amazing job of decorating it using a pale grey icing for the bottom tier, stencilling the tiles pattern on the middle tier and icing the top tier in white finished off with a little gold leaf detailing. For cake toppers we bought scale model people online and sprayed them white- this was a nod to our time together as architecture students when we spent many a night in studio making models.
Entertainment
During the ceremony close family friends Jane and Tim really kindly played/ sang for us. Tim played the Gluck- Dance of the Blessed Spirits on the flute as we walked into the bandstand together. During the signing of the register Jane blew us away singing Handel's Ombra Ma Fui. This was a real highlight of ours- making it official to such a beautiful song sang by someone so important to us.
For the reception Belle and the Dots were our amazing band. We can't recommend them highly enough. They learned our first dance especially (Edwyn Collins – A Girl Like You), and we were blown away by how well they performed it! Everyone has been saying how much they enjoyed the band and in fact we first saw them at a friends wedding and were so happy to have them play at ours too! We originally didn't think we could afford a band but we are so glad we decided to go for it because we both love live music.
After the band we had a few DJ's who were all great.
Our main DJ was a DJ friend Ian 'Duzmoore' who played a great disco set and filled the dance floor until the very last moment. We just made one request that he played 'Forever and Ever' by Demis Roussos for us as we left which is a song Alex used to play as a joke to Louise but now has become one of 'our songs' and we found it really funny to leave to such a cringey love song – it was a great end to a great day!
Two of the groom's close friends Lee and James (Sly Fox) also did DJ sets, which was really great. It made the wedding feel so intimate and a true reflection of our lives together that so many of our friends and family were involved in various ways.
Buy or DIY your Stationery
We designed all of our stationary which was one of the wedding planning tasks we enjoyed most . We designed a print inspired by the tiles of Porto (where we got engaged) which we applied to several details. We lino-printed our save the dates at home which turned out to be really time consuming- it took about a month of evenings after work but we were really happy with the result! We used our tile pattern on our invitations and envelope liners too.
Personal or Handmade Touches
We sent off for the silk pocket squares to be printed for the groom and best-man. We also laser cut the stencil for the cake in the same design which Alex's used to amazing effect on the middle tier of the cake. We also made colouring books for the children at the wedding which included pictures of themselves and one of the Bride and Groom.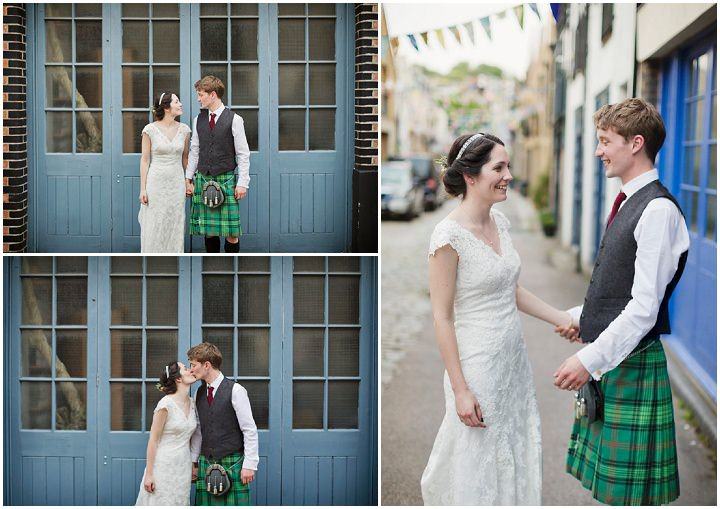 Special Moments
Our favourite part of the day was the ceremony, we loved hearing all our readings which were beautifully read by family members, jane and tim's music really set the tone and it was just so amazing turning around to see so many of our nearest and dearest sat there smiling at us! It was really an amazing feeling to be finally living the moment we had been imagining for so long. No one really tells you how fun the ceremony part is!! We spent a lot of time designing it by finding the right readings and choosing who should read them and it really paid off.
Advice to other couples
Don't spend more than you have! We had a small budget of £9k and we stuck to it. We are really glad that we didn't spend more, because we had an absolutely perfect day and have come out with our savings intact. Hitched.co.uk was a really useful resource for helping keep track of table plans, guest lists, to–do lists and it gives you deadlines which is really helpful too. Don't focus so much on the party planning that you forget the ceremony- that really is the most important bit!! We broke traditions that we didn't feel reflected us and our relationship, like walking in together because the symbolism of that felt right for us as feminists and a couple who had lived together already for years it felt more 'us', and it was these things that made the day so personal -so really just make the day exactly how you want it! Louise got a bit of stick for drawing up a itinerary for the day so everyone knew what their jobs were and when to do them- but the day ran really smoothly and it meant we didn't have to think on the day! Don't expect every last detail to go exactly to plan- but just enjoy the day as it unfolds and go with the flow, after months of planning you really have to just relax and enjoy it!
Biggest surprise
Alex had been planning the honeymoon as a surprise for months running up to the wedding and in the evening we nipped out to have some more photo's just the two of us behind the reception venue in Havelock Walk which was a great chance to get some time together alone before really throwing ourselves into the party. During these photo's Alex told Louise that we were going to go travelling around Andalucia for two weeks- it was a lovely surprise for Louise and great for Alex to finally be able to tell all!!!
Supplier Shout Outs
For more information on Mark's work please go to:
www.mark-tattersall.co.uk
www.mark-tattersall.co.uk/blog
FACEBOOK
PINTEREST
T: @Mark_Tattersall
I: @mark_tattersall
[email protected]