Yay, it's Friday! are you excited? In only a few hours you will all be clocking off for the week and enjoying the weekend! Happy days. But before that happens I have another Diary of a Boho Bride entry for you and this time it's the lovely Kate! last time Kate told us all about how her wedding planning had taken a different direction, with some change in plans and how she was dealing with them all. Today she gives us a bit of an update on how things are going as well as sharing with us her super cute DIY Kraft Pocketfold Invitations. These invitations are fab, Kate has worked long and hard on them and I'm sure you will agree she has done a fantastic job. The tutorial is easy to follow and she gives a full and comprehensive list of the supplies she used and where she got them all from.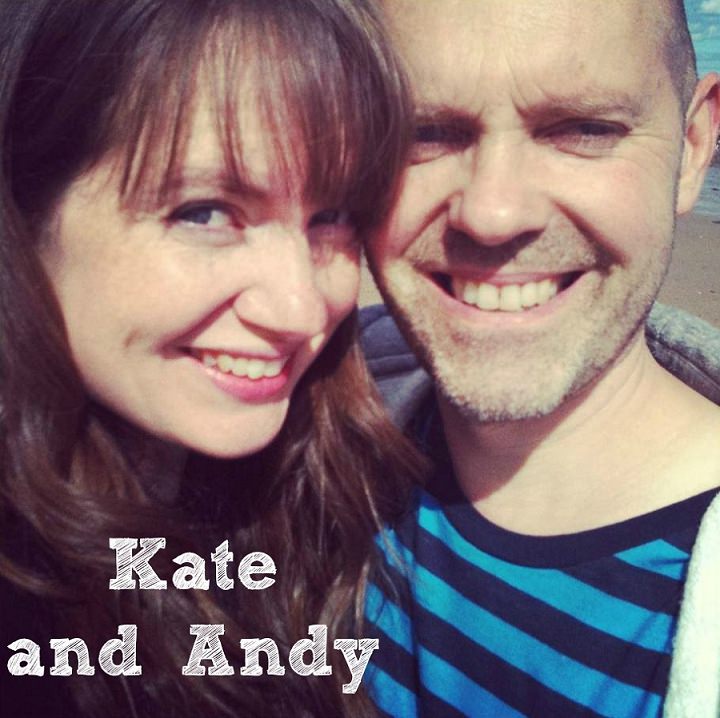 I'll pass the blog over to Kate…………..
Wow, time must be speeding up – these blog posts are coming round faster than ever, which means our wedding will too! Less than 5 months to go now! But I'm enjoying it more than ever as all those ideas rattling round in my head are finally becoming real!
Today I have a general update – things keep changing! And also pictures of my invitations, and how I made them!
But first for an update. The picnic theme is still well and truly happening. In fact, a big delivery of ten picnic baskets last week made it really real! And the huge box they came in kept my girls occupied for at least an hour! Bonus!
I also collected some slate from our venue, which I'm going to use for all the signs. They'll be like the ones in the photo which my friend used for her wedding. Cute hey?
We are also still debating the 'To marquee or not to marquee?' question, after we were unfortunately let down by the marquee company we had all lined up with a brilliant price. Apart from other companies generally charging more than we had planned to spend, we also had a good look round the venue again last weekend and realised that our wet-weather-plan could actually be to have everything inside the house, including the picnic! It's a risk, but it would save us quite a bit of money.
If we decide 'not to marquee' I'll be expecting every one of you to be praying for no rain and plenty of sunshine for 12 July!
The legal wedding ceremony has also been booked. For us, this is just the 'paperwork' and so it will just be us and our best friends as the two witnesses. It will take place at Leeds Town Hall, which is a fantastic place (and very reasonably priced too!). We booked it for the 30 June, only to be told a week later that it would have to be changed as the whole of the Town Hall is shut down that day because of the Tour de France! Yes, the Tour de France is becoming the Tour de Yorkshire this year! Anyway, it was fine for us to change it, luckily! No yellow vests for us!
And so on to the invitations, which once posted really seemed to make me realise that it will be happening before I know it! V. exciting!
The inspiration for my invites actually came from a Boho blog post by a previous Boho Bride, Becki. I absolutely loved her invites, and it was so useful to have the links to where she got her blank cards from, etc. I'll try to do the same!
YOU WILL NEED
Pocketfold blanks
Inserts and envelopes
Label writer and gold tape
Lace adhesive tape
'Real' lace
Washi tape (I used gold)
Lace punch
Double-sided sticky tape
A good strong glue – one with a precise nib!
Computer and printer
Rubber stamp & ink pad (optional)
Here are the suppliers that I used: 
For the pocketfold blanks – www.pdacardandcraft.co.uk (ribbed kraft pocketfold 148x148mm)

For the inserts – wwww.pdacardandcraft.co.uk (ribbed kraft uncreased square card 95mm, 115mm, & 135mm)

For the envelopes –

www.ideal-envelopes.co.uk

(square kraft envelopes 100mm for the RSVP card and 155mm for the invitation)

For the label maker and tape, and the gold washi tape – 'OhMyBuy' on Etsy

For the lace adhesive tape – 'ILovelyCraft' on Etsy (I used pattern E)

For the lace punch – I think I got this on Amazon. I've had it a while. Most craft shops will sell them though.
STEP 1) The blank pocket folds firstly need to be put together so get some good double-sided sticky tape and get sticking!
STEP 2) Next I put the lace adhesive tape across the front of the card. I love this stuff. It comes on a large roll so there's plenty left over for putting around my jars for flowers!
STEP 3) I then added a real piece of pretty lace across the middle of the adhesive lace – secured on the inside with tape. You may also want to add a bit of glue to the middle of this lace to secure it to the front of the card.
STEP 4) Next we decided on our wording for the front – 'you're invited'. This seemed a bit less formal than 'invitation' which we liked, and all lower-case gave this impression too. The label maker is brilliant, and I was so pleased to find the gold tape! It can be a bit laborious making all the labels, but spread out over a few nights and it doesn't seem too bad (although, if I'm honest, I gave this job to Andy!).
The label maker tape has a backing that peels off, and in theory it should then stick. But it doesn't. I tried all sorts of glue dots, double-sided tape etc but I found a good strong glue worked the best (and squashing the invitations under a pile of heavy books overnight too).
STEP 5) Now for the inside… Here you can see the main information – printed on standard paper but with the lace pattern on the top and the bottom created by using the lace punch. The inserts have more gold labels, and then I set up my printer to print the text directly onto them. The top of the pocket also has a strip of gold washi tape parallel to the edge.
STEP 6) Lastly, seen as I am going to be Mrs Campbell, and because we both love a bit of pop art, I bought an Andy Warhol Campbell's Soup rubber stamp which I put on the back of the invitation and also on the envelopes.
For the evening invitation, I used a single piece of card the same size as the pocketfold. The front was identical and the back was very similar with just the slightly different information. I then simply printed off the other information onto an A4 piece of paper, on which I used the lace punch on the top and the bottom.
I'm really happy with the finished product. Hope you like it too! It was a bit of a production line, making them all, but I loved it!
I'd love to know what you think. And if I've left out any vital info, just let me know!
Happy February everybody. See you next time (which will be after my hen do – I can't wait!)
Kate x
[jprel]