Today's DIY Tutorial comes from the lovely Becki, who you will know from Diary of a Boho Bride.  If you follow the bridal diary's you know Becki is having a very DIY wedding and she has been busy getting her big day planned and getting her craft on. As well as this Becky has started her own stationery business Love Knot Creations. Becki has already shown us how to make some gorgeous tea light holders, as well as some rather lovely Kraft Pocketfold Invitations. Today she is getting her sewing machine out and is showing us how to make these pretty Burlap and lace Table Mats.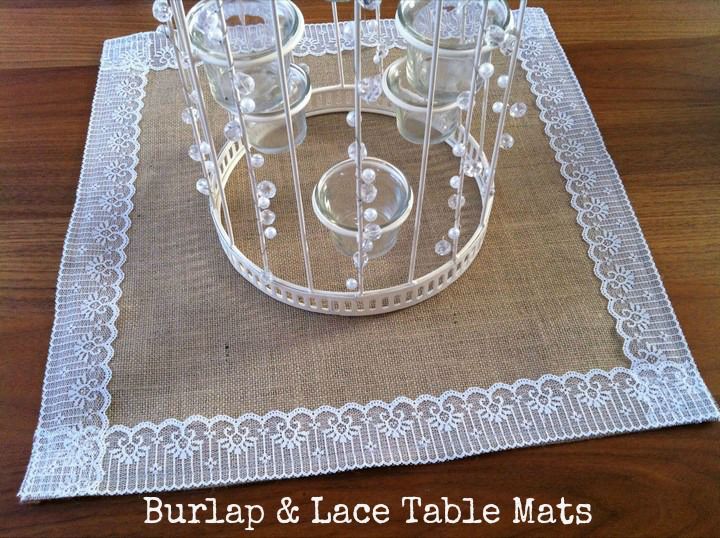 I'll pass the Blog over to Becki………….
We decided we wanted something that would help to display the birdcages as centrepieces on our tables so I asked my mum (queen of the sewing machine) to help me make some burlap and lace table mats.
They are actually really simple to make so hopefully even if you've not done any sewing since your school days like me, it should be very easy for you to follow and adapt to suit your own taste.
Step 1) First of all measure out your fabric. I did 50cm x 50cm square. Part of this will be a 1.5cm hem. Then cut your fabric, burlap does frey quite quickly, but don't worry too much about that just yet.
Step 2) Once you have your square fabric piece, you can now start to fold over your hem and you can either pin this down like I did or you could just iron it flat depending on how thick your fabric is.
Step 3) Then take your ribbon and place your pin through the lace ribbon & the burlap underneath about half way up to allow room for your sewing  and then cut the ribbon at the edge.
Step 4) When pinning the next 3 sides down make sure the overlap of each end of the ribbon goes in the same direction ie, over, under, over, under etc all the way round.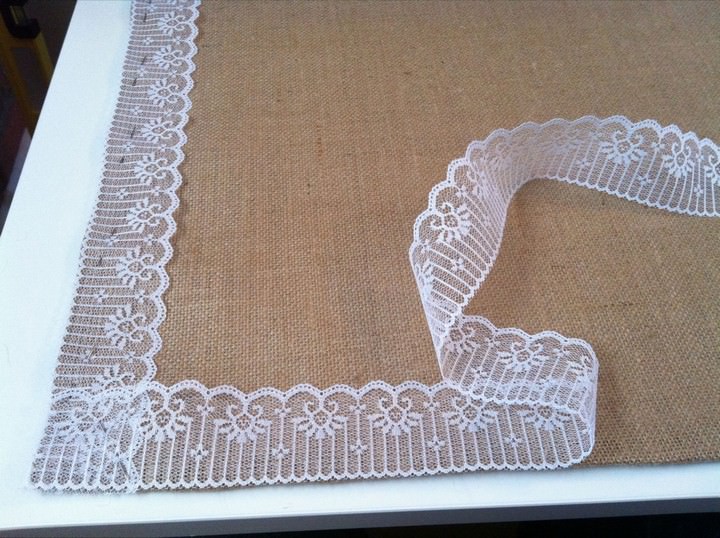 Step 5) Once all sides are pinned you can now start to sew it in a straight line using your sewing machine.
Step 6) When all the sides are sewn remove your pins.
Step 7) The last part is to seal the underside edge of your burlap which I did by laying down a strip of hemming web and then laying a wider piece of ribbon over it. Then I used a tea towel to lay over this and then ironed it. This leaves you with a pretty ribbon edge and no freying edges!
A very simple, but really effective way of creating table mats for your wedding and also for everyday use too.
For more information on Becki's Stationery go to:
http://loveknotcreations.co.uk
www.facebook.com/loveknotcreations
[email protected]

[jprel]