Today's wedding comes to you from the beautiful shores of St Lucia, if you're feeling the cold weather at the moment these photos will have you booking your holidays straight away! I do love a destination wedding and I love finding out the reasons why the couple chose their specific destination, and looking at these photos I think it is clear why Lisa and Neil chose St Lucia! The amazing beach, the sea, the mountains, the sunshine, oh my! I'm off to book my ticket now! Thanks to Millie Benbow for these amazing images.
'Special, Perfect, Memorable! The day went without a hitch and was even more special than either of us expected.'
Lisa and Neil who were married on 16th August with the ceremony at a Private beach on Pigeon Island, St Lucia, followed by a private boat trip to the Piton mountains and the reception at Beach Club 1461, Cotton Bay Village. 'Neil spent 6 months 'working' in West Indies in 1993, whilst serving in Royal Navy. St Lucia stuck in his memory because of the beautiful Pitons. We had 11 adults, 1 child and 1 infant at the wedding and it took 18 months to plan, with a huge amount of help from Michele from 'Awesome Caribbean Weddings'. Without the Internet and Michele, none of it would have been possible.'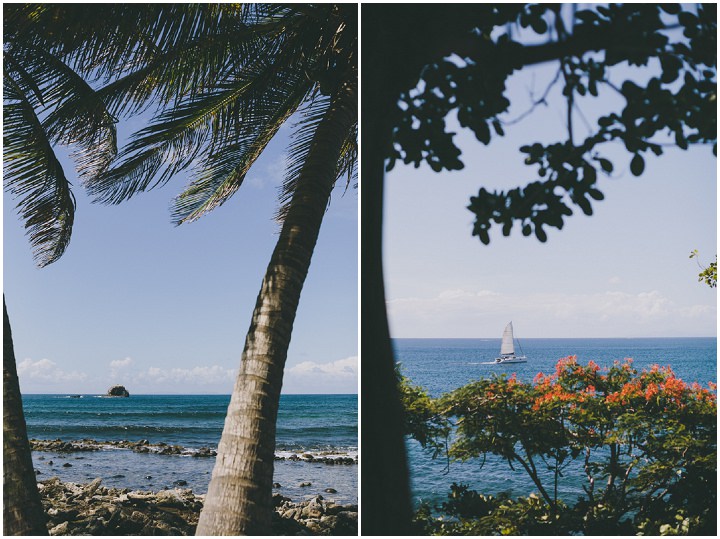 How they met
We met in Spain, 16th August 1990, 23 years to the day we married. Neil was on a lads' holiday, Lisa a girls' holiday. We met on the first night of a two-week holiday and then spent the rest of the holiday together. A holiday romance that lasted!!
The proposal
First proposal was approximately 22 years ago. Neil proposed to me whilst in my bedroom at my Mum and Dad's house. We went shopping for an engagement ring together. Then, as a 40th birthday present in January 2012, 3 houses and 2 children later, Neil took me to London for a theatre break. Whilst at dinner, he started to show me photos of St Lucia and I was getting excited about the prospect of a lovely Caribbean holiday. The last photo was of a beach with, 'Just Married' written in the sand. It came as a total surprise as we hadn't discussed getting married for a while.

How did you allocate your budget?
We didn't really allocate a budget. As we have been together for so long and being more financially secure we just knew what kind of wedding we wanted and spent what we needed to. We found a stunning villa which could accommodate our family and our guests. The villa wasn't cheap but by sharing with guests, it worked out no more expensive than a decent hotel. We then searched the Internet for wedding planners and chose Awesome Caribbean Weddings. We would highly recommend Michele and her team, they provided us with several options for the ceremony and reception location.
We really wanted some photographs taken with the iconic Pitons. As we were located on the north of the island the only way to do this was with a boat trip. We decided the best time to have the boat trip along the Caribbean coast was between the ceremony and the reception. A 3-hour leisurely cruise along the coast, photos at the pitons and a cruise back up the coast as the sun was setting- fully inclusive of rum punches!
Why did you choose your photographer?
This was always going to be the trip of a lifetime and we wanted the day captured perfectly. Millie and Jo of 'Millie Benbow Photography' are friends of ours. Having viewed their portfolio and loved their style of photography it was a simple decision to make and we were delighted when they agreed to fly out. Millie and Jo were with us from breakfast until the late night pool party back at the villa. We couldn't imagine any other photographer providing us with that level of service and they produced photographs that tell the story of the day so beautifully and intimately. I cried when I saw them for the first time.
The dress
My dress was a Maggie Sottero. My shoes were Jimmy Choo, an extra gift from my Mum and Dad. The bracelet I wore was a gift from Neil, bought when he visited Sicily whilst in the Navy. I had it dipped in platinum so it would match my engagement ring and our bespoke wedding bands.
The suit and bridesmaids
Neil's suit was a cool linen suit from Debenhams
The bridesmaids wore Jenny Packham, light green asymmetric dresses, with fresh water pearls earrings and fresh flowers in their hair.
Our sons were the ring bearers and they wore shorts, white linen shirts and Converse pumps. We wanted our guests to be comfortable and as cool as possible, but to still look stylish.
Theme or colour scheme
The colour theme wasn't chosen until the bridesmaids had found their dresses! We knew we would go for a simple elegant theme.
Decoration
We asked Michele to transport the flowers from the beach to the evening reception and we also wanted some vases with submerged shells and floating candles.
Flowers
My bouquet was made from phalenonpsis orchids, dendrobium orchids and steel grass. The bridesmaids' bouquets were ginger lilies, dendrobuim orchids and steel grass.
Neil and our two boys wore dendrobuim orchids and steel grass buttonholes.
We asked for the large arrangements and the posies on the beach to mirror our theme of simple, green and white.
Food
We had a selection of traditional St. Lucian canapés on the beach with champagne and a cup of English tea for my Mum. For the reception meal at Beach Club 1461 we had selected a menu that included things like spiced marinated bbq Caribbean shrimps, poached Atlantic salmon peppercorn crusted Angus beef filet mignon, marinated red snapper, herb crusted lamb rack, crepes suzettes, banana cream, and bitter sweet dark chocolate gateaux.
Wedding cake
The wedding cake was a single tier of vanilla sponge with strawberry buttercream filling. It was decorated simply with fresh flowers and green ribbon.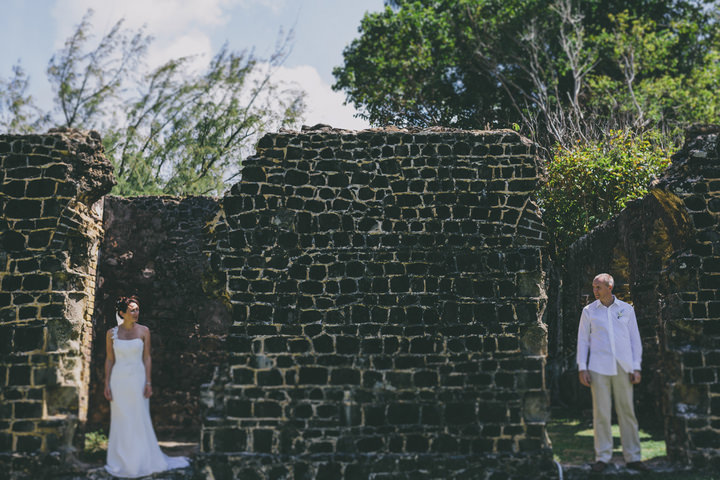 Buy or DIY your Stationery?
DIY, our nieces helped with this and I couldn't have done it without them. I explained my vision and what I would like to use and they helped to achieve this, it took us many hours of cutting, printing, gluing and attaching ribbons.
Personal and handmade touches
Decorations for the beach were parasols with verses on labels tied on & fans that didn't quite make it to the wedding as I forgot to pack them!!
We also had "Hats for the Lads".
At the reception the adults were given a bottle of Dior perfume or Giorgio Armani fragrance. Everyone received a personal caricature that was drawn by an artist commissioned in the UK. Our youngest son had a much-wanted rubiks cube and our 13-month-old niece had a reusable bag, filled with a selection of green/wooden toys.
Special moments
For Neil, it was how much the ceremony, in particular saying the vows and placing the wedding rings on, felt. He had prepared a speech for the reception but discarded it for a more 'natural', 'off the cuff' speech about how he hadn't thought, after 23 years together, getting married would feel any different but it "really did."
The boat cruise was a highlight for everyone. We hadn't told anyone about this and we walked from our private beach to the jetty to board this beautiful boat, our guests thought at first it was simply to have more photographs taken!
Advice for other couples
If marrying abroad, employ a wedding planner and trust that they will do a good job. A wedding abroad requires a massive leap of faith as you cannot visit the locations beforehand and you are placing your special day in the hands of a stranger. Research every suggestion your planner makes and ensure you give them a good idea of what it is you want.
Biggest surprise
Looking back, we cannot believe how good the day was. As previously mentioned, we placed a lot of trust in our wedding planner and she did not let us down. The day was truly special, we would not have changed a thing. The day totally exceeded our expectations- this was our biggest surprise.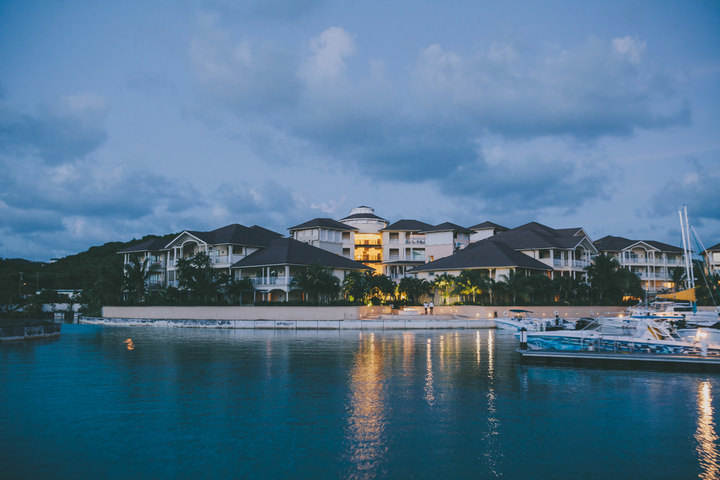 Supplier Shout Outs
For more information on Millie's work go to
milliebenbowphotography.com
[email protected]
FACEBOOK
@Millie0028
Tel: 01386 860809/07748141542
In terms of me, well I am fairly new to wedding photography and have simply just fallen in love with it over the past two years.  I work with my partner, Jo, she is amazing.  We live in Worcestershire and are planning a little wedding of our own at the moment which is really exciting.  We have had an amazing year of weddings, including this trip to St Lucia. Spending a couple of days with Neil and Lisa before the wedding allowed us to get to know them and their family and helped us to capture the raw emotion and intimacy of their day and the incredible relationship this close knit family have. We totally felt like part of their family. I think that sums up well what I try to achieve through our photography.