When I initially saw this wedding I couldn't wait t feature it! Why? Well when the reception is set in a cats' rescue home, and has a whole host of other animals included in the day….well you can imagine my delight! Not only that, but with a beautiful Raj Tent and the most gorgeous chairs and decoration, this wedding is brimming with Boho loveliness! The couple wanted a natural day that reflected them as a couple and that they did perfectly! And who better to capture this gorgeous day than the very lovely Jess Petrie. All in all a most gorgeous wedding I'm sure you will agree!
'An absolutely perfect day with good friends, family, sunshine laughter and animals. a very natural day, no forced traditions unless they were important to us.'
Alison and Gareth were married on 10th August at St Chads Church Winsford in Cheshire, with the reception at Ashcroft cat rescue in Wettenhall, Cheshire. 'The reception really dictated what church we chose. My mum is good friends with Sue and Steve the owners of the cat rescue place, and they have a beautiful garden and very big hearts so they said we could use their garden. We both absolutely love animals and even got our kitten Yoshi from Sue so we just thought it would make the day just so much more special. we then had to find a church nearby to be married and St Chads is a beautiful old church near where my parents live. We had 60 guests and it took 8 months to plan.'
How they met
We met through my best friend from school, Lydia, who had gone to 6th form college with Gaz. we met just as A levels were ending. We have been together for 12 years.
The proposal
it's quite personal but in a nutshell it was on new year's eve 2012 and the next day we rang round every jeweller in the area to see if they were open as we couldn't wait to make it official with a ring… so new year's day we trekked off to the Trafford centre as they were open. I think there were several proposals once we had the perfect ring, you know, just to enjoy the moment!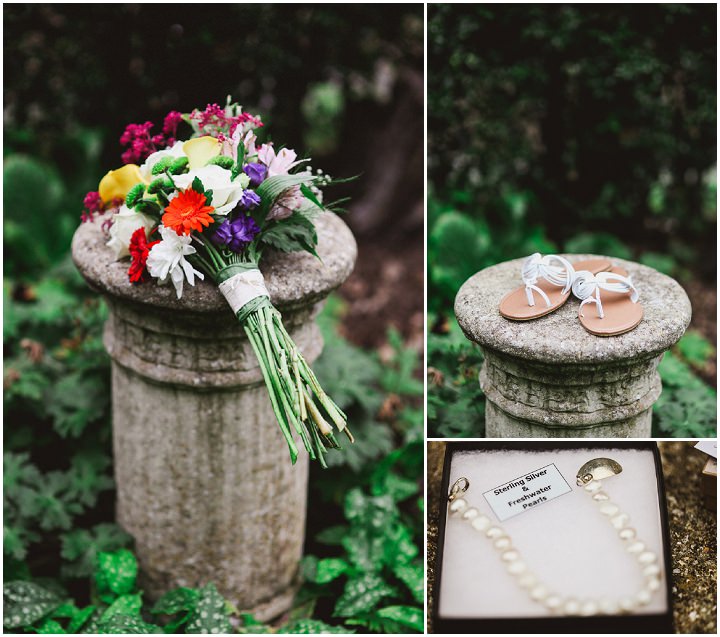 Why did you choose your photographer?
I am a graphic designer and while I am not a photographer in any way I really had a particular style of picture in mind that I wanted to look back on in years to come to remember the day. After lots of research I found Jess and looked through her work. Her work was just the kind of laid back, not forced, natural stuff I was looking for and, of course, the price seemed agreeable. Also jess was very friendly and patient and accommodated my crazy work hours when we were initially making contact.
The dress
I bought my dress from opulence brides on the Wirral Jean, the owner is an old friend of one of my directors at work and so she came very highly recommended and she certainly came through. I bought little flowers for my hair from john lewis and other bits and bobs from accessorise. My mum gave me my pearl earrings and my pearl bracelet I wore was a gift from my maid of honour, Shivani, for my birthday the year before. Shoes were from Debenhams.
The suit and bridesmaids
Suit, well waistcoat and trousers were Ben Sherman. Tie and shoes Debenhams. Bridesmaids dresses were from… Tesco! I made the buttons holes for Gaz, my dad and the best man with flowers from my parents gardens.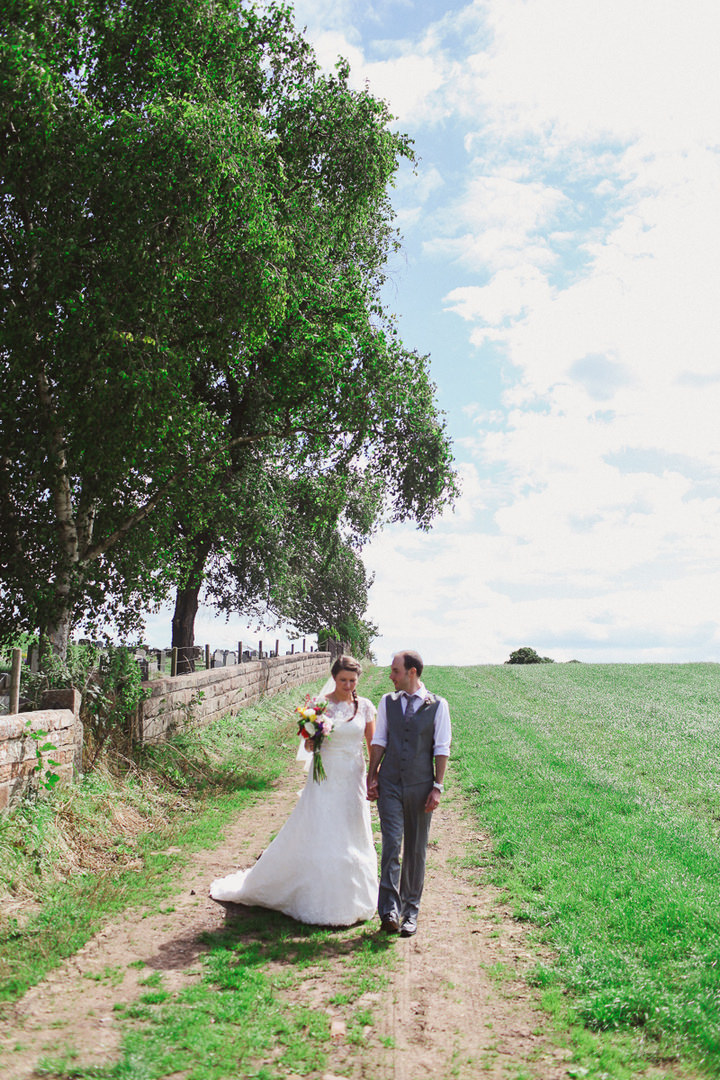 Theme or colour scheme
I suppose the theme was natural… well natural for us. We didn't want to force ourselves to be uncomfortable by having a really swanky do and not enjoying the day as that isn't natural for us. There was no colour scheme as we just let the garden and nature take over, and also anything we could get our hands on! There was a vintage feel too as me and my mum had spent the upcoming months collecting vintage china from charity shops. So it was all odd vintage pieces in different colours and patterns. All the crockery for the wedding was then given to an auction house to sell and all proceeds went back to Sue and Steve for the animal rescue.
Decoration
The tent we hired was so beautiful we didn't need to decorate it. it was from the raj tent club, we hired white wrought iron garden chairs to go round the tables so again we didn't need to decorate them as they were so pretty themselves. There was some bunting and lanterns around but the garden was so beautiful with its chickens, ducks, ponds, cats, dogs, flowers, waterfalls.. etc that we didn't really need to do much decorating.
Flowers 
I'm not sure! Anything and everything! Me and my mum went to Morrison's a couple of days before and basically bought whatever I thought looked pretty. it had always been our plan to do our own flowers and for a couple of months before the wedding I was harassing everybody and anybody to save their jars so we had something to put them in! We did all our own pew ends too. My maid of honour Shivani put the bouquets together. The button holes for Gaz, my dad and Simon, the best man, were made by me with little cuttings from my parents garden. Gaz's mum made button holes with flowers from her garden too.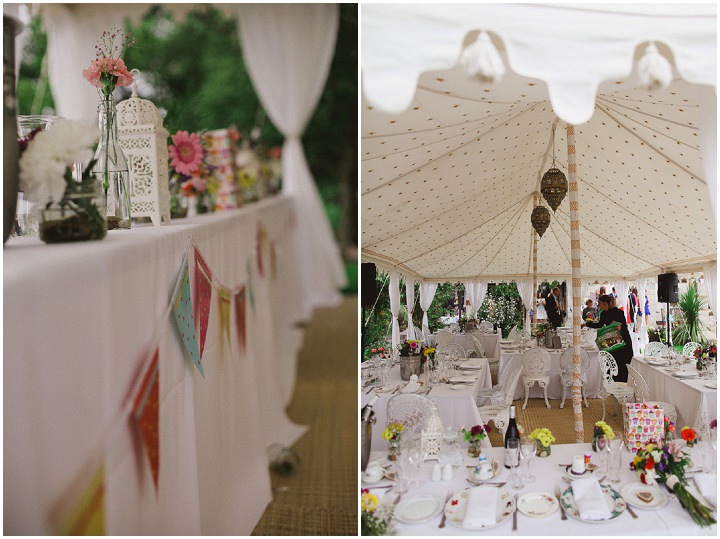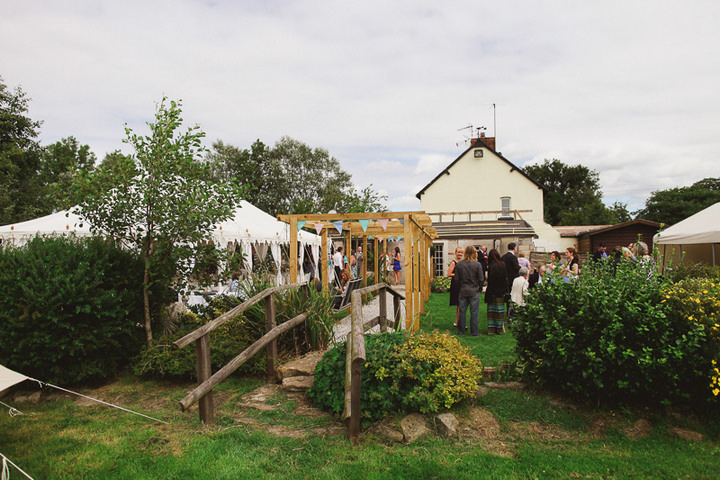 Food
my mum and Gaz's mum and sister made little nibbles to greet the guests with. All homemade and even using ingredients from their gardens. There were mini pizzas, sausage rolls, all kinds of little nibbles all served upon the vintage cake stands and plates.
Pickled walnut did the main catering:
Main: prime rump of hereford beef served with caramelised red onions, bbq chicken spatchcock poussins, salmon, fennel & tarragon steamed parcels, luxury roast vegetable kebabs, chickpea and halloumi falafel kebabs served in a warm pita.
Desserts: chocolate short cake with blackberries, charred bananas with a rich butterscotch sauce.
Evening food was a hog roast with salads etc.
Entertainment
As people were arriving at the reception we had lots of lovely classical garden party music playing, including lots of ludovico einaudi which set the scene. All it was was my ipod with a 7 hour play list playing through a PA but it did the job!
We had a ceilidh, my mum grew up in Scotland and we lived in Glasgow for a bit so it only seemed right. It was such a good idea, despite not knowing any of the dances everyone got up and danced and cried with laughter and had the time of their lives!
As the night drew in and the air got chilly we lit a great big fire that people could sit, chat, drink and laugh around. It was a real hot once the ceilidh had ended as it was so relaxed and warm and it was big enough lots of people could get round it.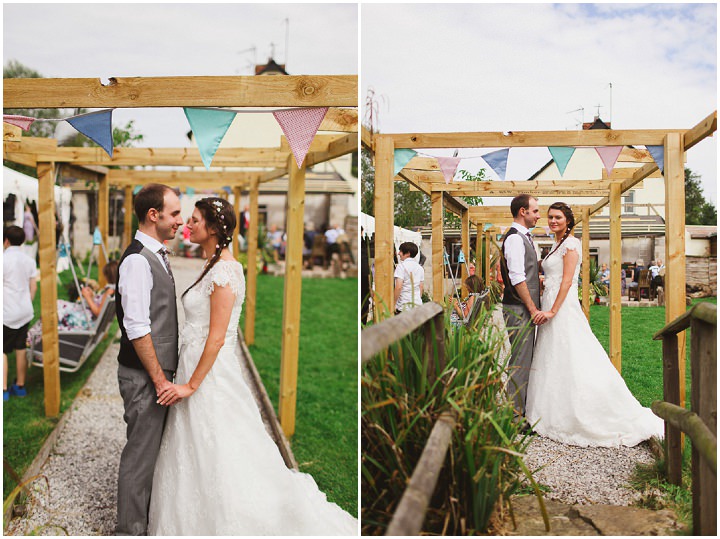 Personal and handmade touches
We did as much as we could ourselves.
• Gaz's mum and sister and my mum made all the nibbles for when people arrived from the church.
• Me and my mum collected all the crockery together including double the teacups so we could have the pink champagne in them when people arrived.
• We did all the flowers ourselves and bouquets and pew ends and button holes.
• All the invitations, order of service, menus, table numbers… everything were designed and made by me.
• All the bridesmaids did their own hair and makeup and I did my own hair and makeup (with help from my bridesmaids Betty and Angela!)
• Gaz's mum made the cake.
• the venue was very personal for us, being at an animal rescue place and Sue and Steve being such great people and opening their home to us.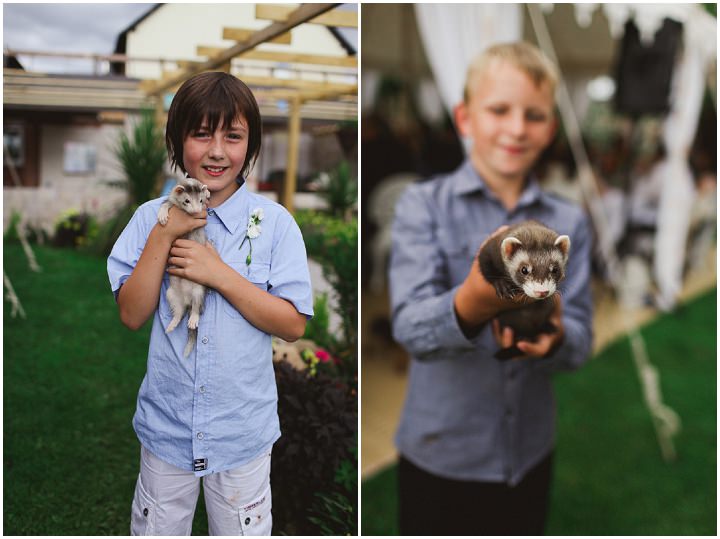 Advice for other couples
Don't worry about traditions; we didn't really know what all the traditions were so we just did the day as we wanted to.
As we did it all ourselves and there was no one really in charge to keep the day moving I did an itinerary and printed it off and gave it to key people, parents, caterers, groom! This meant that there was actually a plan for the day and ensured it was seamless from getting out of bed to when it all ended… (which, i believe was at about 5am, long after we left!)
Use contacts. we got a lot of favours through people we knew which really cut costs.
Biggest surprise
How relaxed we were! We just let the day flow and it worked. All the people that we had arranged to help, like caterers etc knew exactly what they were doing and when and it all just worked. I was surprised how many people said it wasn't like any other wedding they had been to but they didn't expect anything less from us!
Special moments
• I cried when I got to the end of the aisle… (with happiness)
• Riding in the Beatle from the church to the reception.
• Riding in the camper van from my parents' house to the church. We were meant to be in the car too but it got stuck on the m6!
• The fact the 2 guys who lent us their vehicles stayed for the whole day and celebrated with us! they were friends of friends… lovely people.
• The ceilidh was hilarious and it was so lovely to see everyone dancing. Sometimes at weddings the "disco" can just flop and only the kids get up to dance but this was a raging success! especially when the dogs wanted to join in to!
• Walking down the aisle with my dad
• Just seeing all our friends and family who had made the effort to come and celebrate with us.
• Arriving at the venue and even though we had set it all up and left at 9pm the night before just seeing it all in full swing and being so pleased at how beautiful it all was.
• The fact it didn't rain and was sunny!
• The fact we got to spend loads of the day together. Everyone had said to us, "you won't see each other all day" but we did! we enjoyed the day together
• Not knowing what to do once we cut the cake but just laughing about it!
• Finding a cat under the table!
• When the chicken escaped.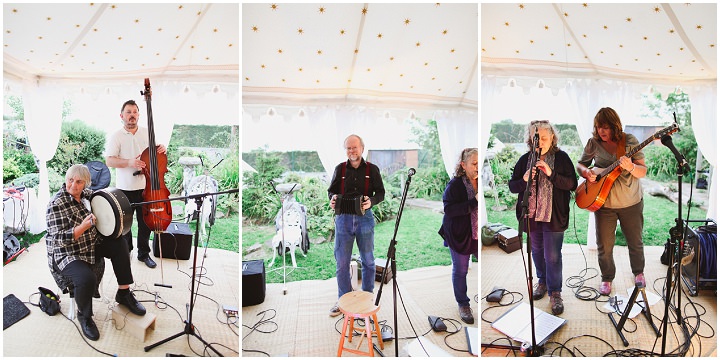 Supplier Shout Outs
For information on Jess's Photography work go to: 
www.jesspetrie.com
[email protected]
FACEBOOK
@JessPetriePhoto
07581209794