So it's Friday, YES!! I am very excited about today and in fact the next few days in general! I have taken the next few days off from work for personal reasons, reasons that I'm hoping with all my heart I'll be able to share with you in a few months time. Because of this blog posts will be a little less frequent over the next few days, I hope you forgive me, not to worry though it will all be back to normal by mid-week next week. I'll do my best to keep things as normal as possible. For today though everything is still on track as I have this sunny beach same sex wedding from Pippa Heath Photography. Set on Bournemouth beach, the Bournemouth Beach Hut  is the only beach in the UK where you can legally get married. I have been dying to feature a wedding from this location for ages, so do enjoy it!
'A memorable, relaxed and intimate day spent with family and friends on the beach. A day we will treasure forever'
Sky and Emma married on 11th August at Bournemouth Beach Hut and Aruba Bar. 'We discovered that we both loved the sound of the sea in our early schmearly days and, after doing a little research, we saw that this was the only place in the UK where we could get married on the beach so close to the sea. It was perfect for us. We had 25 guests and it took 6 months to plan.'
How they met
We met in Green Park, London. I clipped the back of Sky's heel (accidentally on purpose) and we got talking. We met in December 2011 so we have been together for 19 months.
The proposal
Sky whisked me away to the Isle of Skye in February 2013 and proposed overlooking a beautiful Loch at sunset. It was incredibly romantic.
Why did you choose your photographer?
Pippa was at a wedding fair that we went to very early on in our wedding planning days… but we were a bit overwhelmed by what we had to plan. When we got round to sorting the photographer three months later we remembered Pippa and gave her a call. We liked the fact she was so chilled out and relaxed just like us. We thought she would fit the wedding really well.
The Outfits
I bought my dress from Oasis and then had it altered. Shoes were from Next. And Sky bought me my brand new watch as a wedding gift!
Theme or colour scheme
Our theme was a beach hut feel so powder blue and white.
Food
We had a buffet at a local bar; Aruba.
Flowers and decoration
We had white gyp and white roses. We had large flower pedestals, a wooden arch, rose petals along the aisle, and gyp pew ends.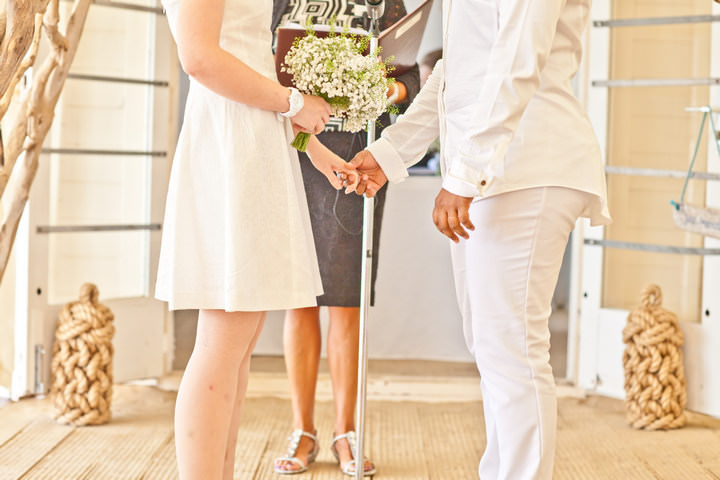 Personal Touches
We had our own guest book and our cake was very personal. A beach hut two tier chocolate and red velvet cake!
Special moments
Sky's brother made a very poignant and accurate speech and our first dance on the beach will be something we remember forever.
Advice for other couples
Keep it simple and be a little bit selfish (it is your day and you only do it once!) Don't stress about time frames. We only had six months to plan our wedding and we actually planned most of the big things in one weekend! Enjoy every moment of the day.
Biggest surprise
The cake! I had done the ordering of the bespoke cake over the internet so seeing how beautiful it actually was on the day was a really pleasant surprise!
Supplier Shout Outs
For more information on Pippa Heath Photography go to
www.pippaheath.com
www.pippaheath.com/blog
[email protected]
FACEBOOK
@Pippa_Heath
07884 060 439
Due to an email issue if you have emailed me between the 2nd & 9th of December, please resend it.
X