Wedding entertainment can be a really tricky thing to get right. With so many guests at your wedding all with different tastes in music, getting a happy balance of music can sometimes prove tricky. Wedding Jam are an entertainments company who provide a great selection of DJs, Bands, musicians and singers for your wedding day. They have been in the industry long enough to know what works, what doesn't and how best to get your guests dancing all night.
Today I have invited Paul McGuire to the Blog to tell you a bit more about  wedding jam, how they work, what they do and how they can help you find the right entertainment for your wedding.
'Wedding Jam offers the very best DJs and live acts to help you create your perfect party. Between the Wedding Jam DJs and musicians we have played at weddings all over the country, but we have also appeared at some of Europe's best clubs and festivals. This doesn't mean that we'll be turning your wedding into rave (unless you want us to!) but it does mean that we have a deeper understanding of what makes people dance and the art of DJing.
A good DJ can get feet tapping and hands clapping, but nothing beats the magic of a live band. Wedding Jam can hook you up with talented musicians to breathe life into the music and make the occasion that little bit more special. Trawling the net for the right band can be a laborious task, with your big day approaching it's a stress you could do without. You may wish to welcome your guests with a string quartet or get them dancing to big party anthems; whatever the occasion we've got the right live act for you.
Maybe music is what brought you and your partner together? Perhaps your love blossomed at a concert or a club? If you want the music to reflect your personality then we specialise in expertly weaving together themed soundtracks to weddings. Recently we've done receptions with themes as diverse as Hacienda classics, northern soul, jazz and even a night of 'Madchester' anthems. Whatever kind of atmosphere you want to create, Wedding Jam put you and your music first.'
What made you start your business?
After years spinning records in clubs, bars and at the odd festival, our friends started to grow up and began to tie-the-knot. This meant that we started DJing at occasional weddings almost by accident. I remember a particularly good wedding party in the Lakes; at the end we found a couple in tears. We asked what was wrong and they said after hearing us they realised just how awful the DJ was at their own wedding the previous year. It was clear that there was a market for decent music at a wedding; why get every element of your wedding perfect and then settle for sub-standard music?
When did you start and where are you based?
Wedding Jam was officially born in February 2011, although I was DJing for a decade before that.
We have two offices; Liverpool and Cambridge. Next up is a Wedding Jam franchise in Edinburgh which will enable us to cover the whole of the UK.
What were you doing before?
Prior to starting the company I was working in the music industry. Aside from years of DJing experience, I had worked for major labels such as Universal and famous indies like Warp Records in London.
How would you describe your style?
That is a question that gets harder to answer as I get older! However, no matter what music I play there are a few common defining characteristics. I always look for music with soul. That doesn't mean I only play soul music, it's just a quality I look for; you know it when you hear it.
What is your biggest achievement so far?
This would have to be the wedding we did in Geneva last summer. It was a dream gig, although the night was made even more satisfying because we also had bookings that night in London, Edinburgh, Liverpool and Newcastle. All five couples gave us great feedback that night, it was our proudest moment so far.
What makes you different to your competitors?
Our whole ethos is to do wedding entertainment in a brand new way. After seeing too many empty dancefloors at weddings with guests frightened off by the Birdie Song, it was time to do things differently. We offer talented and respected DJs and musicians that would stand up to scrutiny at any kind of musical event. We believe that music can be the best part of a wedding, so why compromise?
We also allow the couple to personalise their wedding soundtrack. We sit down for a consultation with them to make sure that what we do for them reflects their tastes and fits their budget.
What do you enjoy most about your job?
Helping couples celebrate their union is an honour. I think I get the most satisfaction from gigs where we surprise the guests. The couple who hired us may know what is in store, but many guests will be blown away when they realise that wedding music can be professional, artistic and full of personality.
What sort of couple do you think you attract?
We've played for all kinds of people, so it is hard to say. As a general rule they tend to be fashionable, fun and they are organising the kind of wedding where everything has to be 'just so'. Musical taste varies massively, it's the attention to detail and great taste that is common to many of the couples.
What would be your ideal wedding to work on?
That is a very hard question to answer! Superficially, it would be an all-expenses paid gig in an exotic land! In reality, it is any event where the music is appreciated.
What is your ideal way to spend a day off?
Listening to new music just for the sake of it, trawling through old vinyl.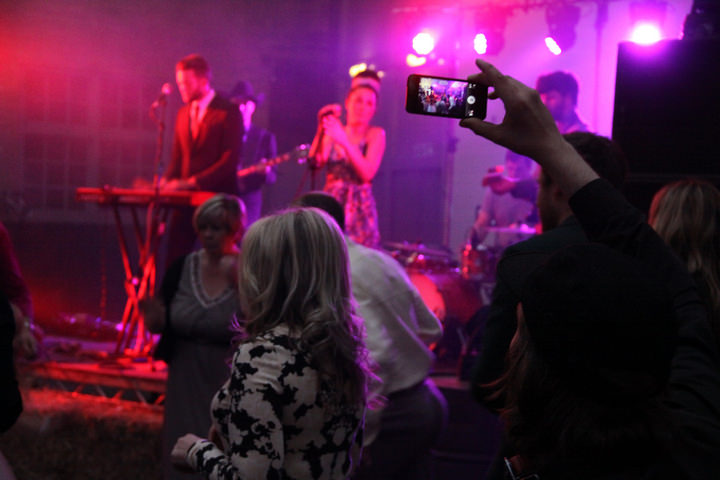 For more information  on Wedding Jam go to
wwww.weddingjam.co.uk  
www.weddingjam.co.uk/blog/
[email protected]
FACEBOOK
@WeddingJam
The North 0151 345 1120 / 07807 006 708
London & South 02030869222 / 07786467540