Well hello and welcome to all my regular readers and a big hello to all of you recently engaged! If you are one of the lucky ones who were proposed to over the holidays then chances are you currently have lots of questions! Venues, photographers catering and one of the big ones Entertainment. Here on the blog we like to bring you lots of practical information about planning your wedding as well as lots of pretty inspiration! Today I have invited Alive Network back to the blog to offer up some expert advice regarding Choosing Your Wedding Band.
Nothing entertains your wedding party guests better than a live band, but which type of band is best for your wedding? Here are some helpful hints in choosing the perfect wedding band for happy guests and jam-packed dance floors!
Rock and Pop Function Bands
If a band calls themselves a 'wedding band', chances are they are a function band – and that's really good news. The best function bands (sometimes called party bands or cover bands) are highly experienced in playing a vast range of music. This means they can create the ideal playlist (selection of music) to delight all ages of guests. Usually made up of four of five lads, wedding bands cover the most famous pop songs on the planet, so everyone will have something to sing along with!
Jazz bands for weddings
Jazz is a very diverse musical genre, covering everything from traditional Dixieland to cool contemporary style. For drinks receptions, choose a laid back, acoustic jazz duo or trio to provide a relaxed yet sophisticated atmosphere. For your wedding party, choose a jazz standards band with vocalist for classic tunes that span the generations, from the songbooks of stars such as Louis Armstrong, Ella Fitzgerald and Dizzie Gillespie.
Rat Pack and Swing Bands
Add a touch of Las Vegas to your wedding with a Rat Pack tribute or swing band and vocalists, recreating the classic sounds of Frank Sinatra, Sammy Davies Jnr and Dean Martin. These bands bring glamour, sophistication and sharp suits for a wedding with real class.
Big bands at your wedding
Take your wedding entertainment to a whole new height with a big band. More of a mini orchestra, a big band has a full-on brass section, clever sax and great rhythms section that made the music of the 1940s so sensational – and so popular. Add swing, jazz and show tunes, and you've got superb wedding entertainment that will set toes tapping and feet dancing!
Ceilidh Bands
If you really want to get everyone up and dancing, ditch the high heels and book a ceilidh band. A Ceilidh (pronounced 'kaylee') is a 'everyone together' dance that is a mash-up of an American barn dance, the Highland Games, the Oakey Cokey and a Riverdance performance, only with less prancing and more fun! The music may be traditional, Irish or Scottish folk-based, or a blend of traditional melodies and contemporary tracks played in a folk/rock fusion style that is pure energy and enjoyment. The band teach you the dances, shout out instructions in a quick try-out dance and then – it's over to you and your guests. Terrific fun for all ages, 100% inclusive, and totally addictive.
Swing, Jive and Rock 'n Roll Bands
If you and your friends love to dance your bobby socks off, these are the bands for you. Playing an energetic mix of classic tunes written to get feet on the floor and arms around a partner, you'll find this infectious mix of music, fun and energy will be one of your happiest memories of your wedding day.
Tribute Bands for Weddings
If you've always wanted Abba or Oasis or even Robbie Williams to perform live at your wedding, save yourself a fortune (and a lot of tricky negotiations) and book a tribute band instead. Tribute bands recreate the sound, sights and excitement of the original with authentic costumes and instruments, so it's as close to your own private gig as you can get. Some bands specialise in tributes to an era of music, such as the 60s or 70s, for more hits, more fun and more wigs!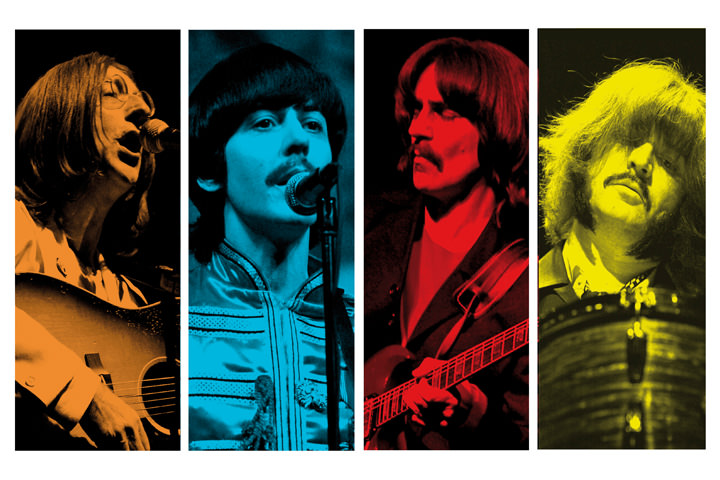 Soul, RnB and Motown Bands
Harking back to an era when the voice was king (or queen), these bands really play with their hearts, combining up-tempo classics with more relaxed tracks. Polished, poised and passionate, these bands make for a really memorable evening party.
70's, Disco and Funk Bands
Strut your stuff to the timeless tracks of disco. Fish out the flares, pull on the platform boots, and "Dance to the Music" in your very own "Disco Inferno". Subtle it ain't, but you'll be having so much fun, you'll be wavin' your arms in the air like you just don't care!
Strolling Bands
Most modern weddings are mobile occasions, as guests move from wedding ceremony to drinks reception to afternoon meal to the evening entertainment. So, it stands to reason that your wedding entertainment should be able to move about too. Surprise and delight your guests with music on the move from mariachi bands, strolling Dixieland jazz bands, acoustics duos and trios, Parisian-style accordion player, or even an 'a capella' choir.
Whatever you want!
If you want something really unusual, just pick up the phone and talk to the friendly folk at Alive Network. With over 4000 bands and acts of their books, they can create a bespoke entertainment package that's unique to your wedding, without busting the budget.
For more information on Alive Network go to
www.alivenetwork.com
FACEBOOK
@alivenetworkltd
[jprel]