Today we are back with Lisa and Alex from 2 people 1 life for wedding number 36.  Today we meet up with them again in South Africa, but this time Eastern Cape at the Oceana Beach and wildlife reserve. I have to admit this is one of my favourite weddings so far the giraffe and elephants swung it for me! I am also loving the trash the dress photos that feature at the end of the wedding, so beautiful and that landscape is stunning!
(In case you have missed it the whole story Lisa and Alex have spent the last two years travelling round the world getting married in every country they visit, you can read more about their adventures HERE.)
We slept so soundly in our Ox Cart at Mansfield reserve and as we left the next morning, not surprisingly, we were blocked in again by Gambit the giraffe! The Mansfield reserve gave him a new home and he seemed very happy there with the other giraffes.
The signs had to be put up as Gambit loves to play and doesn't realise he is much larger than most people and may hurt them accidentally in his excitement! Gambit was again moved along by a ranger and we were free…we were heading to meet photographer (and now friend) Andrew and his wife Judy for breakfast. Today was going to be wedding day 36!
We met with Andrew and Judy and excitedly gabbled with them about the plans for the day! We were holding a traditional Afrikaner/western ceremony at the Oceana Beach and wildlife reserve.
We drove in convoy into a hidden gate on the highway. Once inside we were immediately transported to the jungle! We drove along tiny single lane dirt tracks through overhanging trees and over-eager bushes. We wound our way slowly and excitedly to the lodge, all the time joking that we were happy to be in Myrtle, Peggy would have never fit! We collected our things and completely unaware of what to expect walked into the most amazing lodge you have ever soon with THE most amazing and unusual view.
The lodge overlooked both the ocean AND the veld! The trees and luscious green gave way suddenly to white soft sand dunes and then in turn to the raw Ocean waves. It was a stunning place that just ooooooozed tranquillity. We were shown to a room unknowingly that we would be staying there! We thought we were just using it for pictures and to get ready but when we were told we could stay I almost had a seizure!
The balcony was the full width of the room and overlooked a popular waterhole regularly visited by the resident Rhinos! Can you believe that?! The room was incredible with a huge 4 poster bed and an enormous bathroom! We did our excited dance and carefully unpacked our wedding clothes! I had 2 wedding dresses lent to me by the wonderful Elbeth Gillis and I was DYING to wear them both!
I picked out the 'Leia' dress. A duchess satin gown with tulle straps and Chantilly lace overlay. Swarovski crystals sparkled everywhere and Judy and I agreed it would be perfect for the day. Judy, Andrews wife AND master of all trades was doing my make-up, had made us cake and cupcakes and neither of those things are her full time job! An amazing woman! She applied my make up…after we had had a toast with a glass or two of bubbly (to calm the nerves of course)! We chatted away as she made me beautiful and then Andrew bought in the bouquet! It was just incredible! I have never seen anything like it and I am sure I never will again! Amazing bright yellow and orange Proteas (South Africa's national flower) were centre of attention but the real star of the show was the train of seeded vines! The whole thing was just amazing and took my breath away!
We met with our officiate, Nico, and chatted with him while we finished off our bottle of champagne and got dressed. In no time it was show time and we jumped into the lodge's safari truck and were ferried down to the beach. A gorgeous balcony awaited us and we were greeted by the wonderful sunshine choir who sang their hearts out for us! I couldn't help but tap my feet and even sing along a little as I recognised a few of the songs from Khayleitsha! They were fabulous and I was almost in tears before the ceremony had even started! I was just so happy! The Xhosa peoples happiness is infectious, especially when they sing! My face hurt from smiling so hard!
The ceremony was very reflective of our journey and its title. Two people joining their lives to become one and was held in Afrikaans language which Nico kindly translated for us. He explained the sermon to us and how it is put together.
"The ceremony revolved around two ideas: where does this union (marriage) come from? and what should the content of this union be?
The first answer came from Genesis 2. Something in creation is not good – man being alone. The remedy = woman. Then they become one. They change into something new. They are one – a new identity.
The second part ( the content) has its roots in Ef5. The first thing we hear is that man and woman must submit to one another . . . And from there Paul writes to men and women. But what is written for the one is also meant for the other because of the new unity (one-ness)..
The core of all of this is submission and love.
Both of these to be given and received equally."
The sermon was followed by the official part. After confirmation that we would like to get married to each other, we each had the opportunity to individually commit to the union and this was all finalised with the exchanging of rings and God's blessing.
The ceremony focused on commitment, love and family values and we were blessed again as husband and wife in one of the most stunning settings in the world (so far). The dunes stretched out before us and the Ocean crashed onto shore in its eagerness to eat it all up and behind us sat the cool, sunlight dappled veld. We were so amazingly lucky to be able to visit, let alone hold a ceremony in such a place. It absolutely summed up the Eastern Cape! Diverse and unrivalled beauty.
Once the ceremony was over we sang along more with the Sunshine Choir and then dived happily into Judys amazing Cupcakes and sipped pure sunshine from a bottle…aptly named Sunshine Juice! We took a few pictures on the sand dunes and then jumped in the car with Andrew and Judy and drove over to his Parents house to take some more pictures! Jen and Keith live in a beautiful house in Bot Rivier which over looks the ocean and is a short walk from a towering rock formation called the 3 sisters. The beach by their home is Stunning and flanked by huge sand dunes.
We took some pictures on the dunes and in the water and had great fun with Andrew. He has a keen eye and is so very proud of the stunning landscapes he has enjoyed since he was a child. His enthusiasm for his work and the pleasure that oozes from him as he shoots is infectious. He is genuinely one of the most kind hearted men we have ever had the pleasure to meet.
Once we got back to his parents home we looked very bedraggled, the salty air and the ocean crashing around our legs had not done us any favours, we hopped in the shower and rinsed ourselves and Elbeth's dress off and sat and enjoyed some time swapping travel tales with Andrews family.
We had such a wonderful time and were sad to leave, even knowing we were retiring back in our amazing room back at Oceana. We waved our goodbyes and promised to cook Keith Yorkshire puddings the next time we met and set off back to Oceana. We had a treat waiting for us on our return, a hot bubble bath and a romantic dinner for two on our balcony under an amazing canopy of stars. We listened to the sound of the wild while we ate and talked about our day. We still couldn't believe we had come so far!
We had never in our wildest dreams imagined we would one day be sat in Africa toasting our 36th wedding day, and there we were, raising our glasses!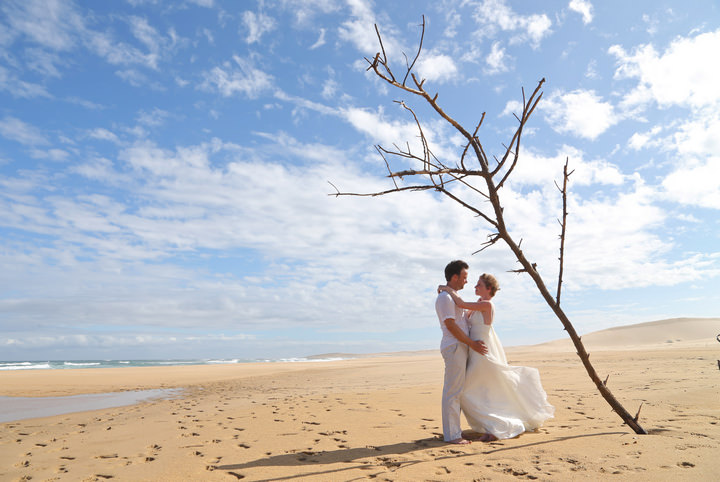 To follow Lisa and Alex's journey go to
http://2people1life.com/blog/
http://2people1life.com/blog/the-whole-journey
FACEBOOK
@2people1life
If you have missed any of the previous weddings you can catch up HERE,HERE , HERE, HERE, HERE, HERE , HERE  HERE , HERE ,  HERE , HERE , HERE ,  HERE , HERE, HERE,  HERE , HERE  ,  HERE , HERE and HERE
Due to an email issue if you have emailed me between the 2nd & 9th of December, please resend it.
X